Alex Bowman's Savvy Life Hack: When Denny Hamlin Insults You, Be Sure to Cash In
Article Highlights:
Alex Bowman won the NASCAR Cup Series elimination race at Martinsville
Bowman spun Denny Hamlin late, costing the Joe Gibbs Racing driver a potential victory
Bowman turned Hamlin's angry tirade after the race into a way to sell T-shirts
Denny Hamlin could not beat Alex Bowman on the half-mile paperclip at Martinsville Speedway on Sunday, nor could he outmaneuver the seventh-year NASCAR Cup Series driver at the cash register on Monday.
Bowman captured the checkered flag in the Xfinity 500 and then laughed in the face of an insult hurled by Hamlin, who was butt-hurt by the Hendrick Motorsports driver's aggressiveness later in the race.
While it's true that Hamlin gets the proverbial last laugh because he's competing in the Championship 4 next weekend in Phoenix despite a 24th-place finish, Bowman's sense of humor is superior to that of his nemesis.
Denny Hamlin is furious over Alex Bowman's late move at Martinsville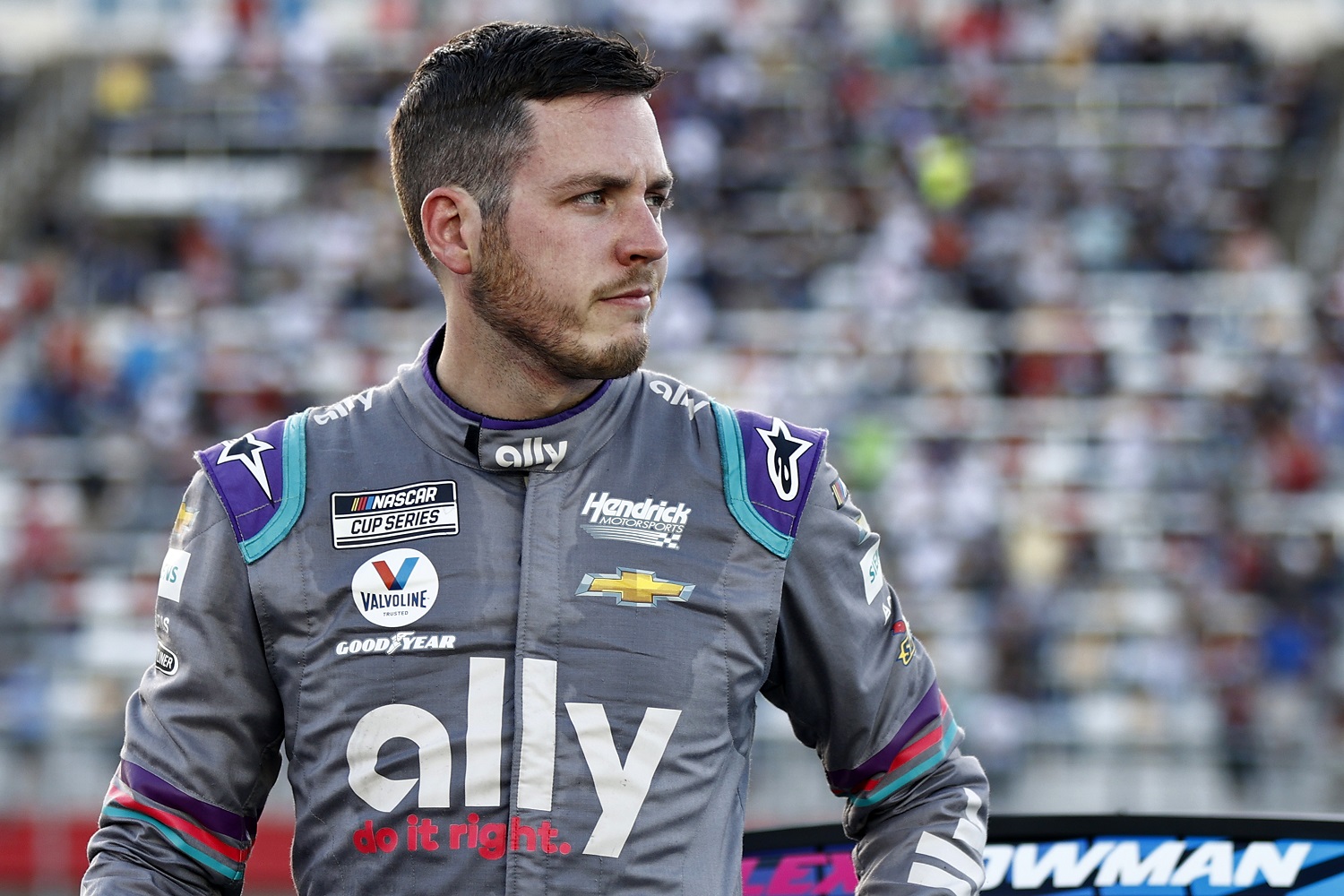 Alex Bowman took the checkered flag Sunday after sliding up into Denny Hamlin's car with six laps to go. Bowman knocked the Toyota up the track and into the wall on turn 3, spinning him around. That incident came 15 laps after Hamlin, fighting to assure his place in next week's Championship 4, made a clean pass of Bowman to take the lead.
"For anybody that wants to think I was trying to crash him, obviously that wasn't the case, considering I literally gave up the lead at Martinsville to give it back to him," Bowman said.
Hamlin was having none of that. As Bowman started a burnout to celebrate the win, Hamlin drove to the frontstretch, pulling nose-to-nose and twice blocking Bowman's Chevy. He flipped Bowman off for good measure.
"He's just a hack. Just an absolute hack," Hamlin said in an NBC broadcast piped over the PA system. "He gets his ass kicked by his teammates every week. He's f****** terrible. He's just terrible."
Alex Bowman's savvy life hack: Cash in on Denny Hamlin's fury
Alex Bowman earned the nickname "Bowman the Showman" early in his racing career. However, it was Denny Hamlin who was performing after the race at Martinsville. However, the crowd didn't appear to be buying what he was selling about the race winner. NBC microphones picked up fans booing loudly as Hamlin went on his diatribe.
Well, Bowman didn't have to think twice about how to react. Within hours, the driver's website started taking orders for Bowman-logo "Hack" T-shirts at $24.99 apiece.  
If the move seems a little childish on one level, then it's worth remembering Bowman wasn't the guy interrupting the victory celebration and doing the F-bombing after the race. It was an embarrassment to the Joe Gibbs Racing team and NASCAR, so he deserves the mockery.
Just three weeks ago, Kevin Harvick tried settling a feud with Chase Elliott, another Hendrick Motorsports driver, by wrecking him at the Charlotte Roval. Karma being what it is, Harvick wrecked himself later in the race, and Elliott will drive in the Championship 4.
Elliott reacted by hawking shirts saying, "Wishing you a Merry Offseason and a Happy Christmas." That played off Elliott's quote regarding whether he had any reaction to the incident with Harvick.
Alex Bowman does pretty well for 'a hack'
Whatever shot he had at winning in the court of public opinion after losing the race pretty much went out the window once Denny Hamlin started his rant about Alex Bowman. Perhaps the most curious part was Hamlin's take that Bowman "gets his ass kicked by his teammates every week."
For starters, Bowman happens to drive for Hendrick Motorsports, the winningest organization in NASCAR Cup Series history. Kyle Larson has done the bulk of the work, but the four Hendrick Chevys have won 16 of 35 points races and the All-Star Race this season.
Bowman owns four of those victories. That ties Martin Truex Jr., a Championship 4 qualifier, for second place behind Larson. While it is true that he'll finish fourth on his own team in points, Bowman is within 30 points of Christopher Bell, the No. 4 driver on the Joe Gibbs Racing team that employs Hamlin.
Would Hamlin go after Bell for bringing up the rear at JCG? Of course not.
Put it in perspective: Ringo Starr was the fourth-best Beatle in terms of contributions to their songwriting. But he was also a more-than-adequate drummer, and his career turned out just fine when last we looked.
Hamlin has a week to screw his head on straight. If he can't, he may just wind up the butt of a joke on yet another T-shirt.