Kyle Petty Calls Out Denny Hamlin's Post-Race Behavior at Martinsville: 'That's Not a Move by a Championship Driver'
Kyle Petty and Denny Hamlin have a history in the NASCAR Cup Series. In August, the two discussed their past when Hamlin asked for and received permission to add the No. 45 car to the 23XI Racing team's roster. After Sunday's race at Martinsville, there might just be a new chapter as the NBC broadcaster called out the driver following the race for behavior not befitting of a champion. 
Denny Hamlin not happy after Alex Bowman spins him at Martinsville
Denny Hamlin led most of the final 100 laps at Martinsville and appeared destined for victory in the playoff elimination race to determine which drivers advanced to the Championship 4. But it's Martinsville. Anything can and often does happen. Sunday was no different as Alex Bowman drove into the side of Hamlin with seven laps to go, sending the No. 11 car backward up into the wall.
Bowman went on to victory. Hamlin finished 24th. After the race, the angry Joe Gibbs Racing driver confronted the Hendrick Motorsports driver just as he started his celebratory burnout near the finish line by driving his Toyota and sliding the tires, stopping right next to the No. 48. 
Bowman proceeded to pull around and spin his car, facing the No. 11. Hamlin then edged forward with the cars nose-to-nose, revved up his engine, and began pushing Bowman backward. He then flipped him a double-bird. 
After Hamlin's team reminded him over the radio to think "big picture," he backed up his car and drove away. 
Kyle Petty calls out Hamlin for behavior at Martinsville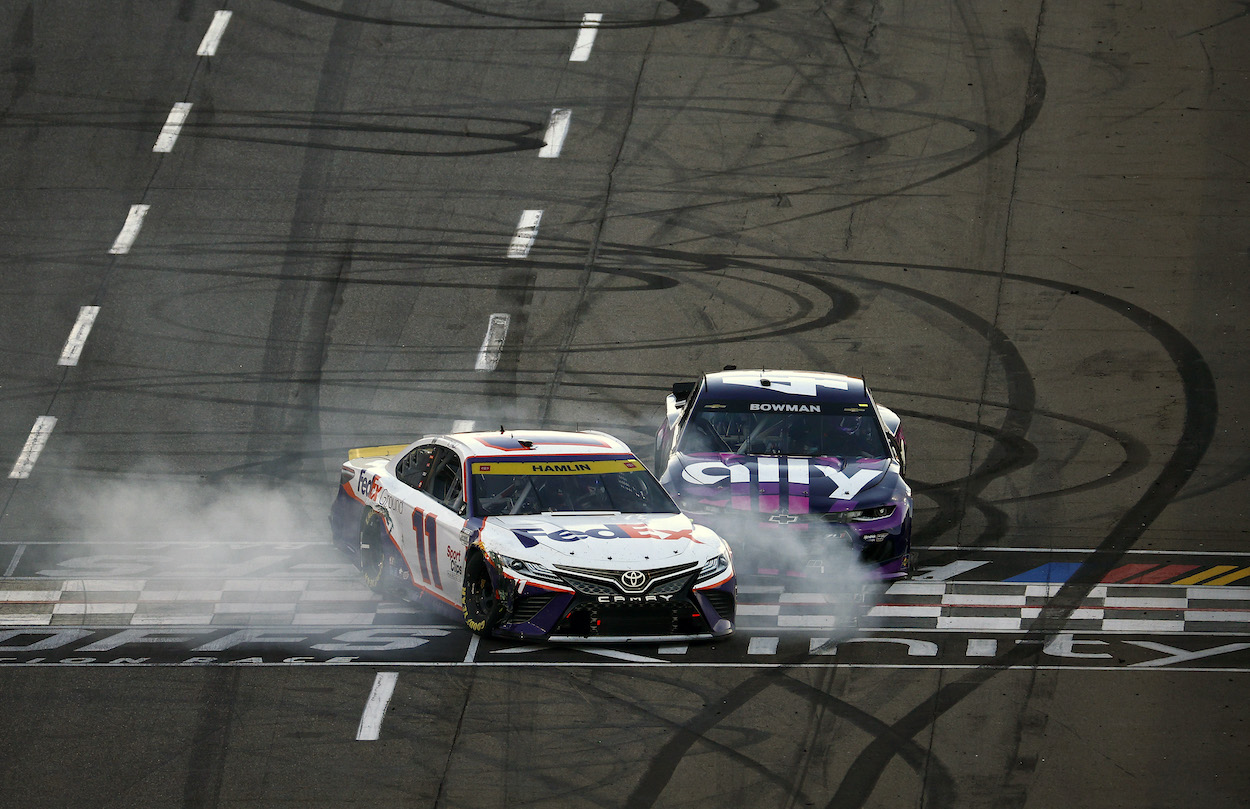 Following the race, fans and pundits questioned Hamlin's decision to interrupt Bowman's celebration and believed he had gone too far. Among them, Kyle Petty.
"That's not a championship move," Petty bluntly stated. "That's not a move by a championship driver. Sorry. You don't see. You never saw Jeff Gordon do that. You never saw Richard Petty or Dale Earnhardt Sr. do stuff like that. Once the race is over, the guy wins the race, that's his victory lane. That's his celebration. You don't go infringe on it. I didn't appreciate that."
While not happy with the driver's actions, Petty said Hamlin is different this year and thinks he will use what happened in Martinsville as motivation in the championship race next weekend.
"At the same time, it's up to Denny to get his head back into the game. We've seen Denny in the past — let's be totally honest — lose it with a couple of races to go and can't get his head. I think Denny is a good enough driver this year and is in a totally different place that it's not going to be a problem for Denny to get his head back in the game. I think this year he takes what happened here, he turns it around, and he's going to be dangerous when we get to Phoenix."  
Kyle Petty and Hamlin met earlier this year and talked about their differences
Kyle Petty and Denny Hamlin have a history dating back to a 2007 incident at Dover, where a much younger Hamlin ran into the back of Petty's lapped car and then heard about it after the race. Fast-forward to earlier this year when the retired driver-turned-broadcaster suggested the Joe Gibbs Racing driver should be looking over his shoulder with up-and-coming young drivers like Christopher Bell and Ty Gibbs. Hamlin was not happy.
In August, the pair met when 23XI Racing, the team Hamlin co-owns with Michael Jordan, wanted to add the No. 45 car to its roster, but NASCAR deferred and sent Hamlin to visit Petty about the number since his son, Adam, last used it before he tragically died in 2001. During that conversation, in which Petty agreed to allow 23XI to use the number, the two talked about some of their past disagreements.
"We had a conversation afterward, and it was like, 'Hey, I think you think I'm tough on you.' I'm like, 'No, I just want a fair shake every now and then,'" Hamlin said of the pair's discussion. "But I appreciate him when we talked because he was like, 'Listen, I just hold you to a higher regard to everyone else.' I can appreciate that as well."
Petty's comments after Martinsville fall right in line with that same mindset of holding Hamlin to a higher regard. Now it's a matter of whether Hamlin can go to Phoenix and not only act like a champion but also drive like one.
Like Sportscasting on Facebook. Follow us on Twitter @sportscasting19.