Joey Logano Calls Out Denny Hamlin for Late-Race Incident at Texas and Says He Will Respond in the Future: 'That's Code. That's How It Works'
Joey Logano and Denny Hamlin have not always seen eye to eye on the track. In early September, the Team Penske driver expressed frustration with the Joe Gibbs Racing driver over a late-race incident during the regular-season finale at Daytona and suggested it would carry over into the playoffs.
On Sunday in Texas, it did. Except, once again, it was Hamlin initiating contact. During his weekly visit on SiriusXM NASCAR Radio, a caller caught Logano by surprise and asked about the incident. The 2018 Cup Series champion suggested it was an all-too-common move by the three-time Daytona 500 winner and he has plans on responding in the future. 
Joey Logano calls out Denny Hamlin for running into him in Texas
After the Texas race, Joey Logano's headline was a blown engine, while Denny Hamlin was making waves for his renewed rivalry with Chase Briscoe. This week on Logano's weekly appearance of "Behind the Wheel With Joey Logano" on SiriusXM NASCAR Radio, a caller asked the driver about a radio communication she heard regarding a late-race incident with Hamlin that no one was talking about.   
"You heard it right. Something close to that, at least. I don't exactly know what I say sometimes in the heat of the moment," Logano admitted. "He hit me in the left rear and knocked in my left rear a little bit. In the same way, his left rear got cut down when he was racing with the 12. Could have happened to me. 
"He was side drafting me down the backstretch. An aggressive sidedraft. Everyone is pretty aggressive with sidedrafts these days. But you don't want to run into somebody. He ran into me. That could have cut my left rear down, put us into the wall, and taken us out of the playoffs. Knowing that, and that's not the first time he's done that. That's how he is. You just keep that stuff in mind. You just know. You move forward. And you know when it's time to go racing, you race the same way. That's code. That's how it works. That's how my mind works. You race me. I'll race you the same way, bud." 
Joey Logano and Denny Hamlin close out regular season with an incident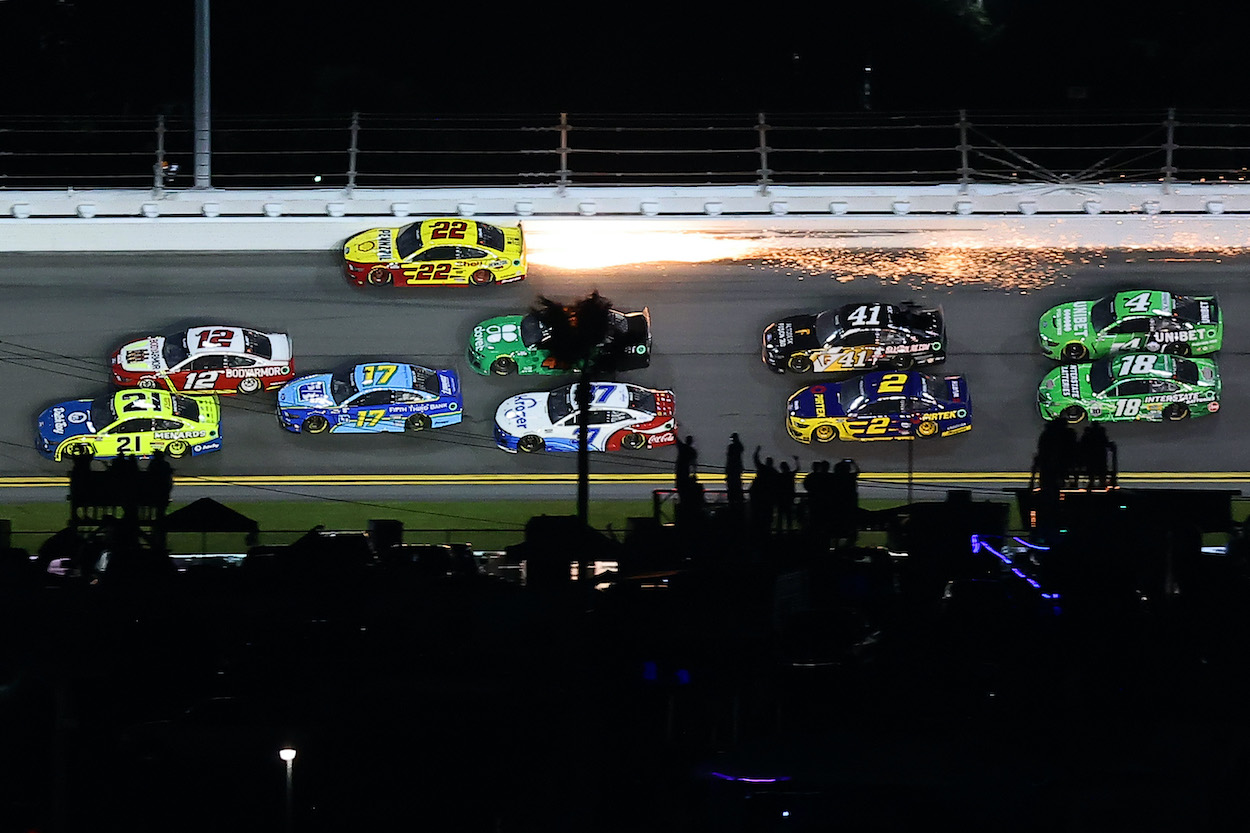 Interestingly, that's the second incident in as many months between Joey Logano and Denny Hamlin. The pair had a run-in late in the race at Daytona in the regular-season finale that knocked the Team Penske driver out of contention. 
"We had a shot to win there and the 11 just threw a late block and fenced me and then I had a right rear down," Logano said after the race. "Luckily, I didn't take out the whole field that time, but that got taken care of the next lap, so it probably wouldn't have mattered."
With five laps remaining, the right rear of Logano's car became a shower of sparks due to a flat tire. He finished the race 23rd. Hamlin finished 13th.
After the race, Logano was asked if he would remember that incident and whether any hard feelings toward Hamlin would carry over into the playoffs. "Absolutely," he answered. 
Two drivers have incident in 2019 playoffs and tempers flare after race
Joey Logano and Denny Hamlin have a history before this season. A couple of years ago, a similar scenario to Daytona played out in Martinsville during the playoffs. Exiting Turn 4, Logano was on Hamlin's outside when the No. 11 car slid up the track, pushing the No. 22 into the fence. Within seconds his left rear tire went flat, and a stream of sparks flew out from under the car. 
Logano confronted Hamlin about the incident on pit road after the race. Following an animated discussion, Logano began to walk away but, before he did, pushed Hamlin's right shoulder. Hamlin immediately began pursuing Logano, who had turned around. However, before either driver threw any punches, officials from both NASCAR and the teams intervened and separated the pair. 
There have been no postrace conversations following incidents this season. However, based on Logano's latest remarks, it sounds like he just might let his actions on the track do the talking.  
Like Sportscasting on Facebook. Follow us on Twitter @sportscasting19.