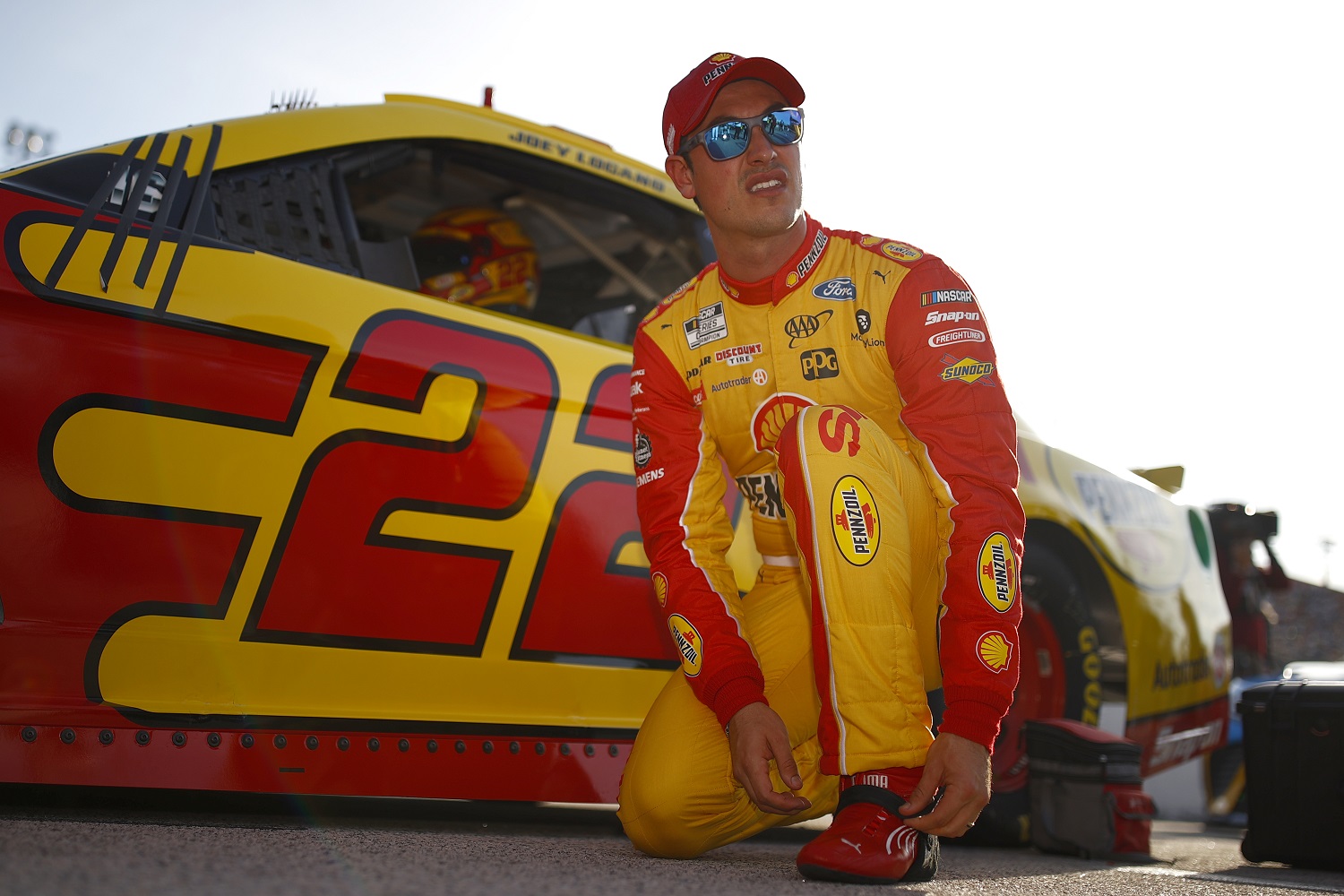 Joey Logano's 7-Year Glitch Has Blown up His NASCAR Championship 4 Plans: 'We Better Go Find a Way to Win'
Team Penske driver Joey Logano hadn't blown an engine since 2014, but Sunday's mishap at Texas Motor Speedway devastated his NASCAR Cup Series title hopes.
The 500-mile NASCAR Cup Series playoff race at Texas Motor Speedway did its job. The engine in the No. 22 team Ford didn't, and now Joey Logano finds himself in a nearly hopeless situation.
Logano, a stalwart for Team Penske since 2013, didn't make it through a test designed to put stress on Cup Series cars and drivers. Consequently, he is already all but out of the running to reach the Championship 4 next month in Phoenix.
Joey Logano's bad situation turned worse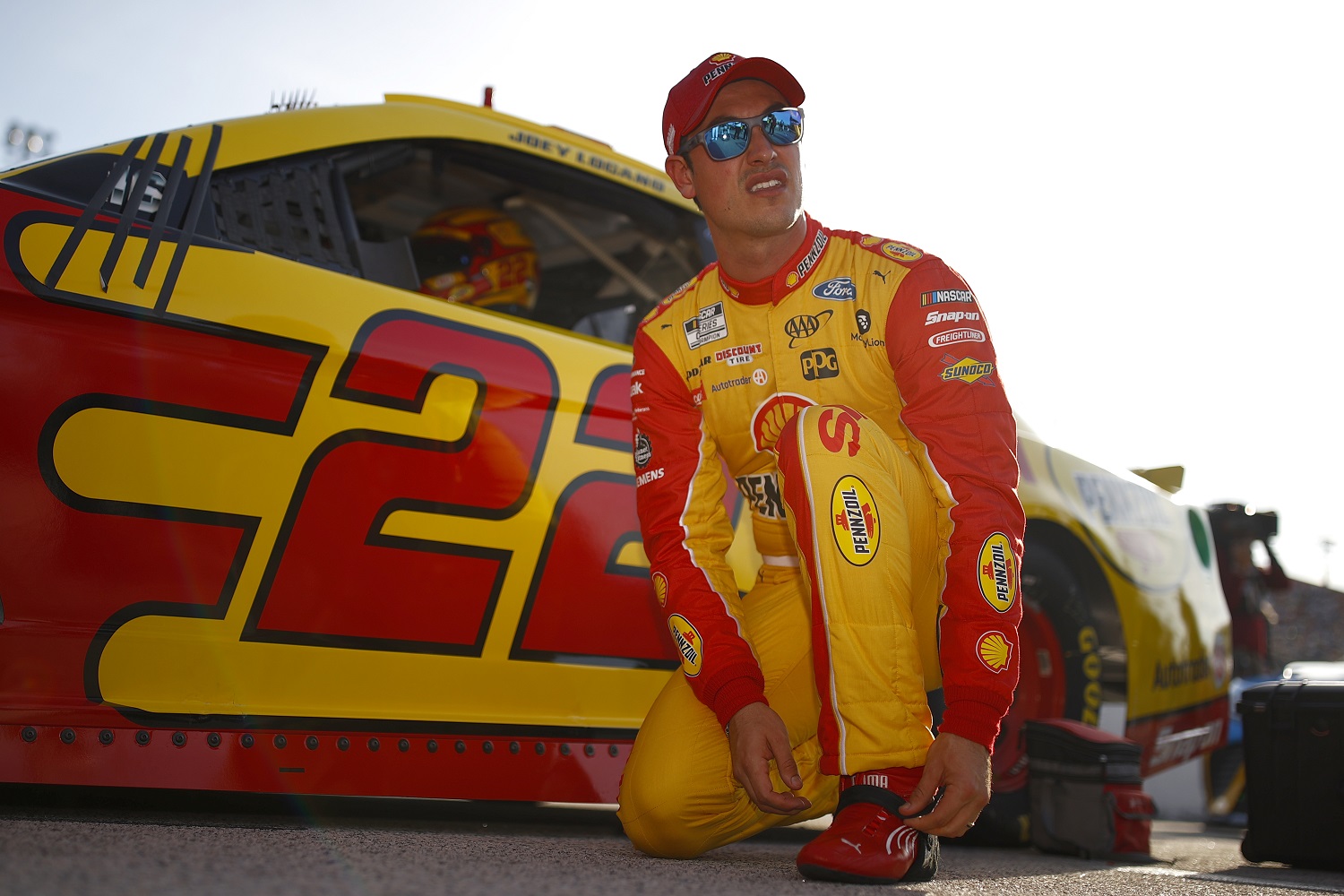 Joey Logano came into the Autotrader EchoPark Automotive 500 in a bind but hardly in a hopeless situation. He started the day at Texas Motor Speedway as the No. 7 seed in the eight-driver playoff field, but he sat a manageable 11 points below the cutline.
Logano wasn't having much of a day in the 500-mile test. Though the Fords of Ryan Blaney, Kevin Harvick, and Brad Keselowski performed well for much of the day, Logano didn't run any better than his fifth spot on the starting grid. On lap 298 on the 1.5-mile track, smoke began pouring from the car, and the radio call confirmed that Logano lost the engine.
Running 12th at the time and sitting 23 points below the adjusted cutline, Logano rolled the car off the track. Officially, he finished 30th.
Consequently, he stands 43 points below the cutline with two races remaining before the Championship 4. Putting it into perspective for non-NASCAR fans, the 0-6 Detroit Lions woke up Monday feeling only marginally worse about their predicament than Logano did about his.
Joey Logano: 'We better go find a way to win'
It's not as though Joey Logano was the only playoff racer enduring a rough day. Martin Truex Jr. made contact with Daniel Suarez and hit the outside wall hard on lap 320, relegating him to 25th place. Denny Hamlin held fourth place with 24 laps to go before back-to-back problems dropped him to 11th.
But Logano could take no comfort in the misfortune of others. It's implausible for him to expect to make up enough points to reach the Championship 4 for the fifth time in eight seasons. There's only one way in.
"It is one of those days when nothing went right. The strategy didn't go the way we wanted it to early in the race," Logano said, according to NASACR.com. "Cautions didn't fall the way we hoped they would, and every time we started fighting our way back something happened, and we ended up like this.
"Now we know what we have to do these next two weeks. We better go find a way to win."
Logano finished sixth at Martinsville earlier this season after starting on the pole. He took 17th place at Kansas.
Blown engines have been a rarity for Logano in the NASCAR Cup Series
Nearly every NASCAR Cup Series race ends with at least one car parked prematurely over engine issues. However, it's often something along the lines of a water pump failing or an alternator dying so late in the race that it's not worth making the repair and getting back on the track to maybe pick up one or two additional points.
An engine that completely blows up, though, is a different matter. Shops take pride in building beastly power units that can withstand just about anything. However, 500-mile races will test those engines, and that's what happened to Joey Logano for the first time since one of the Poconos races in 2014.
The power unit that seized up in the No. 22 Ford came from Roush Yates Engines. There may not be a cause/effect relationship, but Logano recalled making contact with Denny Hamlin just a couple of laps earlier.
"I thought it was starting to maybe give up a little bit of power in that run," Logano said, according to Racer.com. "We were just getting passed. It just kind of let go.
"Roush Yates has built us good motors. I don't have any room to complain. We haven't blown one up in years. At least not on the '22' car. It is bad timing, I will say that, but it is what it is."
The only remedy now is to win at Kansas or Martinsville to have a puncher's chance of topping Kyle Larson in Phoenix.
Like Sportscasting on Facebook. Follow us on Twitter @sportscasting19.