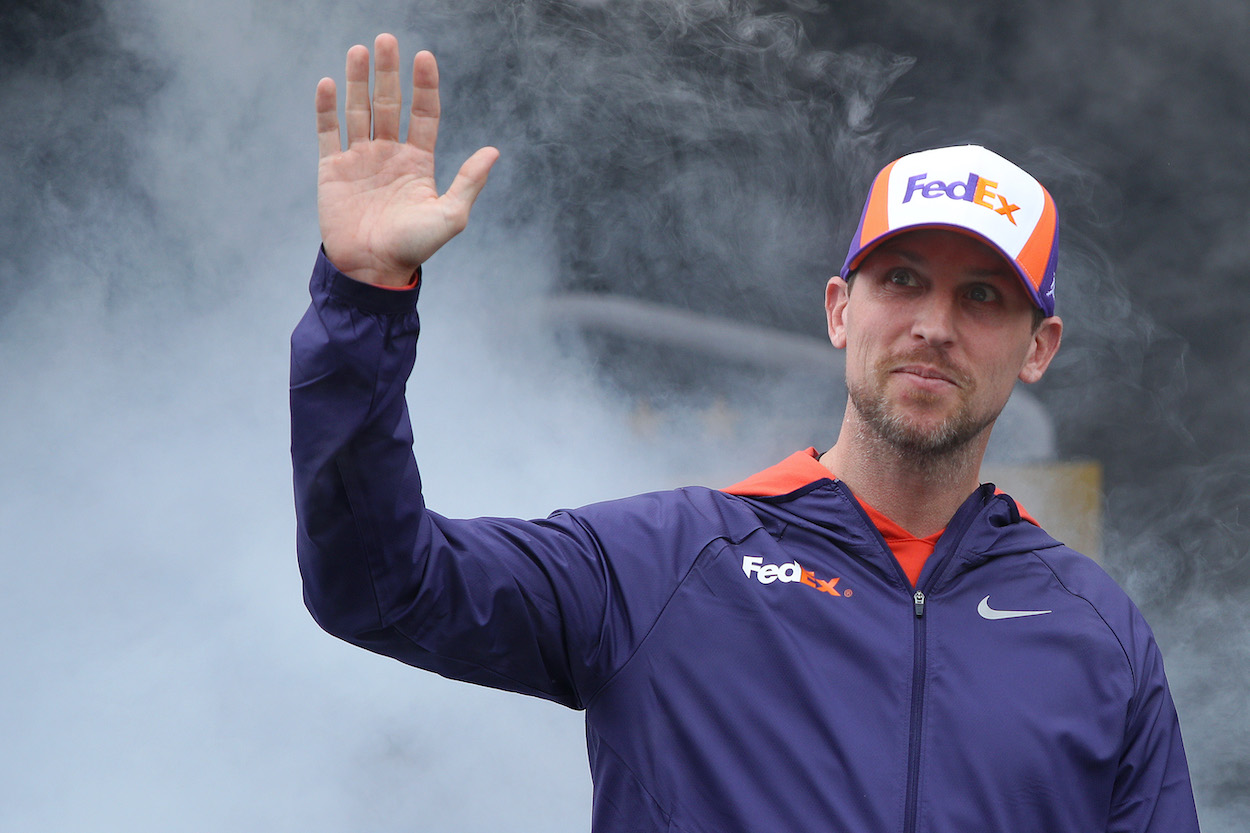 Frustrated Denny Hamlin Doesn't Hold Back Feelings After Losing Deal for Charter and Calls Out NASCAR in the Process: 'This Whole F****** Sport Is Financially Not Good for Us'
Denny Hamlin didn't hide his disappointment after 23XI Racing's deal to purchase a charter fell through and called out NASCAR's business model in the process.
Denny Hamlin had been riding high as a co-owner of 23XI Racing following Bubba Wallace's historic Cup Series win at Talladega and the first-ever victory for the organization. Last week, however, the three-time Daytona 500 winner came crashing back down to earth when the tentative deal on a charter for a second car fell through.
Before the race at Texas, Hamlin voiced his disappointment with the situation and didn't hide how he feels about NASCAR's business model. 
Denny Hamlin announces second charter for 23XI Racing is a done deal
In late August, Denny Hamlin and 23XI Racing announced Kurt Busch would be joining the organization as a second driver in 2022. The team acknowledged it was still working on acquiring a charter for the new ride. The partner was rumored to be Front Row Motorsports. 
Fast-forward to mid-September when Hamlin reminded reporters of a previous comment he had made in which he indicated closing the deal is a week-to-week, day-to-day type of thing. At that time, he said he felt "as happy about it as I've ever felt." 
A few weeks later, a confident Hamlin told the media that the team had a new crew chief and a new charter. He didn't provide any further details but based on his comments, it was a done deal.  
Deal falls through and Hamlin not happy 
Unfortunately for Denny Hamlin, all that optimism went out the window this past week when it was announced the deal for 23XI Racing to acquire a charter from Front Row fell through. He talked about what happened and the disappointment of getting so close, only to have it all fall apart late in the process. 
"I just wish we wouldn't have gotten so far," Hamlin told The Athletic. "I mean, we were far. We were tens of thousands — if not hundreds of thousands — in on legal fees. Like, just done. Certainly, I had people who warned me, like, 'Are you sure (the deal is happening)?' I'm like, 'Yeah. I'm sure.' And whatever (happened) was just minds changing."
For Hamlin and 23XI, racing without a charter is a possibility, but it's less than ideal for several reasons, including financially. It's bad enough that sans a charter, the team is not guaranteed a spot in each race, which would be cause for concern from sponsors wanting their brand present in every race. What's more problematic is if the car races and performs well, the purses are dramatically smaller for charter-less teams. 
Hamlin admitted as much and called out NASCAR's business model in the process.
"It certainly is not going to be financially good for us, but this whole f****** sport is financially not good for us," he said. "What's the difference?"
What are 23XI Racing's options moving forward? 
While Denny Hamlin and 23XI Racing don't currently have a charter for Busch in 2022, the plan remains to acquire one. There are multiple options. Among them, rumors have floated recently that StarCom Racing might close up shop after this season, which would free up a charter. There is nothing official at this point on StarCom's 2022 status.
Rick Ware Racing has four chartered cars and hasn't indicated any interest in selling them. That leaves the option of 23XI potentially leasing a charter from RWR. Spire Motorsports also might be an option for a leased charter. 
Whatever happens, Hamlin knows it's going to cost 23XI Racing, whether that's through acquiring a charter valued at millions on the front end or not getting one and potentially missing races and purse money on the back end. It's the price of doing business in NASCAR.
Like Sportscasting on Facebook. Follow us on Twitter @sportscasting19.