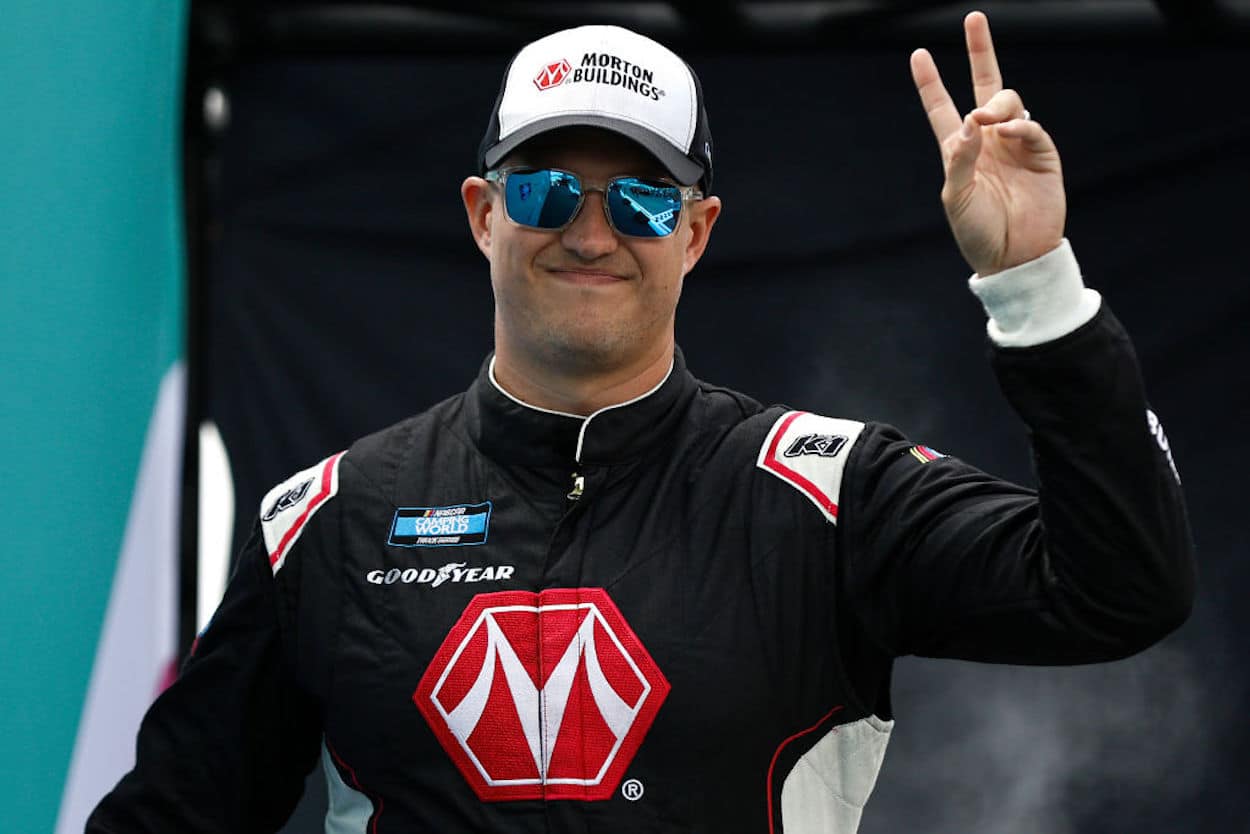 Ryan Preece's Cup Series Second Chance Is a Golden Opportunity He Can't Afford to Blow
Ryan Preece has a golden opportunity that most drivers would only dream of. Now, he needs to grab it with both hands.
It's extremely rare for a NASCAR Cup Series team's reserve driver to get promoted to a full-time Cup ride with the organization. It's even more unusual when that driver is a former full-time Cup competitor who lost his ride due, at least in part, to mediocre performance.
So to say that Ryan Preece — the newly appointed driver of the No. 41 Stewart-Haas Racing Ford for 2023 — is merely thankful for the opportunity before him would be an understatement. He's completely over the moon.
Now the question is what Preece will do with his second chance at NASCAR's highest level — a second chance that he absolutely must make good on if he expects to have a future in the Cup Series.
For Ryan Preece, Stewart-Haas Racing was worth waiting for and rolling the dice on
Unlike Ryan Preece's first crack at the Cup Series, which came with the perennial mid-tier JTG Daugherty Racing organization, Preece's second opportunity is with one of the sport's premier organizations.
Since Tony Stewart became co-owner of Stewart-Haas Racing in 2009, the organization formerly known as Haas CNC Racing has won 69 Cup races and two championships — one by Stewart in 2011 and the other by Kevin Harvick in 2014. 
Although SHR hasn't reached the pinnacle of the sport in nearly a decade, the organization has never had a year when it didn't win at least one Cup race. And, most often, SHR is good for at least two or three victories a season.
So Preece, who spent 2022 conducting simulator work for SHR, is joining a company with a culture of winning — unlike JTG Daugherty, which has been to Victory Lane only once at the Cup level in its 14-year existence.
Will the extra resources that Preece will have at his fingertips at SHR enable him to far exceed his success — or lack thereof — at JTG Daugherty? This remains to be seen, of course, but Preece was willing to pass on other opportunities that came his way over the last few months in hopes of possibly being promoted at SHR.
It was a gamble, but one he was more than willing to take.
"There were quite a few different teams that came to me, whether they were full-time or part-time, and I thought about if there was the smallest bit of opportunity for me to end up at Stewart-Haas, I wasn't gonna walk away," Preece said on a Zoom call with reporters on November 16, the same day SHR announced he'd be taking over the No. 41 Ford from Cole Custer. "I was willing to sit there until there was absolutely no hope and possibly be jobless, possibly not have a ride, but I was willing to take that risk. Ultimately, it's worked out, and this opportunity has come."
Ryan Preece is a proven talent, but can he find success at the Cup level?
While Ryan Preece didn't exactly set the woods on fire in three full seasons at JTG Daugherty, where he posted two top-fives in 108 starts, the 32-year-old Berlin, Connecticut native knows how to win.
Preece made a name for himself on the NASCAR Whelen Modified Tour — NASCAR's oldest division and the only open-wheel series sanctioned by NASCAR — where he won the championship in 2013 and has 25 wins since 2007.
"Ryan has bet on himself a couple of times in his career, and it's always paid off. Now we're betting on him," SHR co-owner Tony Stewart said in a team press release. "I've run some Modified Tour races, and it's a tough series with a lot of talent. Ryan's Mod Tour championship speaks to his talent."
In addition to his role as a reserve driver for SHR in 2022, Preece made select Whelen Modified starts along with cameo appearances in all three of NASCAR's major series: Cup, Xfinity, and truck. He owns two Xfinity Series and two Truck Series victories over a combined total of 74 starts in the two divisions.
"Now, Ryan's got the right opportunity in Cup," Stewart said. "We're proud to have him and look forward to seeing what he can do in our race cars."
Preece knows it's an opportunity of a lifetime — and likely his last opportunity to make the case that he's deserving of a long-term ride with a top Cup Series team.
"Usually, when you go out of the Cup Series full-time, you tend to be part-time and then it seems like your career could be over," Preece said. "This is that shot in the arm or shot of adrenaline that I feel like my career needed."