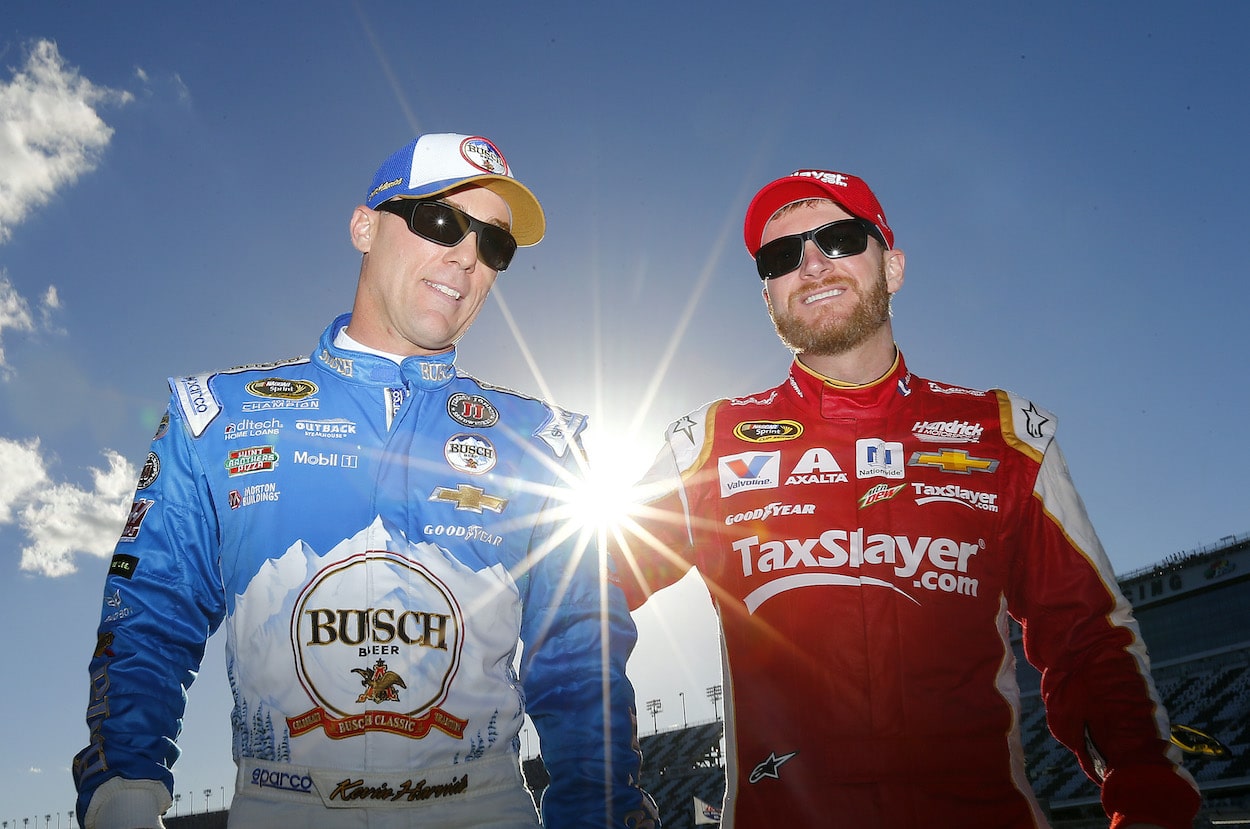 Dale Earnhardt Jr. Makes Aggressive Prediction on What Kevin Harvick Fans Can Expect in 2023 and Why Competitors Might Be Concerned
Dale Earnhardt Jr. offered his thoughts on Kevin Harvick's racing career, including a bold prediction of what fans should expect in 2023 and why the competition should be concerned.
Dale Earnhardt Jr. and Kevin Harvick will always be linked together by the tragic death of Dale Sr. Outside of that tragedy, the pair became good friends and hung out together for years. However, that relationship became strained in 2017 during Junior's farewell tour. 
Late in 2021, the pair met on Earnhardt's podcast in a compelling interview and talked through their differences. This week when Harvick announced his retirement, the NASCAR Hall of Famer shared his thoughts about the driver on Twitter, and he made an aggressive prediction about what fans of the No. 4 team can expect to see in 2023. 
Dale Earnhardt Jr. and Kevin Harvick feud, and make amends
Dale Earnhardt Jr. was in the middle of his final Cup Series season in 2017 when a reporter asked him a question about Matt Kenseth potentially losing his ride with Joe Gibbs Racing. The two-time Daytona 500 winner offered an honest answer, suggesting that Kenseth should consider lowering his asking price because there were young up-and-coming drivers like William Byron or Christopher Bell who were willing to take the seat for much less.
Harvick, in the middle of contract negotiations, heard about the comments and was unhappy. He fired back on his then-SiriusXM NASCAR Radio show, calling out Earnhardt's lack of success compared to his level of popularity. 
"I believe that Dale Jr. has had a big part in kind of stunting the growth of NASCAR because he's got these legions of fans and this huge outreach of being able to reach different places that none of us have the possibility to reach but he's won nine races in 10 years at Hendrick Motorsports and hasn't been able to reach outside of that," Harvick said. "I know that those aren't the most popular comments but those are real-life facts that you look up and see on the stat sheet." 
Late in 2021, Harvick appeared as a guest on the Dale Jr. Download, and the pair openly discussed the situation from years earlier. When the conversation ended, both agreed what happened was regrettable, and they wanted to move past it and rekindle their friendship.
Earnhardt makes aggressive prediction about Harvick's final season
Earlier this week, fans learned about the health of the relationship between Earnhardt and Harvick when it was announced that the pair would be joining Jeff Burton and Justin Marks as new co-owners of the CARS Tour. 
While that announcement would be a major newsmaker for days in most offseasons, that's not the case this offseason. Harvick usurped those headlines when, after months of speculation, announced that 2023 will be his final season in the Cup Series.
The 2014 champion received well wishes from various drivers and top figures in motorsports, including one from his friend and new business partner. 
"Incredible career for @KevinHarvick," Earnhardt wrote on Twitter. "His path to becoming a champion wasn't an easy one. I always respected his talent and approach through the years. I predict absolutely ZFG in the final year. Imagine he will be fun to watch."
What could it mean?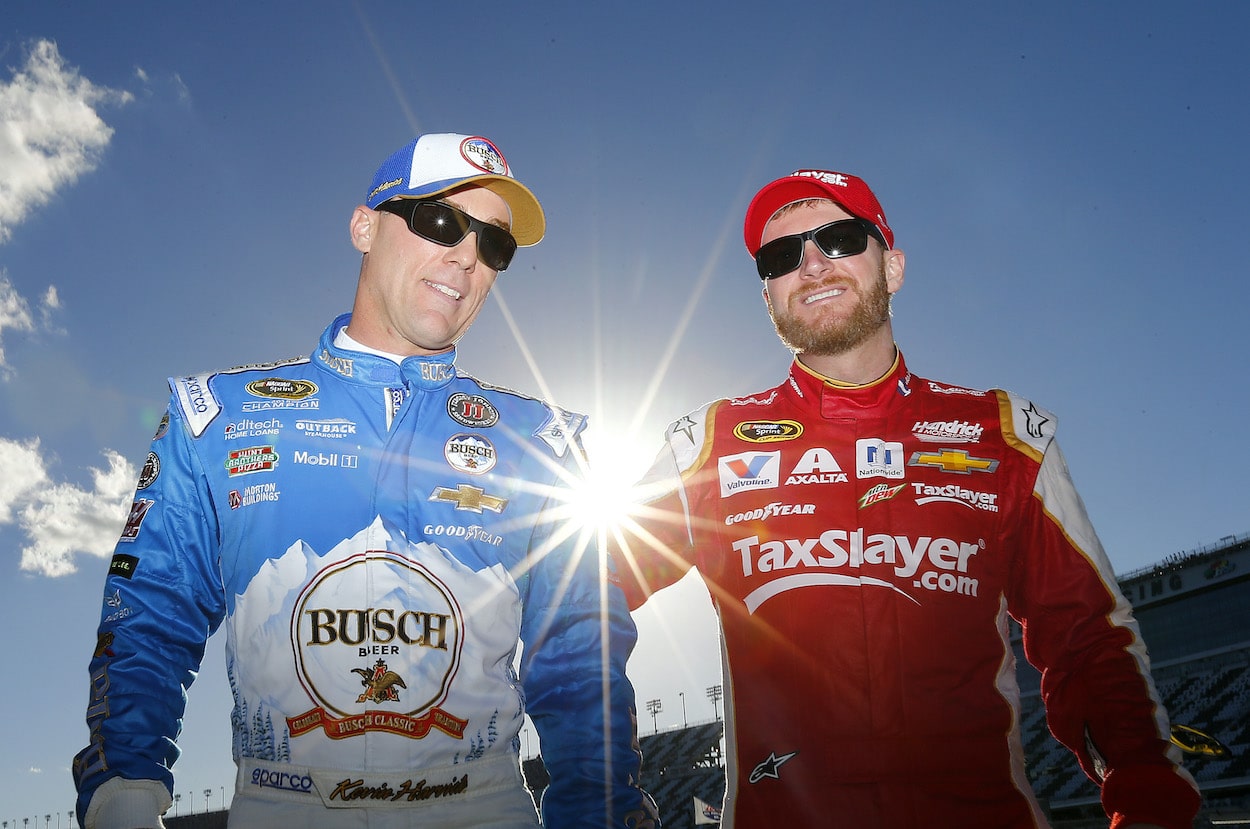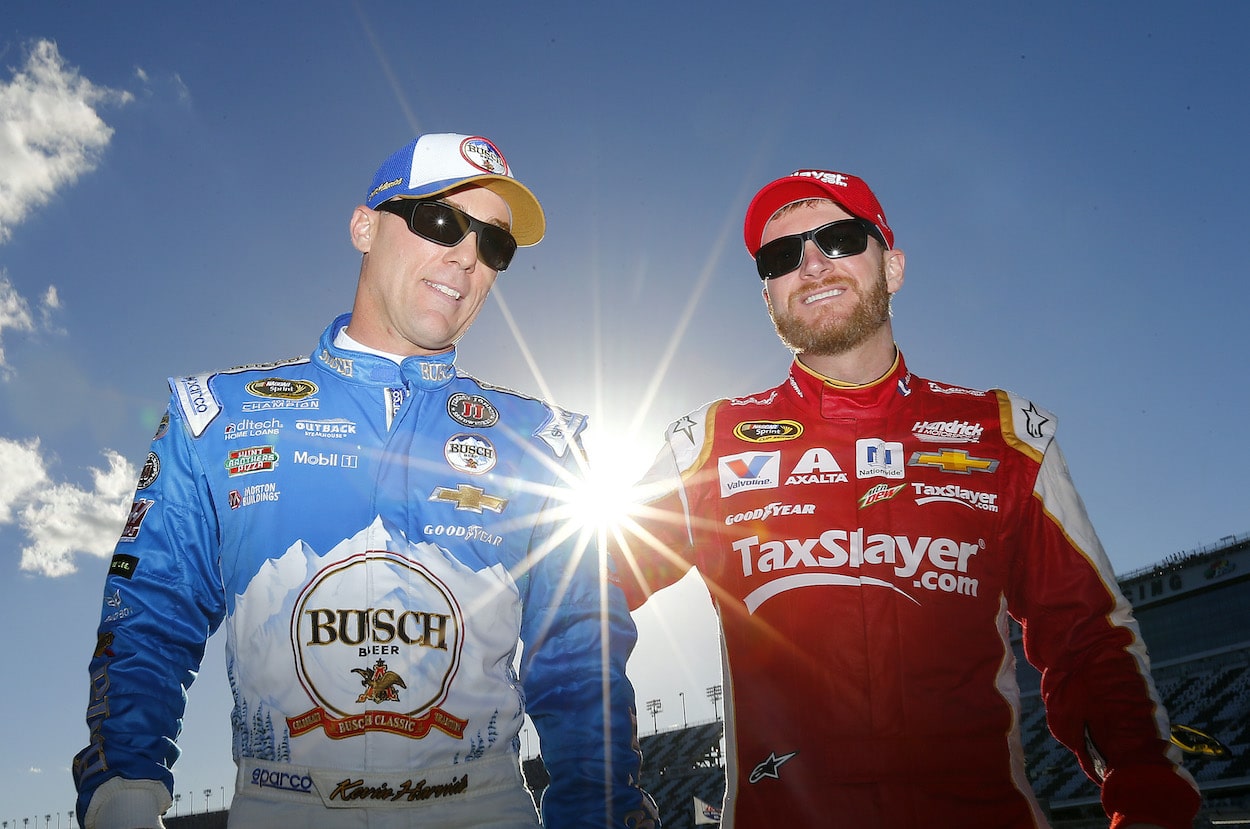 Earnhardt's comments were just as nice as you'd expect, but his specific remark about "Zero F**** Given" stands out. 
Harvick has never been one to shy away from sharing what's on his mind. This past season provided the perfect example when he fired multiple direct shots at the sanctioning body for its handling of safety issues with the Next Gen car. 
If something similar happens in 2023, his final season, there's no reason to believe he won't be just as outspoken. And if the source of his frustration is from another driver, like Earnhardt's comments in 2017 or the Chase Elliott situation at Bristol in 2021, you'd expect the No. 4 won't take anything off anyone.
As Earnhardt said, Harvick in 2023 should be fun to watch. Get the popcorn ready.