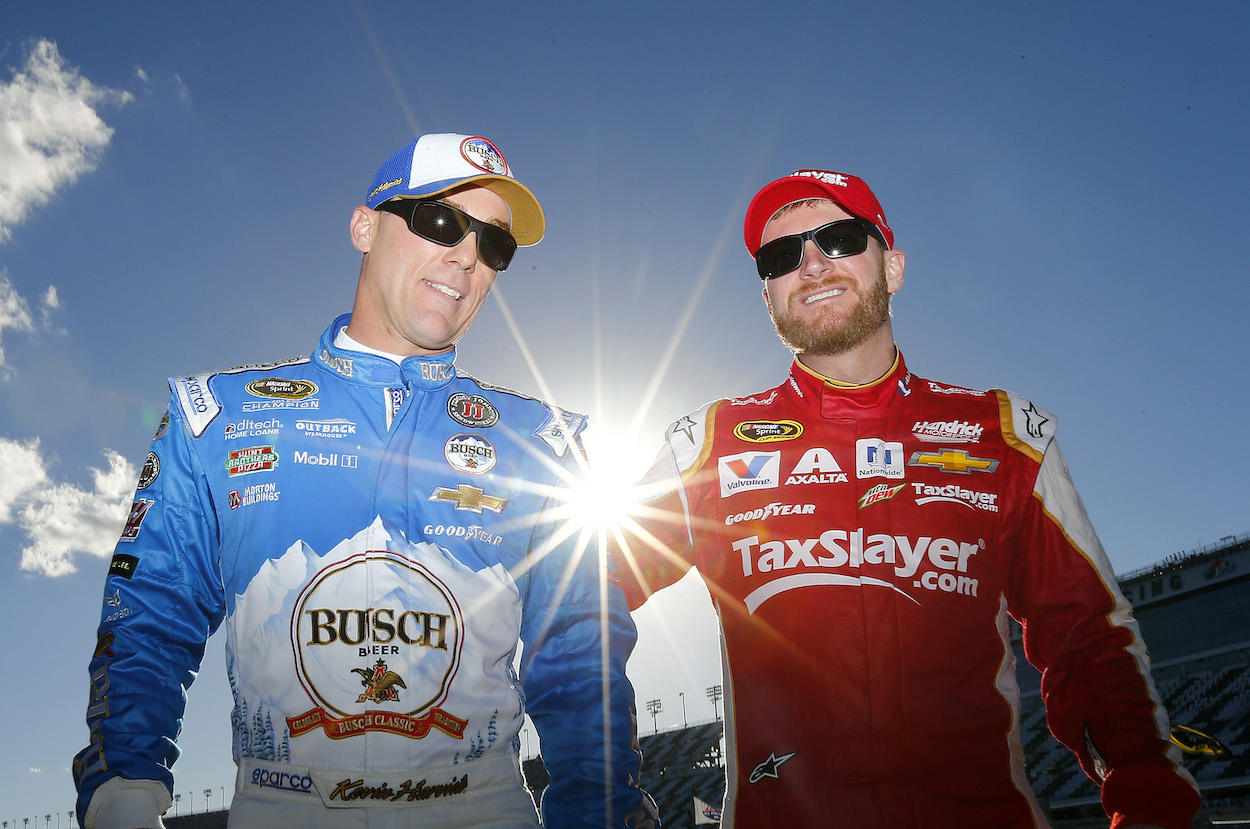 Dale Earnhardt Jr. Finally Confronts Kevin Harvick About 2017 Comments Blaming Him for Stunting NASCAR's Growth: 'That Hurt My Feelings So Bad'
Dale Earnhardt Jr. made the season finale of the Dale Jr. Download a memorable episode by confronting Kevin Harvick about his 2017 comments when he said Junior was responsible for stunting NASCAR's growth.
Dale Earnhardt Jr. was and still is one of the most beloved figures in NASCAR. During his career, he won the Cup Series Most Popular Driver award an incredible 15 consecutive times. However, back in 2017, Junior's final year of full-time racing, not everyone was happy with the two-time Daytona 500 winner after he made a comment about drivers' salaries. Kevin Harvick fired a massive shot in response, suggesting the retiring driver had stunted the growth of NASCAR.
Those comments have never been addressed by the drivers. Until now. Harvick appeared on the season finale episode of the Dale Jr. Download, and the pair discussed the uncomfortable topic head-on and didn't pull any punches. 
Dale Earnhardt Jr. upset some drivers with comments about salaries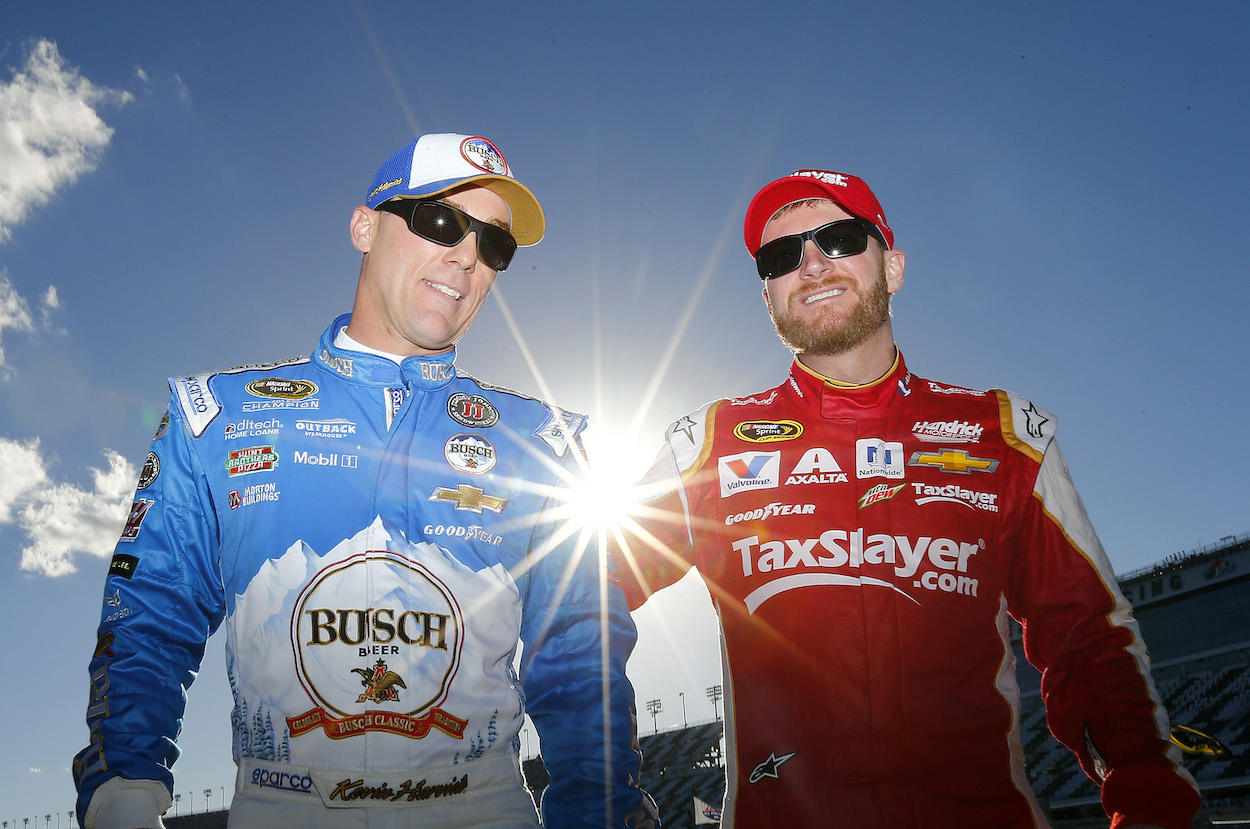 After missing the last half of the 2016 season due to concussion issues, Dale Earnhardt Jr. announced that he would retire from running a full-time Cup Series schedule following the 2017 campaign. As part of his farewell tour in that final year, he was regularly brought into the media center at each respective racetrack and peppered with questions from reporters. During a session at Watkins Glen, one reporter asked him about drivers' salaries. Earnhardt offered an honest answer.  
"So every weekend, they would take me to the media center to do whatever they were going to do, and they would always ask me about current topics and everything coming in and out of the sport every week," Earnhardt recalled of the situation on the season finale episode of the Dale Jr. Download with Kevin Harvick as his guest. "And they were asking me about Matt Kenseth and why he's getting shuffled out of Gibbs and how he's probably not going to have a ride or who will hire him. I was thinking Matt's got to bring his asking price down. And you've got these other drivers coming in like (William) Byron and these kids that will take nothing to take his job. If I'm an owner, I'll pay Christopher Bell or William Byron half or way less than hiring Matt."
Several veteran drivers who were in the middle of contract negotiations, like Harvick, heard about Earnhardt's remarks and were understandably unhappy. 
Kevin Harvick said Earnhardt stunted NASCAR's growth
Harvick, who was previously scheduled to appear on the podcast several weeks ago but didn't because Earnhardt had an illness, candidly admitted on the show that he was upset when he learned what the retiring driver had to say in 2017. 
"For me, I was like, 'Man, I thought he was on the drivers' side' – and then talking about salaries going down," Harvick remembered. "And I'm like, 'I've got to change the narrative of this conversation.'"
A couple of days later, Harvick did just that on his former SiriusXM radio show when he fired a massive shot at Earnhardt.
"I think some of the growth in the sport has kind of been, has not reached the levels that it should have because our most popular driver hasn't been our most successful driver. Dale Earnhardt Jr. has won the most popular driver for however many years in a row, and he has been our sport's most popular driver, but he hasn't been anywhere close to being our most successful driver. And when you look at other sports, and when you look at basketball, and you look at football, and you look at their most popular drivers, they're also right at the top of the list as their most successful drivers. 
"So for me, I believe that Dale Jr. has had a big part in kind of stunting the growth of NASCAR because he's got these legions of fans and this huge outreach of being able to reach different places that none of us have the possibility to reach but he's won nine races in 10 years at Hendrick Motorsports and hasn't been able to reach outside of that. I know that those aren't the most popular comments but those are real-life facts that you look up and see on the stat sheet."
Harvick wasn't done. 
"Imagine how popular he would have been if he had won two or three championships," he said. "That's what this is all about. His dad was popular because of the fact that he won seven championships, and he was out there grinding every week. That hasn't happened."
Dale Earnhardt Jr. finally confronts Kevin Harvick about 2017 comments
After years of tension between the two drivers who had been good friends for years before the remarks, Dale Earnhardt Jr. welcomed Kevin Harvick to the podcast to finally clear the air. And they did. Both accepted responsibilities for their roles in the conflict. 
"I texted you after I heard about the comment, and I said, 'Damn, that sucked,'" Earnhardt recalled with Harvick about their initial conversation back in 2017. "And you said, 'It probably made you feel the way I feel about your comments.'
"You know, I've used this show for a long time to talk to people that I have these differences with. My feelings are hurt or I've had a fight or an argument. Me and Kyle Busch, somehow got in that studio over there and had a conversation and we get along OK. I wouldn't say we're best friends and we don't go to dinner but we're good. With your history, I've known you for a long time, and I want to talk about that hurt my feelings so bad when you did that. And I knew that you didn't feel that way. I knew that you weren't just having a general conversation. I knew it was a hatchet job because of what I'd said. But I did want to fix it at some point. I hope that beyond today we can both agree that it's regrettable and get back to being friends."
Harvick agreed.
"That's the one thing about this sport that most people don't know. You have to be around people and you have people that you have a lot in common with that sometimes, and I think for me, I choose to almost be silent and just go away from things and not talk about them and just not be around them. And that's probably, all the time, not the right way to do it. For me, I say stuff that you look back on, and you're like, 'Oh my God, why in the world would you say that?' I think as you get older, you start to – I'm the same way, it's good to fix those things."
A conflict resolved. A strained friendship repaired.
Dale Earnhardt Jr. closed out 2021 with one of his most memorable podcast episodes and certainly one of his most productive therapy sessions. And without question, a positive way to end the year.  
Like Sportscasting on Facebook. Follow us on Twitter @sportscasting19.