Kevin Harvick's 2022 NASCAR Season Will Be Awesome if He Spooks Rivals as Much as He Scared His 9-Year-old Son
Article Highlights:
Kevin Harvick's performance plummeted from nine NASCAR Cup Series wins in 2020 to none this season
Harvick made his biggest headlines of the year for his feud with Chase Elliott
The Stewart-Haas Racing driver appears committed to competing at least two more seasons
He will turn 46 years old before the next NASCAR Cup Series season rolls around, but there was no way Kevin Harvick was going to ride off into retirement after the year he just experienced. Something went wrong with his ride in 2021, and the veteran driver is going to make sure it was a Stewart-Haas Racing problem and not a Kevin Harvick issue.
Kevin Harvick went from nine victories to none in one miserable year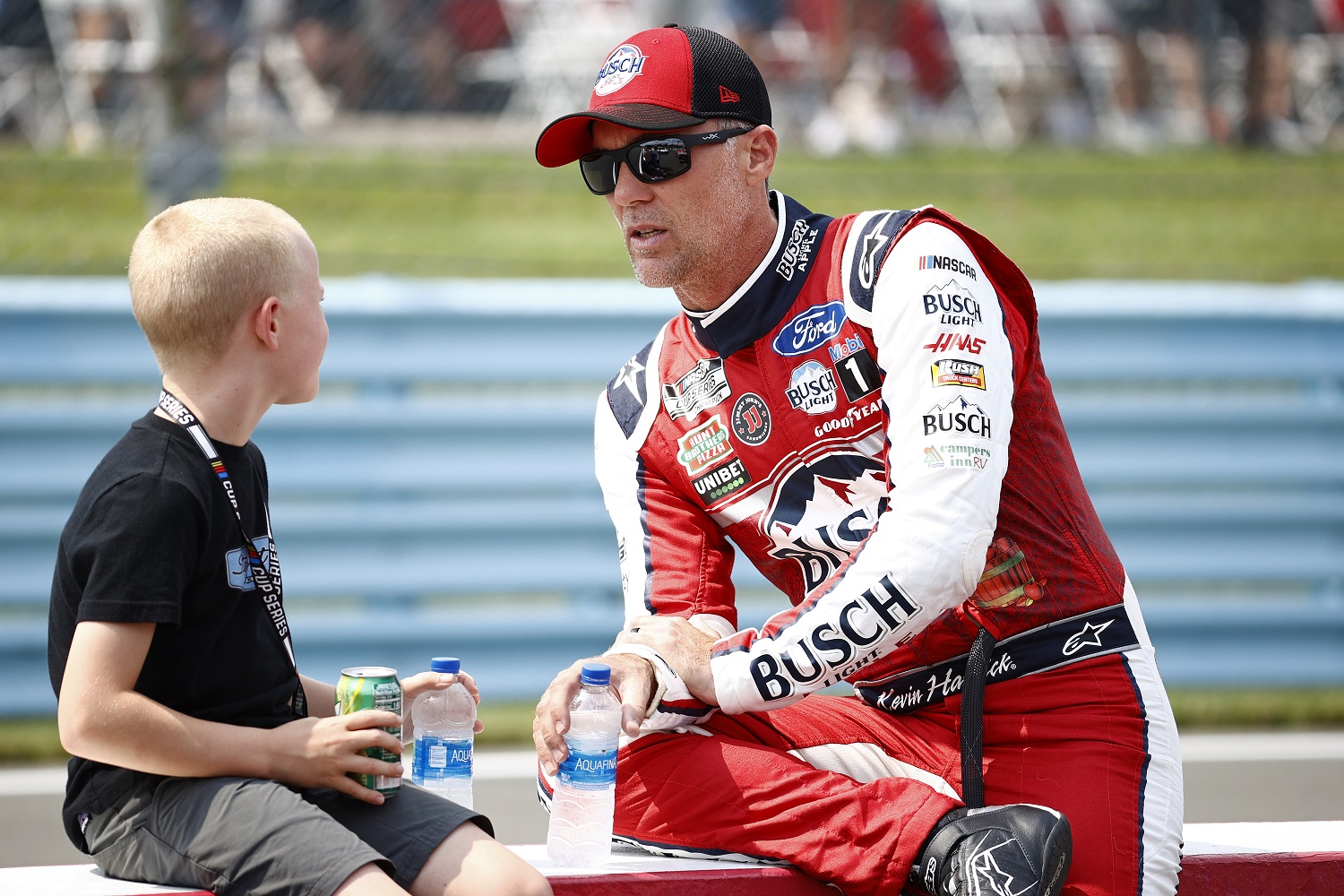 Kevin Harvick entered the 2021 NASCAR Cup Series as the betting favorite to drive away with the championship because of his 2020 results. Harvick won seven regular-season races and then two of the first three in the playoffs. It was at that point, however, that the figurative wheels came off the No. 4 Ford. He would crack the top 10 just once more in the next six races and did not qualify for the Championship 4.
The finish disappointed, but it didn't compare to what Harvick endured this year. Even with 16 top-10 finishes in the regular season, Harvick went winless and had to qualify for the playoffs on points. There would be eight more top 10s in the playoffs but no victories and no room for him in the Championship 4.
When the time comes to write the obituary on his career, the 2021 season will be noted for Harvick going winless and losing a feud with Chase Elliott.
Kevin Harvick threw a scare into his 9-year-old son
If it felt as though Kevin Harvick meandered through the 2021 season because he plummeted from nine victories to none, remember this: His 10 top-five finishes ranked eighth in the NASCAR Cup Series and he placed in the top 10 in two-thirds of all races.
And if the fire wasn't there (which is debatable) during the season, it was most definitely there for the playoffs. The feud with 2020 champion Chase Elliott gave the Cup Series as a whole, and Harvick in particular, a jolt. Three months between seasons may cool the animosity between the drivers, but it won't shut down the fire in Harvick.
Keelan Harvick, his 9-year-old son, will attest to that.
"When I told him that it was madder than I had ever been at anything that he's ever done, he kind of looked at me with the 'Oh, crap' face that said, 'Really?'" Harvick told Fox Sports. "I said, 'Really.'"
His 2022 NASCAR season has the potential to be great
Kevin Harvick's 2022 NASCAR Cup Series season is already off to a positive start. At the risk of stating the obvious, you've got to be in it to win it, and the man with 754 starts since 2001 has emphatically put to rest speculation that he might retire. In fact, there is every reason to believe he intends to stick around through the end of his contract in 2023.
Harvick told Fox Sports' Bob Pockrass that he still has a passion for driving on Sundays as well as for what happens the other six days of the week.
"I love the competition. I love being around my guys. I love being in the shop and around the people in the meetings to try to figure out what's wrong, to try to figure out what's right and move things around and try to move the needle in the right direction. I still enjoy that part of it, and you can't get that part of it standing in the TV booth or just not being in the car."

Kevin Harvick
What's more, important people continue to show faith. Harvick is expected to retain all of his longtime sponsors, starting with Busch and Mobil 1, and he has also lured GearWrench away from Kurt Busch.
Sponsorship money translates into resources for research and development, which will be crucial as the new Next Gen cars roll into garages and teams look to find an edge. None of the Stewart-Haas Racing cars performed particularly well in 2021, suggesting that SHR may have cut back on R&D because those Fords would soon be obsolete.
Now, 2022 means a fresh and energizing start for every team serious about winning.
"We're going to be in great shape for the next couple of years," Harvick predicted.
A confident Kevin Harvick rates as bad news for rival drivers.
All stats courtesy of Racing Reference.