Kurt Busch and Michael Jordan Might Now Hate Kevin Harvick Even More Than Chase Elliott Does
Article Highlights:
Kevin Harvick has announced a sponsorship deal with GearWrench, a tool manufacturer
Harvick drives the No. 4 Ford for Stewart-Haas Racing
Gearwrench formerly sponsored Kurt Busch, who'll compete for 23XI Racing next year
Anyone claiming that NASCAR drivers lack a competitive fire missed Denny Hamlin and Chase Briscoe tangling on the Indianapolis road course, Kevin Harvick wrecking Chase Elliott in Charlotte, or any of the 100 or so other instances of late-race bumping and bruising this century.
But if there is any place other than the racetrack where drivers are even more competitive, it's probably in conference rooms as they try to nail down sponsorship agreements, which are the lifeblood of every NASCAR team. And though he remains winless in 2021 Cup Series racing, Harvick has just scored a win on the money front at the expense of Kurt Busch, the new recruit for Michael Jordan's 23XI Racing team.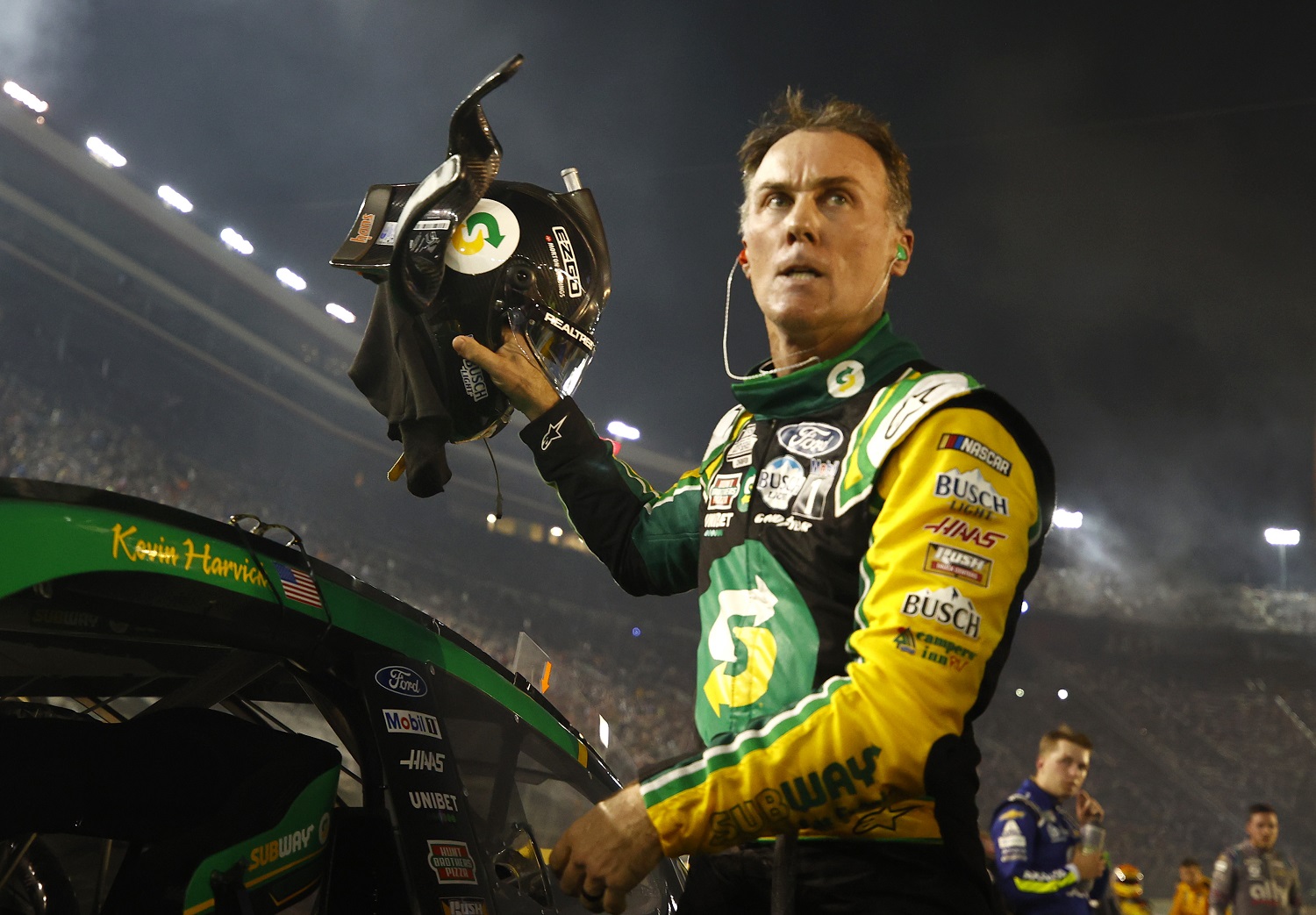 Harvick announced on Wednesday that GearWrench, a national manufacturer of automotive and industrial hand tools, will sponsor the No. 4 Ford Mustang when he begins his ninth season at Stewart-Haas Racing in 2022. GearWrench will serve as the primary sponsor in five races and an associate sponsor for the rest of the season.
Additionally, GearWrench becomes the official tool partner of Stewart-Haas Racing. SHR is even rebranding the assembly garage of its headquarters in honor of its new partner.
"We have high standards, and GearWrench tools not only meet, but exceed those standards," SHR co-owner and NASCAR Hall of Fame driver Tony Stewart said in the statement announcing the deal. "This is a partner who is as dedicated to winning as we are."
Indeed, it's unmistakably a win for Stewart-Haas Racing and for Harvick, who has triumphed on NASCAR Cup Series tracks 58 times in a career that began in 2001 but has taken the collar this year while making headlines mostly for his feud with defending series champion Elliott.
Primary sponsorship for five races, not to mention the associate-level status for the rest of the season, is a big deal because it's those deals rather than prize money that are pivotal in keeping teams running. As an aside, GearWrench's decision to back Harvick, 45, strongly suggests that he intends to continue driving beyond just next season.
The deal is also a great example of how moving parts in NASCAR exist beyond just the pistons in an engine.
Over the summer, Chip Ganassi Racing sold its operations to Trackhouse Racing and exited NASCAR. The first domino to fall was Trackhouse, owned by Justin Marks and Grammy Award winner Pitbull, retaining Ross Chastain to pair him with Daniel Suarez in a two-car team.
That left Busch as the odd man out. However, the 43-year-old winner of 33 Cup Series races landed on his feet by joining 23XI Racing, co-owned by Jordan and Hamlin. The fact that Busch was able to bring Monster Energy with him as a sponsor was undeniably a huge consideration.
Busch's multi-year agreement with 23XI Racing is where the good news ends for him at the moment. That's because GearWrench, one of his sponsors this season at Chip Ganassi Racing, is not making the move to Jordan's organization with the 2004 series champion.
While Busch and 23XI can certainly make up the money elsewhere, it's still a blow. Frontstretch.com reported that GearWrench has been his primary sponsor four times this season. And there is no obvious reason to end the partnership. Bubba Wallace, who will be Busch's stablemate in 2022, doesn't appear to have a sponsorship deal that would preclude GearWrench from coming over.
Also, the company lacks ties with a specific auto manufacturer and is leaving a Chevrolet team for one aligned with Ford. Thus, it just as easily could have followed Busch to a Toyota team instead.
Whatever the behind-the-scenes negotiations looked like, the GearWrench deal is a substantial win for Harvick and Stewart-Haas Racing. We'll know if there are residual hard feelings on Busch's part if he goes hunting for the No. 4 Ford the way Harvick went hunting for Elliott on the Charlotte Roval.
Like Sportscasting on Facebook. Follow us on Twitter @sportscasting19.