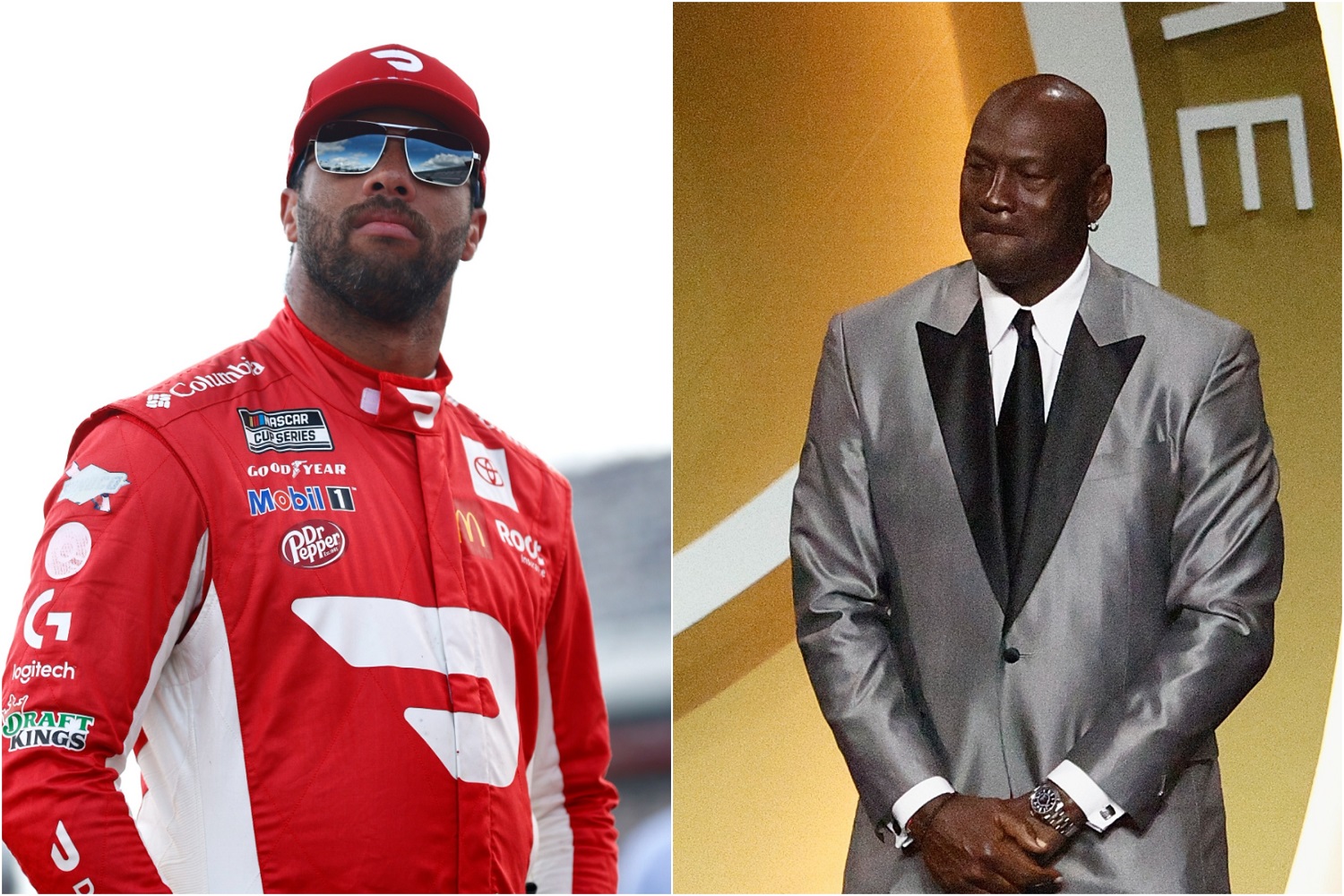 Michael Jordan Made a Fearless Leap Into NASCAR: 'I Knew I Was Diving Into the Teeth of Racism'
Michael Jordan knew he was leaping into a challenging situation by starting a team in the NASCAR Cup Series, a sport with minimal diversity.
Being star material right out of the gate as a Chicago Bulls rookie did not insulate Michael Jordan from the indignities of racism, but it undoubtedly hastened acceptance. If NBA fans continued to spew hate, it likely had more to do with him beating their teams than with the color of his skin.
NASCAR followers have given no such break to Bubba Wallace, though it will be interesting to see how much and how soon winning at Talladega as the driver for Jordan's 23XI Racing team changes that.
Michael Jordan and Bubba Wallace scored a breakthrough victory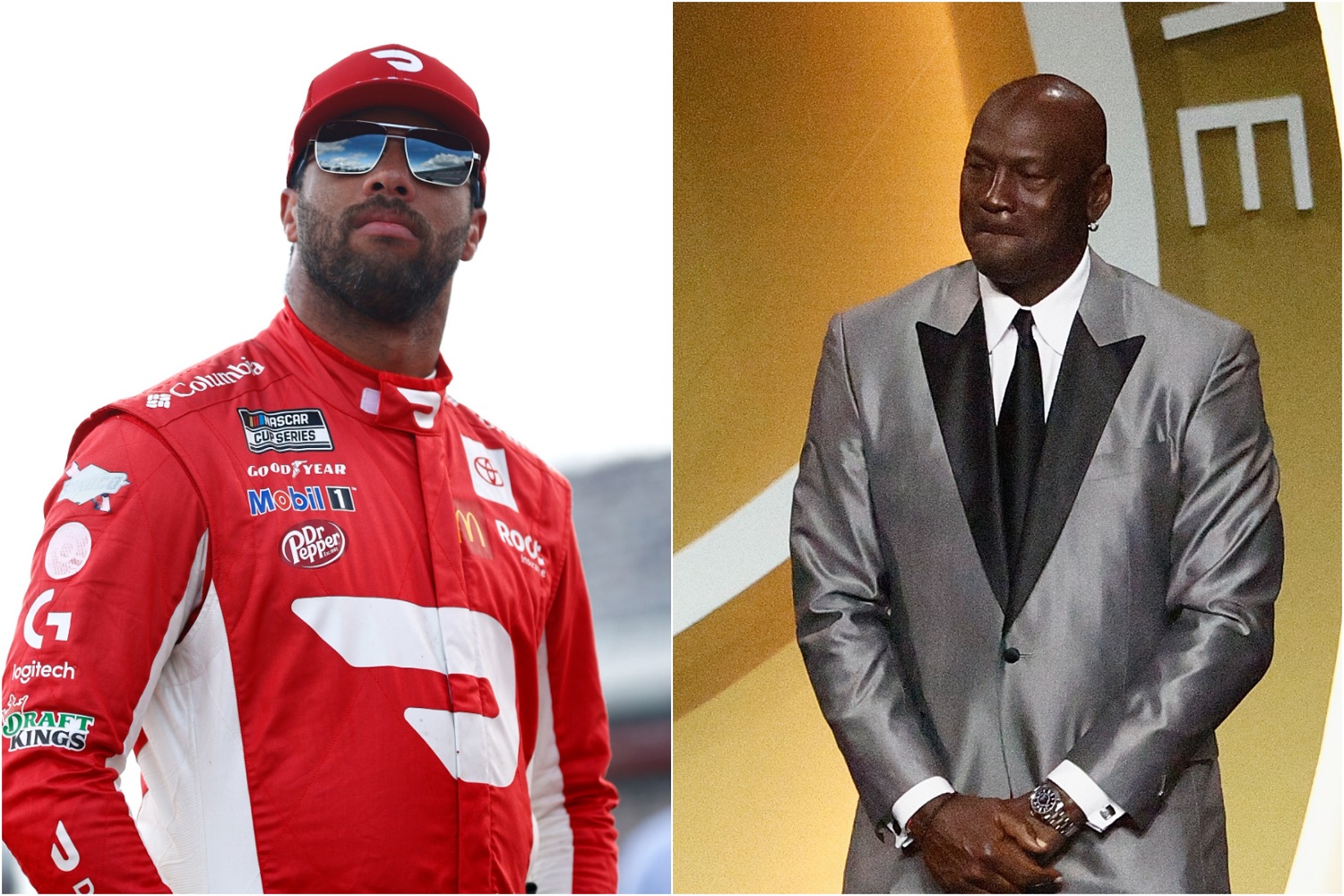 Michael Jordan made the decision to jump into NASCAR Cup Series team ownership midway through the 2020 season, and his early instincts were right. He brought in veteran racing executive Steve Lauletta to head up operations and Denny Hamlin as the minority owner who could deal with Toyota and piece together the racing team for the start of the 2021 season.
The crop of prospective free-agent drivers was relatively thin, but that didn't matter. Jordan had a chance to make a statement, and he did so by picking Bubba Wallace, who was finishing his third full season and fourth overall with Richard Petty Motorsports.
A Black owner and a Black driver in collaboration was a breakthrough pairing for NASCAR. It held additional significance in light of Wallace becoming a key figure in the intense new round of racial equity issues after George Floyd's death. In the bat of an eye, Wallace convinced NASCAR to ban the Confederate flag at races and became a target of criticism from then-president Donald Trump following the Talladega garage episode.
Any business Jordan enters is bound to make noise. Pairing Jordan and Wallace in the No. 23 Toyota turned up the volume. Winning together on Oct. 4 for the first time blew out the speakers.
Michael Jordan: 'I knew I was diving into the teeth of racism'
Michael Jordan's most famous business endeavor is his lucrative line of branded basketball shoes with Nike. He has also dabbled in auto dealerships, restaurants, and a brand of tequila. Last fall, he joined DraftKIngs as an investor and adviser.
However, his investment in a NASCAR team is what people want to talk about now. An already popular topic exploded last weekend as Bubba Wallace won the rain-delayed, rain-shortened playoff race at Talladega, one of the best-known tracks in the sport.
The only other Black driver to have won in NASCAR's top circuit was Wendell Scott in 1963, so Wallace's victory was more than just a personal triumph. And perhaps it once and for all silenced some of the booing he hears during driver introductions on race day.
Speaking to NBC, Jordan explained how much of a game-changer Talladega was, perhaps not only in NASCAR.
"You're fighting from within to achieve something. And when you achieve it, it's far more gratifying than you can even imagine. And it's inspiring to people that really start to understand what the fight really is about.

"When I dove in to get involved in NASCAR, I knew I was diving into the teeth of racism. Knew it. Been there, experienced it, been a fan, blah, blah. But I wasn't afraid of it. I was looking forward to the challenge.

"And, you know, the thing is that we can be successful in this. You've got to put forth the work. You may have to work a little extra hard, but I think it's going to start to happen with other sports, too."

Michael Jordan
The NBA legend says he feels 'energized'
The size of Michael Jordan's 23XI Racing team doubles next season with the addition of veteran driver Kurt Busch to drive the No. 45 Toyota. Combined with the momentum from Bubba Wallace's breakthrough victory, Jordan can't wait to get started.
"To see I'm a part of a guy winning for the second time in NASCAR (history) says a lot about how the game progressed," Jordan said in the NBC interview. "But it also inspires me that you're making a difference in the sport that no one really thought could happen or occur, so I feel gratitude. I feel energized to keep this thing rolling and have other Bubba Wallaces winning and other people getting involved in the sport."
Like Sportscasting on Facebook. Follow us on Twitter @sportscasting19.