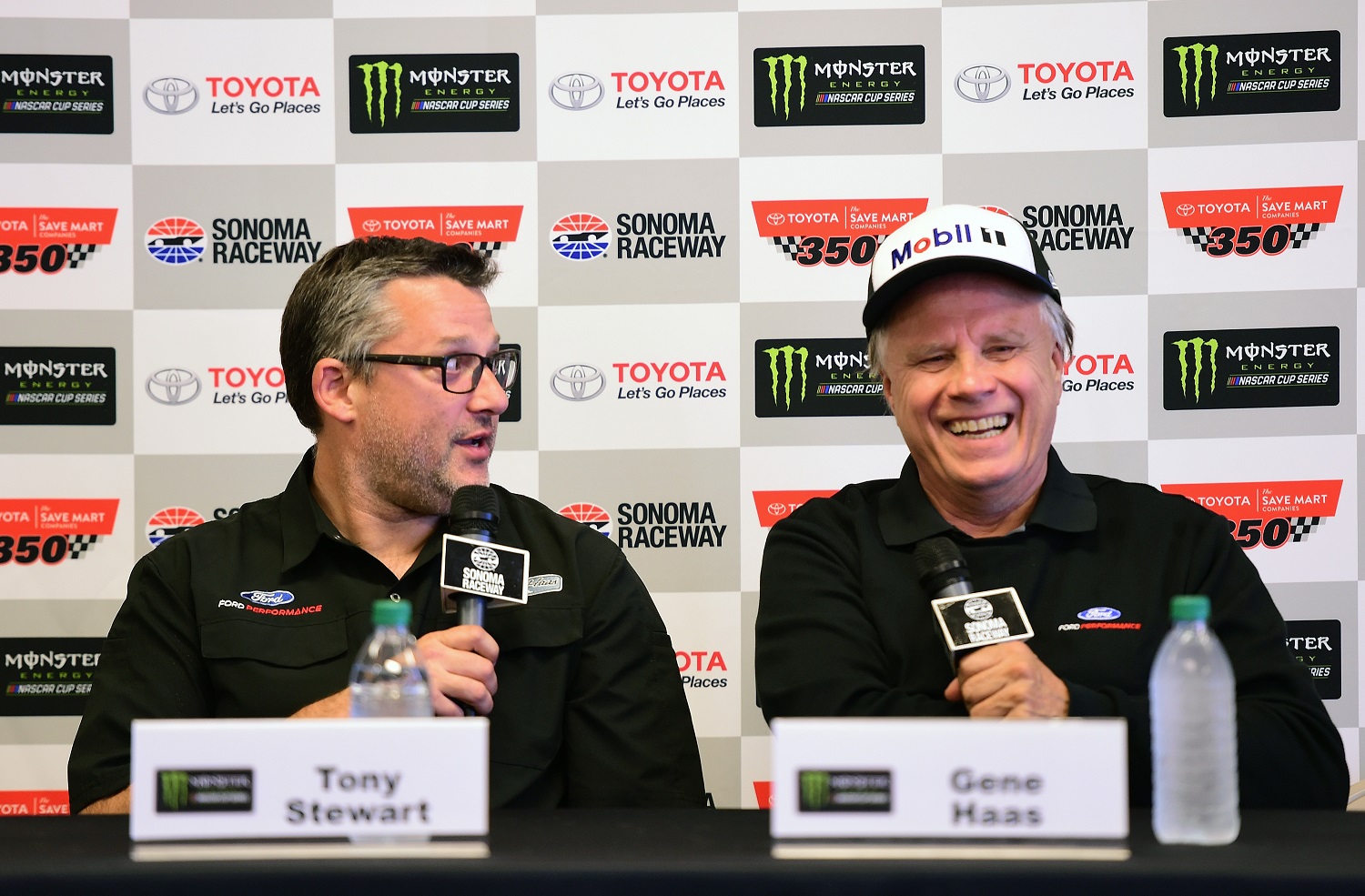 Stewart-Haas Racing and His Formula 1 Team Have Been Massive Duds for Gene Haas in 2021
Stewart-Haas Racing co-owner Gene Haas admits to trimming spending on his Formula 1 team, which may shed light on why the NASCAR Cup Series team also struggled in 2021.
It's only conjecture, but Kevin Harvick and the rest of the Stewart-Haas Racing entries in the NASCAR Cup Series may be able to explain the disappointing 2021 season with three words: Trust the process. Gene Haas admits that he pulled back R&D money from his Formula 1 team, so it stands to reason he may have done the same at SHR for a similar reason.
Unfortunately for the Stewart-Haas Racing drivers and their fans, there are no draft picks pending to take the sting out of a one-win year.
SHR's co-owner is a big deal in racing around the world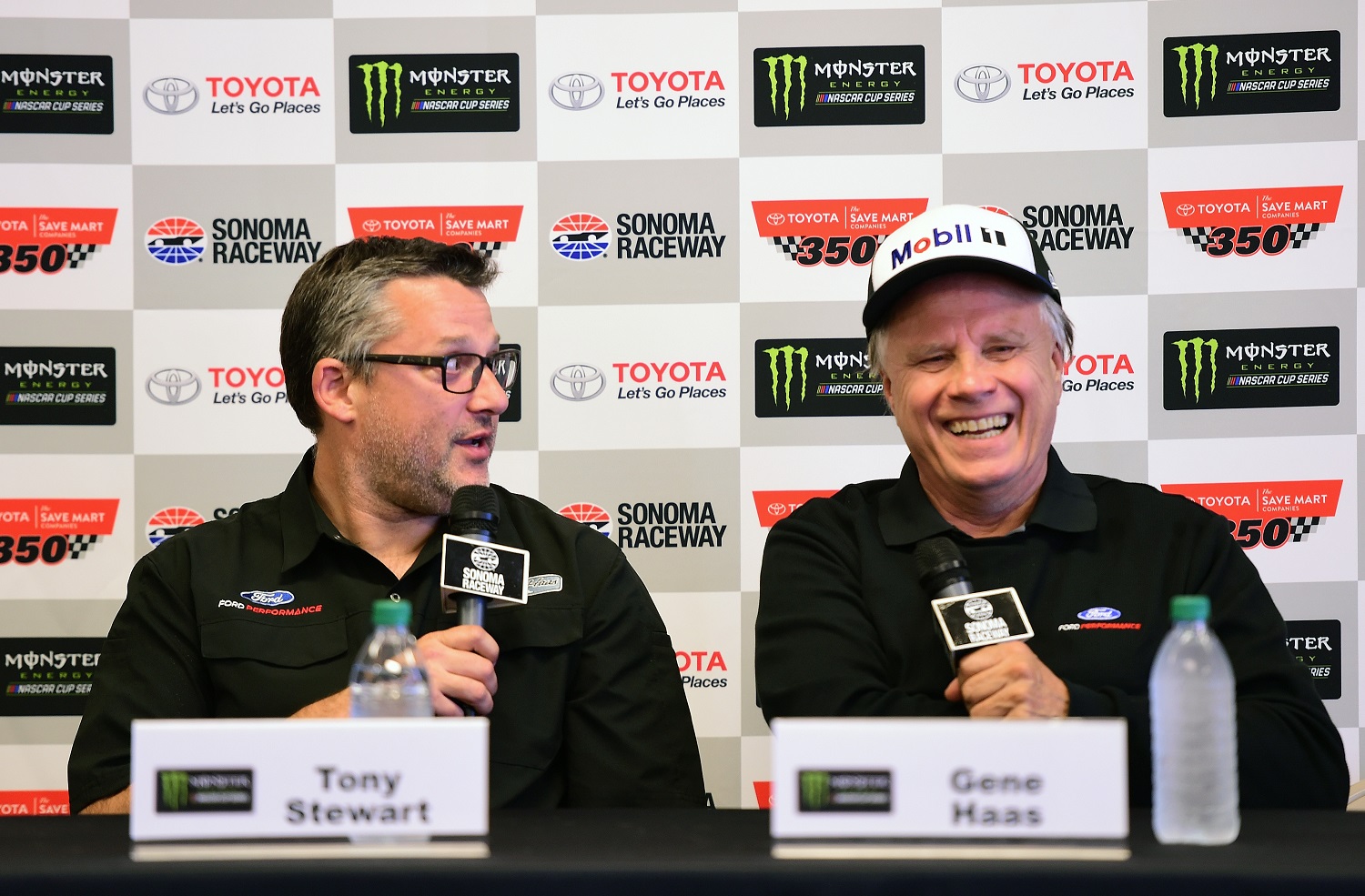 The racing media was eager to make comparisons between the two organizations on Oct. 24 when Formula 1 competed at Circuit of the Americas in Texas while NASCAR was conducting a playoff race 700 miles away at Kansas Speedway. The premise was that F1, which has scheduled two races here for 2022, is on the rise in the United States while interest in NASCAR may be stagnating.
No clear conclusions emerged, but there were results, with Max Verstappen and Red Bull Racing triumphing in Austin while Kyle Larson of Hendrick Motorsports won in Kansas City. Neither development was surprising since the drivers lead their respective circuits in victories this year.
Nor was it surprising that Gene Haas' cars didn't make it to victory lane. That's been the story all season long. Haas has skin in the game in both NASCAR and Formula 1. He co-owns Stewart-Haas Racing with NASCAR Hall of Fame driver Tony Stewart, but he's even more invested in F1.
Formula 1 went three decades without an American as a primary team owner before Haas bought the financially struggling Marussia team in 2015 and began fielding cars the following year, buying engines from Ferrari and putting team operations in the hands of Guenther Steiner, previously the technical director for Jaguar and Ferrari.
Gene Haas admits cutting back on Formula 1 spending
American racing fans have already heard plenty about the NASCAR Cup Series making significant changes in 2022 with the introduction of the Next Gen car. However, Formula 1 will also look different in 2022 after postponing some major changes a year because of the pandemic.
Formula 1's new car design calls for over-wheel winglets for the first time, the restoration of wheel covers, and modifications to the nose and front wing shape. The effect on aerodynamics should be substantial, with officials projecting less "dirty air" and more racing in close quarters.
From the Haas team's point of view, things can only get better after the changes kick in. That's because drivers Mick Schumacher and Nikita Mazepin have gone through the season without a top-10 finish in the 20-car fields. It completes a dramatic drop from 2018, when Romain Grosjean and Kevin Magnussen carried the Haas team to a respectable fifth place in the constructors' standings.
Speaking to The Associated Press after another dismal finish in Austin, Gene Haas conceded this was a throwaway season for him in Formula 1.
"You could spend $10 million to $20 million and maybe move up one position," Haas said. "It wasn't worth the money. We just decided we'd put all our money in the '22 car."
Haas said the early feedback has been encouraging. Still, there are no guarantees that will translate into results.
"The good thing is that because it's a whole brand new format, nobody really can copy anybody else," he said. "All 10 teams are going to have 10 unique cars. We'll see who lucks out."
The Stewart-Haas Racing scorecard for 2021 has been disappointing
The frustrating NASCAR Cup Season for Stewart-Haas Racing has been thoroughly documented. The numbers don't get better no matter how many times you look at them:
Kevin Harvick went from nine victories a year ago to none with two races remaining this season. The driver of the No. 4 Ford has posted just 10 top-five finishes, his worst productivity since 2013.
Aric Almirola won at Loudon, but he has only recorded two other top-10 finishes.
Chase Briscoe is on everyone's shortlist for the most disappointing driver of 2021. After winning nine Xfinity races last year, he stands 23rd in points in his rookie Cup Series season.
Cole Custer has slipped from 16th place in his rookie season to 27th this year.
Given what team co-owner Gene Haas said about cutting Formula 1 spending ahead of changes to the car, is it possible SHR slashed offseason R&D in light of NASCAR moving to the Next Gen car?
The results certainly suggest that is possible.
All stats courtesy of Racing Reference.