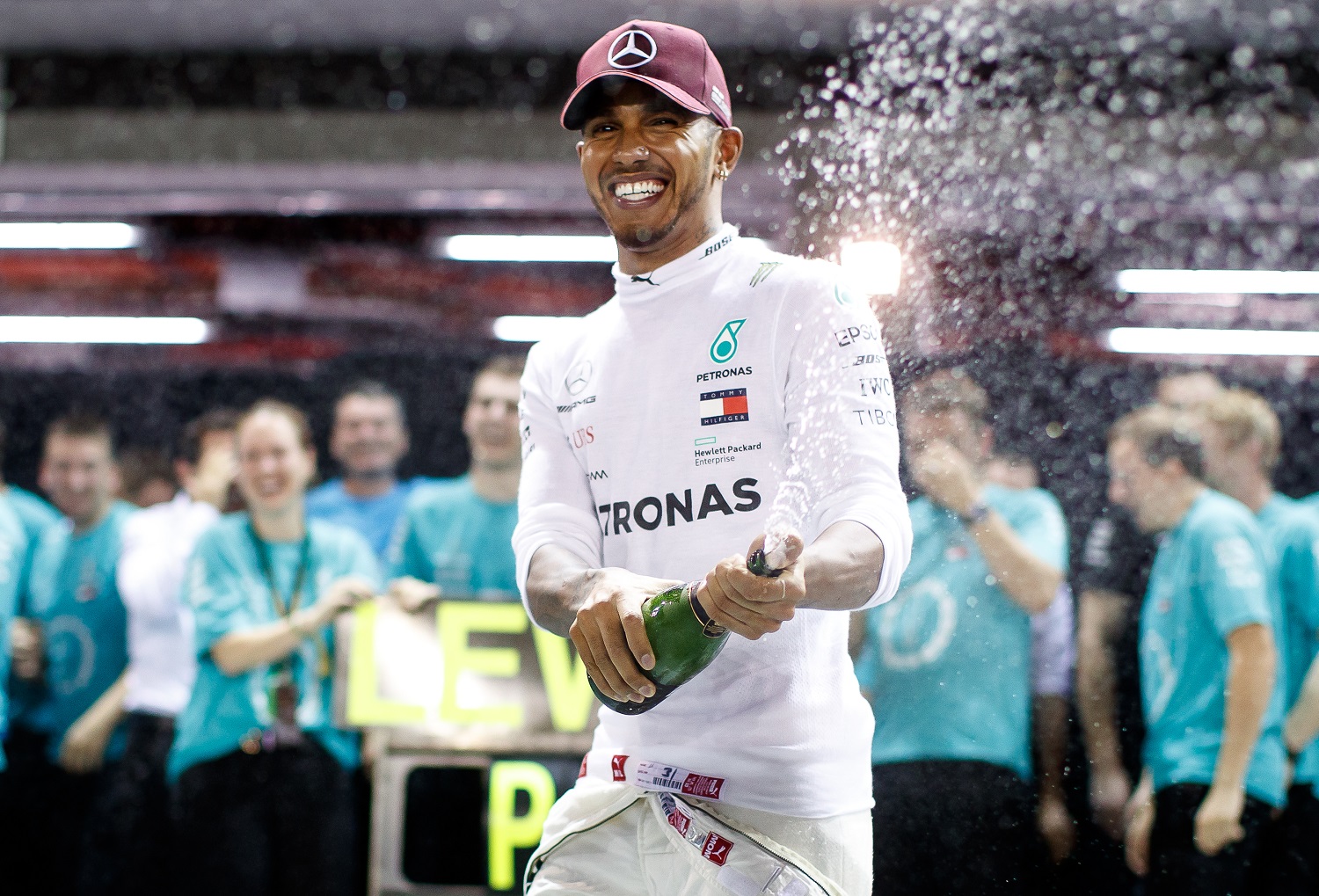 Jet-Setting Lewis Hamilton Answered a Furious Niki Lauda With His Convincing Formula 1 Victory
Lewis Hamilton followed a 2018 Formula 1 victory in Italy with a travel schedule that angered Mercedes executive Niki Lauda. But Hamilton breezed to victory in Singapore in the next race, silencing all doubt.
Given that he was already 33 years old and the winner of 68 races, the list of drivers knowing more than Lewis Hamilton about Formula 1 racing in September 2018 was shorter than the line at the all-you-can-eat liver and onions buffet.
That didn't stop Niki Lauda, himself a legendary F1 driver, from assuming he knew better than the English legend, who had already accumulated four of his record-tying seven World Drivers' Championships. But just as he has done to his rivals on the track for years, Hamilton put Lauda in his rear-view mirror one afternoon and never looked back.
It was a vintage confirmation of Hamilton's ability to balance substance with style, establishing once and for all that he can do what he wants when he wants with nary a concern about being ready to go once the grid is set on Sunday mornings. He is up to 100 race victories now and poised to battle Max Verstappen to the end in pursuit of his eighth Formula 1 crown.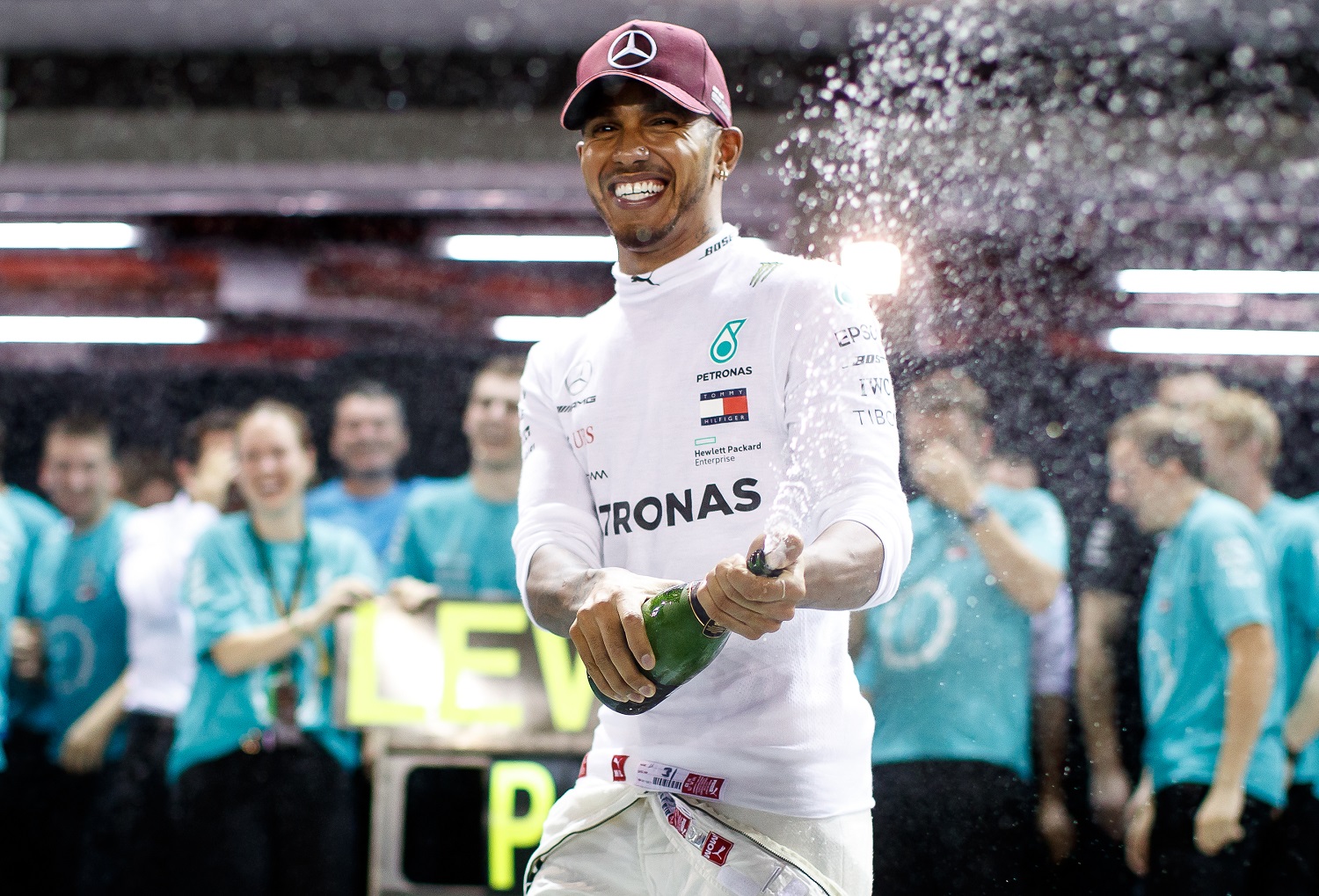 He will do it with his usual endless energy while pursuing outside interests ranging from clothes and music to pressing for racial equality. Anyone choosing to second-guess his decisions needs only to look back at Singapore on Sept. 16, 2018.
Toto Wolff recently recalled to the Wall Street Journal the incident involving Lauda and Hamilton, one that left the Mercedes team principal and CEO caught in the middle between racing greats.
Hamilton had built a 30-point lead over Sebastian Vettel in the driver standings and was coming off a decisive victory over Kimi Raikkonen in the Italian Grand Prix on Sept. 2. With the next race two weeks away, Hamilton took off on his own after the Monza awards ceremony.
When Wolff next heard from Hamilton, the driver was in Shanghai to launch a new collection for Tommy Hilfiger. Mercedes pays Hamilton handsomely, but he also earns enormous money from sponsorship deals, and Hilfiger is one of his biggest. Being passionate about fashion, Hamilton even helped plan the Tommy Now show, the designer's first in Asia, in the Chinese financial hub, according to Fashion Network.
From there, Hamilton traveled to New York City to participate in another launch event, followed by a trans-Atlantic flight to Great Britain to attend a friend's party.
At the time, Lauda, who won 25 races and three World Drivers' Championships from 1971-85, served as non-executive chairman of the Mercedes team. By the time Hamilton landed in Singapore to begin preparations for the next race, he'd flown more than 17,000 miles in little more than a week. That infuriated Lauda, who had played a role in luring the British driver from McLaren in 2013.
"How can you allow this?" Wolff recalled Lauda asking. "He's racing for the championship and he's traveling around the world in the week of the Grand Prix?"
Wolff told the WSJ that he remained quiet, and it proved to be the proper move. On Sept. 16, Hamilton dominated on the Marina Bay street circuit. Starting from the pole, he led the first 14 and final 35 laps of the 61-lap race, and Hamilton took the checkered flag nearly nine seconds ahead of Verstappen.
With Vettel placing a distant third, Hamilton expanded his lead in the standings to 40 points with just six races to go. Winning in Sochi and then at the Japanese Grand Prix in the next two races built the lead to 67 points, all but assuring Hamilton of his fifth series crown.
It left Lauda no room to complain further.
"We must stop putting people into boxes. Everybody functions differently," Wolff said. "If you're as successful, who can hold it against you? Seven-time world champion, you hold the records in the most wins and the pole positions, you can show up with a pink suede tracksuit. … If you're not winning, people will see you as a fool."
That's yet to be an issue with Hamilton, even with Verstappen getting the best of him thus far in 2021.
Like Sportscasting on Facebook. Follow us on Twitter @sportscasting19.