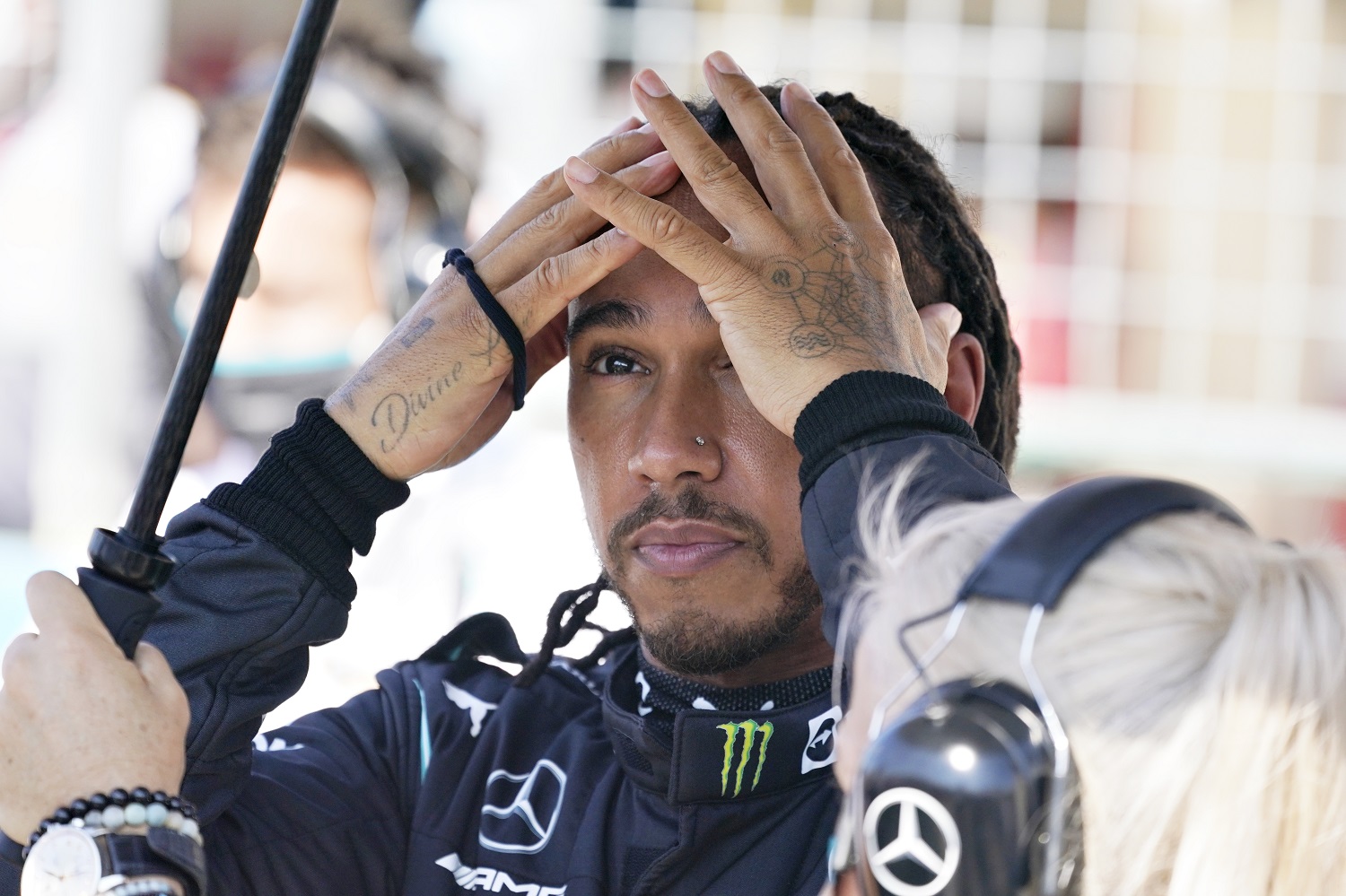 Lewis Hamilton's Support of Breonna Taylor Rattled His Nerves and Forced Formula 1 to Change Its Rules
Lewis Hamilton took a bold step in bringing attention to the controversial police shooting of Breonna Taylor in 2020, knowing that he would would upset Formula 1 officials.
Lewis Hamilton can drive into a hairpin turn side-by-wide with Max Verstappen with the Formula 1 title on the line and not flinch. It's the sort of determination that has propelled him to 100 race victories and a record-tying seven World Drivers' Championships.
However, one recent race left Hamilton uncharacteristically jittery over the prospect of finishing second. In Lewis' world, anything other than winning amounts to losing, and the British racing superstar had too much to say on Sept. 13, 2020, in Mugello, Italy. If he failed, Hamilton suspected Formula 1 officials wouldn't give him a second chance.
He was right. Fortunately for Hamilton, he was victorious.
Slow progress in diversity frustrates Lewis Hamilton
Before the George Floyd killing in Minneapolis galvanized the racial justice movement, the shooting death of Breonna Taylor captured less public attention. Taylor, a 26-year-old Black woman, was shot and killed inside her Louisville, Kentucky, apartment on March 13, 2020, when police executed a no-knock warrant, and the ensuing investigation into the circumstances moved slowly.
Hamilton took an interest in the case, but he was not in dilettante mode when he chose to speak out. He had already used his position as one of the world's most famous and accomplished athletes to raise concerns over racial and social justice.
That included going after Formula 1 when necessary. Speaking to WSJ. Magazine, Hamilton recalled a 2019 social media photo of the Mercedes team celebrating the driver's sixth F1 championship. The faces in it were as pale as a bag of white rice.
"I zoomed in on them, from the F1 Instagram. I've been here 15 years, 14 years — how has it not changed? I was really sad about it. I was frustrated and sad."

Lewis Hamilton
It was the sort of status quo Hamilton had fought against in words and deeds. Most recently, he donated approximately $27 million to his Mission 44 charity, envisioned to guide Black students into careers in science, technology, engineering, and math.
Lewis Hamilton took a stand on Breonna Taylor's death
The 2020 schedule brought Formula 1 to Mugello, Italy, in the second week of September. With six months elapsed without any of the police officers involved in the Breonna Taylor shooting charged, Lewis Hamilton decided to act.
Hamilton was in the midst of another stellar season, one that would conclude with his fourth straight World Drivers' Championship, and he arrived as the favorite to win yet another race. He decided that Mugello would be where he took an unprecedented stand.
If he made it to the podium as a top-three finisher, Hamilton would attend the ceremony wearing a T-shirt asking that those involved in the fatal shooting of Taylor be arrested. Having gone through so many podium ceremonies in his career, Hamilton knew that the race winner is always the focus of attention. Further, wearing the shirt without placing first would be disrespectful to the winner.
"I can't be second. I'm wearing that shirt — I've got to get to first to bring light to her name.

"I get these nerves like, 'Shoot, I'm about to break the rules and people aren't going to be happy with it.'"

Lewis Hamilton
Hamilton did win, beating Mercedes teammate Valtteri Bottas to the checkered flag by 4.88 seconds.
Formula 1 immediately instituted a new rule
The pictures of Lewis Hamilton wearing his T-shirt demanding action in the investigation of the Breonna Taylor shooting circulated around the world, bringing fresh attention to the case. As the acclaimed driver predicted, some people were not happy.
FIA Race Director Michael Masi issued a directive almost immediately.
"For the duration of the podium ceremony and postrace interview procedure, the drivers finishing the race in positions 1, 2, 3 must remain attired only in their driving suits, 'done up' to the neck, not opened to the waist," his decree stated.
It's not as though Masi caught Hamilton off guard with the hasty decision.
"They've changed a lot of rules after a lot of things that I've done," he said.
Like Sportscasting on Facebook. Follow us on Twitter @sportscasting19.