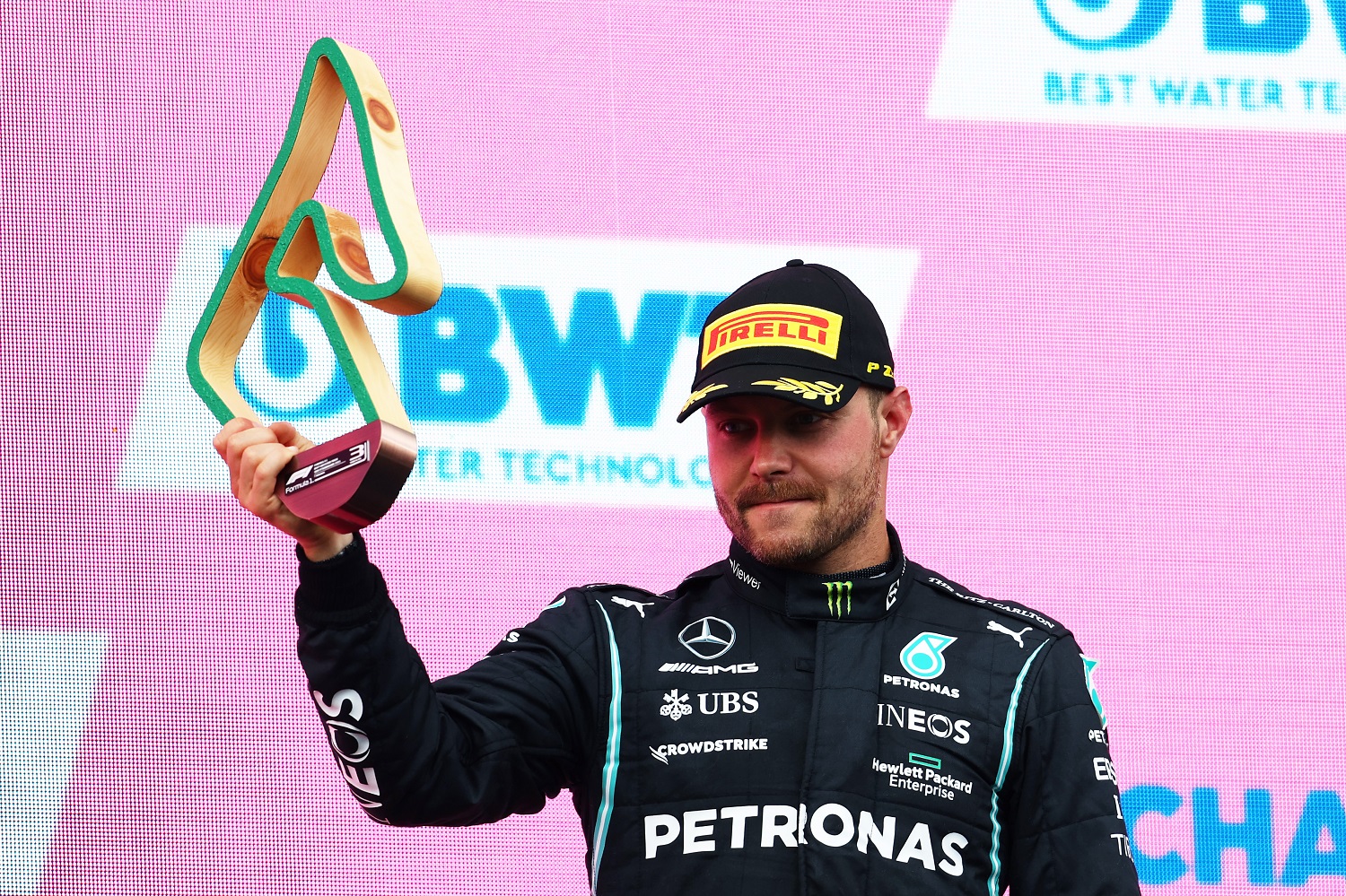 Valtteri Bottas' Net Worth Will Get a Boost but Cost Him a Formula 1 Sweet Ride
Finnish driver Valtteri Bottas of the Mercedes team appears set to leave at the end of the season in pursuit of a long-term contract.
While Valtteri Bottas has been a consistent podium finisher for Mercedes, their Formula 1 marriage has been the subject of speculation for the better part of two seasons. Now, the relationship appears to have run its course; Mercedes has its eyes on another driver, and Bottas has his heart set on job security that will add to his net worth.
Bottas can land the multi-year contract he's been seeking, but can he find a team with a car that comes close to what Mercedes has given him?
Valtteri Bottas has been a consistent wingman for Lewis Hamilton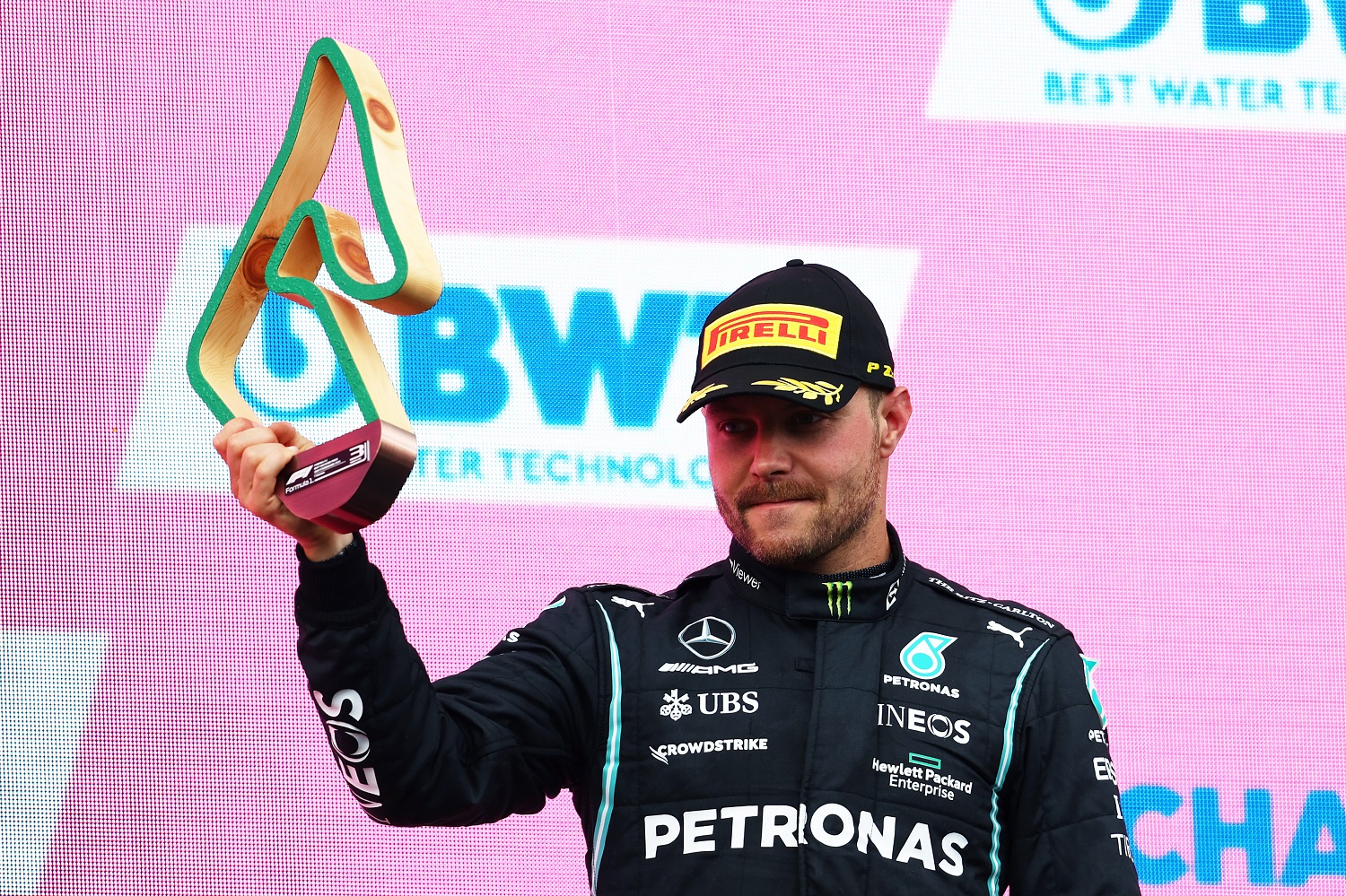 Valtteri Bottas knew when he arrived from the Williams Martini Racing team for the 2017 season that his role was going to be secondary to Mercedes star Lewis Hamilton, who was coming off a second-place finish after back-to-back Formula 1 championships.
Bottas has played his role admirably. While Hamilton has won four straight season titles, Bottas has finished third, fifth, second, and second. The native of Finland owes some of his success to Mercedes' overall superiority, but he is an undeniably sound driver. He posted all nine of his victories and 53 of 62 podiums at Mercedes after beginning in F1 with three seasons at Williams.
Driving for Mercedes has boosted Valtteri Bottas' net worth
The Sports Rush reported that Valtteri Bottas earned $11 million driving for Mercedes in the 2020 season. That tied him for fifth among the 20 competitors, but he was far behind the $57.8 million that Hamilton pulled down.
Forbes reported in July that the Finnish driver's salary this season is $10 million. Given that the salary info came from different sources, it's unlikely that he actually took a pay cut. However, Bottas continues to work on one-year contracts, which contributes to a constant pressure to produce while still adding to a net worth that Celebrity Net Worth estimates at $20 million.
Leaving Mercedes can lead to a multi-year contract
The George Russell watch has been on in Formula 1 circles for a couple of years. Russell has been driving for Williams since arriving on the circuit in 2019, but he subbed for Lewis Hamilton in one race last year.
Now, speculation is rampant that Mercedes will bring Russell in to replace Valtteri Bottas in 2022. For his part, Bottas sounds like he is on the way out the door, with Planet1.com reporting that he has said he is looking for a multi-year arrangement.
The most common speculation has Bottas heading to Alfa Romeo, with Mercedes boss Toto Wolff helping orchestrate the deal. Kimi Raikkonen is retiring, and Bottas would likely pair with Antonio Giovinazzi.
"Sorry, but I can't share anything yet," Bottas said during preparations for the Dutch Grand Prix. "For me personally, things are going in the right direction. I'm very excited and very happy."
Will the security of a potential multi-year deal be enough to keep him happy? Auto racing doesn't get any more glamorous than driving for Mercedes, even though Max Verstappen and the Red Bull outfit have finally caught up to their rival. Alfa Romeo is strictly an F1 also-ran, with its drivers a dismal 17th and 18th in the standings this summer.
"I definitely could give full commitment to the team, knowing the work will continue," Bottas vowed.
Like Sportscasting on Facebook. Follow us on Twitter @sportscasting19.