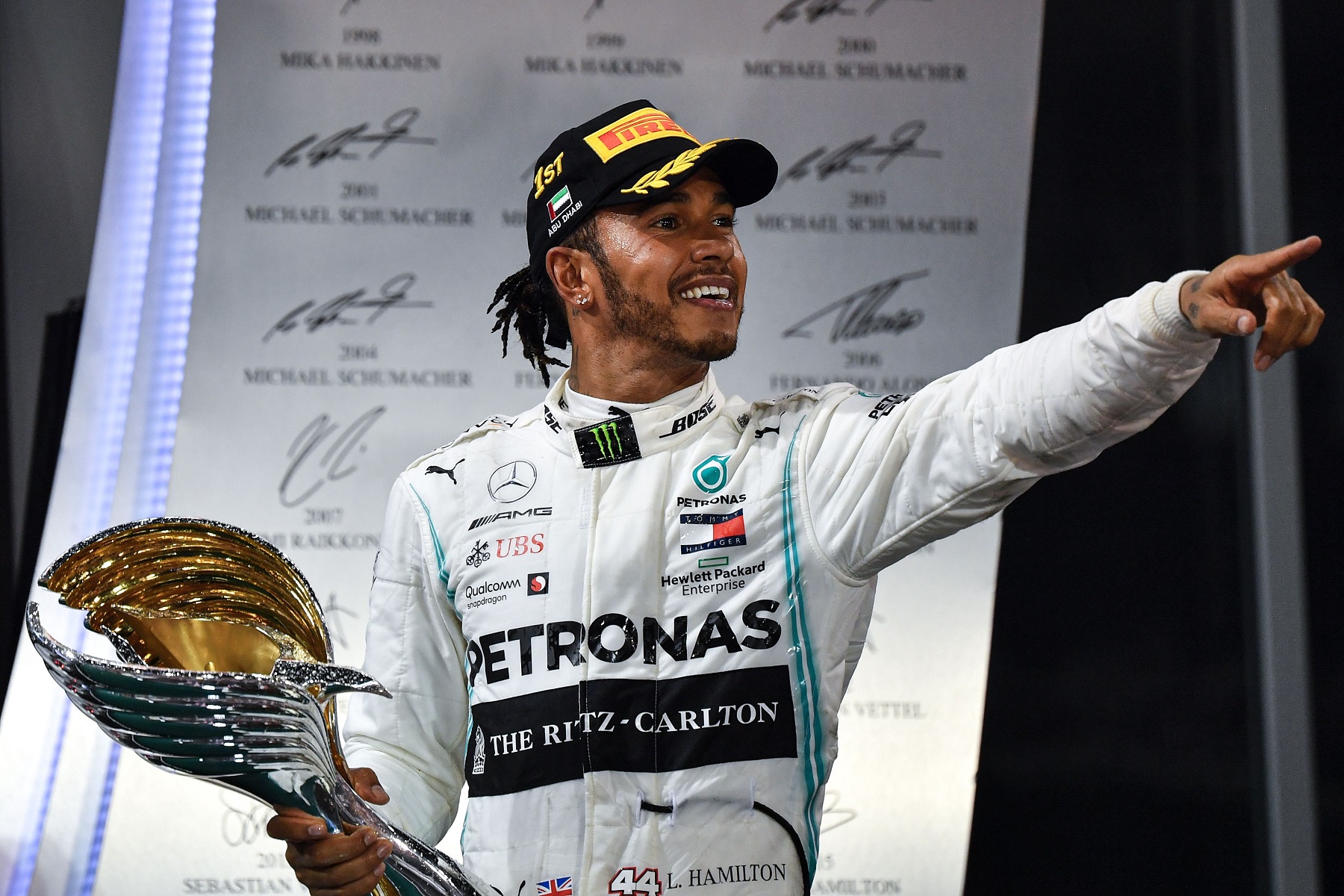 Lewis Hamilton Is Near the Bottom of This Formula 1 Drivers Ranking
Lewis Hamilton is deserving of his huge Mercedes salary, but the world's top Formula 1 team is paying a premium for his dominance.
LeBron James has been good. Tom Brady has been better. But no one alive today dominates his or her sport the way Lewis Hamilton dominates Formula 1 racing.
Blessed with indisputable driving skills and backed by an organization that is miles ahead of most competitors in technology, Hamilton is the best F1 driver by any measure.
Except one.
Lewis Hamilton has tied Michael Schumacher's greatest record
Though preceded in recent years by stars like Alain Prost and Niki Lauda, Michael Schumacher took Formula 1 dominance to new lengths by winning the World Driving Championship an unprecedented seven times from 1994 to 2004. The last five of his championships came with the powerful Ferrari team, and Schumacher retired with F1 records for race wins (91), podium finishes (155), and pole positions (68).
Although Sebastian Vettel came along to win four season championships in a row beginning in 2010, no one challenged Schumacher's supremacy until Lewis Hamilton arrived. Hamilton actually won his first championship with McLaren in 2008 before Vettel's run began. He notched his next two with Mercedes in 2014-15 and has won the last four in a row to push his total to seven, equaling Schumacher's accomplishment.
Hamilton long ago crushed Schumacher's mark for pole positions. He moved past the German great this season in victories (95) and podium finishes (165).
Lewis Hamilton also ranks No. 1 in salary
Mercedes has a reputation for spending whatever it takes in research and development for its Formula 1 cars. The best guesses are that the organization does little more than break even financially by doing so. But it makes up for it via brand promotion all season long in the world's best-known racing circuit.
Niko Rosberg surprised the racing world twice in 2016, first by outdistancing teammate and two-time defending champion Lewis Hamilton for the driving championship and then by retiring immediately afterward. With the organization being so dominant, Mercedes had its choice of drivers and recruited Valtteri Bottas from the Williams team.
Bottas has posted nine victories and 47 podium finishes in four seasons at Mercedes. His salary for the 2020 season was reported to be $11 million, not at all unreasonable for a man capturing two race titles and five pole positions. However, Bottas' compensation pales in comparison to the $57.8 million that Mercedes paid Hamilton, according to data compiled by The Sports Rush.
In fact, Bottas also made less than Sebastian Vettel ($43 million), Daniel Ricciardo ($24.6 million), and Max Verstappen ($19.68 million). Of the three, Verstappen triumphed twice in 2020 races while the others were blanked.
Lewis Hamilton's greatness comes at a price
Lewis Hamilton finished the 2020 Formula 1 season with 347 points to cruise to the championship over Valtteri Bottas (223) and Max Verstappen (214). Sergio Perez (125) and Daniel Ricciardo (119) rounded out the top five.
If you take a different approach to evaluating the standings, however, Hamilton does not fare as well. Based on his salary, Mercedes paid Hamilton $166,599 per point in the 2020 season. Only Ricciardo ($206,723) came in worse among all drivers accumulating 75 or more points.
The list:
Pierre Gasly, 75 points, $16,400 per point.
Lando Norris, 97, $19.021.
Alexander Albom, 105, $23,429.
Lance Stoll, 75, $24,600.
Sergio Perez, 125, $39,360.
Valtteri Bottas, 223, $49,641.
Carlos Sainz, 105, $52,714.
Max Verstappen, 214, $91,963.
Charles Leclerc, 98, $112,959.
Lewis Hamilton, 347, $166,599.
Daniel Ricciardo, 119, $206,723.
While the numbers may look unflattering to Hamilton, the reality is that he is worth every penny that Mercedes pays him. By winning 11 of 17 F1 races last season, he brought Mercedes tens of millions of dollars in additional exposure that didn't cost the manufacturer a penny.
Like Sportscasting on Facebook. Follow us on Twitter @sportscasting19.