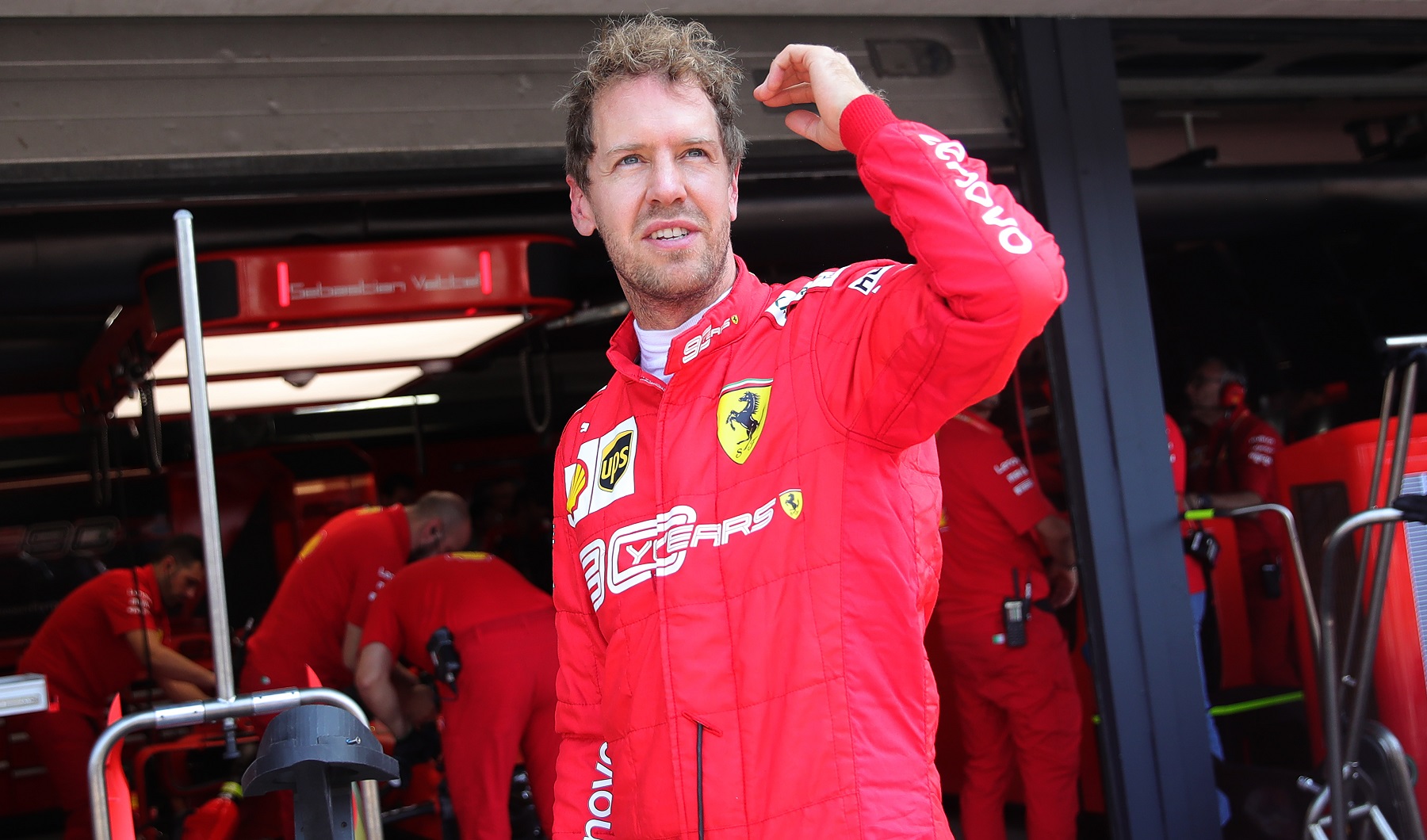 Sebastian Vettel Received Support From an Unlikely Source in His Worst Formula 1 Season
Sebastian Vettel appreciated the support of Formula 1 rival Lewis Hamilton during a frustrating 2020 F1 season.
In the short period between Michael Schumacher's final driving championship and when Lewis Hamilton began dominating the sport, Sebastian Vettel positioned himself to compete for the title of the best Formula 1 driver ever.
Vettel produced an impressive run of race and season championships and was at the top of F1 for a while, but he seems destined now to fall short of Schumacher and Hamilton. In fact, he has a long climb ahead to revive his career in the 2021 Formula 1 season.
However, the challenge comes on the heels of a boost from an unlikely source.
Sebastian Vettel dominated a stretch of his Formula 1 career
The glamour and visibility associated with winning even a single World Driving Championship makes a Formula 1 driver both wealthy and the center of attention in one of the most dangerous sports. So, the four consecutive season titles earned by Sebastian Vettel beginning in 2021 rightly slid him into the conversation for the best Formula 1 driver ever.
Michael Schumacher had retired with his seven F1 championships, and Lewis Hamilton had only captured the first of his seven to that point. Driving the Red Bull Renault, Vettel registered 34 race triumphs over four seasons.
The brilliance of the 2013 season in which Vettel won nine straight races was quickly forgotten. Very little went right with the Red Bull team in 2014, and equipment failures that plagued the team during offseason testing forced him out of three races. By season's end, he faced the ignominy of becoming the first driver since Jacques Villeneuve in 1998 to not win a race during defense of his championship.
As the Formula 1 season wound down, Red Bull announced that Vettel was being released from his contract a year early in order to join Scuderia Ferrari. Given Ferrari's history in the sport, it looked like a springboard to new greatness for Vettel.
A bad 2019 season set the stage for an F1 breakup
The switch to Ferrari in 2015 produced immediate results for Sebastian Vettel in the form of three victories and 13 podium finishes, restoring Vettel's reputation. Ferrari continued pouring its considerable resources into the Formula 1 racing program, but Lewis Hamilton already had a two-year head start by having made the jump to Mercedes in 2013.
Vettel was Hamilton' only real threat in 2017 and '18, winning five races each season. But the British rival climbed to five season championships and prepared to lay claim to the title of best Formula 1 driver ever.
The 2019 season was a huge disappointment. Paired with new teammate Charles Leclerc in Ferraris that observers believed would dominate, Vettel had one victory stripped for a driving violation and lost a great opportunity in Russia to a mechanical failure. When Vettel collided with Leclerc at the Brazilian Grand Prix, the warning signs became apparent that his relationship with Ferrari might be tenuous.
Vettel finished a frustrating fifth in the 2019 standings. Before the pandemic-delayed 2020 season began, Ferrari announced that its contract with Vettel would not be renewed for 2021.
Lewis Hamilton offered support to Sebastian Vettel
The spin on the breakup of Sebastian Vettel and the Scuderia Ferrari F1 team suggested that it was a mutual decision based on money but that the parting was amicable. As the season wore on, however, Vettel experienced repeated disappointments. Ferrari had fallen even further behind Mercedes in technology, and neither Vettel nor teammate Charles Leclerc fared well.
Vettel dropped to 13th individually and Ferrari posted its worst overall finish in the standings since 1980. It was an embarrassment for a man who at one time had the potential to eclipse Michael Schumacher as the best Formula 1 driver ever, and it was compounded by the fact that Vettel's search for a new team was proving fruitless.
Interestingly, however, Vettel found support during the season from the man who had been his fiercest rival. As the season wrapped up, Vettel was able to reveal that he would drive for Aston Martin in 2021. He also said that Lewis Hamilton had called in the spring to offer encouragement after the Ferrari breakup.
"We then had a few more conversations or wrote to each other," he recounted to the Swiss newspaper Blik. "He always cheered me up and motivated me to continue.
"I had several reasons to congratulate him on his great performance and Lewis would often have a reason to feel sorry for me," Vettel added with a laugh.
Like Sportscasting on Facebook. Follow us on Twitter @sportscasting19.