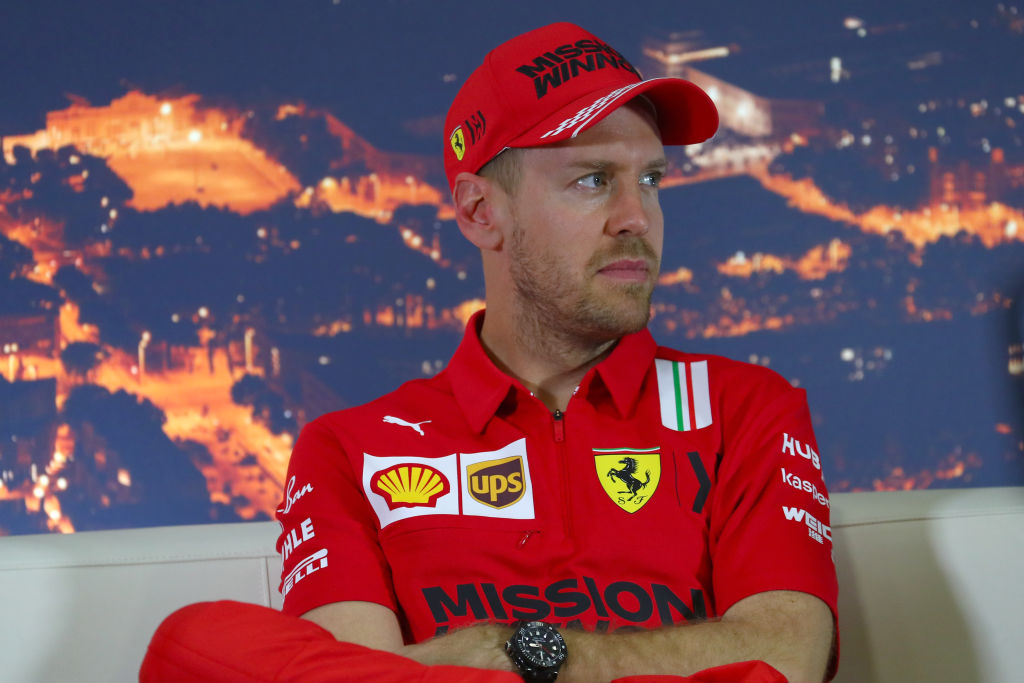 Sebastian Vettel's $120 Million Net Worth Comes From Formula One's Vast Popularity
Sebastian Vettel makes $40 million a year driving for Ferrari, one of the most tradition-rich names in auto racing.
Imagine Keith Richards announcing he's leaving the Rolling Stones to perform with the Dave Matthews Band. That's about a third of the way to the shock waves that Sebastian Vettel has created by revealing that he will no longer drive for Ferrari after this season.
Forget soccer. If glamour is the measuring stick, then Formula One drivers are the real rock stars of international sports.
Sebastian Vettel is leaving one of the great jobs in sports
German driver Sebastian Vettel has been a Formula One racing star since winning the 2008 Italian Grand Prix as a 21-year-old. He has the distinction of capturing four straight series championships from 2010-13. His other accomplishments include winning a record nine consecutive races and ranking No. 3 all-time with 53 victories.
When he left Red Bull Racing to compete for Ferrari in 2015, it was five times the story in Europe and Asia as Tom Brady's move to the Tampa Bay Buccaneers was in the United States because of his new team's rich history in the sport. Ferrari drivers have won 15 Formula One series championships, with the legendary Michael Schumacher notching five straight beginning in 2000.
Nearly the entire marketing budget for Ferrari's high-end consumer vehicles is tied to F1, where top drivers make $2 million per race, so the company spares no expense in pursuit of success. Signing with Ferrari or nemesis Mercedes instantly validates a driver's standing as one of the top 10 racers in the world on any circuit, which is why the breakup between Vettel and Ferrari is so significant.
Sebastian Vettel couldn't put Ferrari over the top
Sebastian Vettel's greatest success in F1 came while driving for Red Bull Racing, where he won his four championships and 38 races. Though he has won 14 Grand Prix events since arriving at Ferrari in 2015, Vettel slipped to fifth in the season standings last year and needed a big 2020 to be able to negotiate his next deal from a position of strength.
Instead, Vettel and all of Formula One have been sidelined by the coronavirus pandemic. As talks continued through early spring, it became apparent that working out a new contract wasn't in the cards. Ferrari is poised to make Vettel teammate and rising star Charles Leclerc its featured attraction, so management will hit the market for a No. 2 driver.
Given Ferrari's resources, it's fair to say the team's management could have land almost any driver it wants with the exception of Mercedes' Lewis Hamilton, the six-time world champion.
Driving for F1 teams is a lucrative occupation
Revealing his impending departure now announces to the small Formula One community of racing teams that Sebastian Vettel is a free agent in 2021, though the word "free" is ironic. The 20 full-time F1 drivers are among the most handsomely paid athletes in the world, and one estimate puts Vettel's net worth from a little more than a decade in the sport at $120 million.
At 32 years old, Vettel might be signing the final contract of his career later this year. In that light, he will likely make his decision based on where the prospects are best to compete for a fifth championship as F1 imposes spending limits that will make other teams more competitive with Mercedes, Ferrari, and Red Bull.
Salary will be just a secondary consideration for Vettel in light of how much he already has in the bank. Through he is widely reported to make more than $40 million a year from Ferrari, his greatest satisfaction would come from dethroning three-time defending champ Lewis Hamilton.