Tony Stewart's $35,000 Fine Had NASCAR Drivers Lining up to Chip In
Tony Stewart's back was acting up as the 2016 NASCAR Cup Series opened, and so was the veteran driver. Infuriated by the relaxation of a seemingly necessary rule, he let NASCAR have it in true Stewart-esque fashion: loud and to the point.
In true NASCAR fashion, the response was a hefty fine. For as little patience as Stewart has for foolishness, the sport's sanctioning body has even less tolerance for criticism, especially over anything related to safety. Stewart came out of the episode $35,000 poorer, but he made drivers and fans safer.
NASCAR reversed itself twice on the issue of loose lug nuts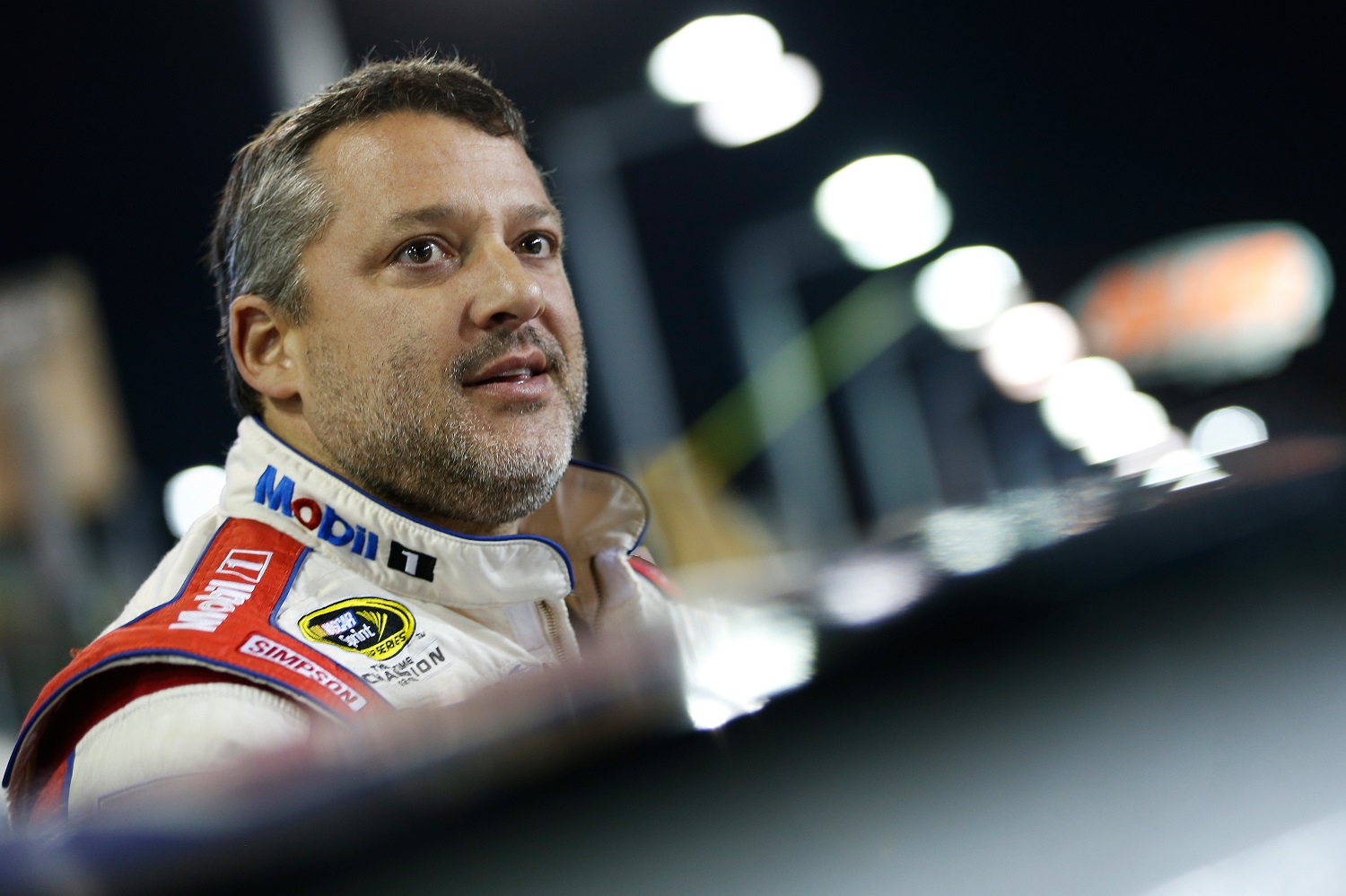 The issue of tire safety in the NASCAR Cup Series returned Sunday with NASCAR's announcement that crew chief Rodney Childers will sit out Kevin Harvick's playoff race at Talladega. That's because the postrace inspection in Las Vegas detected two loose lug nuts on the No. 4 Ford.
That's a $20,000 fine and a one-race suspension, and NASCAR has applied the penalty to several crew chiefs this season. While some people point to the air guns that NASCAR supplies, the more likely explanation is that teams looking to shave a second off a four-tire stop aren't hitting all 20 lug nuts properly.
NASCAR enforced a rule on loose lug nuts through 2014. Looking to save money by putting fewer inspectors on pit row, NASCAR decreed after that season that it was up to the teams to decide what they were comfortable with as far as tire changes were concerned.
More than a few civilians are driving around right now with only four of five lug nuts secure without realizing it. The effect at 30 mph on city streets or even 65 mph on expressways is not discernable. On the other hand, a Cup Series driver doing 175 mph entering turns at Las Vegas or Talladega will be quick to radio the crew chief to report vibrations. Let it go long enough, and the tire can come loose; where it lands after dislodging at a high speed is anyone's guess, but another driver's windshield and the grandstand are good guesses.
It's an obvious safety hazard, and Stewart called out NASCAR for it as the 2016 season started.
Tony Stewart had to point out the obvious to NASCAR
Veteran Tony Stewart had already decided to make 2016 his Cup Series farewell before crashing an all-terrain vehicle and rupturing a vertebra. The mishap caused him to miss the first eight races.
Upon returning, Stewart found himself on the wrong end of a $35,000 invoice. NASCAR fined the three-time series champion for his comments about the rule leaving decisions about how many lug nuts were sufficient to the individual teams.
"We didn't make the change to begin with," Stewart said, according to NBC. "It's not our responsibility. That's their responsibility. We did it for how many years in the sport? Sixty-plus years? And now in the last two years now we don't have to do that.
"Last year it started; this year you see the problem getting worse. Well, if you see a problem getting worse like that, where's the bottom of that trend going to happen? It's going to happen when somebody gets hurt, and that's going to be one of the largest black eyes I can see NASCAR getting. … They are totally dropping the ball on (it) ,and I feel like really made a grossly bad decision."
Cha-ching. NASCAR fined Stewart, citing its rule about disparaging the sport and/or NASCAR leadership. The rule sets the range of fines at between $10,000 and $50,000. Had Stewart complained about something unrelated to safety, his penalty probably would have come in at the lower end of the range.
Tony Stewart's $35,000 fine had NASCAR drivers lining up to chip in
When Tony Stewart expressed his outrage, he likely wasn't going off on his own. At the time, he was one of nine members of the drivers council, a group that included other big names like Jimmie Johnson, Kyle Busch, and Dale Earnhardt Jr. They communicated frequently in group texts and met with other drivers every couple of months to discuss concerns and spitball ways to improve the sport.
The drivers council immediately vowed to pay Stewart's fine. Within days, NASCAR gave in. Although executives refused to rescind the fine, they did agree to revert to the old rule: Anything less than five secure lug nuts on each tire was unacceptable.
"You hate to have to pay $35,000 to get someone's attention, but apparently that's what it took," Stewart said, according to USA Today. "I've got questions, too, that I'd like to have answers to. I'm still wondering why I'm paying a $35,000 fine for something that got changed three days later."
A footnote: Stewart went into his own pocket to pay the fine, and the drivers council donated its $35,000 to an autism charity.
Everyone other than Stewart won, then, because he stood up for what he believed.
Like Sportscasting on Facebook. Follow us on Twitter @sportscasting19.
RELATED: Tony Stewart Admits the 1996 Indianapolis 500 Nearly Made Him Throw Up