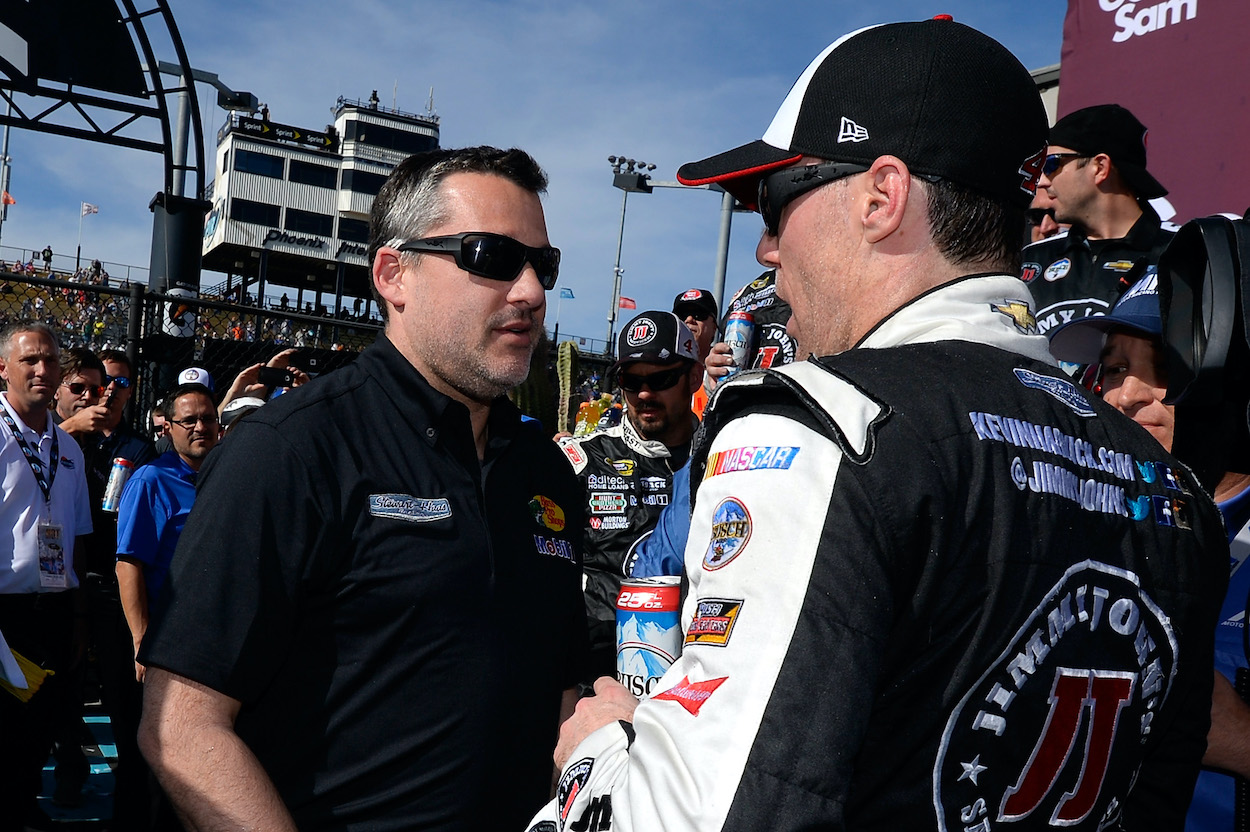 Frustrated Tony Stewart Doesn't Hold Back Feelings on Stewart-Haas 2021 Performance: 'We Definitely Have a Problem in Our Organization'
Tony Stewart admitted that Stewart-Haas Racing has struggled this season and the team has yet to identify the problem or how to fix it.
Tony Stewart has never shied away from levying criticism where he sees fit. He regularly called out other drivers during his racing career. He's called out NASCAR on more than a few occasions. This week the three-time Cup Series champion pointed the finger at his own Stewart-Haas Racing team for its struggles in 2021. And he frustratingly admitted that the team doesn't have the answers.   
Stewart-Haas Racing struggles in 2021
Throughout the 2021 Cup Series season, fans, broadcasters, and drivers have waited for the Stewart-Haas Racing team to come to life. It hasn't happened. Through 25 races, the four-car team has a single win to its credit with Aric Almirola's victory in New Hampshire.
Kevin Harvick, who won the regular-season title in 2020 with an impressive nine victories, has gone winless so far this season. The last time the 2014 Cup Series champion went this deep in a season without a win was 2012. 
Despite the team's overall lack of success, Harvick and Almirola are both locked into the playoffs. Cole Custer and Chase Briscoe are in must-win situations heading into the regular-season finale this weekend at Daytona. Briscoe has three top-10 finishes in his rookie season while Custer has struggled the most this year, with just a pair of top-10s. 
Compared to last season — with Clint Bowyer on the roster — all four Stewart-Haas teams made the playoffs.  
Tony Stewart admits Stewart-Haas has a problem
Tony Stewart knows success. He found it in his driving career, winning 49 Cup Series races and three championships. He's been equally successful as an owner with Stewart-Haas, capturing a couple of Cup titles. This week the always candid Stewart admitted this season has been a struggle, and it's been as much frustrating as it has been puzzling. 
"It's not been a season that we're proud of by any means," Stewart said. "We definitely have a problem in our organization, and it's not with people. But there's something that we're missing on that's cost us the entire season up to this point and we can't find it, but we know there's something fundamentally wrong. So it's frustrating because we're all sitting there scratching our heads trying to figure out what is wrong and what's going on."
Stewart suspects it all started last season with the latest rule changes. He said other teams made adjustments before the changes and a parts freeze on both motors and chassis. 
"There are some of the parts and components that we are not allowed to develop, so those parts were submitted last fall and we're stuck with those," Stewart said. "I think some of the other teams probably found some stuff late in the season last year that was a good move for them, and that got them locked into those parts for this year. We just got ourselves behind. We have to figure out how to make it work for the rest of the season and go forward."
Tony Stewart said don't mistake struggles for complacency
While Tony Stewart is understandably unhappy with the team's performance in 2021, he said it's also frustrating to hear fans suggest it's due to a lack of effort. 
"To hear people say that we're not working hard enough is the polar opposite of the truth," he said this week on SiriusXM NASCAR Radio. "I've never seen our group fight harder than what they are right now to try to find solutions to the problems and try to figure out how to get us out of the deficit that we're in. But it is not for a lack of effort on anybody's part and I can promise you on my part."
For fans of the different Stewart-Haas teams, it could be tough to watch the rest of the season as the organization tries to figure it out. The good news is 2022 should be better simply because it's a complete reset with the Next-Gen car and all teams will be competing on a level-playing field. 
Like Sportscasting on Facebook. Follow us on Twitter @sportscasting19.