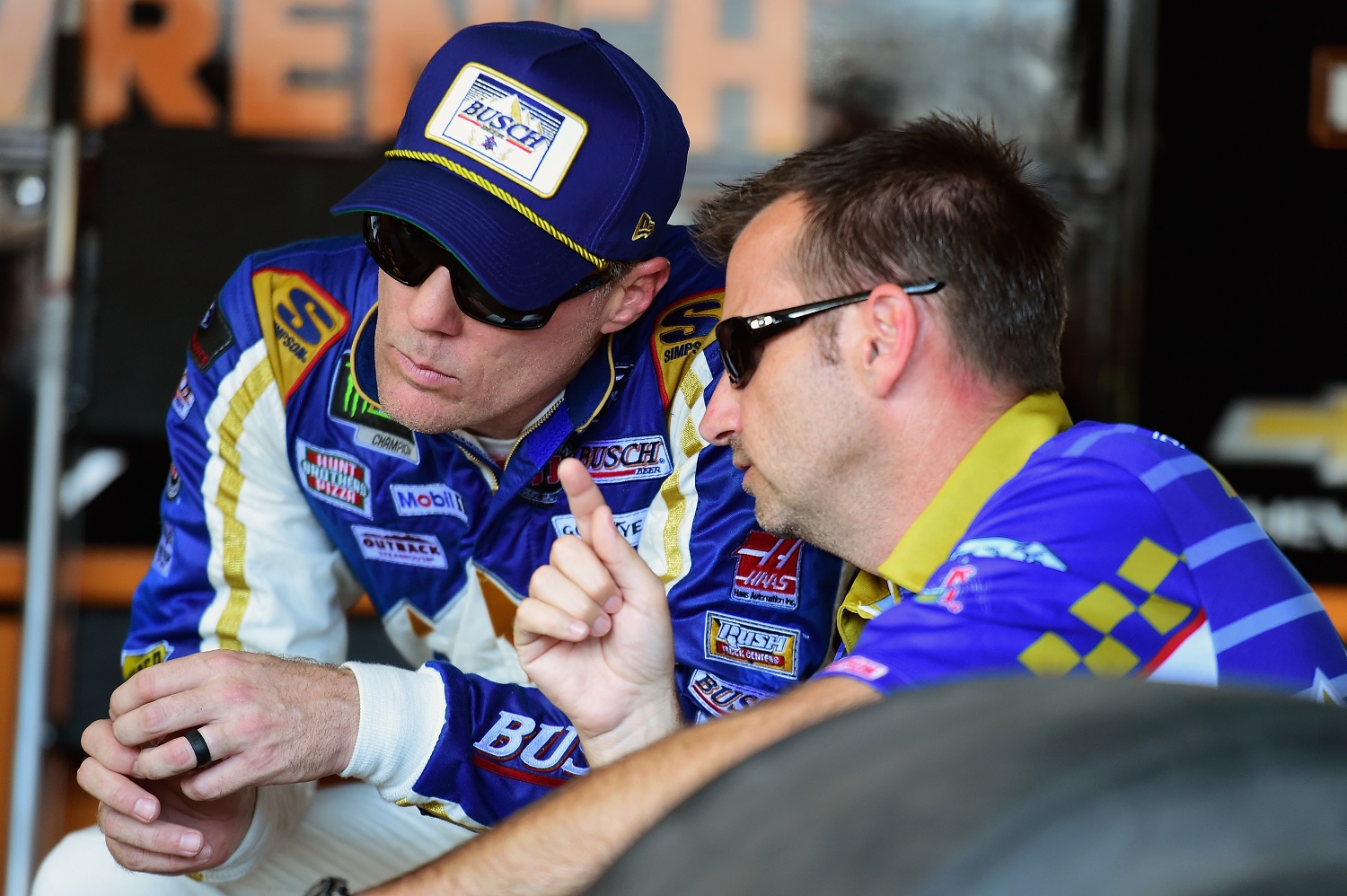 It's Technically a Lug Nut, but Kevin Harvick Is Screwed for NASCAR's Return to Talladega Because of a Simple Mistake
Kevin Harvick desperately needs a solid showing at Talladega to keep his NASCAR Cup Series title hopes alive, but he'll be without crew chief Rodney Childers.
Everyone else in the NASCAR Cup Series playoffs has two races left to make it to the final eight contenders. Kevin Harvick only has one race remaining to make up a bunch of points, and he'll have to do it on an unpredictable track and shorthanded. Thus, get a good look at the veteran driver on Sunday at Talladega, because that could be all she wrote for his title hopes.
Kevin Harvick crew chief Rodney Childers must serve a suspension at Talladega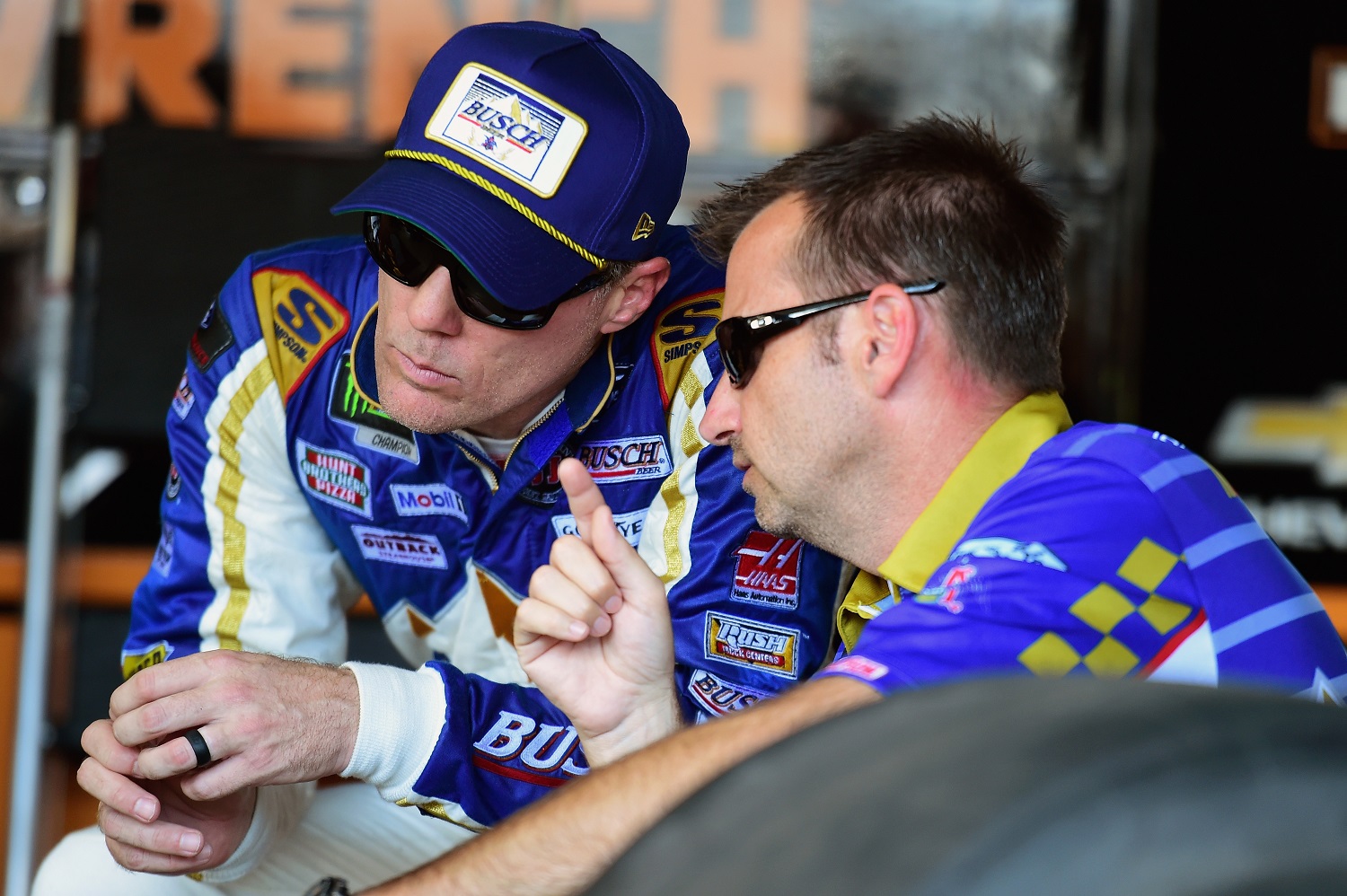 Kevin Harvick desperately needs to pick up big points in the fifth race of the NASCAR Cup Series playoffs. Though he'll arrive at Talladega on Sunday a mere seven points below the cut to the final eight competitors, the superspeedway is likely his last chance to make up the necessary ground because of what happens next.
The cutdown to eight comes Oct. 10 after the race on the Charlotte "roval," and road courses have not been Harvick's strength this season. He finished sixth at Daytona and eighth at Watkins Glen, but Harvick crashed out of the Texas Grand Prix and placed 22nd, 27th, and 14th on the other road courses.
If Harvick is going to save his season by running strong at Talladega, he will do so without crew chief Rodney Childers, who must serve a one-race suspension. During post-race inspection Sunday in Las Vegas, NASCAR found two unsafe lug nuts on Harvick's No. 4 car. The penalty is a $20,000 fine for Childers and the suspension.
Anything can happen at Talladega, and it often does. The Stewart-Haas Racing team will need to make split-second decisions, doing so without the man standing atop the box for 35 Harvick victories since they teamed up in 2014.
It's technically a lug nut, but it's always the NASCAR crew chiefs who get screwed
Seldom does a week go by without NASCAR handing down a penalty to a Cup Series crew chief for a problem in the post-race inspection, and the violation invariably stems from loose lug nuts. One loose lug nut is a $10,000 fine but no suspension. A second loose lug nut in the same inspection doubles the fine and triggers a one-race suspension.
The tire changer may be at fault as teams look to shave a second off the duration of a pit stop, but the crew chief runs the show from the box and is accountable. That is why Rodney Childers will miss Stewart-Haas Racing driver Kevin Harvick's crucial race at Talladega.
Sunday's post-race inspection also turned up one unsecured lug nut on cars driven by Kyle Busch, Kyle Larson, Ross Chastain, and Daniel Suarez. One out of 20 may seem minor, but it's enough to create vibrations that a driver can feel almost immediately at 175 mph.
"Firm believer everything happens for a reason," Childers wrote on Twitter. "Next Sunday is my two boys birthday. 13 years ago next Sunday I was in Talladega when I got the call to get home, and flew home to see two baby boys born. It was meant to be, for me to be home for this birthday."
Lug nuts should cease being a NASCAR problem in 2022
Rodney Childers recently agreed to a long-term contract extension with Stewart-Haas Racing. Ironically, the NASCAR penalties for lug nut infractions resulted from SHR co-owner Tony Stewart's complaint in 2016 about the potential for a loose tire to injure spectators or other drivers.
Racing executives fined Stewart $35,000 at the time for publicly criticizing NASCAR over a safety matter, but drivers rallied behind him to force the rule change. "We shouldn't be playing games with safety to win races," Stewart said.
Interestingly, Childers predicted his own future in a tweet.
"All the years of hitting 5," he wrote, "and hardly ever was all 20 on post race.. I will sit at home for a week at some point.."
Relief is in sight for crew chiefs. NASCAR officials announced last year during early development of the Next Gen car that they are going to a single, center-locking lug nut for tires. They have demonstrated success in replacing the traditional five-lug configuration during on-track testing, and the new car should roll out for the start of the 2022 season.
The tradeoff is that the new aluminum wheel is less forgiving than the traditional steel one, so durability will suffer if the center lug nut is not torqued properly, according to NASCAR. When done correctly, however, it will lead to fewer trips to the penalty box for Childers and other crew chiefs.
Like Sportscasting on Facebook. Follow us on Twitter @sportscasting19.