Kyle Larson's List of Stuff 'I Get Paid to Worry About' Has a Glaring Omission
Kyle Larson is coming off a victory in a playoff race, and nothing of significance has happened in the NASCAR Cup Series since that night at Bristol. Still, he hasn't been the story of the week.
And that happens to work out well for Larson, who knows the Story that would have been written about him ahead of the South Point 400 at Las Vegas Motor Speedway on Sunday. It's the story that reporters wrote after he won the fourth points race of the season at that track. And it's the same story that they wrote after he won consecutive races at Charlotte, Sonoma, and Nashville, with the All-Star Race thrown in for good measure.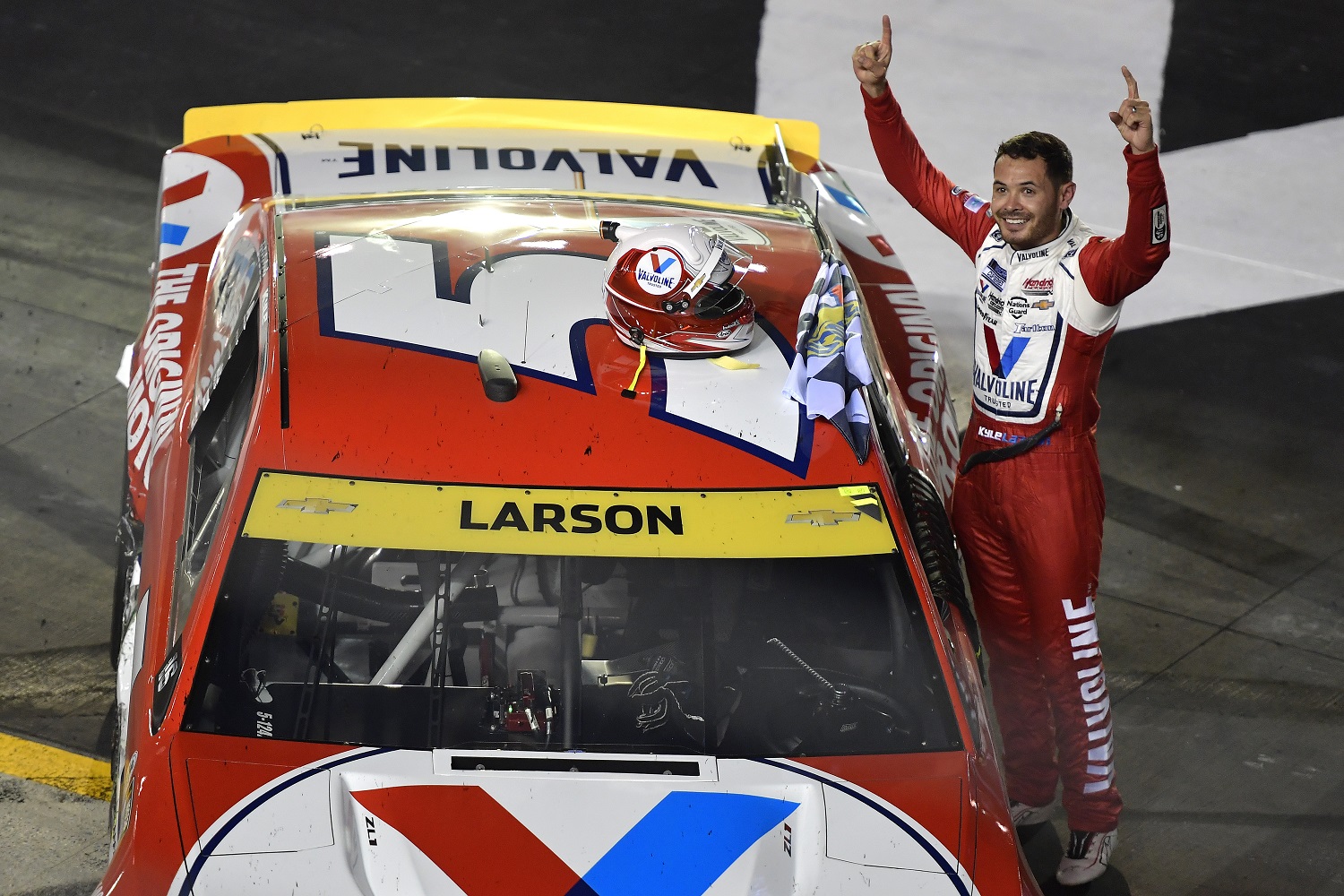 Nope, the redemption angle stopped being news months ago.
"I don't really have an opinion of people using it, but I don't view what I'm doing now as redemption at all," Larson told Fox Sports. "I just want to show people that I am a great race-car driver, but I'm also a great person and I'm not who some people think I was from that one night."
Larson's use of a racial slur during an online racing event while the NASCAR season was on hold in 2020 because of the pandemic blew up his season. NASCAR suspended him, sponsors bailed out, and Chip Ganassi Racing had no choice but to fire Larson.
That set up the redemption aspect of Larson's career. He rehabilitated his image, in part through his work raising money for the Urban Youth Racing School in Philadelphia and the Sanneh Foundation in Minnesota. Larson landed with Hendrick Motorsports, where owner Rick Hendrick had the resources to finance the team without worrying about attracting sponsors.
It's been a storybook season almost from the start. The win last week at Bristol marked Larson's sixth victory of the season, a fact somewhat lost in the brouhaha in the pits between Kevin Harvick and Chase Elliott after the race. Harvick faulted Elliott for blocking him from making a run at Larson in the closing laps, and that became the story of the week.
Meanwhile, Larson is sitting on a 30-point lead over Martin Truex Jr. in the playoff standings. The field will shrink from 12 drivers to eight following the road-course race at Charlotte on Oct. 10. Already in great shape to advance on points, Larson could guarantee advancement by winning one of the three races in the segment. He won the regular-season race at Las Vegas and triumphed at Charlotte, though it came on the oval for the Coca-Cola 600 rather than the road course.
For all his expertise behind the wheel, where teammate Alex Bowman says, "He drives really freaking fast," Larson is not mechanically inclined. He leaves all the stuff under the hood and in the undercarriage to crew chief Cliff Daniels.
Daniels was 0-for-50 over the previous two seasons in getting Jimmie Johnson to victory lane in the No. 48 Chevy, but he's looking like much more than the star Hendrick Motorsports engineer this season with Larson.
"Kyle is made for these moments," Daniels told Fox Sports. "He does such a good job when everything, the energy, gets ramped up. He knows how to just focus in and drive his butt off and stay on the gas."
Daniels talks to Larson about changes to the car before and during a race, but the driver is admittedly not very conversant in the mechanical nuances of a car. He can tell Daniels whether the setup feels too tight or loose, but he's not about to try talking to the crew chief about which brake pads to start with or how to set the springs.
"That to me is too much information and that's not what I get paid to worry about."

Kyle Larson
That qualifies Larson as a rarity in the NASCAR Cup Series. However, drivers with six victories in a season are even rarer, so there's so sense messing with what works.
Like Sportscasting on Facebook. Follow us on Twitter @sportscasting19.