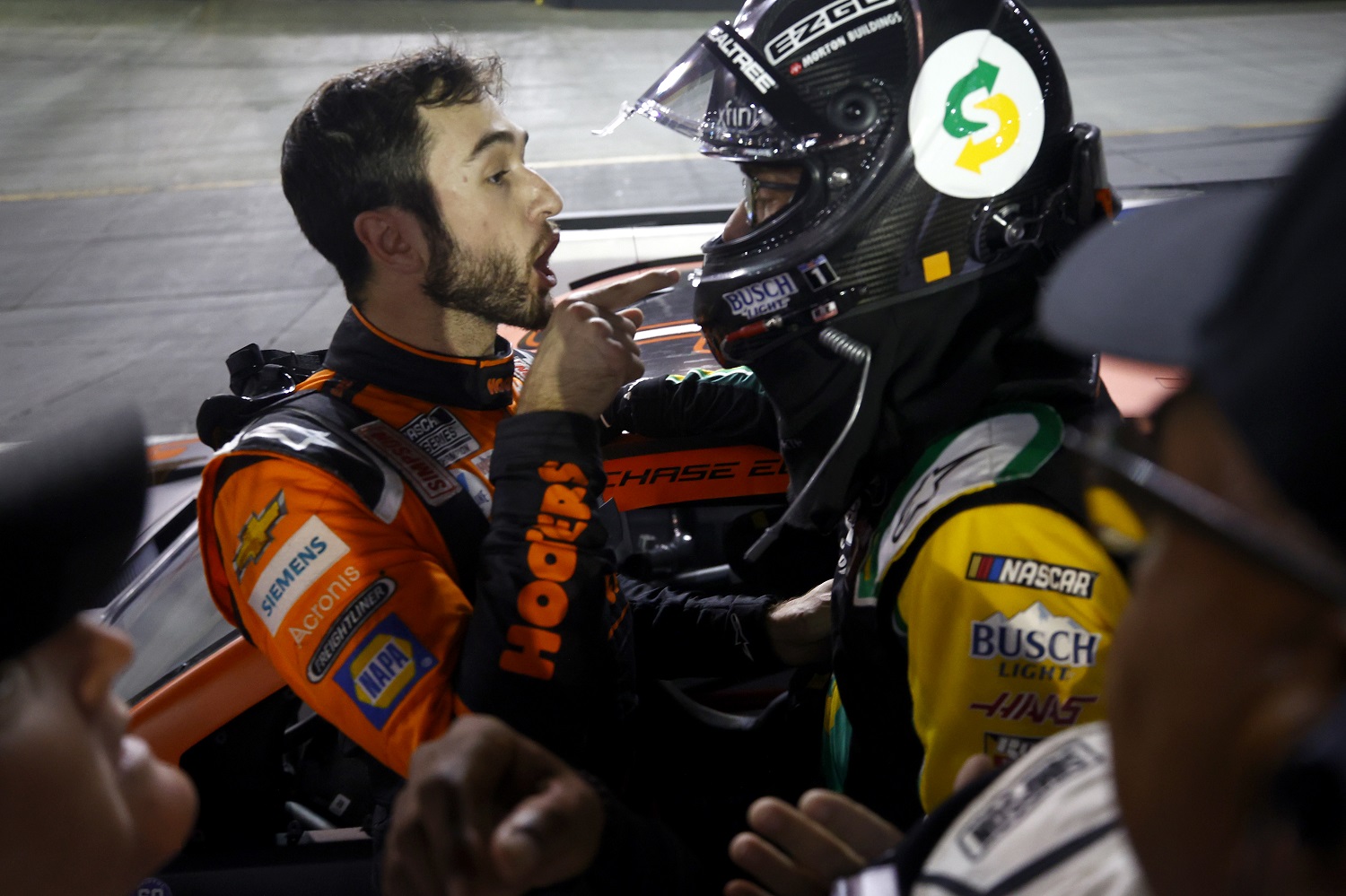 Should Chase Elliott Worry Kevin Harvick's Stewart-Haas Racing Teammates Might Take Revenge at Las Vegas?
Chase Elliott and Kevin Harvick got into it after the NASCAR Cup Series race at Bristol. Both should be focused on strong showings in Las Vegas, but others with little to lose could interject themselves into the situation.
Tom Brady throwing under-inflated footballs qualified as subtle and arguably not that helpful. The Houston Astros banging on garbage cans to relay signals to batters was less subtle but certainly effective. The question that NASCAR fans have this week is whether we might see something untoward in Las Vegas a week after Kevin Harvick blew a figurative gasket.
If Oliver Stone suddenly replaces Dana White as the celebrity instructing the drivers to start their engines on Sunday, then maybe there's something to the question of whether Harvick's teammates might be inspired to mess with Chase Elliott. Otherwise, it's just a case of creative minds with too much time on their hands.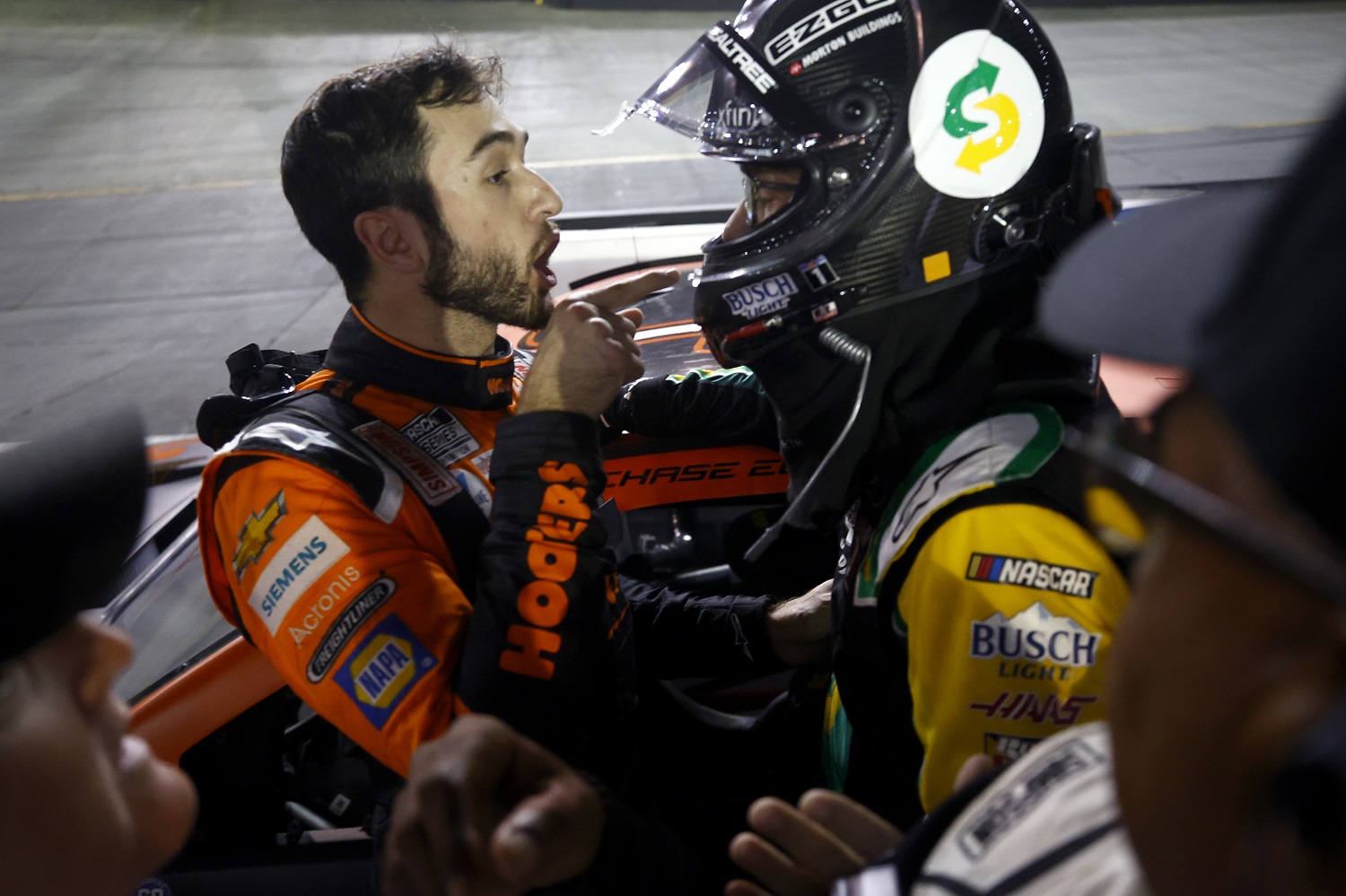 Still, Elliott fans figure to close their eyes every time Aric Almirola, Cole Custer, and Chase Briscoe come in proximity to him on the 1.5-mile Las Vegas Motor Speedway oval. Elliott and Harvick are still alive in the playoffs and have much at stake. The same cannot be said for Almirola, Custer, and Briscoe, who are Harvick's teammates at Stewart-Haas Racing.
Speculation about retribution against Elliott has been out there since the conclusion of last weekend's action at Bristol, the first of three elimination races in the NASCAR Cup Series playoffs.
With teammate Kyle Larson racing in the lead in the late going, Elliott frustrated Harvick's bid to make a move for the lead and the win. Seeing how Elliott was a lapped driver, Harvick understandably took Elliott's actions as an intentional move to help Larson to his sixth victory of the season.
Had that been all there was to the issue, fan sentiment (and rival drivers, for that matter) would have lined up unanimously against Elliott. But Harvick has a rap sheet, including some on-track interactions with Elliott that the reigning Cup Series champion took personally.
"He gets upset racing at these places and turns into your left side and hopes you cut a left-side tire down," Elliott said. "It happens more than I can count on two hands in my career racing in Cup — six years and more than 10 times. I've had enough."
With three races left before the playoff field trims down for 12 drivers to eight, Elliott starts just eight points above the cut line and Harvick 12 below it. Neither man can afford to become preoccupied with continuing a feud.
Besides, that's what teammates are for, right?
Don't underestimate the role that teamwork plays in racing. And there are interesting team dynamics in play with seven races left in the season. Just look at the roster of drivers still in the championship hunt:
Hendrick Motorsports: Larson, Elliott, William Byron, and Alex Bowman.
Joe Gibbs Racing: Denny Hamlin, Martin Truex Jr., Kyle Busch, and Christopher Bell.
Team Penske: Ryan Blaney, Brad Keselowski, and Joey Logano.
Stewart-Haas Racing: Harvick.
As the Sesame Street song goes, one of these things is not like the others. Eleven of the 12 drivers have teammates to help them but also with responsibilities to their own crews to do their best to get to the next round.
Harvick rolls out behind the pace car supported by SHR's Almirola, Custer, and Briscoe. None of them have nearly as much at risk as Harvick would if he happened to swap paint again with Elliott, this time collecting the two of them in a wreck that cuts their night short.
Will it happen? It's unlikely as best. While revenge is a powerful motivation and fighting for a teammate is noble, there's a huge difference between driving 120 mph at Bristol and approaching 180 on the straightaways at Las Vegas, and someone could definitely get hurt.
On the other hand, should Elliott find himself behind Almirola, Custer, and Briscoe racing three-wide, don't think for a moment that they'll be in a hurry to make a hole and let him through without a fight.
Like Sportscasting on Facebook. Follow us on Twitter @sportscasting19.