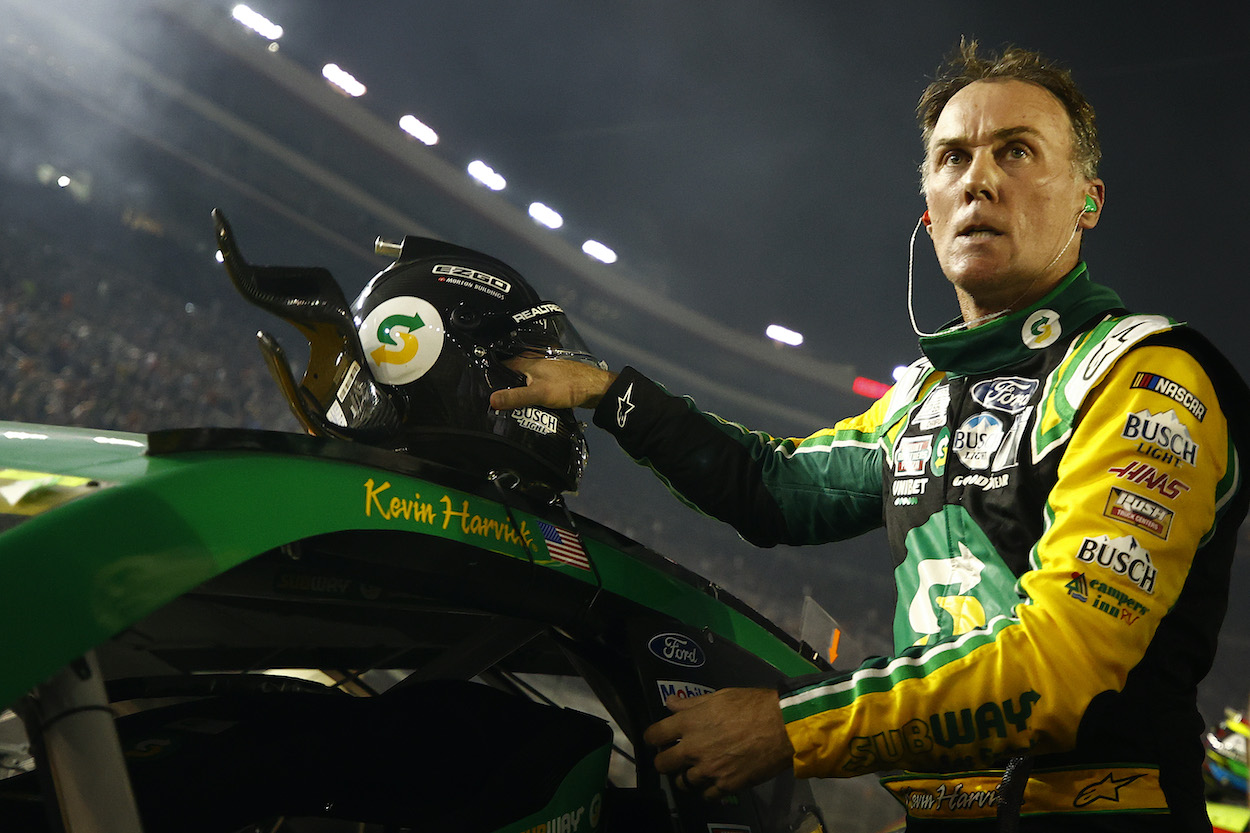 Kevin Harvick's Threat to Chase Elliott Should Be Taken Seriously Considering His Past History, Including Similar Behavior That Resulted in a Suspension and What He Did in the Playoffs Last Year to Kyle Busch
Kevin Harvick has a past history of threatening another driver and then backing it up. Could Chase Elliott be next?
Kevin Harvick and Chase Elliott are heading into the next round of the 2021 NASCAR Cup Series playoffs starting this weekend in Las Vegas. After a pair of racing incidents and a postrace confrontation last weekend at Bristol, where Harvick threatened Elliott with retaliation, the debate now is whether the 2014 Cup Series champion will follow through and actually do something to the current Cup Series titleholder.
If Harvick's past history is any indication, this isn't over.
Kevin Harvick and Chase Elliott have multiple racing incidents at Bristol
Chase Elliott, Kevin Harvick, and Kyle Larson all appeared capable of winning at Bristol. Elliott's chances vanished late in the race and moments after he cut his left-front tire, a direct result of Harvick sliding up the track into his side. 
After Elliott's pit stop, he returned to the track and returned the favor, banging into the side of Harvick. He then strategically positioned himself in front of Harvick the rest of the race, allowing his teammate Kyle Larson to close the gap, make the pass, and go on to victory.
Immediately following the race, the two drivers met in a public pit road confrontation, with Elliott pointing his finger in Harvick's helmet-covered face. After the initial altercation, Harvick was interviewed first and said the Hendrick Motorsports driver pulled off a "chicken-s*** move." 
In his postrace interview, Elliott naturally viewed the incidents differently, suggesting it wasn't the first time Harvick had slid into his side and said it was time to "draw the line" and "stand up for myself and my team." 
Threatens Elliott with retaliation
While it could have ended there, it didn't. The confrontation carried over into the garage area for part two where both drivers had another heated conversation near the haulers. Several reporters standing nearby caught the action and audio.
"You don't race smart," Harvick told Elliott twice. "Now I'm just going to run you the f*** over." He then repeated himself.
Soon after, the pair disappeared out of sight inside Elliott's hauler. No one knows what happened or what was said inside the hauler. Unsurprisingly, the feud between the two champions has been the talk of NASCAR since Saturday night. And the big question is — will Kevin Harvick follow through with what he said?
If past behavior is the best predictor of future behavior, then the answer is a resounding yes.
Kevin Harvick has backed up his words in the past and got suspended for it
Kevin Harvick has had beef with a long list of drivers in his NASCAR career. Most remember another episode at Bristol in 2002 when he scaled over the top of Greg Biffle's car, jumped down, and grabbed Biffle by the collar. Harvick was fined $15,000 and put on probation for that incident.
He's had confrontations with numerous other drivers, including Ricky Rudd at Richmond, Joey Logano at Pocono, and Jimmie Johnson at Chicagoland.
However, one incident that sometimes gets lost in the mix occurred in 2002 at Martinsville in the Truck Series. It happened just a few weeks after his famous wrestling move with Biffle when Harvick said over his radio that he was going to retaliate after Coy Gibbs made contact with his truck. Shortly after, he followed through and spun Gibbs. NASCAR parked Harvick for the rest of the race. He was suspended from the Cup Series race the next day.
In other words, there's a precedent. Harvick has said he's going to do something and done it. 
Fast-forward to the 2020 Cup Series playoffs and an elimination race at Martinsville. There was no radio communication prior to spinning Kyle Busch on the final lap. He just did it. It was intentional. After the race, Busch said he expected it, knowing that it was Harvick's last chance to advance to the next round. Harvick crashed and failed to advance.
Based on his past history from 2002 of predicting he would wreck someone and doing it, all the way up until last year when he intentionally wrecked Busch in the playoffs, no one can deny Harvick is someone who isn't afraid to move someone out of his way as payback or to gain an advantage. It almost seems inevitable he's going to do something with Chase Elliott. Now it's not a matter of if, but when.
Like Sportscasting on Facebook. Follow us on Twitter @sportscasting19.