Tony Stewart Didn't Like the Odds Before His Greatest NASCAR Triumph: 'I Didn't Feel Like Our Team Was Ready for It'
Daytona 500 champion Michael McDowell will go to Week 2 of the NASCAR Cup Series playoffs knowing he has little chance of advancing to the Round of Eight. But at least he brought some optimism to Darlington before crashing out after 30 laps. In contrast, Tony Stewart was counting himself out ahead of the first green flag in 2011 before pulling off one of the most improbable championships of the playoff era.
The NASCAR Cup playoffs are a marathon, not a sprint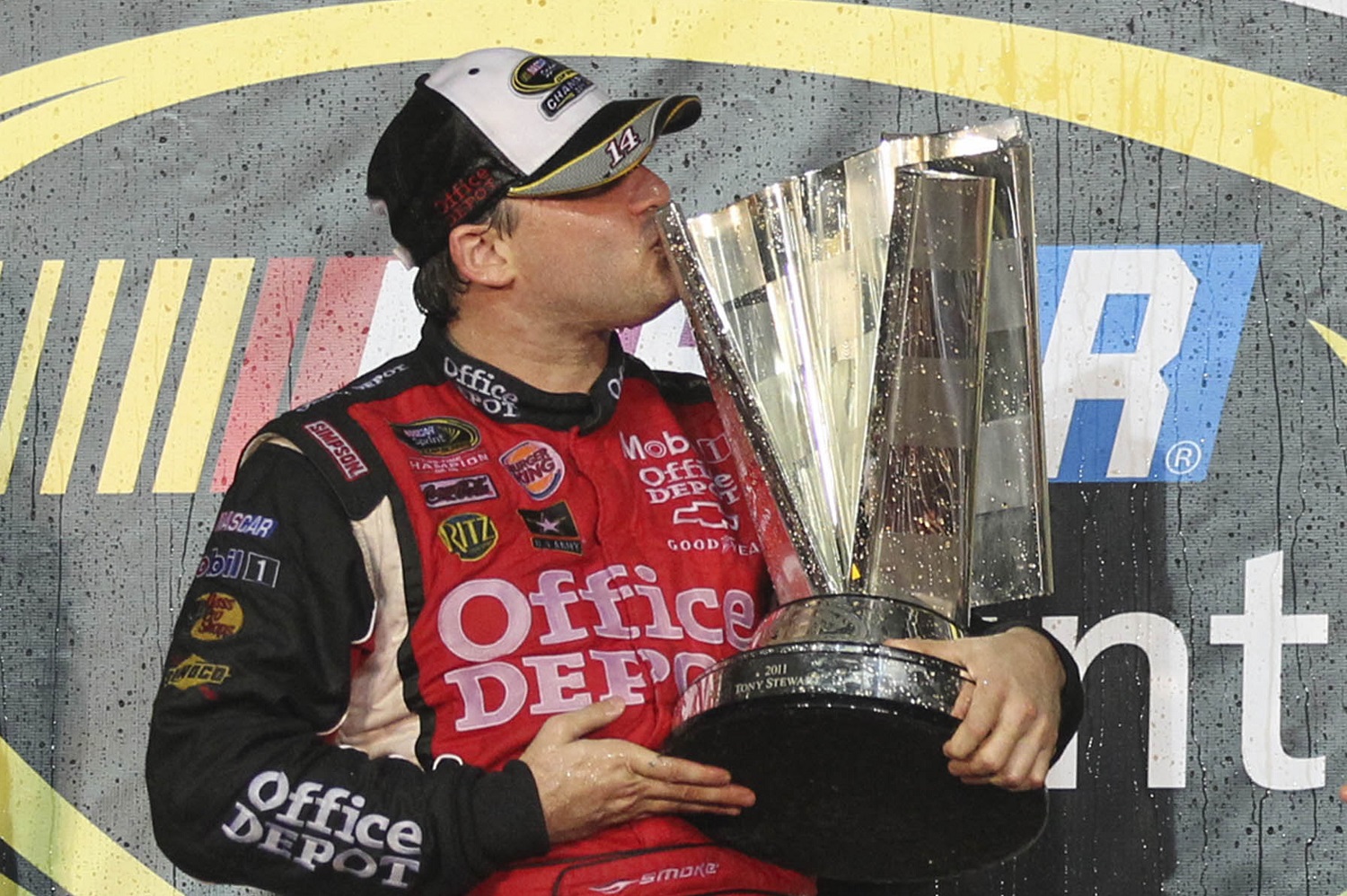 Multiple NASCAR Cup Series playoff drivers found trouble in the first 40 laps of the Southern 500 at Darlington Raceway, the opening salvo of the playoffs.
Michael McDowell and Christopher Bell made minor contact on the first lap. Alex Bowman scraped the wall 12 laps in, then had a tire go down and made contact with teammate William Byron four laps later. Leaving the pits on lap 28, defending series champ Chase Elliott tapped a tire carried by a crew member from the stall in front of him.
And then McDowell capped off the carnage by banging the outside and inside walls on lap 31, ending his day.
It was the perfect storm of playoff jitters, bad luck, and Darlington's unforgiving grooves. It was also a reminder that the playoffs are a marathon rather than a sprint. The field goes to Richmond and Bristol the next two weekends before the first four cars fall out of contention. Even a DNF in the opener can be erased by a victory in one of the next two.
Of course, someone could roar out of the gate by pulling off a Tony Stewart performance.
Tony Stewart didn't like the odds before his greatest NASCAR triumph
Tony Stewart was already a two-time NASCAR Cup Series champion when he qualified for the 2011 playoffs. The experience of winning in 2002 and '05 should have given Stewart confidence in 2011, but that wasn't the case.
Stewart went winless during the regular season and owned just three top-five finishes but was able to sneak into the playoffs. The format that year advanced 12 drivers to playoffs, and there were no elimination rounds. Stewart was the next-to-last qualifier on points.
He took inventory of his situation and didn't like what he saw. Stewart looked at the list of qualifiers and put marks next to the names of all the drivers he figured stood a chance of winning. He didn't include himself.
"What I was really frustrated about, and people didn't really pick up on, I think, in 2011, was I felt like there were drivers and teams that were ready for the playoffs that didn't make the cut and had the potential to finish in the top five, and I took that spot away," Stewart told NBC Sports. "I didn't feel like our team was ready for it."
It took Stewart one week to realize he was probably wrong. A week after that, he knew he was definitely wrong.
Tony Stewart made a magical run to the championship
Tony Stewart's concerns proved misplaced. Right out of the box, he won the opening playoff races at Chicago and Loudon.
"That was like, 'Wait, what's going on here?'" Stewart said. "It wasn't just a one-off win from the week before. To win back-to-back like that made us go, 'Wait a minute, something is going on here.'"
Stewart slipped to 25th at Dover and 15th at Kansas, but he ran in the top 10 in each of the six remaining races. That included back-to-back wins at Martinsville and Texas Motor Speedway. He then closed out in style, winning at Homestead to tie Carl Edwards in points.
Stewart took the title by virtue of the tiebreaker: most wins during the season.
As co-owner of Stewart-Haas Racing, Stewart finds himself pulling for Kevin Harvick to register a similar hot finish after going winless but qualifying for the 2021 playoffs on points.
"I'm not going to say that it's not possible," Stewart said, "because we've proven it is possible."
Like Sportscasting on Facebook. Follow us on Twitter @sportscasting19.