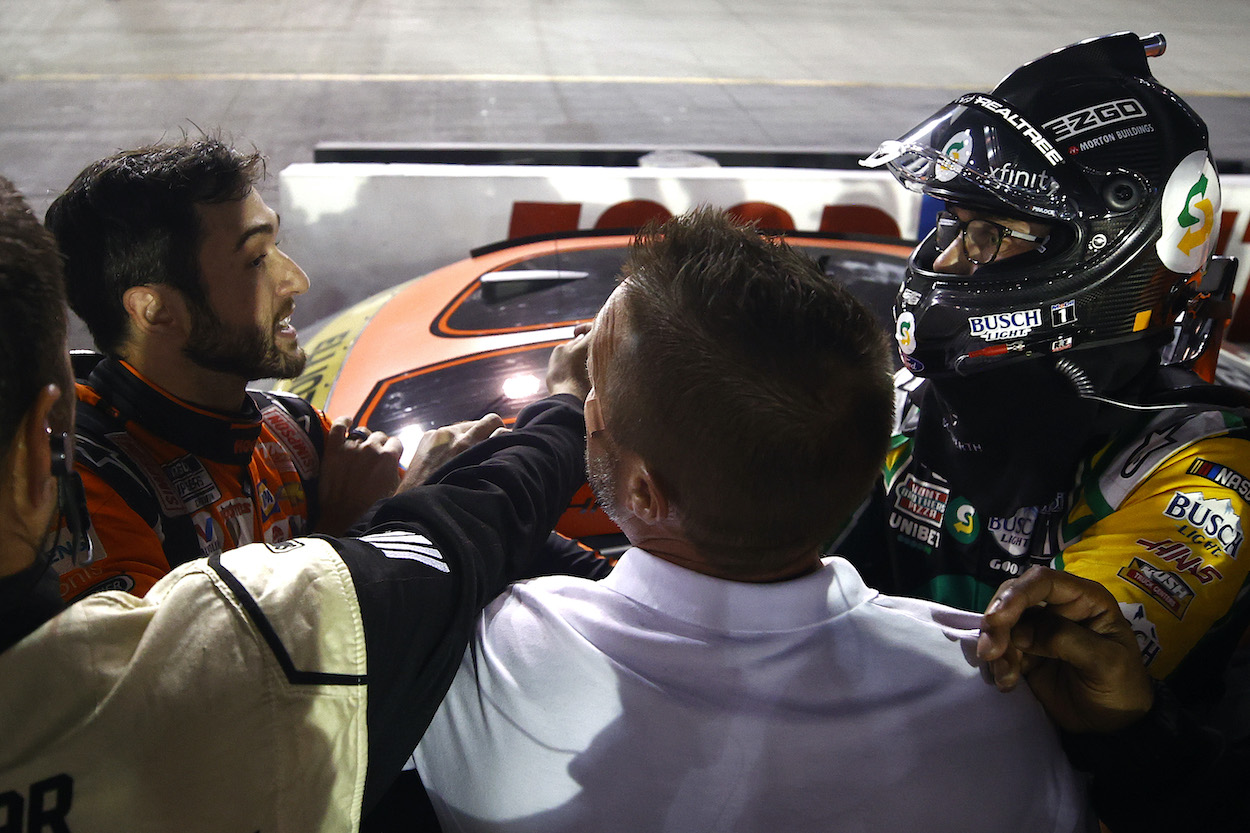 Dale Earnhardt Jr. Roasts Kevin Harvick's Business Partner for Behavior in Chase Elliott Altercation: 'Josh Jones Was Like the Girlfriend Standing There Rolling His Eyes'
Dale Earnhardt Jr. didn't hold back and roasted Kevin Harvick's business partner for his over-the-top reactions during the postrace altercation with Chase Elliott at Bristol.
Kevin Harvick vs. Chase Elliott has been a main topic of conversation since Saturday night's Cup Series race at Bristol when the two drivers were involved in several on-track incidents that resulted in multiple postrace confrontations. This week Dale Earnhardt Jr. weighed in on the situation during his podcast and took direct aim at Harvick's business partner Josh Jones, who was right in the middle of the confrontations.
And Junior didn't hold back.
Kevin Harvick and Chase Elliott confront each other on pit road
Kevin Harvick and Chase Elliott were both in contention to win at Bristol. However, each driver's actions late in the race prevented the other from winning and allowed Kyle Larson to pull off the victory.  
Following the race, both drivers were visibly upset by the on-track incidents and met on pit road for the first of several public confrontations. In the first meeting, the pair quickly exited their vehicles, with Harvick charging over to Elliott's car. Three NASCAR officials were the first to arrive on the scene and surrounded the drivers. 
The next person to arrive was a man in a white polo shirt named Josh Jones. Jones is Harvick's longtime business partner. He's officially listed as vice president of Kevin Harvick Inc. Management, which is a full-service sports and celebrity marketing agency. 
During that initial altercation, Jones was seen saying several words directly to Elliott. When the two drivers started pushing, Jones jumped in between and held back Harvick while talking to Elliott the entire time. Eventually, the drivers separated and went in their own directions.
Josh Jones right in middle of second confrontation
Following that first dust-up, Kevin Harvick and Chase Elliott separately visited with NBC and provided their versions of the story. After finishing the postrace interviews several minutes later, the two reconvened for more discussion in the garage by the haulers. Jones stood next to Harvick. 
Except Jones didn't just stand there. On multiple occasions, he threw his head back in obvious disagreement with what Elliott was saying. At one point, Elliott turned and pointed directly to Jones, voicing displeasure with his behavior. Harvick said something to his business partner as well.
Moments later, when Harvick got upset and confronted The Athletic's Jordan Bianchi, who was recording the conversation, Jones walked right alongside with him. Jones remained with Harvick until he and Elliott disappeared inside Elliott's hauler.  
Dale Earnhardt Jr. calls out Jones for his involvement
On the latest episode of the Dale Jr. Download, Dale Earnhardt Jr. addressed the confrontation between Kevin Harvick and Chase Elliott and talked specifically about the behavior of Jones. 
"Chase is out of the car, helmet off, finger in Harvick's face. OK, hey, atta boy Chase. Way to stand up for yourself," Earnhardt said. "Harvick is more than capable of handling his own s***. We've seen him go after Carl Edwards and push Jimmie Johnson, push Brad Keselowski. Put Edwards in a headlock. Harvick don't need nobody help. But Josh Jones is standing there rolling his eyes after everything. Josh Jones was like the girlfriend standing there rolling his eyes with everything Chase was saying. 'Oh, whatever! Whatever! Oh really!'"
Download co-host Mike Davis, who said he had talked with Jones after the incident, joked that Jones deserved a Nobel Peace Prize because his over-the-top reactions unified both drivers when they were at their angriest. Davis also said Jones admitted he overstepped his bounds. 
Earnhardt said Jones' behavior was not necessary and the Internet needs to do its thing with it. 
"I have no problems with Josh standing there and listening and even saying something if he feels like he wants to interject," he said. "But his body language, and his physical eye roll, everything was like exaggerated to the 10th. 'Oh my God!' He was throwing his head back. It was like he knew there were cameras there and he was exaggerating. That needs to be a GIF by the way."
While there's considerable uncertainty about whether there will be more conflict down the road between the drivers, it's likely Jones won't be a part of it. At least not the dramatic reactions. 
Like Sportscasting on Facebook. Follow us on Twitter @sportscasting19.