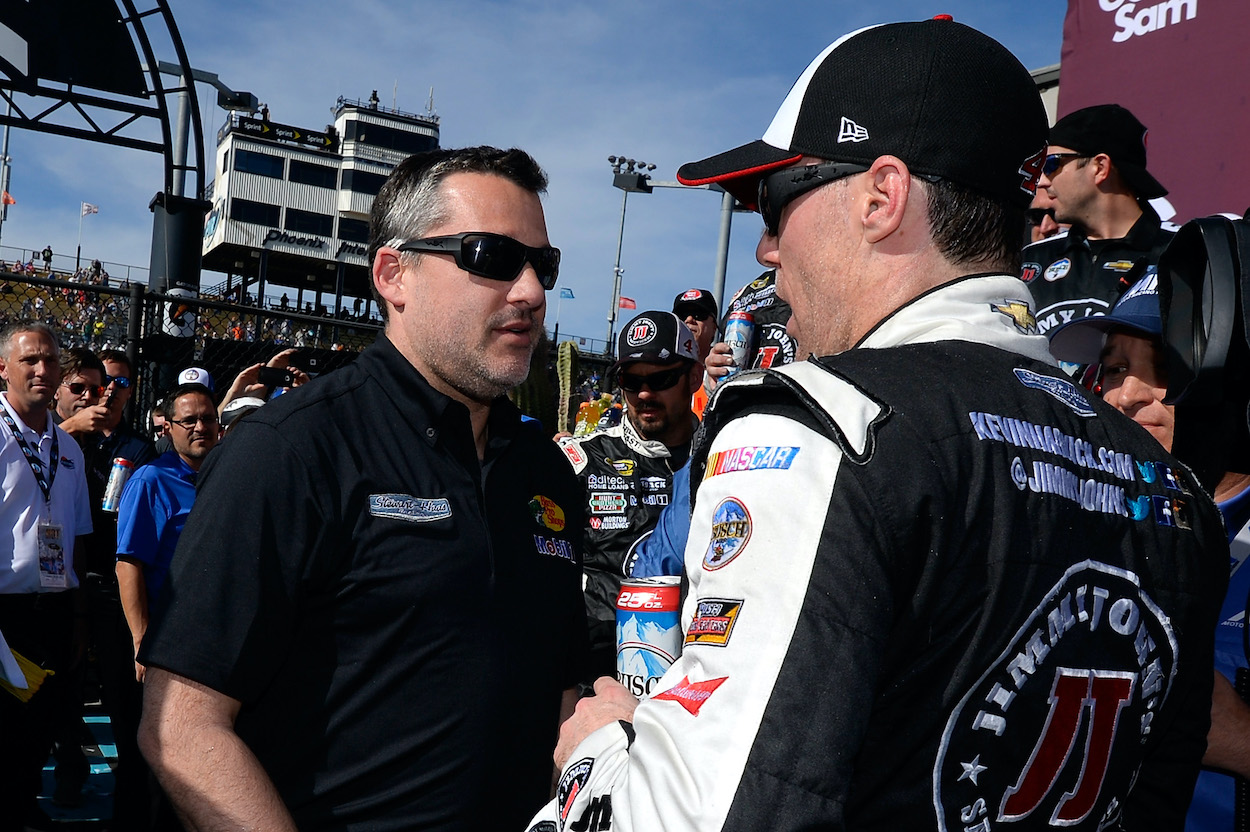 Tony Stewart Shares Video Reaction to Kevin Harvick-Chase Elliott Feud on Twitter and Ironically Reveals 1 of His Favorite Die-Casts Isn't a Stewart-Haas Driver
Tony Stewart shared his reaction to the Kevin Harvick-Chase Elliott feud by posting a video on Twitter that ironically featured a die-cast of the driver who had just edged out Harvick at Bristol.
Tony Stewart never shied away from confrontation. The three-time Cup Series champion relished it. Not surprisingly, when Stewart-Haas Racing driver Kevin Harvick got into an altercation with Chase Elliott on Saturday after the race at Bristol, the team owner had his eyes glued to the action. And he liked what he saw. 
In a video Stewart posted on Twitter, fans saw his reaction and also took special note of something else prominently displayed in the video. Ironically, sitting directly in front of the television was the die-cast of a car for a driver not on the Stewart-Haas Racing team, but the driver who had edged out Harvick just moments before.
Tony Stewart frustrated with team this season
Tony Stewart hasn't had a lot to cheer about this season with his Stewart-Haas Racing team. Aric Almirola was the only driver on the team to earn a victory during the regular season. Kevin Harvick, who won nine times in 2020, never made a trip to victory lane. 
Just last month, Stewart expressed his frustration with the year SHR has endured. 
"It's not been a season that we're proud of by any means," Stewart said. "We definitely have a problem in our organization, and it's not with people. But there's something that we're missing on that's cost us the entire season up to this point and we can't find it, but we know there's something fundamentally wrong. So it's frustrating because we're all sitting there scratching our heads trying to figure out what is wrong and what's going on."
Shares video reaction to feud on Twitter
On Saturday night, Tony Stewart watched the action-packed race at Bristol and couldn't help but get excited to see Harvick in the lead with 30 laps to go. Unfortunately for Harvick, Kyle Larson, with an assist from his Hendrick Motorsports teammate Chase Elliott, passed the No. 4 car with four laps to go and held on to the victory, denying the 2014 Cup Series champion his first win of the year. 
After the race, Harvick and Elliott had several heated discussions about a couple of racing incidents. During the first confrontation on pit road, Harvick promptly exited his car and hurried to confront the 2020 Cup champion at his car. Standing toe-to-toe, Elliott consistently pointed his finger at Harvick's helmet-covered face and, at one point, put his hand on Harvick's helmet and pushed it backward. 
Stewart posted a video on Twitter that showed him watching that moment on television. "Bud," he said as if almost calling for Harvick to react. 
"Your win is coming, @KevinHarvick. Give 'em hell," Stewart tweeted. 
Die-cast ironically reveals Stewart's affinity for Kyle Larson
While most people focused on Tony Stewart's reaction to the Harvick-Elliott confrontation, others couldn't help but notice the die-cast sitting directly in front of the big-screen television. It was the No. 5 car of Kyle Larson.
Stewart has been a fan of Larson for years. Last year, after NASCAR suspended Larson for using a racial slur, the team owner was one of the first to advocate for his return. In a recent interview with CBS Sports, Stewart talked about how he desperately wanted to sign Larson to his team, but Ford shut it down.  
"That will be one of the biggest regrets of my professional career is not getting that kid and having an opportunity to race him in our cars. He's a once-in-a-lifetime driver. I say he's a unicorn. He's just literally one of those guys that — who knows — I'm sure in our lifetime we're gonna see somebody else come along that's gonna be like Kyle, but it's probably gonna be a long time before we see another person step up and another driver step up and do what Kyle has been able to do in the last year and a half."
It's obvious Tony Stewart has a deep respect for Kyle Larson and his ability. It's just ironic so many people had to find out about it after watching his top driver get beat by him.
Like Sportscasting on Facebook. Follow us on Twitter @sportscasting19.