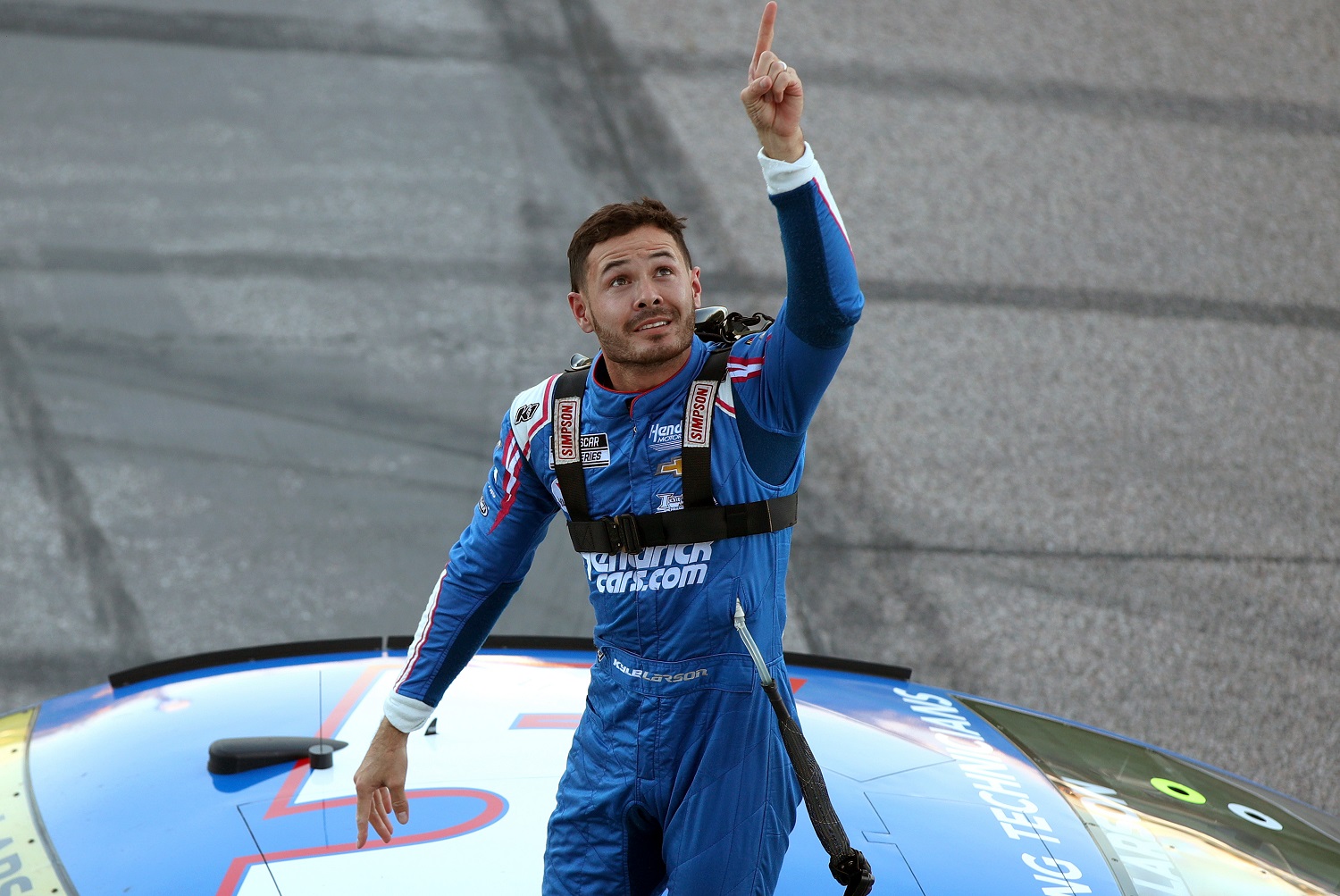 Kyle Larson Dedicates Latest NASCAR Victory to Rick Hendrick's Family on a Somber Anniversary
Hendrick Motorsports driver Kyle Larson won his ninth NASCAR Cup Series race of the season, dedicating the triumph to team owner Rick Hendrick and his family.
There have now been 278 victories and 277 victory-lane celebrations for Hendrick Motorsports, the most successful organization in the history of the NASCAR Cup Series. Kyle Larson made that possible Sunday on the anniversary of a tragic day for team owner Rick Hendrick's family.
Seventeen years and 150 triumphs later, the Hendrick Motorsports people held the celebration that Jimmie Johnson didn't get to experience.
Kyle Larson continues to dominate the NASCAR Cup Series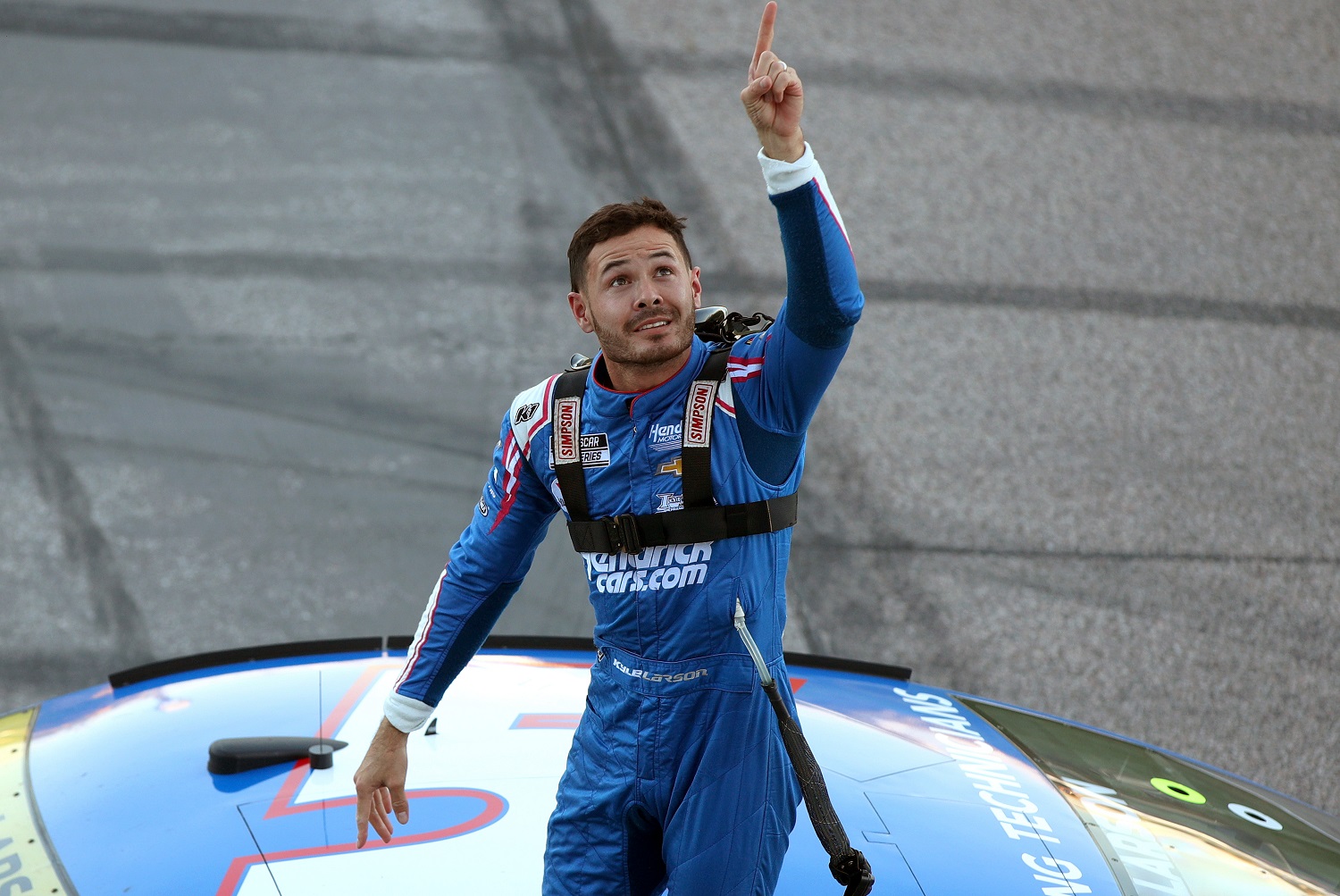 Winning a week earlier already advanced Kyle Larson to the NASCAR Championship 4 in Phoenix on Nov. 7, but the first-year Hendrick Motorsports driver isn't dialing back his determination.
Larson led a race-high 130 laps on Sunday at Kansas Speedway to break a Cup Series record and win his ninth points race of the season. In doing so, he became the first driver since Dale Earnhardt in 1987 to post a pair of three-race winning streaks in the same season.
Larson has led 2,397 laps this season, breaking the record of 2,320 for a 36-race season that Jeff Gordon set in 2001. He can add to the total next week at Martinsville in an elimination race that will determine the Championship 4. As a two-time winner in this three-race segment of the playoffs, Larson is the only driver to clinch a title spot in two weeks.
Kyle Larson dedicates his latest NASCAR victory to Rick Hendrick's family
On Oct. 24, 2004, Jimmie Johnson scored a victory at Martinsville for the sixth of his eight victories that season. However, there would be no celebration. Moments after Johnson took the checkered flag, NASCAR officials summoned all of the Hendrick Motorsports personnel to a meeting to inform them that a company plane had crashed outside of Martinsville en route to the race.
All 10 people aboard died, including owner Rick Hendrick's son, Ricky, and Rick's older brother and team president, John. Rather than celebrate the race victory, the Hendrick teams packed up and headed home to North Carolina.
"I want to dedicate this win to Rick and Linda (Hendrick)," Larson told NBC Sports after winning. "I didn't get to ever meet Ricky or the other men and women who lost their lives that day. But I felt the importance of this race, no doubt.
"(It's) crazy kind of how it all worked out there for me to win. I know they were all looking down, helping me out there on all the restarts and stuff and after getting in the wall.
"So, again, thank you to Rick Hendrick. I know this means a lot to you and I'm glad I could get it done."
On the fifth lap of the Kansas race, Hendrick personnel turned their baseball caps backward as a tribute to Ricky Hendrick, who drove to victory in a NASCAR truck series race at the track in 2001, the year it opened.
"I've heard lots of good stories about Ricky and wish I could have met him, but cool to come here and get Rick that win," Larson said. "He texted me earlier today, and he really just wanted me to lead lap 5. And I was hoping I could do that and win, and we were able to do that.
Hendrick Motorsports has made it all the way back since the Martinsville tragedy
Hendrick Motorsports is indisputably the best of breed in the NASCAR Cup Series these days. Kyle Larson owns nine points-race victories and also triumphed at the All-Star Race. Teammate Chase Elliott is the defending series champion, and he solidified his chance of making the Championship 4 with a second-place showing at Kansas that took him from eight points below the cutline to 34 above.
This season also saw the Hendrick cars sweep the first four places in a regular-season race. Larson, Elliott, William Byron, and Alex Bowman own a combined 15 victories in points races this season.
Jeff Gordon (four) and Terry Labonte (one) scored Hendrick Motorsports' first five NASCAR Cup Series championships, all before the Martinsville tragedy. From 2006-16, Jimmie Johnson registered seven more, matching the record of Richard Petty and Dale Earnhardt. Elliott added to the list a year ago, and he and Larson remain in the hunt this fall.
Like Sportscasting on Facebook. Follow us on Twitter @sportscasting19.