A Staggering Kyle Larson Stat Illustrates Perfectly Why Denny Hamlin Remains a Huge NASCAR Threat
Kyle Larson has checked the proverbial box when it comes to winning NASCAR Cup Series races this season. The first-year Hendrick Motorsports driver has rolled onto victory lane in eight points races already, as well as at the midseason All-Star Race.
Larson is running up another big number, too. But in the course of digging into that particular statistic, something else became apparent: Anyone underestimating Denny Hamlin down the homestretch of the season does so at his or her own peril.
Kyle Larson is closing in on a NASCAR Cup Series record for laps led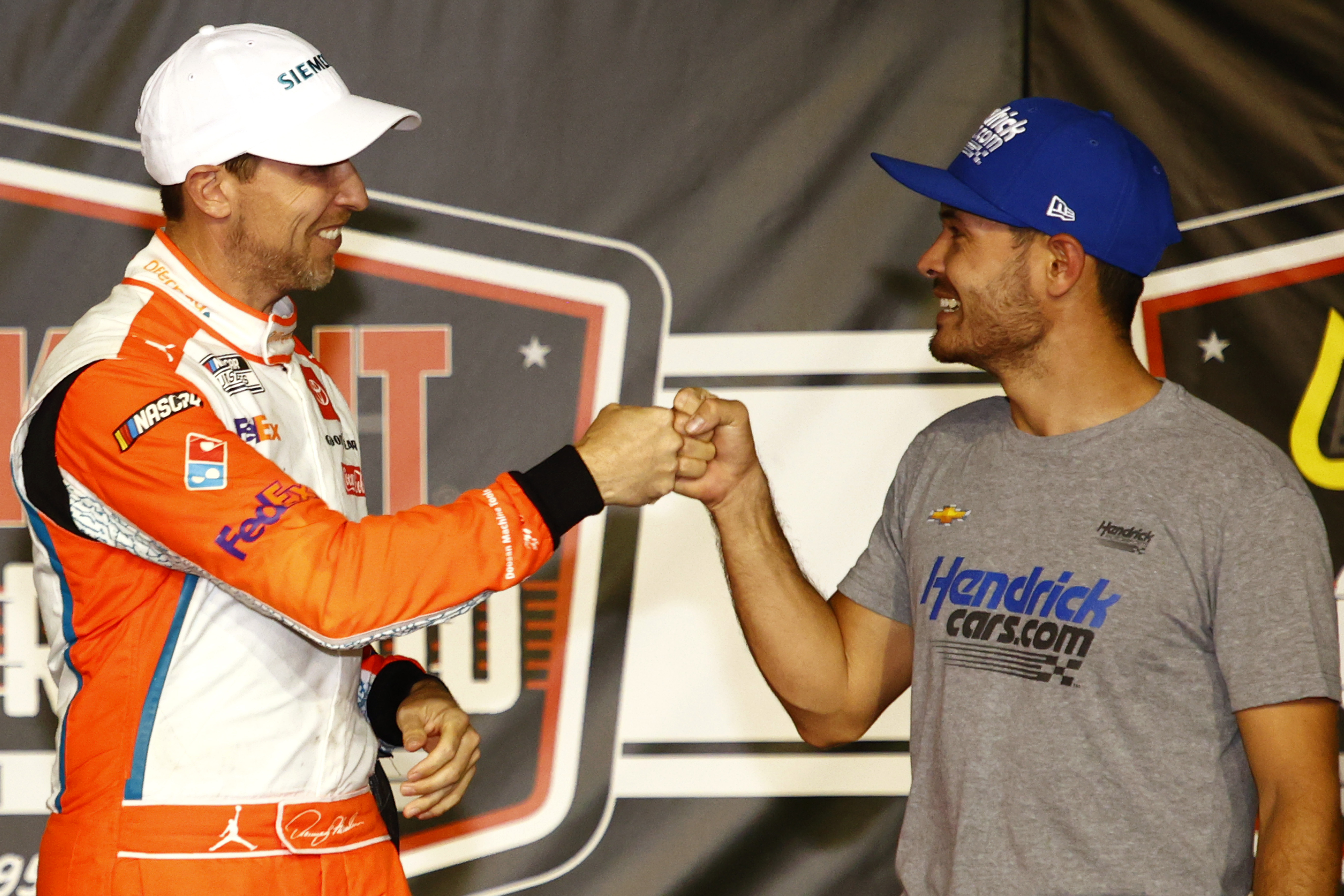 Kyle Larson didn't just win at Texas Motor Speedway last weekend, he dominated. Larson led 256 of 334 laps, which has been a recurring theme to his season. In eight points-race victories in 2021, Larson has led at least 75% of the laps in three of them and half the laps in another. He also dominated two other races that he ultimately did not win.
A win is a win, so we're not trying to dismiss victories by anyone who swoops in late with a well-timed move on a restart to take the checkered flag. Rather, the point is that Larson is getting the most out of the very capable No. 5 Chevy that Hendrick Motorsports handed him at the start of the season.
Consequently, Larson needs only to lead 54 more laps over the remaining three races to break the Cup Series record for a season since NASCAR set its schedule at 36 races in 2001.
Larson has led 2,267 laps so far. Jeff Gordon set the record of 2,320 in 2001, and Kevin Harvick took a good run at it with 2,294 in 2015. Gordon won six races and the series championship in his big year; Harvick captured three race wins and finished second in the Championship 4.
Kyle Larson has the record in his sights
Given that he qualified for the Championship 4 by winning last weekend at Texas Motor Speedway, the next race that matters for Kyle Larson is the season-ender at Phoenix on Nov. 7. In the interim, he admittedly wants to take a run at the record for laps led in a NASCAR Cup Series season.
"I think somewhere in the back of my mind, it's a goal," Larson said, according to NBC Sports, "It's not something I am upset about if I don't lead any laps in a race or anything. But, once I am leading, I want to stay in the lead to help catch that record or whatever."
Crew chief Cliff Daniels calls the potential record "a really big deal to Larson. I didn't even realize we were going to be that close in contention to it. That's pretty cool."
It's more than cool. The "laps led" statistics can educate, and one need not go back beyond last year to understand.
Kevin Harvick won nine races and led 1,531 laps a year ago. Meanwhile, Denny Hamlin won seven races and led 1,083 laps. The laps data was appropriate in relation to the number of victories. Chase Elliott captured the season title in the Championship 4, ending his year with five victories and 1,247 laps led.
Looking at numbers a year later is revealing.
Denny Hamlin should be worrying Kyle Larson
Kevin Harvick and Denny Hamlin have produced very different follow-ups to their big-win 2020 seasons. Harvick is winless this year, leading just 216 laps in his worst performance since his winless 2009 season. It's a stretch to say he was a non-entity this season, but he has never been a significant concern for Kyle Larson.
Chase Elliott has been better with two wins and 527 laps led, but that doesn't qualify as dominating.
Hamlin, however, is a different story. Even though he didn't score the first of his two victories until the start of the NASCAR Cup Series playoffs, Hamlin has led 1,399 laps. Moreover, he keeps producing extended runs at the front of the pack in playoff races.
Even if it's only been for a few laps, Hamlin has led in 29 of 33 Cup races so far this season, and he's come on strong as of late. In fact, Hamlin has led 578 laps in the playoffs. Larson owns one more playoff win and has led 701 laps since Darlington in September. So, he remains the driver to beat but cannot count on coasting to victory lane in Phoenix.
All stats courtesy of Racing Reference.