NASCAR Star Kyle Larson Has a Good Reason for Wanting to Race Mark Martin Again
Kyle Larson has reached that funny part of the NASCAR Cup Series season. He has work remaining on his schedule, but not just yet. The next two races don't count for anything other than his checking account since the first-year Hendrick Motorsports driver has already qualified for the Championship 4 at Phoenix on Nov. 7.
That's apparently given Larson some extra time to deal with fan mail and social media this week, which is how the name of Mark Martin, a veteran of 453 top-10 finishes in 882 Cup Series races, popped up.
Mark Martin drove the No. 5 Chevy before Kyle Larson did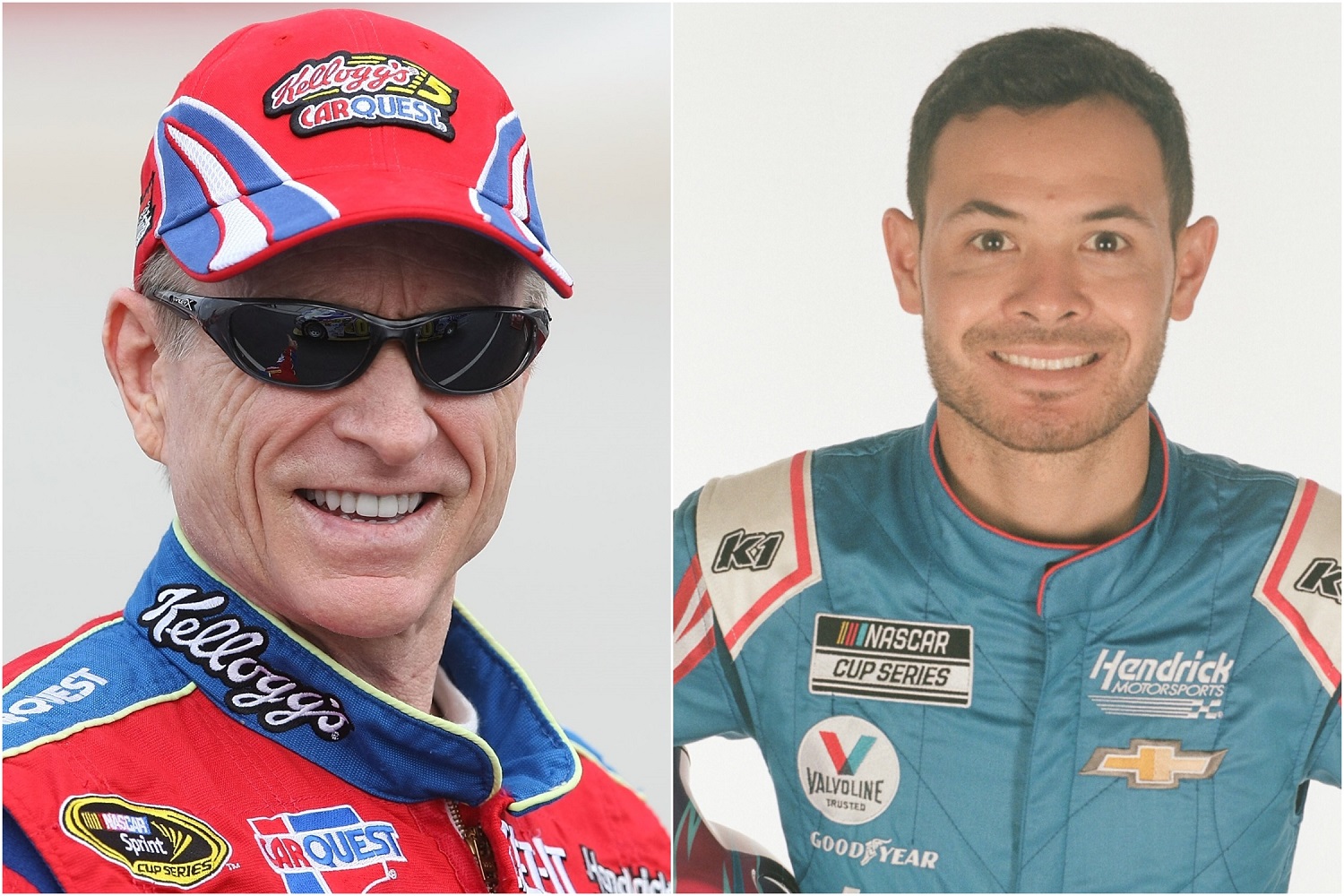 Kyle Larson's first season at Hendrick Motorsports has been a smashing success with eight victories in points races and a triumph in the All-Star Race. He is coming off back-to-back victories at the Charlotte Roval and Texas Motor Speedway. Barring a catastrophe of some sort in the next two races, Larson and the No. 5 Chevy will be the favorite in the Championship 4.
Mark Martin's first season in the highly successful Hendrick organization didn't quite match Larson, but he nevertheless did do the No. 5 Chevy proud. Coming over from a season and a half at Dale Earnhardt Inc., Martin won five NASCAR Cup Series races in 2009. Jimmie Johnson took seven checkered flags that season and topped Martin for the Cup Series crown.
That season proved to be one of the most successful in Martin's Cup Series career, which spanned 1981-2013, though he never won again after that. Martin finished as the series runner-up five times and scored 40 career victories. His best season was with Roush Racing in 1998, when he won seven times.
Kyle Larson has a good reason for wanting to race Mark Martin again
A Twitter follower asked Kyle Larson this week if there was a retired driver that he would like to race against. He responded with a few names before settling on Mark Martin.
"There's a handful of guys I've gotten to race with that are now retired that I wish I could have raced with in their prime," he said. "Tony Stewart, Jeff Gordon. I got to be in the same race with Mark Martin maybe once or twice. My first Cup race, I know I did. Mark Martin would be another one.
"I've heard a lot of people say he's the most talented race car driver they've gotten to work with. Mark would be on that list as well."
Martin, 62, a 2017 inductee into the NASCAR Hall of Fame, retweeted Larson's comments and returned the compliment.
"I'm honored beyond words by @KyleLarsonRacin comments here," he wrote. "Coming from the most incredible driver of this era in my opinion."
They shared the track four times in the Cup Series
At 29 years old, Kyle Larson is less than half Mark Martin's age. Understandably, their paths barely crossed in their NASCAR careers. In fact, they shared a track just four times, all in 2013 in Larson's first season in the Cup Series as he broke in with Phoenix Racing.
Larson finished 37th in his debut, when his day at Charlotte ended early because of engine issues. Martin bowed out even earlier with engine trouble and finished 42nd.
Their three other races together were at Martinsville, Texas Motor Speedway, and Homestead. Larson's finishes were 42nd (more engine trouble), 23rd, and 15th, respectively.  Martin's finishes those days were 36th, 11th, and 19th.
All stats courtesy of Racing Reference.