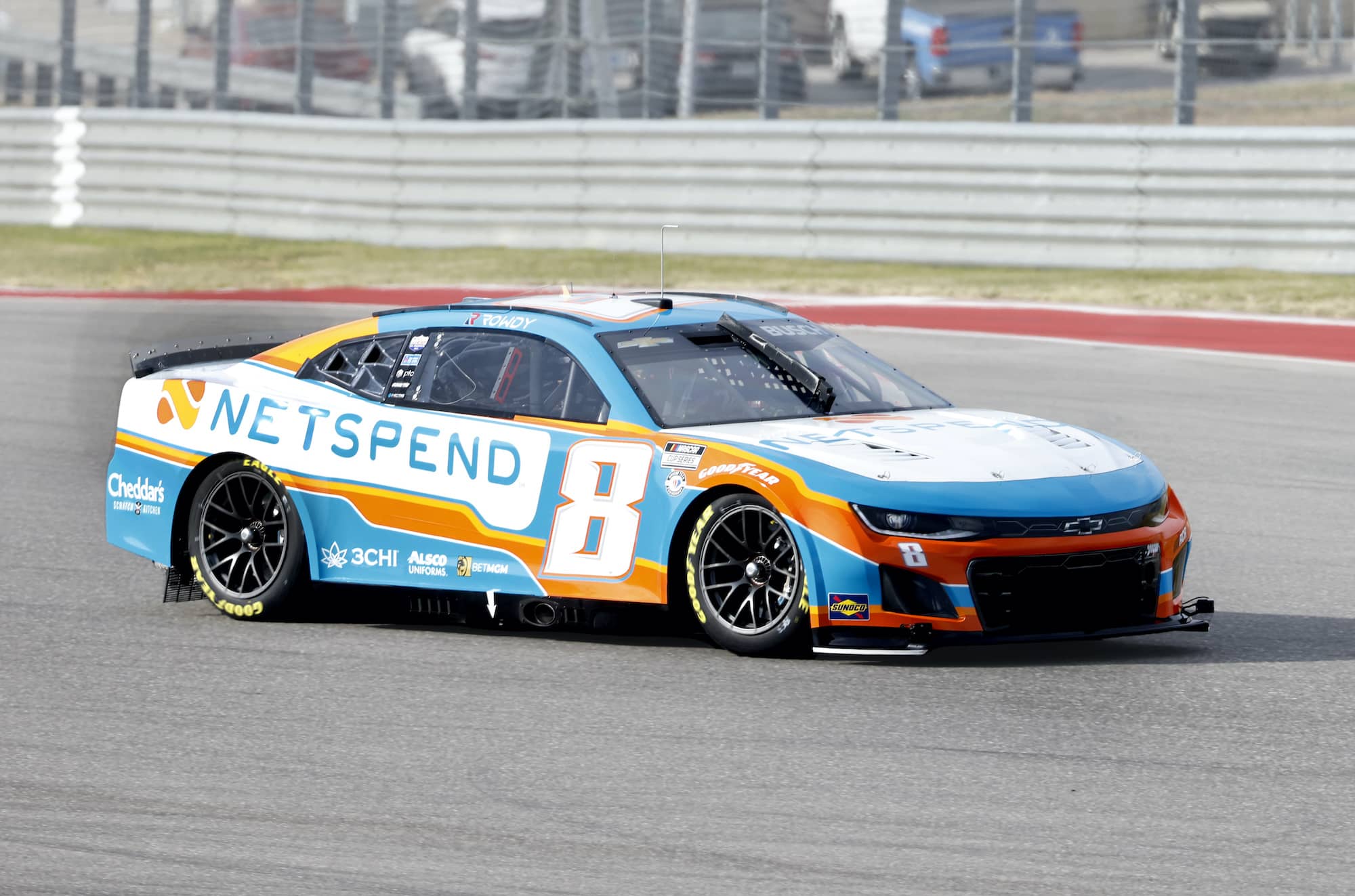 Kyle Busch Addresses Role of Playing Villain at Richard Childress Racing and Rowdy Nation Will Be Happy With What He Had to Say
Kyle Busch visited with reporters this week and directly addressed whether he would be changing his persona or continue playing the villain at Richard Childress Racing.
A month ago, Kyle Busch made a trip to Texas and Circuit of the Americas where he competed in an endurance event with Austin Dillon and Sheldon Creed and got his first taste of working with his No. 8 crew at Richard Childress Racing. 
This week the two-time Cup Series champion returned to the Lone Star State to participate in a tire test, along with drivers Tyler Reddick and Austin Cindric. Following the test session, the drivers visited with the media, and the 37-year-old was asked if Rowdy Nation could expect to see the same persona that's made him one of the most polarizing figures in NASCAR with his new team in 2023. His answer will make his loyal followers happy.
Kyle Busch has embraced reputation of being a villain
Years from now, the history books will show Kyle Busch as one of the greatest drivers in NASCAR history. There's no denying the numbers. But looking at his career in totality, it's not all peachy. 
While it's understandable that his fans would want to focus on the statistics, there's another side to Busch that rubs another group of fans the wrong way. It typically happens when he directs his frustration at any number of entities, including the sanctioning body, his team, the fans, or other drivers, as he did last year when he went off and blasted Alex Bowman for backing into the win at Las Vegas. 
That behavior is appalling to many, but appealing to his most ardent supporters. And that's why he's undeniably one of the most polarizing figures in all of sports, much less NASCAR. He's your perfect villain, and has willingly embraced it. 
Look no further than what he did before the Bristol race in 2021 when he encouraged fans to boo him during driver introductions. 
Suggests he will have to change his persona with new team
Last year, Busch regularly met with the media on race weekends and the topic of conversation was more often than not about his uncertain future at Joe Gibbs Racing. In September, and days before the big announcement that he was joining RCR, he visited with reporters and was questioned whether or not his persona was a problem and if changing it might be necessary should he drive for another team. 
"I feel like having the freedom of being able to act or react to certain situations the way that I could through the support of M&Ms allowed me to be as successful as I was on Sunday," Busch said. "Thousand percent. So will that have to change? Most likely. How much? 10%, 15%, I don't know. Maybe it's 18% that you have to change. I don't know what that is or what that looks like so obviously that's still to be determined."
Busch reveals plans for villain role with RCR in 2023
This week Busch was in Austin running a tire test for Goodyear on the 3.41-mile road course. Following the first day of testing, the driver met with reporters and was asked about his personality and what Rowdy Nation could expect from him with the new team in 2023. 
"It depends. It's a matter of who makes you mad," Busch joked. "It's just a product of circumstances and what all goes down. Our sport needs some entertainment. It needs some excitement whether it's on the track or a little bit off the track. If I'm that guy — I've been that guy for a little bit. This hat's black for a reason. We'll keep rolling."
That's exactly what Busch fans want to hear. That's one of the main reasons why they love him. And it's that same reason his critics love to hate him.