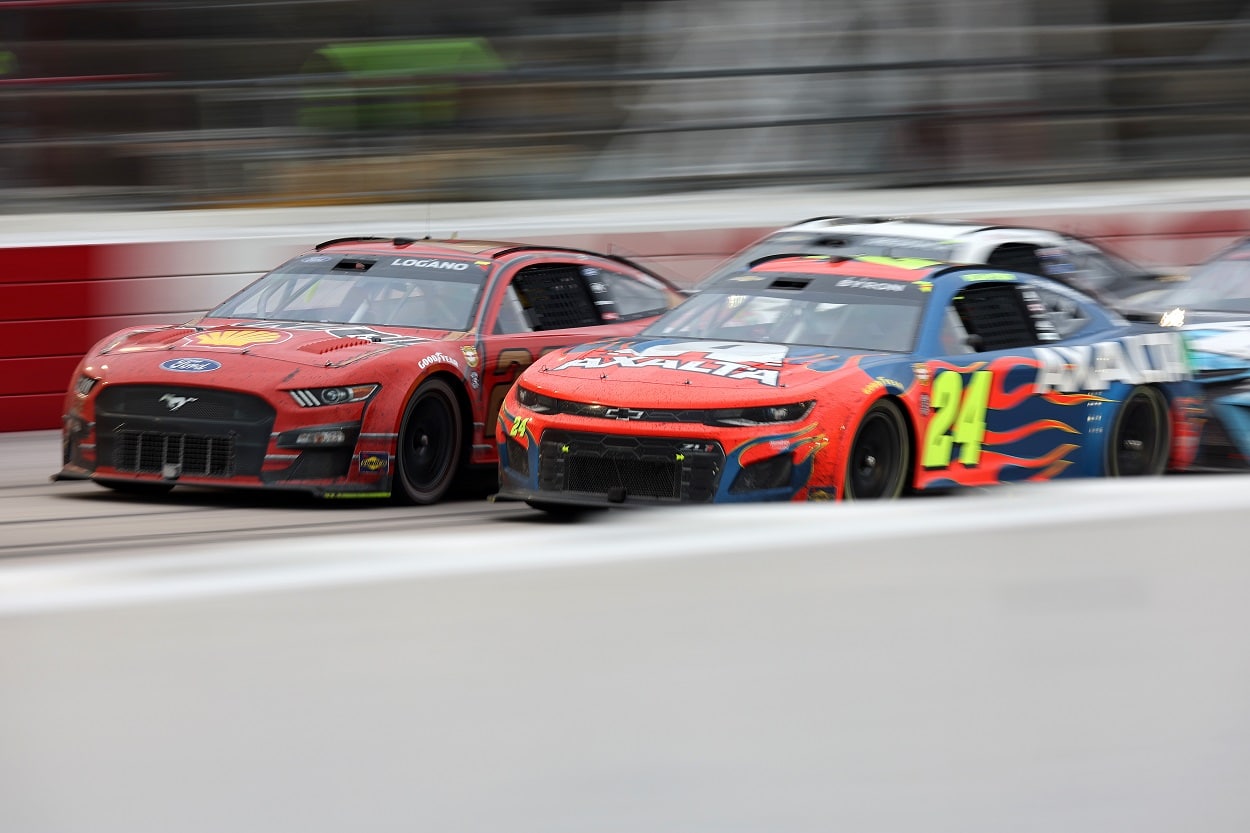 Joey Logano, William Byron Incident at Darlington Turned Denny Hamlin Into a Prophet
A past Denny Hamlin tweet describes the fallout of the Joey Logano-William Byron incident at Darlington.
Joey Logano and William Byron created the NASCAR controversy of the week with a finish Sunday at Darlington Raceway that opened a discussion about code of conduct that validated fellow competitor Denny Hamlin's opinion on the subject.
Logano and Byron lined up on the front row for a restart with 25 laps left in the 400-mile Cup Series event. The two drivers raced hard through the first two turns and onto the backstretch when Byron squeezed Logano into the outside wall, at least in Logano's opinion.
Byron led the rest of the event until Logano caught him once again going into Turn 3 with two laps to go. Logano drove into the back of Byron's car, which shot the No. 24 car into the outside wall and ended the battle for the win. Logano cruised to the victory, while Byron fell to 13th.
Joey Logano and William Byron had a war of words after Darlington finish
"You're not going to put me in the wall and not get anything back," Logano said in his post-race interview. "That's how that works."
Byron, not surprisingly, saw the finish through a different lens.
"We were really close off of (Turn) 2, and I think it spooked him and got him tight, and he was right against the wall, and I got the lead," Byron said after the race. "He's just an idiot. He does this stuff all the time. I've seen it with other guys.
"He drove in there 10 miles an hour too fast, and with these Next Gen cars, he slammed me so hard it knocked the whole right side off the car and no way to make the corner. Yeah, he's just a moron."
Reaction to Logano's move at Darlington was different than Ross Chastain's move at COTA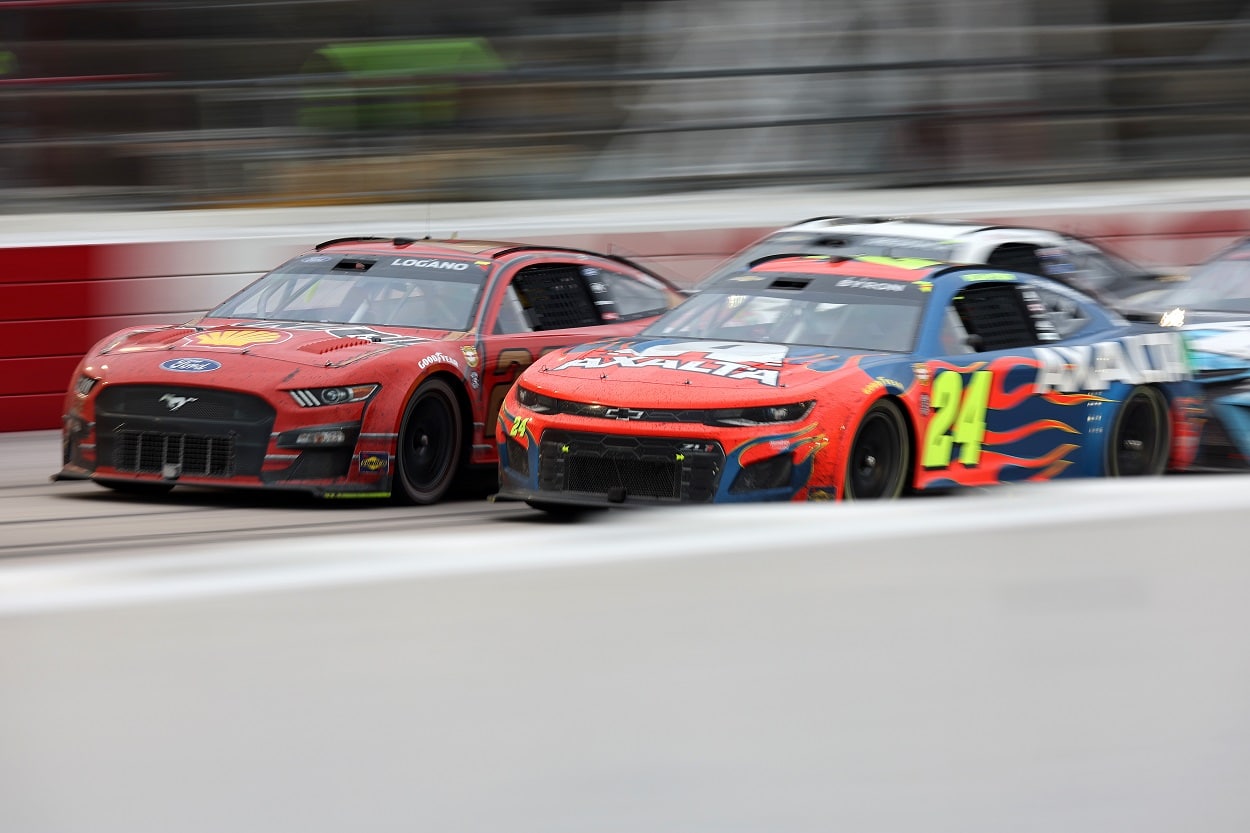 Logano viewed his decision to move Byron as justified because of the way Byron had raced him earlier in the race. Ross Chastain made a similar calculation six races earlier when he shoved A.J. Allmendinger into Alex Bowman on the final lap and drove by both for his first career victory.
Chastain received cheers and congratulations on his win, and people talked a lot about his long struggle to reach the Cup Series and succeed. His move on Allmendinger became hailed as an attempt by an aggressive driver to do anything possible to reach Victory Lane.
Logano faced boos from the Darlington crowd, and his move on Byron has been the subject of debate across NASCAR ever since. Few people have focused on the facts that his 28th career win tied him with Carl Edwards for 29th on the all-time Cup Series wins list, ended a 40-race winless streak, made him eligible for the NASCAR Playoffs for the ninth time in the last 10 years, and extended his streak of consecutive seasons with at least one Cup Series victory to 11 seasons.
Denny Hamlin explained the disparate viewpoints on aggressive driving long before Darlington
Hamlin, a 41-year-old, 18-year Cup Series veteran who has won 47 career races in the series, shared his thoughts on end-of-race tactics with NBC Sports NASCAR writer Nate Ryan the day after Chastain won at the Circuit of the Americas.
"In 2017 it wasn't ok," Hamlin tweeted. "In today's world 'High stakes' 'do whatever it takes' 'playoffs on the line' blah blah, it's all fair game. The game has changed and it's just expected now. Everyone runs over everyone. Doesn't matter if it's for first or 10th."
Ryan explained that drivers' approaches change because the younger generation of drivers has a different set of ethics.
"Well then we must acknowledge that whether it's ok or not in the public eye is directly correlated to who it happens to…" Hamlin responded via Twitter.
Hamlin knows first-hand how it feels to be in Logano's position. Hamlin punted Chase Elliott out of the lead with two laps remaining in the 2017 playoff race at Martinsville Speedway, which looked quite similar to how Logano approached Byron Sunday at Darlington.
Fans booed Hamlin relentlessly after that incident, and he became villainized as a driver who lacks respect. Logano faces much of the same criticism now, but Chastain has become a celebrated winner who receives large cheers when he smashes his watermelon on the track after his wins.
The reactions are not the same, even if the wrecks appear similar. Maybe Chastain will draw fans' ire if he becomes an established winner in the series.
As Hamlin prophetically said back in March, fans often base opinions on who causes a wreck rather than whether an aggressive move really was clean or dirty.
All stats courtesy of Racing Reference