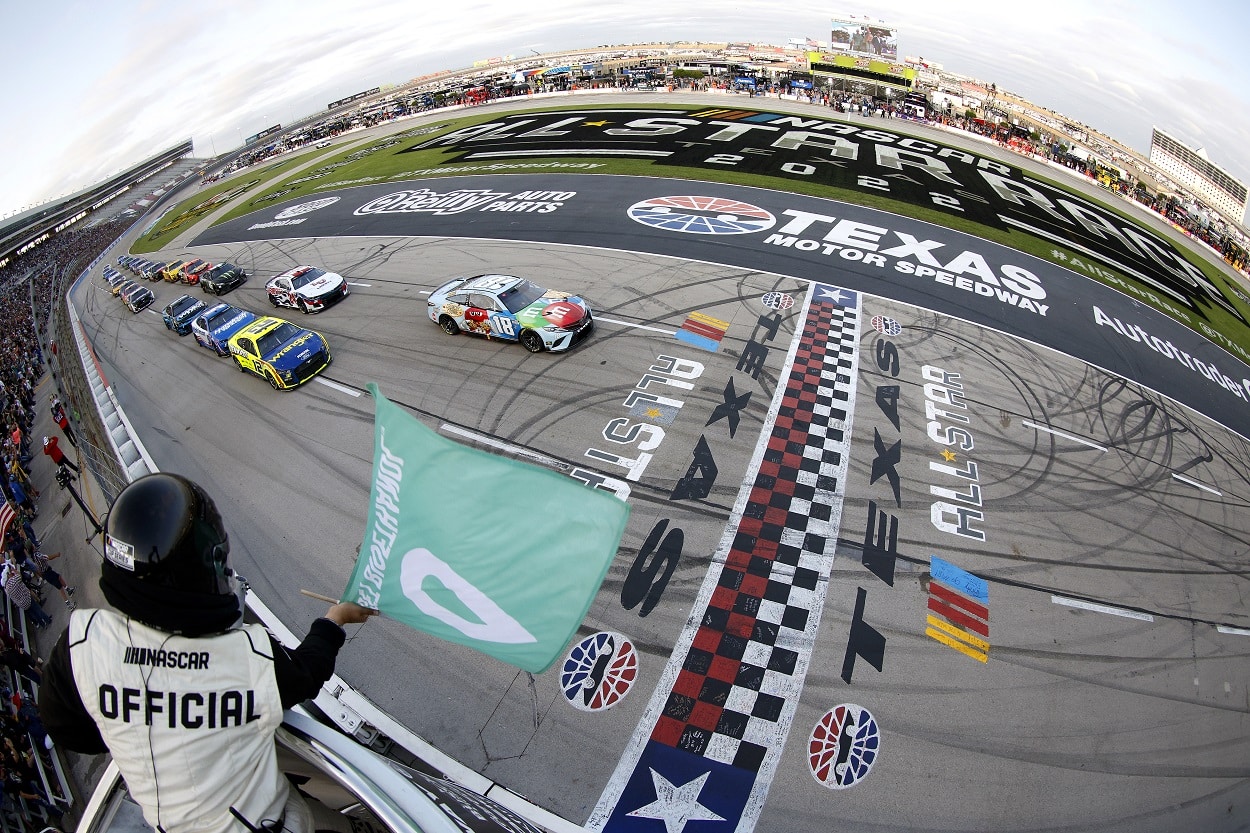 Texas Motor Speedway Is a Disaster and the Next Gen Car at the NASCAR All-Star Race Didn't Help Matters
Texas Motor Speedway has undergone several changes in recent years, but it still hasn't produced good racing.
The new Next Gen car model NASCAR introduced for the 2022 Cup Series season has already given new life to several tracks in the first half of its debut season. But it might not have been enough to save the current iteration of Texas Motor Speedway.
The 140-lap All-Star Race on Sunday featured only three lead changes and could have had even fewer had Kyle Busch not had a flat tire that caused a wreck on the frontstretch on lap 48 and took out contenders Ross Chastain and Chase Elliott. 
Austin Cindric passed Busch moments before Busch's crash and led seven laps after Busch led the first 47 circuits. William Byron briefly led two laps on the restart to begin Stage 3, but Ryan Blaney passed him and took control of the final 84 laps en route to Victory Lane.
Texas Motor Speedway has undergone several changes to try to promote good racing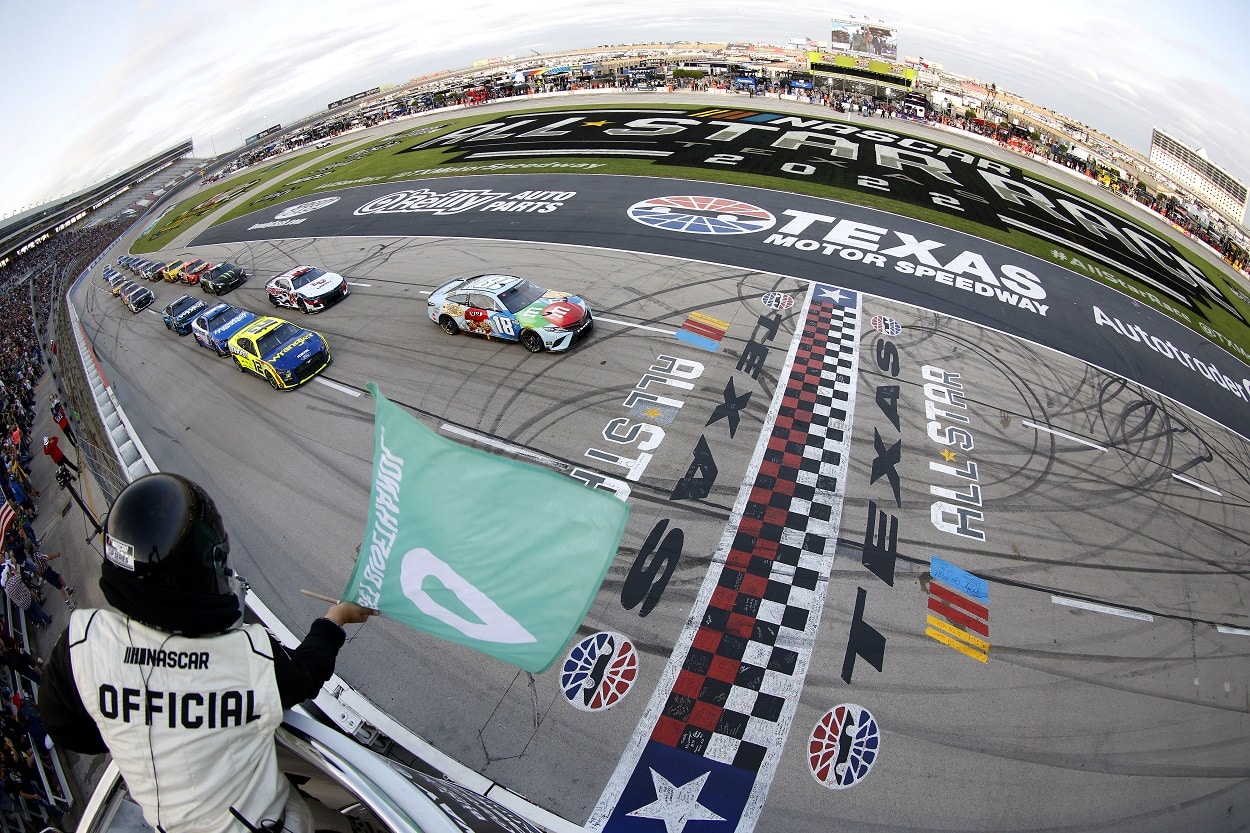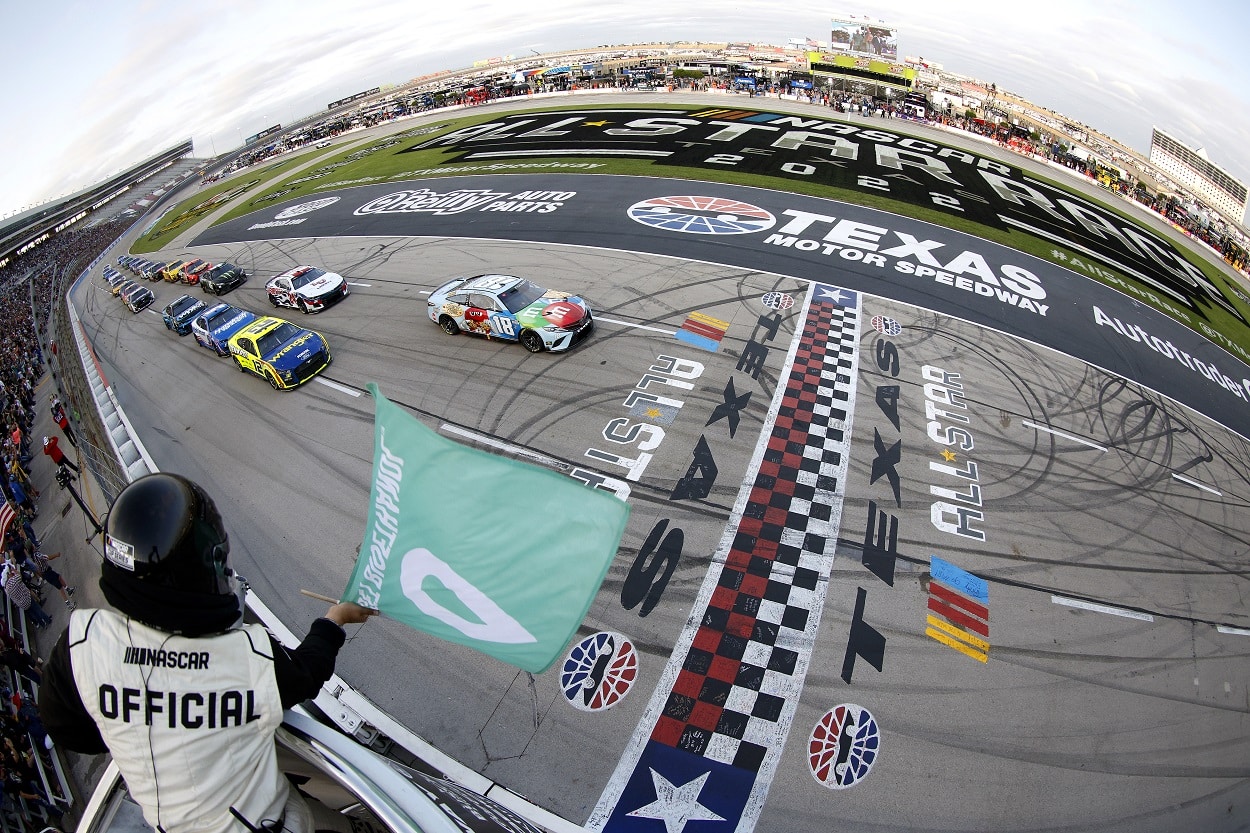 Texas Motor Speedway opened in 1997 as NASCAR rode the most significant wave of popularity in the sport's history. The 1.5-mile, D-shaped track owned by Speedway Motorsports, Inc. was largely similar to other SMI tracks like Charlotte Motor Speedway and Atlanta Motor Speedway.
The track brought NASCAR into the vast media market of the Dallas-Fort Worth area with a single race weekend each spring from 1997-to 2004. It produced enough good races and attendance figures that NASCAR added a second race in the fall as part of the NASCAR Playoffs. TMS had become a premier track on the schedule.
Not every race was memorable, of course. Every track has an occasional dud, as Martinsville Speedway did back in April. But the quality of racing fell dramatically after a 2017 repave and reconfiguration took four degrees of banking out of Turns 1 and 2, which now sit at 20 degrees while Turns 3 and 4 remained at 24 degrees.
"The re-profiling is a great idea from (SMI President) Marcus Smith," former TMS President Eddie Gossage said when he unveiled the changes.
Unfortunately, the redesigned track did not live up to the hype, and calls for the track to try something else or lose its race dates have grown only louder.
Texas Motor Speedway could become a short track or superspeedway
SMI has not shied away from spending large amounts of money to undertake big projects at its facilities, so cost shouldn't be much of a factor in restoring quality racing at TMS. This is the same parent company that spends more than $1 million annually to cover the Bristol Motor Speedway surface in dirt and created a road course inside of its already-existing oval in Charlotte.
Two of the more popular ideas to fix the racing at Texas are to turn it into either a short track or a superspeedway, although fans of one idea typically hate the other.
The short-track idea surfaced at Auto Club Speedway in 2020 when that 2.0-mile facility had quality-of-racing issues similar to Texas. Races at Fontana often became single-file events that featured little close racing, much less passing, so officials drew up plans to convert the speedway into a 0.5-mile short track.
Then came the Next Gen car for 2022. The first Next Gen race at the track in February was one of the track's more entertaining races since it opened in 1997 as a way to get NASCAR into the Los Angeles media market. Suddenly, the short-track idea stalled, and the 2.0-mile surface might remain.
The superspeedway option is the direction Atlanta went when it got a repave after the 2021 season. The new configuration raised the banking in the corners from 24 to 28 degrees and narrowed the racing surface. The result was a race in March that featured pack racing similar to true superspeedways such as Daytona International Speedway and Talladega Superspeedway.
Challenges remain regardless of what changes TMS makes
Neither option is without its issues. Officials might balk at turning the facility into a short track when condominiums and suites are designed for its current 1.5-mile layout, not to mention a backstretch big-screen television of more than 20,000 square feet. Also, how can everything be bigger in Texas if the track gets smaller?
A superspeedway-style layout would produce close racing, as it did in Atlanta. But fans might quickly complain that there are now too many of those types of races on the schedule, given their wild-card nature, especially with Texas' second race part of the playoffs.
Either way, the current setup at Texas isn't working. A creative solution is necessary if Texas is to remain a big part of the NASCAR schedule.
All stats courtesy of Racing Reference.
Like Sportscasting on Facebook. Follow us on Twitter @sportscasting19 and subscribe to our YouTube channel.