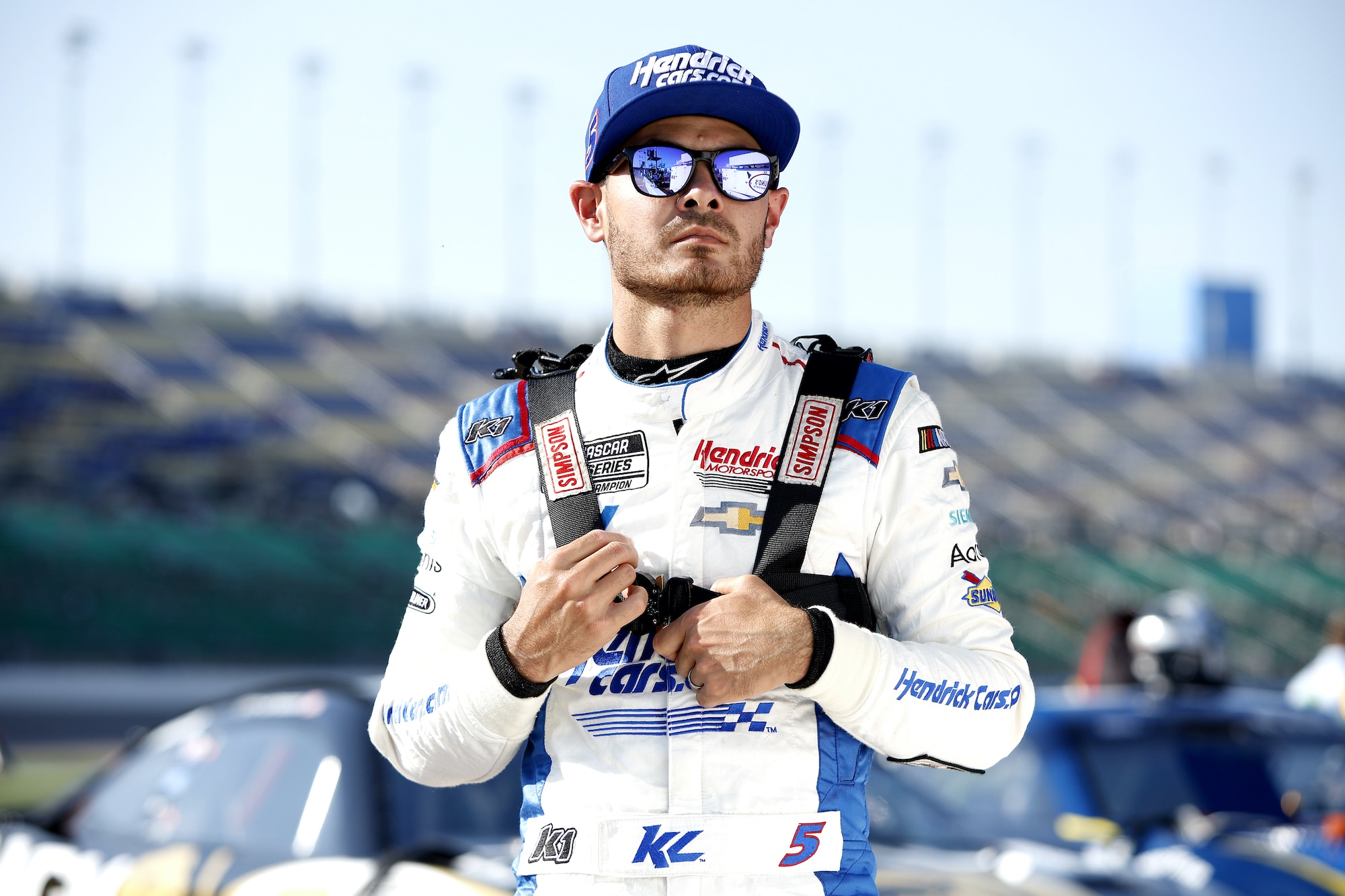 Kyle Larson Candidly Admits Surprise Clint Bowyer Didn't Call Him Out for 'Embarrassing' Blunder at Texas
Kyle Larson made an "embarrassing" mistake at Texas Motor Speedway and admitted he was surprised Clint Bowyer didn't criticize him for making it.
Kyle Larson is regularly recognized for his unique driving talent, crossing over and winning in multiple racing disciplines. Mario Andretti and Tony Stewart have lauded him for his ability.
So it's news when the Hendrick Motorsports driver doesn't live up to expectations and it's magnified when he makes a mistake. That's what happened in qualifying for the All-Star Race in Texas and after it did, the humbled 29-year-old candidly admitted how he was surprised that Fox analyst Clint Bowyer didn't call him out for his notable blunder.
Kyle Larson 'embarrassed' by mistake and surprised Clint Bowyer didn't call him out
Kyle Larson and his pit crew performed well, making it through to the semifinal round in the new qualifying format for this year's All-Star Race at Texas. However, in his duel against Kyle Busch, Larson stalled out on the start, which ended any realistic chances of advancing.
After being eliminated, the HMS driver met with reporters and admitted how the blunder made him feel, including the fear he had that Fox analyst Clint Bowyer called him out for the mistake on the broadcast. 
"I stalled it," Larson acknowledged. "When you're sitting there, you're not fully compressed with the clutch. You're trying to find that sweet spot and I didn't want to spin my tires really bad and I got a little too greedy obviously and stalled it. 
"It's embarrassing. I'm the only guy that stalled. Pretty embarrassing. I think it's honestly more embarrassing than Aric Almirola who was sleeping. I'm sure Bowyer was busting me on the broadcast."
"That's surprising," Larson replied when informed the race analyst didn't make fun of him.
Clint Bowyer comments on Almirola and Larson mistakes 
Larson was referring to Almirola's first-round qualifying matchup against his teammate William Byron. The Stewart-Haas Racing driver appeared not to see the lights turn green and had a noticeably delayed start. 
"I don't think 10 saw the light," Bowyer said. 
"Almirola did not get going whatsoever," Larry McReynolds said. 
"Oh no," Bowyer said. "That's why you don't want to be the first one."
During Larson's semifinal run several rounds later, he was empathetic and not critical of the No. 5's mistake. 
"Oh no! Larson kills it," the analyst said. "He was trying to slip that clutch a little bit and keep from spinning the tires to get a better launch and killed it. Just like any pit road on any given Sunday. Mistakes are the difference." 
Bowyer called out Larson in the past
While Bowyer wasn't harsh with Larson during qualifying, he wasn't as nice a couple of months ago during an appearance on NASCAR Race Hub when he mocked the reigning Cup Series champion and his teammates. 
It happened when HMS vice president of competition Chad Knaus appeared with Bowyer and Adam Alexander, and the group discussed Byron. The broadcast showed a strange cartoon graphic of the driver in an odd pose, where he appeared to be preparing to slap something. 
When Alexander asked Knaus about the driver's pose, the seven-time championship-winning crew chief joked that the driver of the No. 24 is leading a self-defense class at the organization. 
Bowyer took his shot. 
"You might need one with that group," he said, referring to the need for a self-defense expert. "They're good at a lot of things, but I wouldn't think that cage match would be one of those things with your bunch."
Larson's mistake in qualifying didn't get called out by the Fox analyst but it did get his own attention. And he said that he won't make it again. That's bad news for the competition and a missed opportunity for Bowyer.
Like Sportscasting on Facebook. Follow us on Twitter @sportscasting19 and subscribe to our YouTube channel.