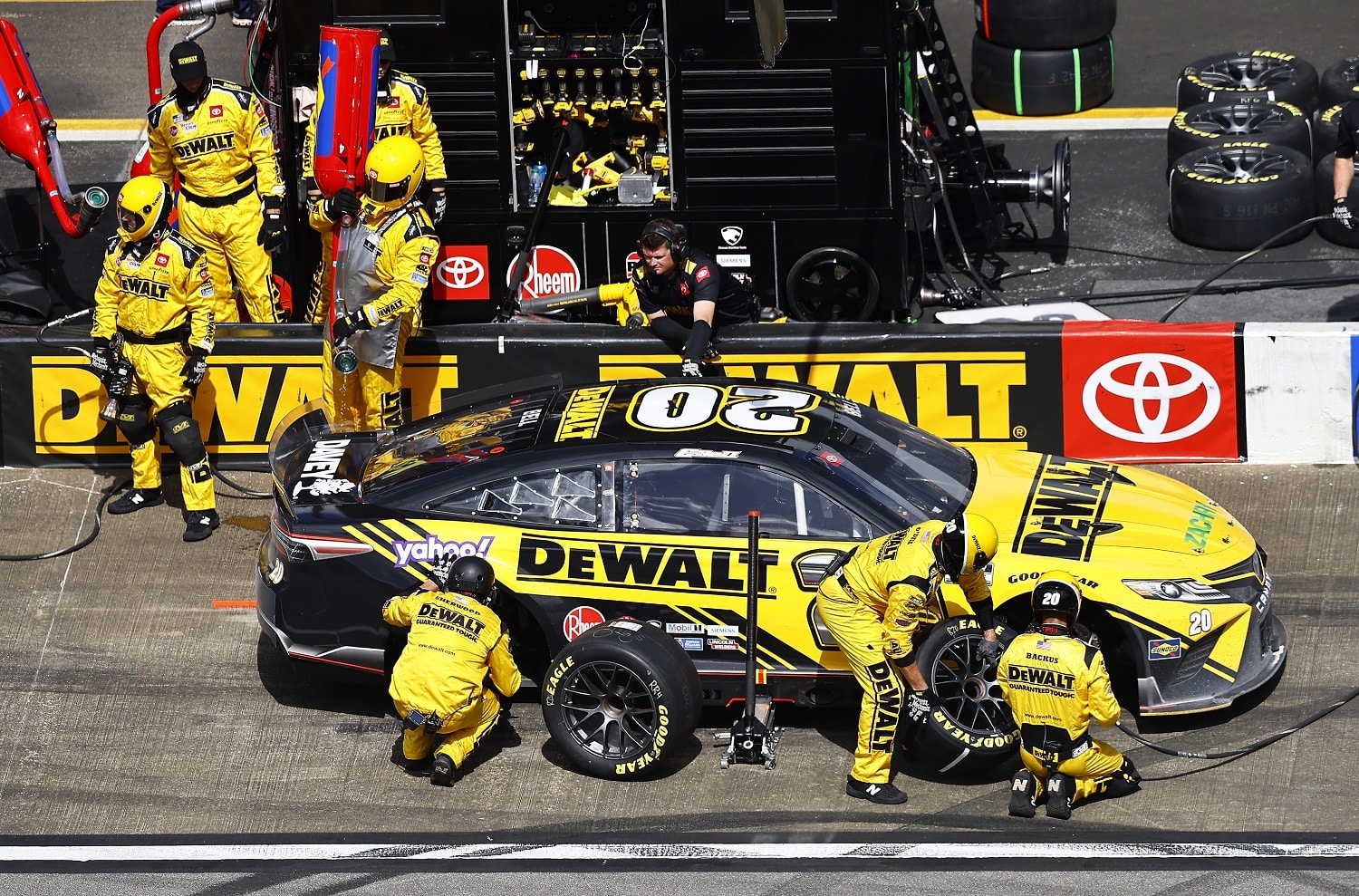 A Pro Tire Changer Explains Where Joe Gibbs Racing Has Gone Wrong
An experienced tire changer points to rookie crew members as the source of pit problems with the NASCAR Cup Series' Toyota teams.
Tyler Reddick turned last week's No. 1 story into yesterday's news by revealing he was hopping teams in 2014. But that doesn't mean that the issue of Joe Gibbs Racing and its problems in the pits has gone away.
There are 17 races to go, beginning with Sunday at Loudon, which adds up to 102 more opportunities for JGR-trained crews to make fresh NASCAR headlines for the wrong reason.
Joe Gibbs Racing driver Christopher Bell's team escaped a penalty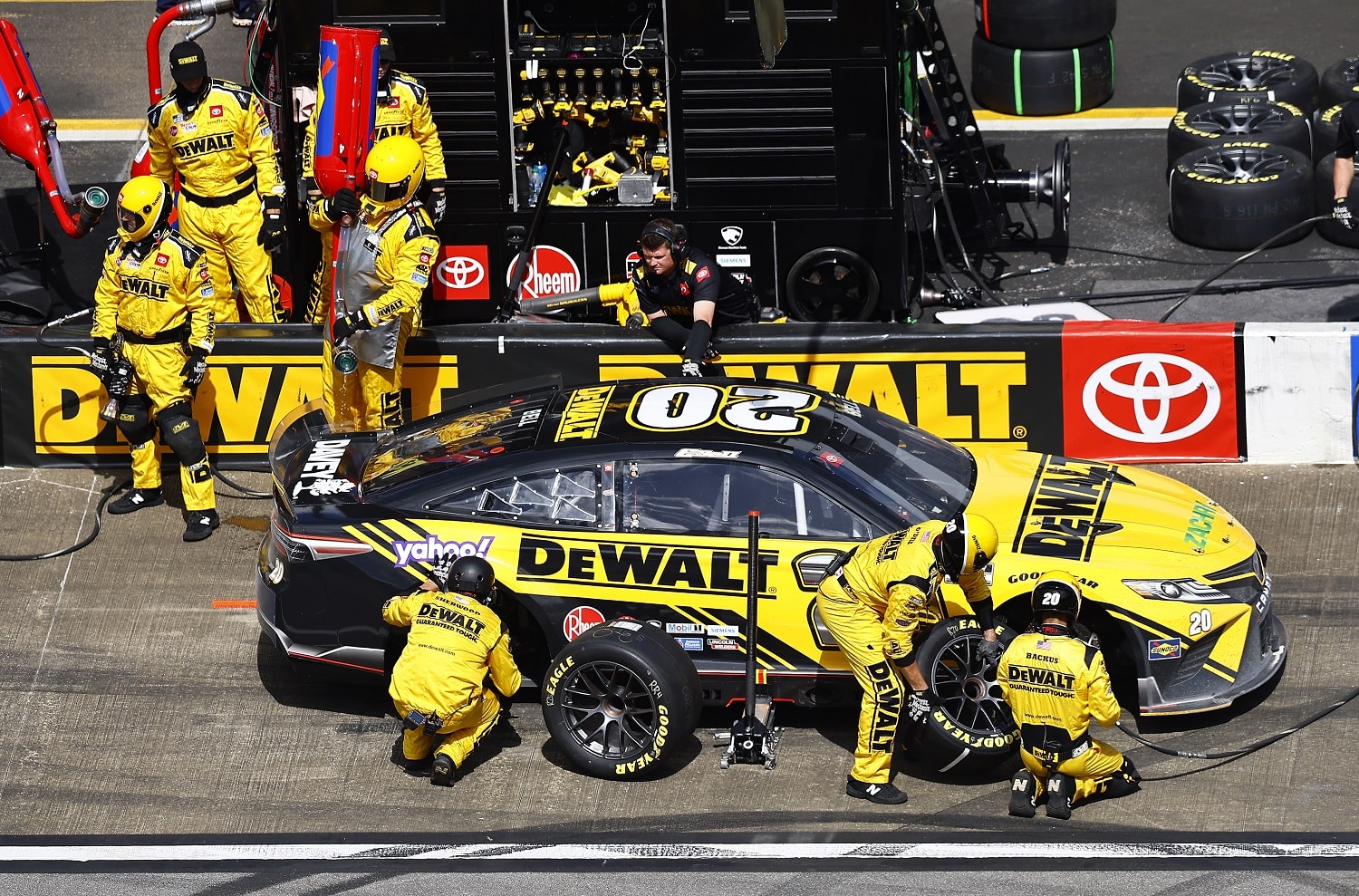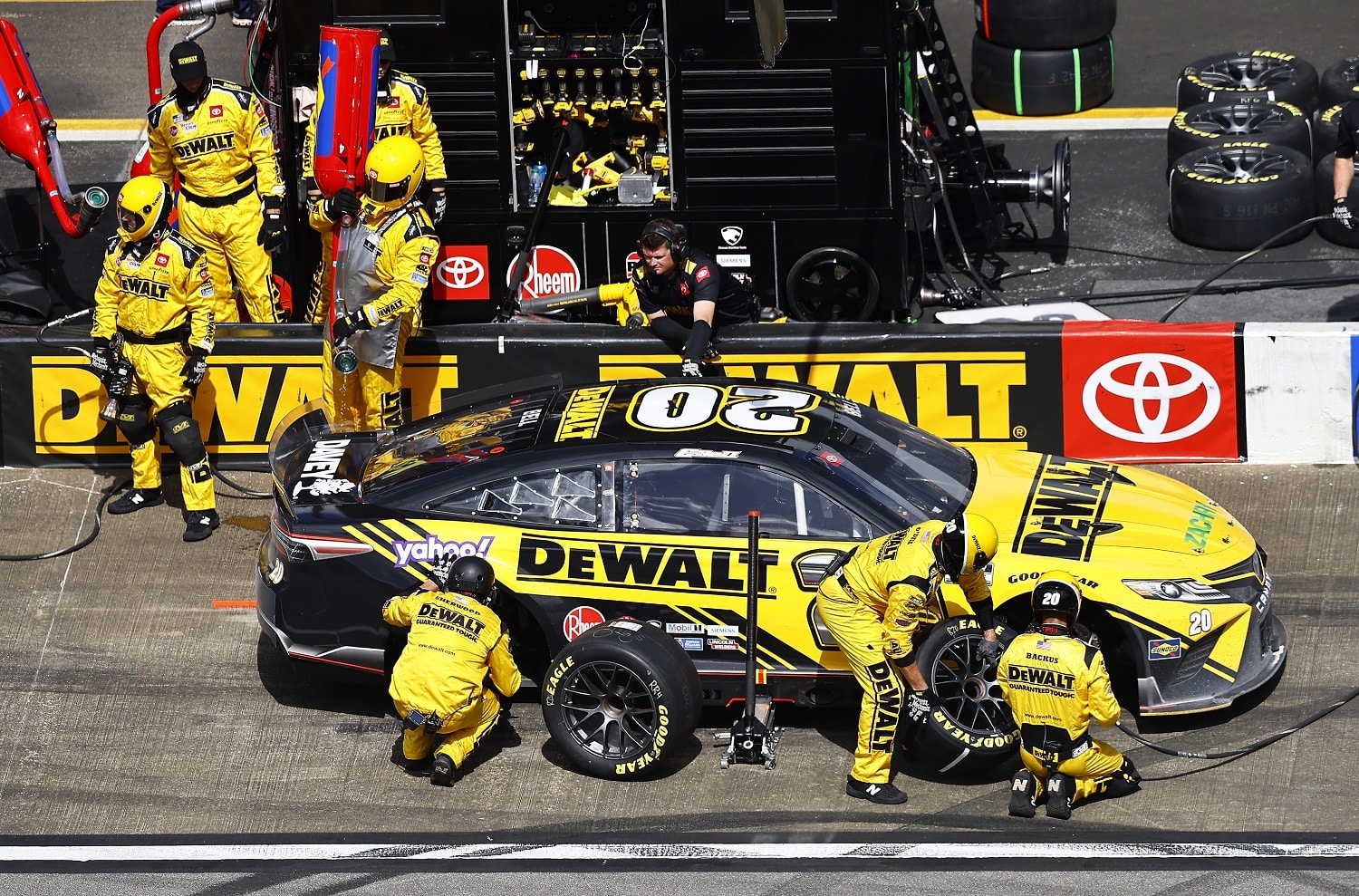 Christopher Bell and the No. 20 Toyota team escaped mention when NASCAR released its penalty report for the most recent race at Atlanta Motor Speedway. That's despite the left-rear wheel on Bell's car falling off as he left his pit stall with 22 laps to go in the Quaker State 400. The Camry skidded to a stop on three wheels.
The loss of a wheel on the track has consistently triggered four-race suspensions for a team's crew chief, tire changer, and jack operator. But Scott Miller, NASCAR senior VP of competition, explained that officials evaluate each case individually. The fact Bell remained on pit road was a mitigating factor.
"Now, if that thing would have been going twice as fast as it was, we would have had a whole field on pit road, we may view that different than we did with hardly any cars on pit road, no speed to the tire, and it not getting away very far," Miller explained, according to NASCAR.com.
JGR made a much-debated move before Atlanta
As the more established of the two Toyota teams in the NASCAR Cup Series, Joe Gibbs Racing has been training and assigning the pit crews for its own four drivers as well as Bubba Wallace and Kurt Busch at 23XI Racing.
Problems across all the Toyotas have been an issue, though other teams have also wrestled with handling the new single-lug nut wheel. Wallace had been particularly vocal about losing time in the pits because of slow stops and faulty tire changes, and his team was one of those drawing four-week suspensions for the crew chief and two members.
Ahead of last weekend's return to Atlanta, JGR reassigned two of Christopher Bell's team members to Wallace's car. Bell received two of Wallace's team members plus an additional new tire changer. The move was widely seen as appeasing Wallace, a longshot for the playoffs, at the expense of Bell, who is just above the cut line.
Naturally, it was Bell who had a wheel come loose in Week 1 of the experiment.
Pro tire changer explains where Joe Gibbs Racing has gone wrong
Ryan "Skip" Flores, a tire changer at Team Penske, appeared on a recent episode of Stacking Pennies, the podcast hosted by driver Corey LaJoie. In it, Flores said Joe Gibbs Racing took a rapid departure from past practices when assembling crews for Next Gen cars in the NASCAR Cup Series.
"What Gibbs has done is they've gone and hired a bunch of athletes," he said. "They saw the opportunity for one lug nut coming. They trained a bunch of people. And the guys like T.J. Ford and all those guys have been around for forever? They're gone or they're back down to Xfinity."
In their place is a roster of big, strong, and agile crew members who can be very fast executing a tire change. But they lack the thousands of repetitions that the men they replaced had.
"The '23' (Bubba Wallace's car) gets better because they just want consistent pit stops, right?" Flores said of the change. "If they do a 10.5 , they're fine where the '20' (Christopher Bell's car) car is trying to do a 9.2, and they're the only car up pit road and their wheel falls off. That's what you get from first-year guys. But at the end of the day, if we're at a track where we're just worried about speed and they hit it, the '20' car might be better than the '23' just on speed alone."
Of course, getting the car out of the pit in 9.2 seconds is useless if it's on three wheels.
Like Sportscasting on Facebook. Follow us on Twitter @sportscasting19 and subscribe to our YouTube channel.
Got a question or observation about racing? Sportscasting's John Moriello does a mailbag column each Friday. Write to him at [email protected]
RELATED: Christopher Bell Sounds Beaten Down While Explaining the Bubba Wallace Pit Crew Swap