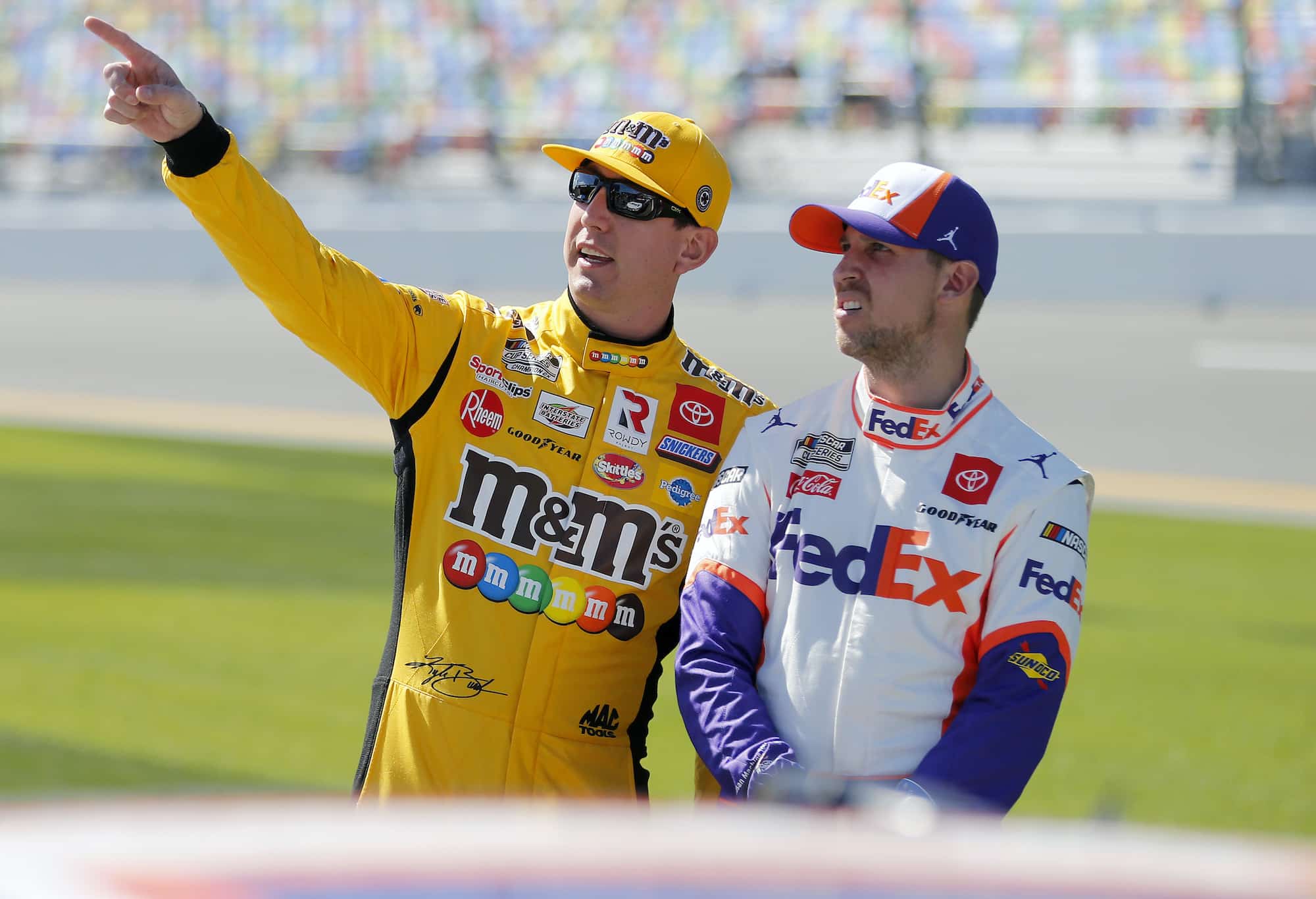 Denny Hamlin Speaks Glowingly of Kyle Busch's Influence on His Career, and Details Why His JGR Teammate Rejected Potential Ride at 23XI Racing
Denny Hamlin candidly discusses the "bittersweet" departure of Kyle Busch from Joe Gibbs Racing and why his teammate rejected a potential opportunity at 23XI Racing.
Earlier this week, Kyle Busch ended months of speculation when he announced that he had signed a multi-year contract with Richard Childress Racing, starting in 2023. The rumor mill had him driving for numerous different race teams, including the only other Toyota Cup team at 23XI Racing.
Team co-owner Denny Hamlin revealed during an appearance this week on SiriusXM NASCAR Radio that he did have talks with his Joe Gibbs Racing teammate about joining the second-year organization, which just recorded its third win last weekend at Kansas. There was interest. There was just one problem. And it was a dealbreaker.
Kyle Busch joins Richard Childress Racing for 2023
Based on all the whispers in the garage, Busch was headed to any number of teams in the last several months, including Kaulig, Trackhouse, Stewart-Haas, 23XI, and RCR.
In recent weeks, talk began to heat up that his choices had been significantly narrowed, with 23XI and RCR considered the frontrunners for the two-time Cup champion's services. Late last week, the news finally broke that the 37-year-old would be joining RCR in 2023 with a multi-year deal and driving the No. 8 car.
On Tuesday, at the NASCAR Hall of Fame, it became official. In one of the biggest moves in NASCAR history, Busch sat on stage with Richard Childress and announced that his 15-year tenure at JGR was coming to an end, and he would be driving with RCR in the No. 8 car, beginning in 2023.  
Denny Hamlin details why Kyle Busch didn't sign with 23XI Racing
This week, Denny Hamlin appeared as a guest on SiriusXM NASCAR Radio and talked about various topics, including his start to the postseason, missed opportunities this year, and the departure of his JGR teammate. He was also asked about his attempts to bring the 60-time Cup winner under the 23XI umbrella.
"We can't predict the future and what the economic model of owning a NASCAR team will look like in the future. We only know what it is today," Hamlin said. "That may change in the next few years. It may not, but all we can do is project what we have now. 
"We knew that in 2024, we have Tyler Reddick and Bubba Wallace part of our team. Now, did we inquire about a short-term still with Kyle and next year, yes, possibly. But I think that Kyle wanted more of a long-term stability. That doesn't mean that it didn't guarantee him that he could be at 23XI long-term. 
"I just think that we weren't able to give those long-term securities that he was looking for, which I totally understand. I would love to be a three-, four-car team in the future, but the economic model has to support it. There were just no guarantees because I can't look in the crystal ball and know that I will be able to afford it years from now."
Speaks fondly of Busch's influence on his career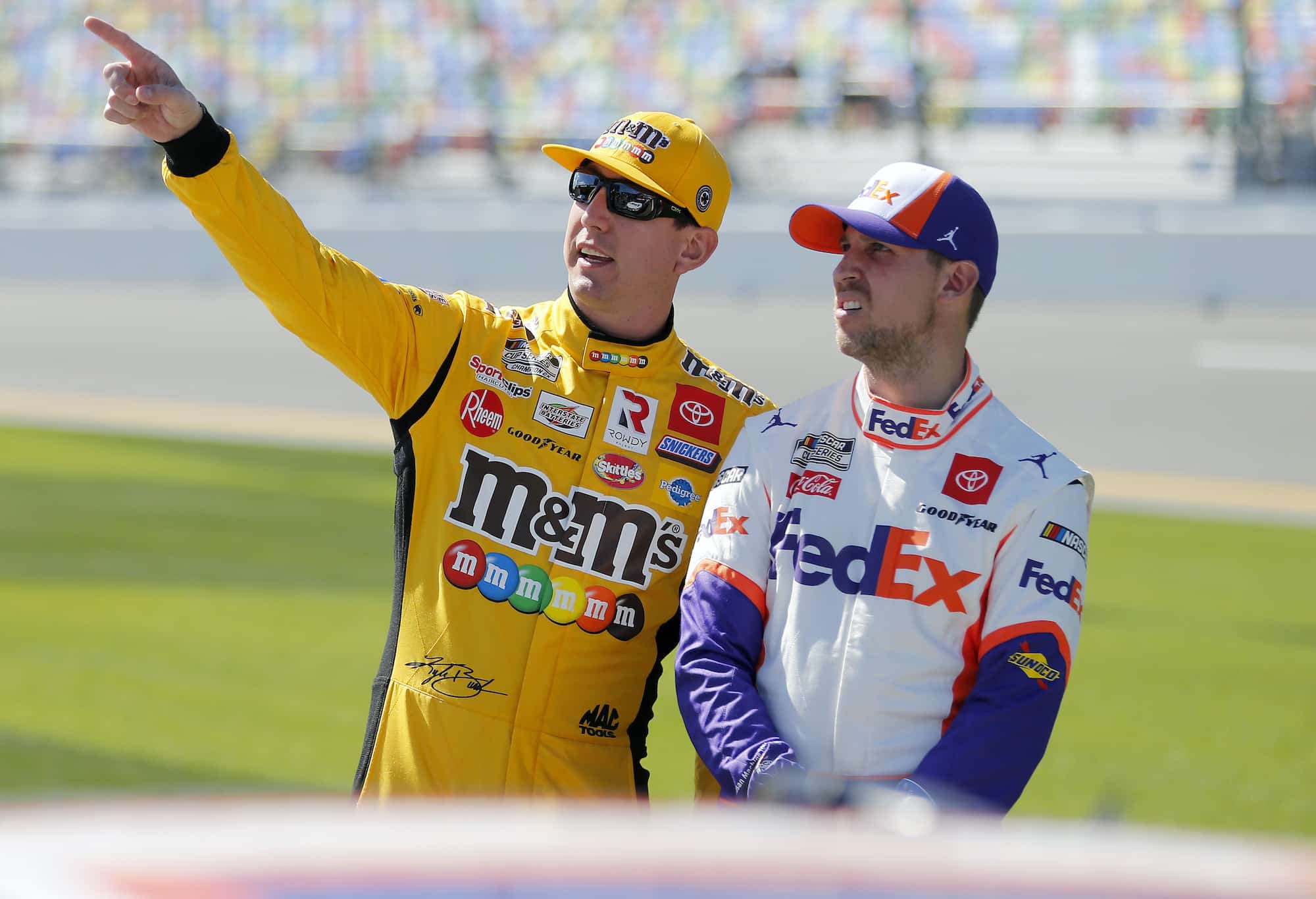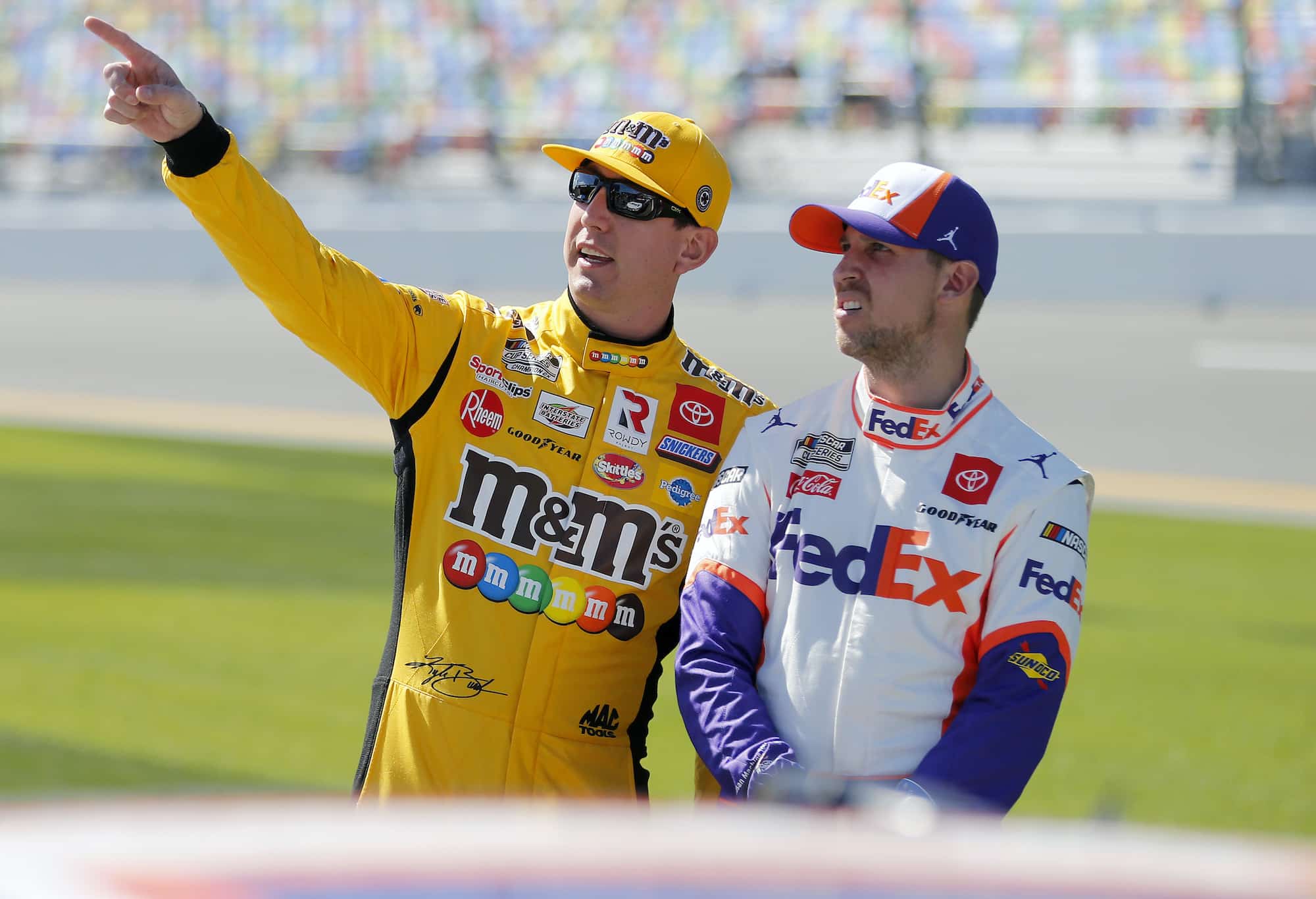 As a team owner, Hamlin knew what signing Busch would do for his team. But Hamlin isn't just a team owner. He's been Busch's teammate for 15 years. He knows the driver of the No. 18 car better than almost anyone in the garage. He knows Busch wouldn't only bring trophies, but he would bring the knowledge and experience with him that is necessary to win those trophies. The three-time Daytona 500 winner saw it up close and personal for more than a decade.
"It's definitely a bittersweet day for sure. We kind of knew it was coming here over the last little bit," Hamlin said of Busch's announcement. "For me, personally, Kyle made me a better race car driver. That's just the best way that I can sum it up. 
"When he came here in 2008, I'll never forget the first time he got inside a Joe Gibbs Racing car was at a test in Atlanta, and we were there. And I remember that every run that I went out and then he would go out there and best it and be P1. I'd go to P2. Then I'd go out, and I'd best him. And then he went out, and he would best me. And it just went back and forth all afternoon. And it was just us pushing each other to be better.
"I was kind of always the short track guy at Joe Gibbs Racing. Denny's the short-track ace. Kyle is great on the mile-and-a-half, two-mile tracks. We all had our niche. I think what we did was make each other better at all types of race tracks. 
"I think that I opened up my knowledge notebook to him on short tracks. He opened up his to mile-and-a-halves and it made us all better. The whole organization better. That's the invaluable stuff that Kyle brings to your organization. So I'm very grateful he has been my teammate for this long. A lot of my success is because of him."
Powerful words with a ton of respect. It sounds like if Hamlin and Busch could have somehow managed to work out the numbers, it would have been a perfect fit at 23XI. But it didn't happen. And now Hamlin, like all the rest of the drivers will have to race against one of the sport's greatest who now has a chip on his shoulder and something to prove.
Like Sportscasting on Facebook. Follow us on Twitter @sportscasting19 and subscribe to our YouTube channel.