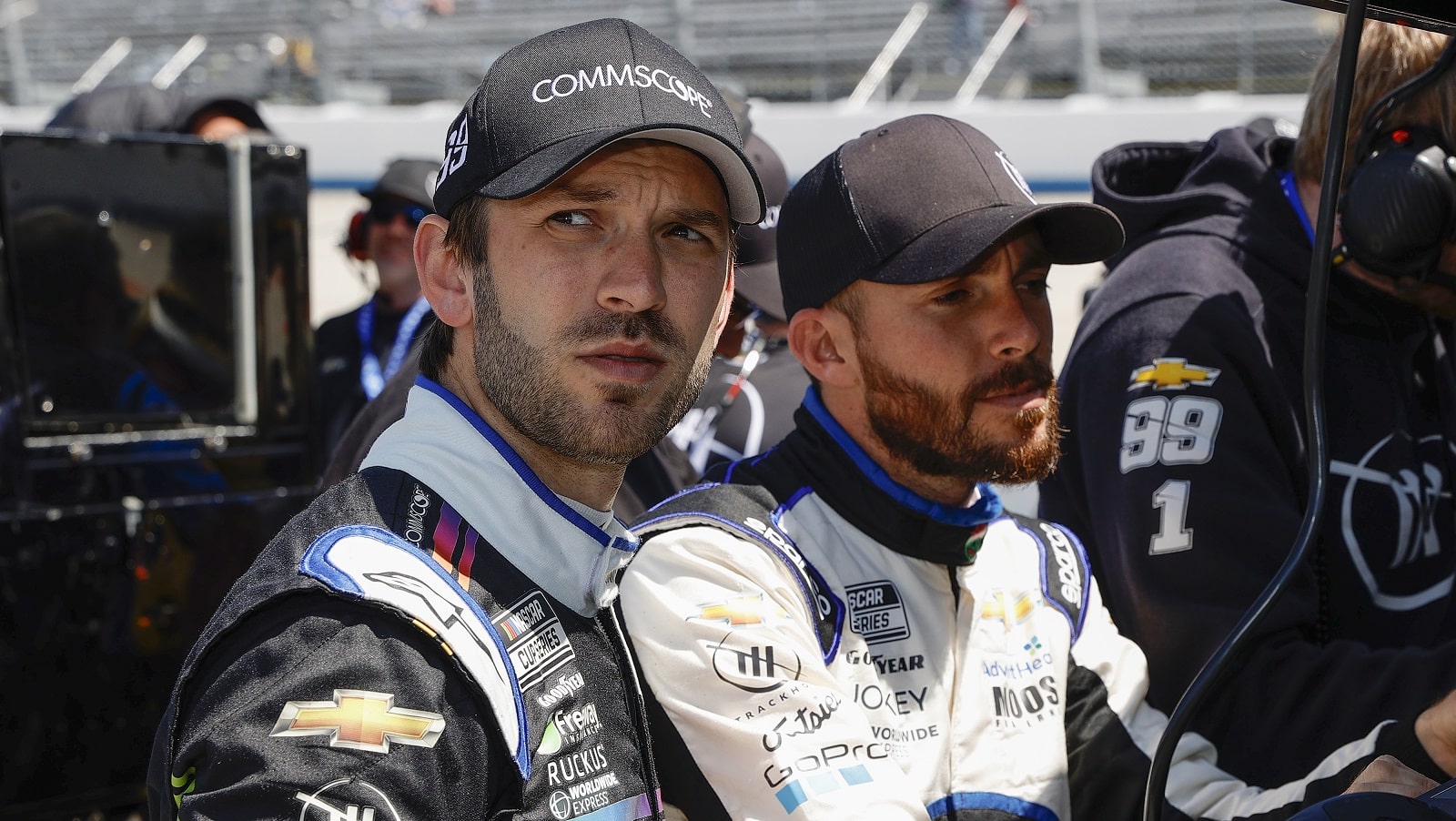 3 Reasons Trackhouse Racing Is a NASCAR Dream in 2022
Trackhouse Racing has roared onto the NASCAR Cup Series scene with three victories through 16 races.
In breaking through for his first NASCAR Cup Series victory, Daniel Suarez displayed great timing. With Cup teams heading off into a bye week, Suarez stays in the spotlight and gets to enjoy the revelry longer than most winners. It's further confirmation that Trackhouse Racing can do no wrong in 2022.
Just as Kyle Larson and Hendrick Motorsports dominated the conversation a season ago, Justin Marks' Trackhouse organization has become the story fans can't get enough of this year.
In analyzing the phenomenon that Trackhouse has become in just its second season, we've pinpointed three ways in which the team is a NASCAR dream.
1. Trackhouse Racing has given NASCAR a winning hero and villain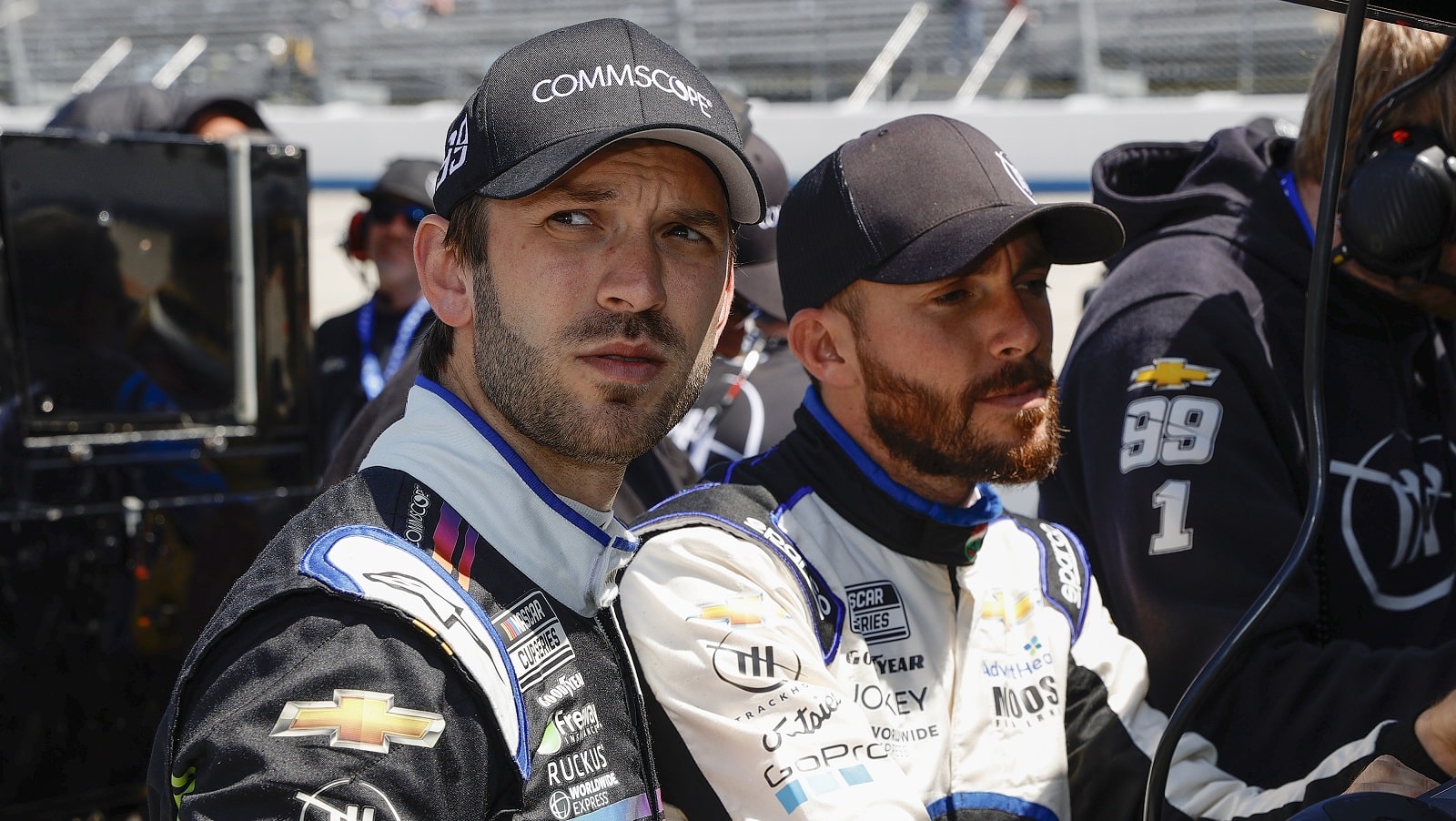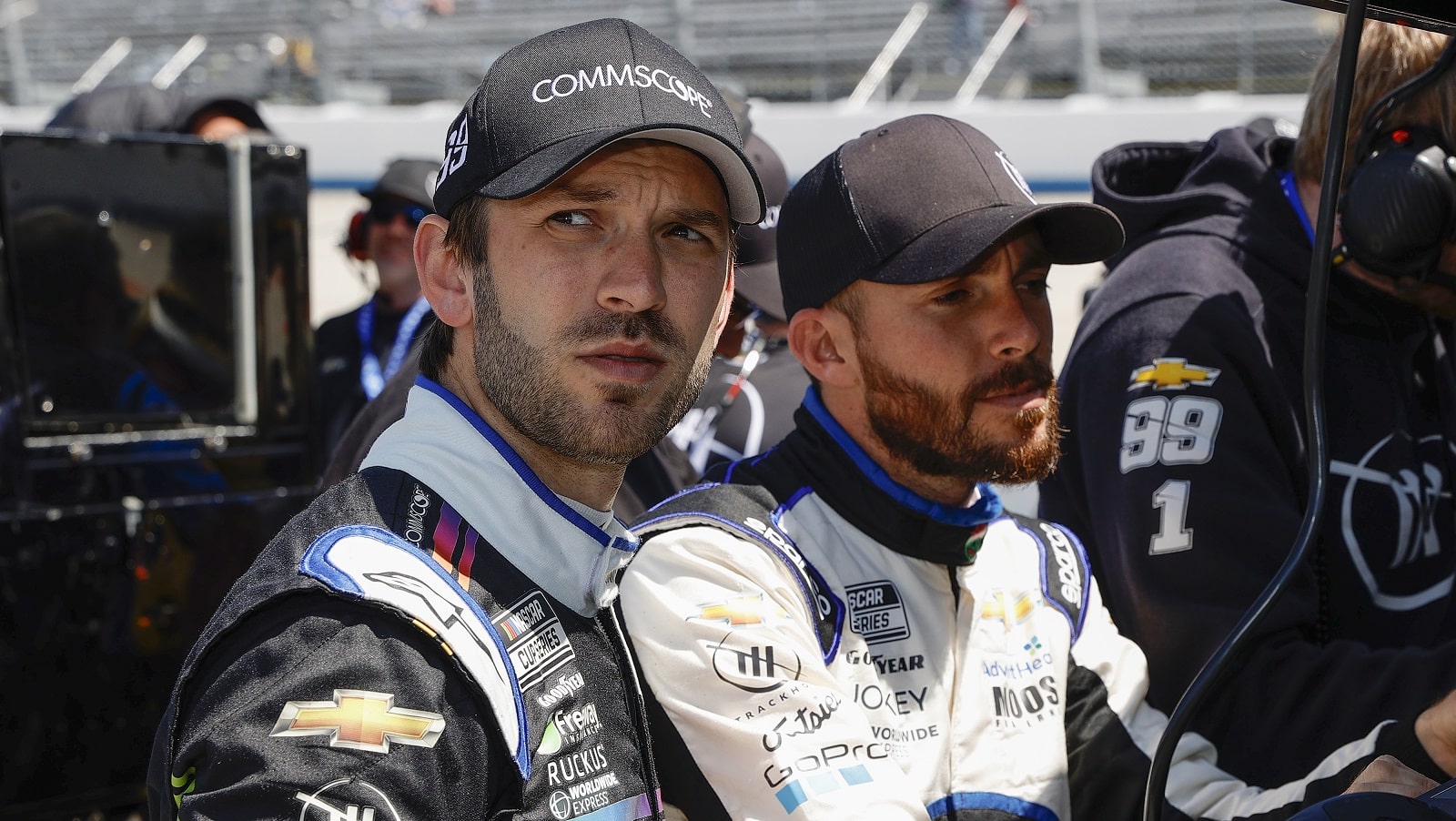 Daniel Suarez, 30, paid his dues. He did double duty in 2015-16, driving Xfinity cars and in the truck series. After winning an Xfinity title, he still drove there part-time in 2017 while competing in the Cup Series for Joe Gibbs Racing after Carl Edwards retired on short notice.
A victim of JGR's notorious impatience, he was cast aside after two seasons. Suarez landed at Stewart-Haas Racing in 2019 and Gaunt Brothers Racing after that. In a sense, he was working his way down the ladder rather than up, but Suarez never lost the support of his peers in the garage.
The combination of determination and an outgoing personality that's landed him regular appearances on Fox Sports' nightly show makes him popular among fans, too. His Mexican heritage has opened new avenues for NASCAR as well.
And then there's his teammate. Ross Chastain has been every bit as nomadic as Suarez, going from Premium Motorsports in the Cup Series to Kaulig Racing in the Xfinity Series, then back up to Chip Ganassi Racing and now Trackhouse.
Unlike Suarez, however, Chastain isn't making a ton of friends. His hellbent-on-moving-to-the-front racing style has made enemies, and his season thus far is as memorable for angering Denny Hamlin and Chase Elliott in the same race as it has been for scoring the first two wins of Chastain's Cup Series career. Crossing Elliott, a perennial fan favorite, automatically earns him the villain label.
Thus, Trackhouse has needed less than two full seasons to develop the babyface and heel model that has given professional wrestling staying power for more than half a century.
2. Trackhouse Racing leads the resurgence of small teams
Hendrick Motorsports, Joe Gibbs Racing, Stewart-Haas Racing, and Team Penske account for 41.7% of the NASCAR Cup Series charters and probably 80% of the coverage by all forms of media. They've also produced 16 of the past 17 champions, with Martin Truex Jr. (Furniture Row Racing in 2017) being the exception.
With two victories by Ross Chastain and one by Daniel Suarez through 16 races, Trackhouse Racing has suddenly shifted meaningful attention to smaller teams. Yes, 23XI made headlines in its debut season, but that was largely a function of the sports world's infatuation with Michael Jordan.
Trackhouse is now one of the five best teams of any size in the Cup Series but not the only two-car team enjoying time in the spotlight in the first year of the Next Gen car. Kurt Busch has scored a win for 23XI Racing, Erik Jones has made the updated iteration of Richard Petty Motorsports relevant, and Richard Childress Racing teammates Austin Dillon and Tyler Reddick will be trying to claw their way into the final playoff spot again.
It adds up to fresh storylines for the media to embrace, never a bad thing in a crowded sports landscape featuring a new golf tour and yet another attempt at spring football.
3. Justin Marks and Pitbull are shaking up the ownership landscape
There's no sense being gentle about it, so we'll come right out and say that the average age of NASCAR team owners was approaching deceased not that long ago.
Jack Roush, Roger Penske, Joe Gibbs, and Rick Hendrick have been legends in the sport, but new blood often brings with it new enthusiasm and ideas. Michael Jordan's drivers have accounted for two wins since the start of last season, Kaulig Racing tasted Victory Lane a year ago while ramping up to its full-time status, and now Justin Marks and Pitbull have formed a dynamic ownership presence at Trackhouse Racing.
Marks is just 41 years old and raced in all three NASCAR series as recently as four years ago. He knows the sport and seems to be figuring out the business side just fine. He's exactly the type that NASCAR can put in front of TV cameras and online reporters to speak authoritatively about the sport for years to come.
Like Sportscasting on Facebook. Follow us on Twitter @sportscasting19 and subscribe to our YouTube channel.