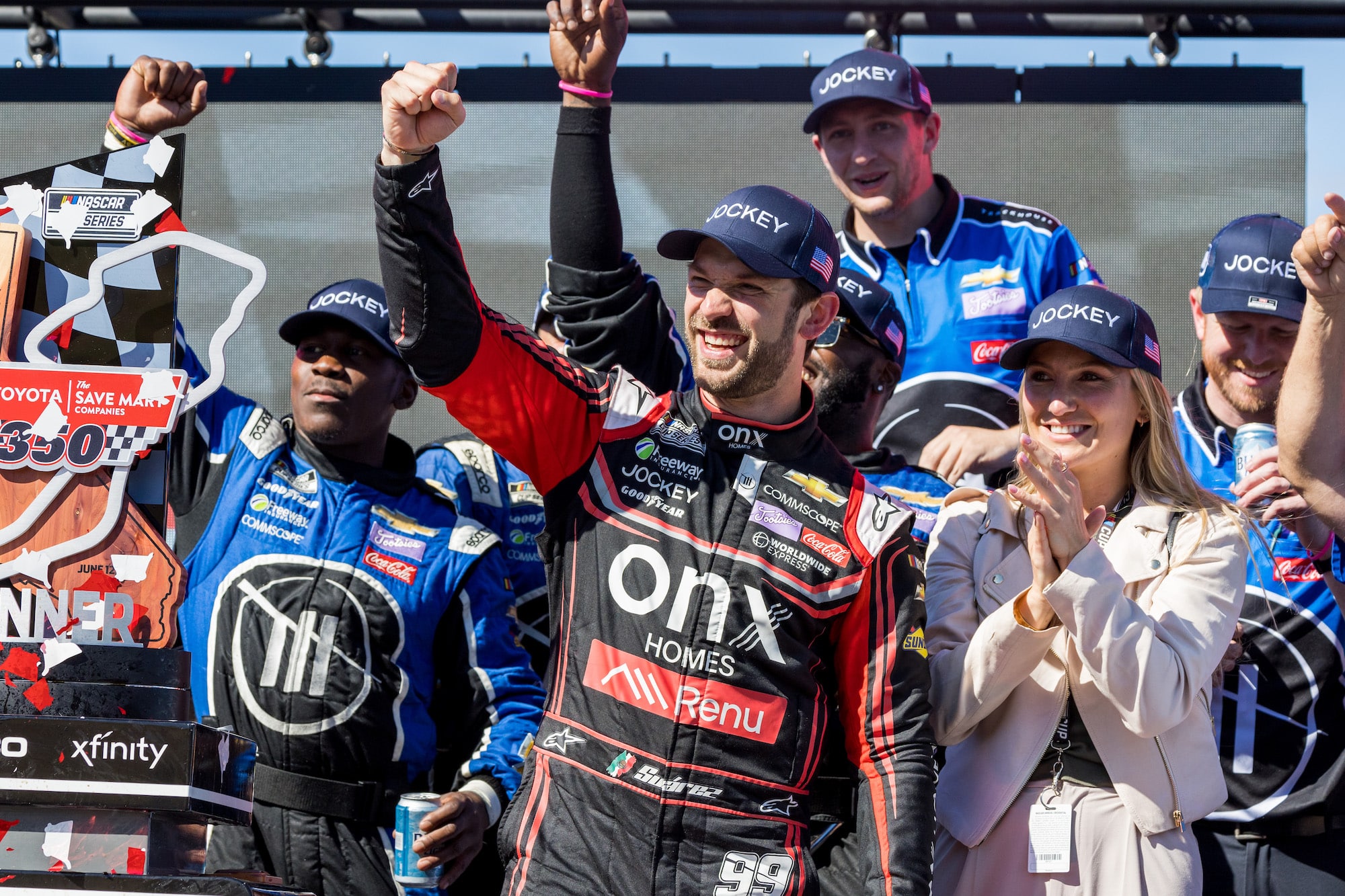 Will NASCAR Fine Daniel Suarez for the Foul Language Used During His Celebratory Postrace Interview Like It Did Dale Jr.?
An excited Daniel Suarez cussed on national television during his postrace celebration at Sonoma. Will NASCAR fine him for the foul language?
Daniel Suarez had been waiting years for this moment. On Sunday at Sonoma, it finally happened, as the 30-year-old Mexican earned his first NASCAR Cup Series win. Not surprisingly, the Trackhouse Racing driver could barely contain his excitement immediately following the race, celebrating with his crew and nearby fans.
Unfortunately, during his postrace interview, he got a little carried away in his jubilation and dropped an f-bomb on national television. Will NASCAR penalize him for the foul language?
Daniel Suarez wins his first-ever Cup Series race
Daniel Suarez has raced five full-time seasons in the NASCAR Cup Series and come close to victory a couple of times. This season felt like it could happen at any point, with him contending and leading laps late in multiple races. His Trackhouse teammate Ross Chastain had proven it possible, coincidentally, breaking through for his first-ever win earlier in the season, on the first road course of the year at Circuit of the Americas.
Suarez proved to be the dominant car at Sonoma, leading a race-high 47 laps. However, with the team snake-bit on multiple occasions this season, it felt like it was almost inevitable something would go wrong. This time it didn't.
The 2016 Xfinity Series champion surged out in front of Chris Buescher with 50 laps remaining and never looked back, cruising to a runaway victory. 
Suarez drops f-bomb during postrace interview
After the race, Fox's Jamie Little visited with the emotional driver and talked about the long journey it took in getting to his first Cup win.
"It's crazy, Jamie," Suarez said. "I have so many thoughts in my head right now. It's been a rough go. It's been a rough journey in the Cup Series. These guys believed in me. Trackhouse Racing. Justin Marks. Ty Norris. Everyone that helped me to get to this point. A lot of people in Mexico. My family. They never gave up on me. A lot of people did but they didn't. Just very happy that we were able to make it work."
Little followed up and asked what makes racing with Trackhouse so special.
"It's the energy. They believed in me since day one," he said. "They believe in me and they put all the people and resources to make it happen. We have the amigos over there. F*** yeah!"
When the reporter told him to address his amigos, the driver, who also regularly works with Fox on its NASCAR Race Hub nightly show, acknowledged his blue language. 
"I'm sorry for what I just said," he said, before addressing the large contingent of fans in Spanish. 
NASCAR fined Dale Earnhardt Jr. for cursing after win at Talladega
After Suarez's colorful language, some on social media began making comparisons to Dale Earnhardt Jr. following his win at Talladega in 2004 when he cursed and NASCAR fined him $10,000 and docked him 25 points. 
That was 2004. NASCAR might not be a fan of the language, but in recent years it has strayed away from levying fines against drivers, including last year at Martinsville when Denny Hamlin dropped an f-bomb out of frustration during his postrace interview.
It's safe to assume if the sanctioning body didn't hit Hamlin with a fine for cursing out of anger, it's hard to imagine officials will hand down any sort of penalty to Suarez in what is considered a popular win by all accounts.
However, going forward, when he wins again, the driver should try and steer clear of the foul language or at the very least say it in Spanish.  
Like Sportscasting on Facebook. Follow us on Twitter @sportscasting19 and subscribe to our YouTube channel.