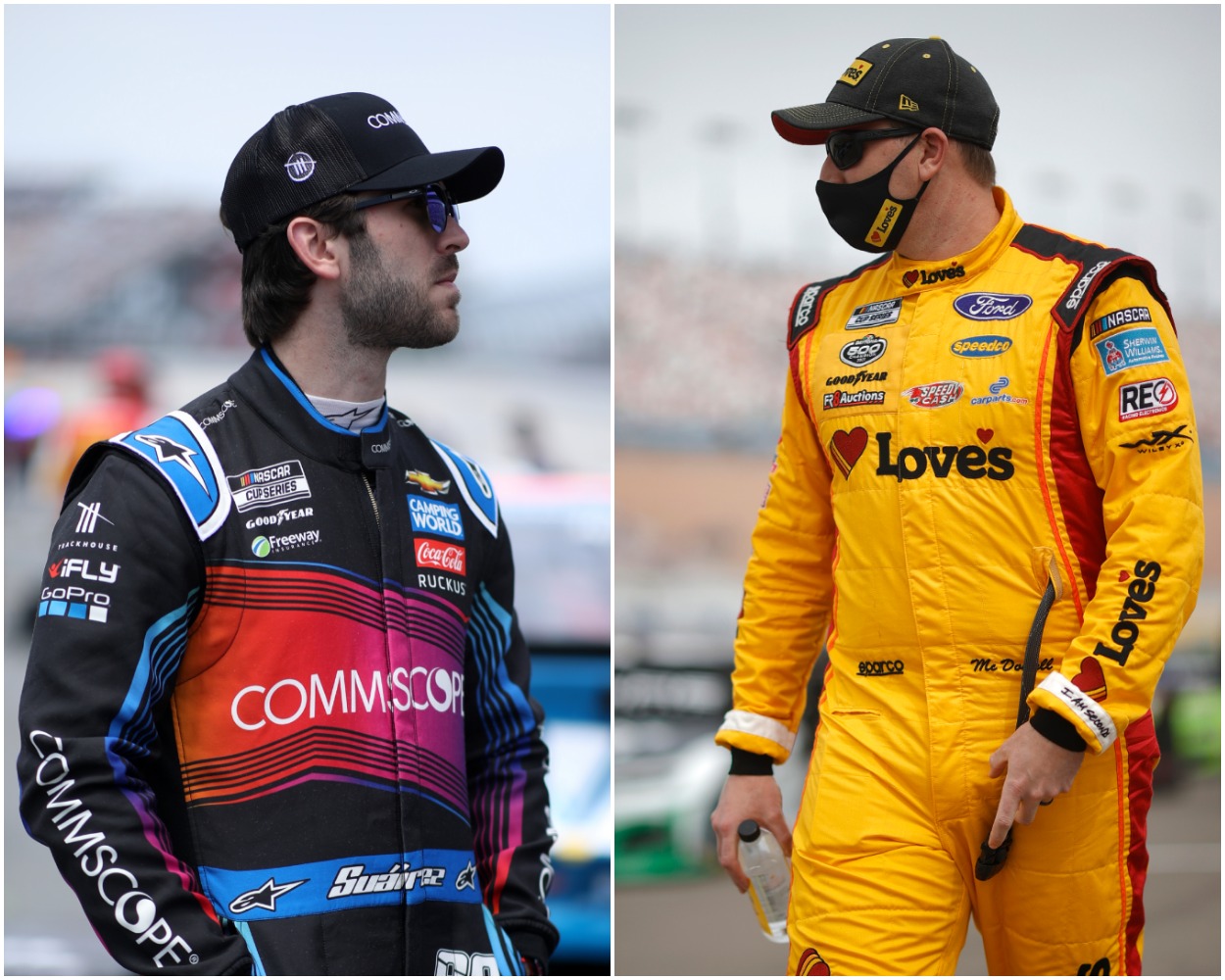 Daniel Suarez Doesn't Back Down and Sends Direct Message to Michael McDowell in Escalating Feud After Sonoma: 'Not Taking BS'
Daniel Suarez and Michael McDowell got into a fight in 2019. Sunday at Sonoma they renewed their feud and with escalating tensions, it doesn't appear to be going away anytime soon.
Daniel Suarez and Michael McDowell have a history together in the NASCAR Cup Series. Back in 2019, the two drivers had an altercation and exchanged blows during qualifying at Phoenix. Things have been quiet since until Sunday at Sonoma when the pair were involved in a couple of late-race incidents with each driver making contact with the other. Since the race, tensions have escalated as both the drivers and their teams have offered different versions of events. In Suarez's latest message, he's not taking it anymore from the 2021 Daytona 500 winner. 
Daniel Suarez and Michael McDowell fight in 2019 
After an incident during round one of qualifying at Phoenix in 2019, Suarez sought out McDowell to have a conversation. McDowell was prepared when Suarez arrived and charged at him. The two brawled for a few seconds until Suarez threw McDowell down on the ground and McDowell's team intervened.
"Just a miscommunication on the race track," McDowell told Jamie Little after. "We all kind of waited until the end and then you just had a lot of traffic. Just unfortunate he was upset that I held him up on his good lap and then he tried to crash us. I just didn't appreciate it."
Not surprisingly, Suarez saw it differently. 
"Just a lack of respect. Track position is very big in these races these days and you have to qualify well to have a good stall on pit road and to have a good start to the race," Suarez told Little. "The race is long so you can always overcome that, but it's just a lack of respect. Everyone here in the garage knows the second lap is a good one. You have to try to get out of the way if somebody is coming in the hot lap and he didn't. He killed me in one corner. I thought he was going to get out of the way in the second corner and he didn't and I almost wrecked him. And then he was disappointed because I was trying to wreck him afterward. That's part of racing." 
Suarez and McDowell tangle at Sonoma
While the feud between Suarez and McDowell has remained dormant since 2019, it came roaring back to life on Sunday in Sonoma on the final lap of the race. With Suarez on the outside, the two raced hard side-by-side when McDowell blatantly turned the nose of his car to the outside, forcing Suarez off the track into the dirt. 
A few seconds later, after Alex Bowman pushed McDowell off the track, Suarez caught up with the No. 34 car. 
"Whatever we got to do," Suarez's spotter Frank Kimmel II told his driver on the radio. Moments later, Suarez got into McDowell and turned him around.  
"What a joke. Sorry, boys. Got crashed," McDowell said on his team radio. 
Escalating tensions between teams
Following the race, there was no confrontation like qualifying at Phoenix back in 2019. That's not to say tensions aren't still high. A war of words has developed on social media, with both the teams and the drivers openly discussing the situation and taking shots at each other on Twitter
"Came up just shy of a top 10, bringing the @CommScope Camaro across the line P12. Solid day for the entire team," the Trackhouse Racing account posted to Twitter.
"Ya, we came close too..," McDowell's Front Row Motorsports team pointed out, to which Trackhouse responded, "There's always 2 sides to each story."
"Gutted. Got spun in the final corner of the last lap, costing us a Top-10 finish," McDowell tweeted. "I really hate it for our partners at @LovesTravelStop. Ready to rebound with them next weekend at @TXMotorSpeedway." 
Suarez gladly offered up his version of events by providing visual evidence, which included the video of McDowell instigating the whole thing by initially forcing him off the track. 
"For those wondering what happened with the 34 on the last lap… not taking BS here," Suarez tweeted.
While the rivalry between Suarez and McDowell has been quiet for several years, it's back and doesn't sound like it's going away anytime soon. And the fans are here for it.
Like Sportscasting on Facebook. Follow us on Twitter @sportscasting19.