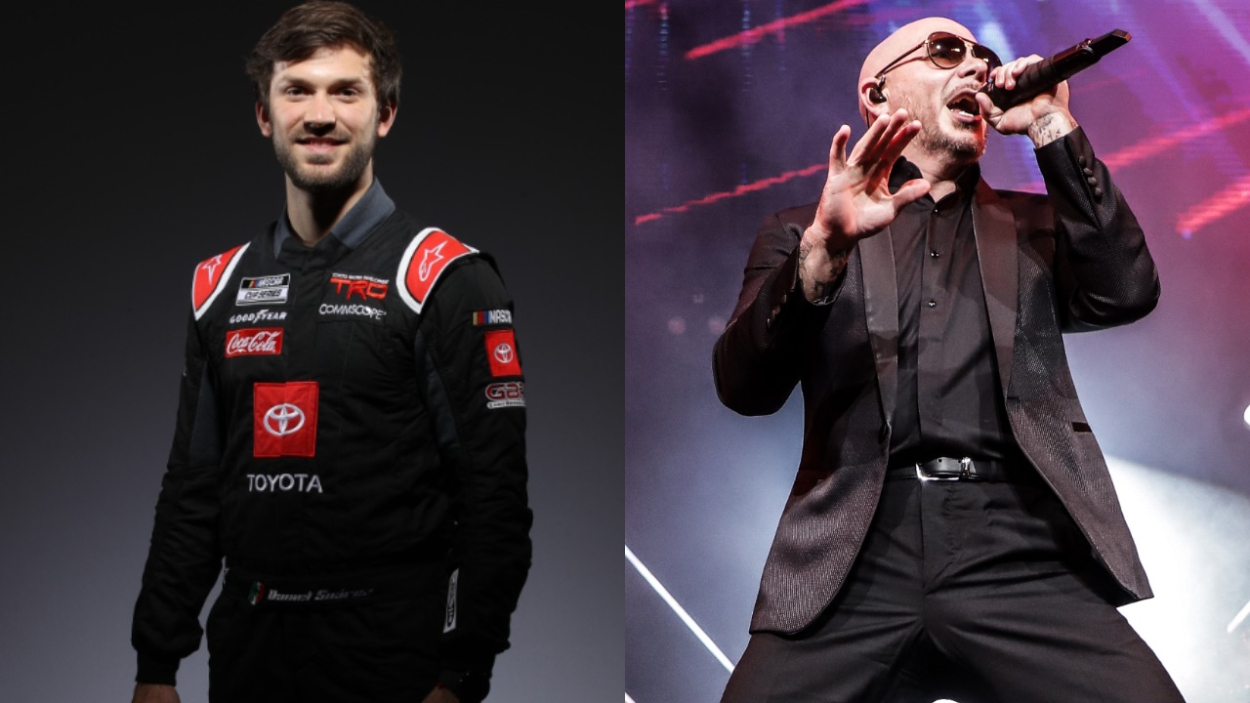 NASCAR Star Daniel Suarez's Racing Future Is Now in the Hands of Pitbull
Daniel Suarez is coming off a challenging 2020 NASCAR season. Now, his racing future is in the hands of the Grammy-winning artist, Pitbull.
NASCAR driver Daniel Suarez had a tough season in 2020 as he finished 31st in the Cup standings and only led for 20 laps the entire season. However, after parting ways with Gaunt Brothers Racing, Suarez now has a new team, Trackhouse Racing. In fact, Suarez's motorsports racing future is now in the hands of a music superstar — Pitbull.
Daniel Suarez has been on four NASCAR teams in four seasons
According to NASCAR.com, Daniel Suarez was the Xfinity Series Sunoco Rookie of the Year in 2015. He then won the Xfinity Series championship in 2016.
However, in his first four Cup Series seasons, Suarez spent time on three different teams. He spent two seasons with Joe Gibbs Racing before competing for Stewart-Haas Racing in 2019 and then Gaunt Brothers Racing in 2020.
Suarez and Gaunt Brothers Racing ultimately had a challenging year in 2020, though, which led to the young driver parting ways with his team.
"I want to wish Gaunt Brothers Racing nothing but the best for the future," Suarez said in a video on Twitter in September, according to NASCAR.com. "At the same time, I don't really know what the future holds for myself just yet, so you guys stay tuned for that news. I don't even know exactly what is going to happen yet, but hopefully something good."
Suarez then later joined Trackhouse Racing — his fourth team in the last four seasons — which will make its team debut in 2021.
"I see in Trackhouse a great opportunity for me with a very strong group of people that share the same vision, commitment and goals that I have," Suarez said, according to NASCAR.com.
For his career, Suarez has finished in the top ten 32 times, in the top five eight times, and has secured two poles. None of those came in 2020, though.
Pitbull joins Trackhouse Racing's ownership
Trackhouse Racing announced on Friday that Grammy Award-winning artist Pitbull is joining its ownership group.
"As soon as I met (co-owner) Justin [Marks], (team president) Ty Norris and Daniel, we were on the same page," Pitbull said, according to NASCAR.com. "They welcomed me aboard, and now we're going to show the world NASCAR is not only a sport but it's a culture."
Marks also seems pretty excited to welcome Pitbull to his team.
"From day one of creating Trackhouse Racing, I wanted our team to be a platform for purpose, to transcend the sport and positively impact all races on and off the track," Marks said, according to NASCAR.com. "I am proud that in just a few months we are here announcing a partnership with one of the most influential and recognized artists in the world. Within the first 10 minutes of our first meeting, it was clear Armando and I share a vision and passion for impacting the lives of the underrepresented. We are creating and compelling a movement of positivity and possibility, using the platform and excitement of sports and music."
Pitbull joins Michael Jordan as celebrities to venture into NASCAR
Pitbull isn't the only celebrity to join a NASCAR team's ownership group in recent months. NBA legend Michael Jordan now owns 23XI Racing, which features Bubba Wallace, the only Black driver in the NASCAR Cup Series.
"When (Denny Hamlin) told me there was a possibility of getting Bubba Wallace, I'm saying, 'OK, this is perfect!'" Jordan said to The Charlotte Observer. "If I'm getting involved in NASCAR, then get a Black driver (with) a Black owner."
NASCAR made some significant changes in a year that was challenging for many Americans in 2020. Now, the sport appears to be growing in popularity among celebrities. It will be fun to see how much more it grows in the coming seasons.
Like Sportscasting on Facebook. Follow us on Twitter @sportscasting19.