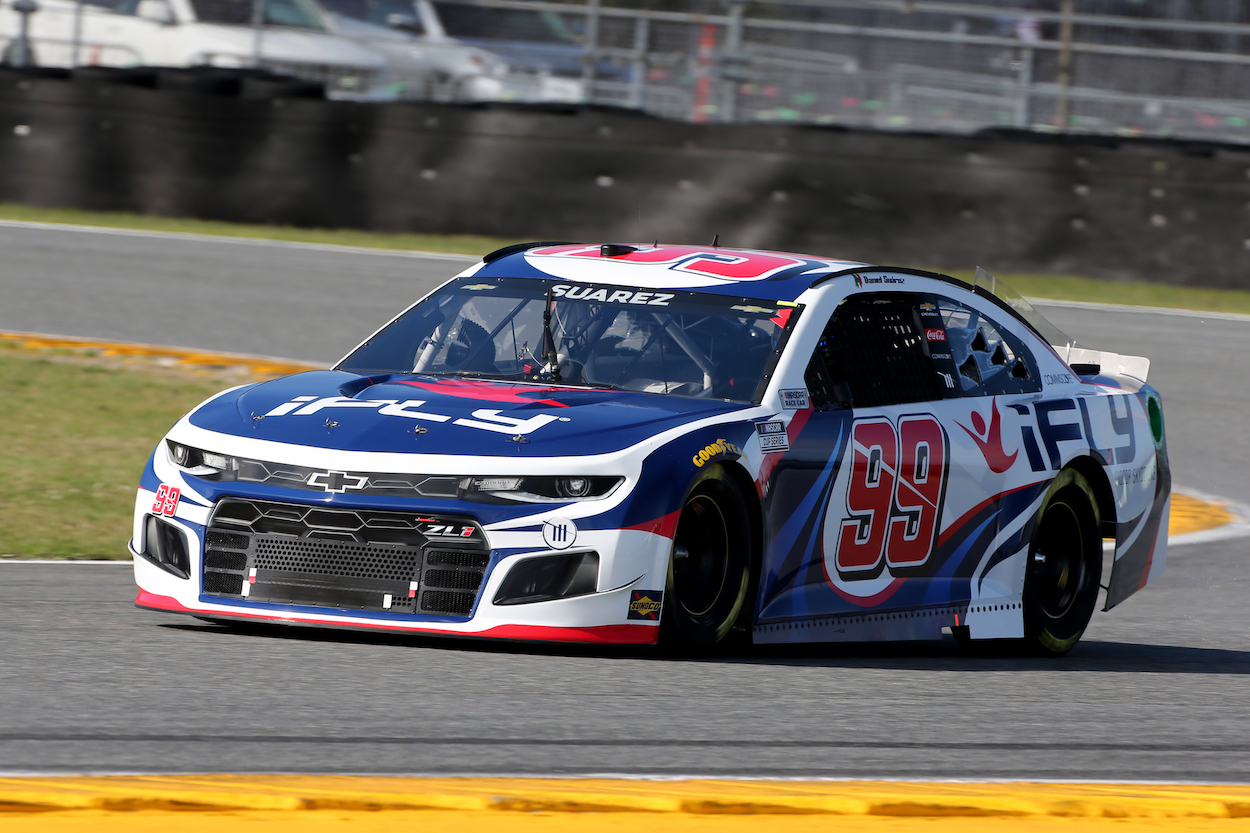 Daniel Suarez Earned Best NASCAR Cup Series Finish in Years While Enduring the Most Sickening Moment of His Career in Race's Final Laps
Daniel Suarez battled more than the track and his fellow NASCAR drivers in Sunday's Cup Series race at Daytona as he endured the most sickening moment of his career during the final laps of the race.
After struggling the entire 2020 NASCAR Cup Series season, Daniel Suarez joined the newly formed Trackhouse Racing Team with co-owner Pitbull this past offseason, his fourth team in as many years. Suarez's first week behind the wheel at the Daytona 500 was a disappointment, finishing 36th after getting caught up in an early accident.
This week Suarez returned to Daytona and the road course for the O'Reilly Auto Parts 253, hoping to achieve better results. He did just that, finishing 16th, his best result dating back to 2019. After the race, Suarez revealed his performance was even more remarkable due to what he endured during the late stages of the race. It was equal parts impressive and disgusting.
Daniel Suarez makes his way to NASCAR Cup Series
Daniel Suarez started his racing career with karts back in 2003 at age 11. He gradually moved his way up the ranks and after racing a few races in 2009 as part of the NASCAR Mexico Series, Suarez became a full-time driver in 2010 and impressed. That season he earned five top-10 finishes and won Rookie of the Year honors.
For the next four seasons, he raced the Mexico Series and earned 39 top tens and 10 victories. After making a couple of starts in 2014 in both the Truck Series and Xfinity Series, Suarez raced full-time with Xfinity and part-time with the trucks in 2015. 
During that rookie season with Xfinity, Daniel Suarez was impressive, earning 18 top tens and finishing fifth in the points standings. He edged out Bubba Wallace for the Rookie of the Year award. 
In 2017, Suarez transitioned full-time to the Cup Series with Joe Gibbs Racing. Since his arrival, he has yet to win a race but has had dozens of top-ten finishes, his best being a second at Pocono back in 2018.  
Daniel Suarez earns best finish in years at Daytona road course
After finishing 17th in the points standings in 2019 with Stewart-Haas Racing, Daniel Suarez joined Gaunt Brothers Racing in 2020. It was a struggle as Suarez managed only three top-20 finishes the whole season and landed 31st in the season-ending standings, his worst finish since joining the Cup Series.
Suarez switched to the Trackhouse Racing Team in 2021 and didn't start off the season on the best note at the Daytona 500. After starting 16th, he was involved in an early big accident on lap 13 and finished 36th. 
He returned to Daytona and the road course for the O'Reilly Auto Parts 253 this weekend, hoping for a different result. He got it. Suarez started 35th and steadily made his way through the field. He led a couple of laps in the race before finishing 16th, his best finish since 2019. 
Drives final 15 laps after vomiting inside helmet
Following the Daytona road course race, Daniel Suarez was understandably pleased with the result. 
"An overall positive day for our iFLY Chevy Camaro," Suarez said on Twitter. "There are a lot of different areas that we have to improve on, but that's the fun part about racing! We are just building this team and it will only get better from here."
Suarez then revealed that his best finish in almost two seasons was unquestionably the toughest finish to a race in his career, and it had absolutely nothing to do with the track or his competition. He said things started going south around lap 25 when he began to feel nauseous. He tried to fight it off, but unfortunately, 10 laps later, he couldn't control it. 
"Side note: I started to feel sick with 25 laps to go and threw up in the car with 15 laps to go (yes, inside the helmet). Those last 15 laps were definitely NOT fun to run… You guys can imagine…"
For the record, there were three cautions after the 15 laps to go mark, which meant the field drove around the track at a much slower speed and extended Suarez's misery with each passing lap.
Like Sportscasting on Facebook. Follow us on Twitter @sportscasting19.