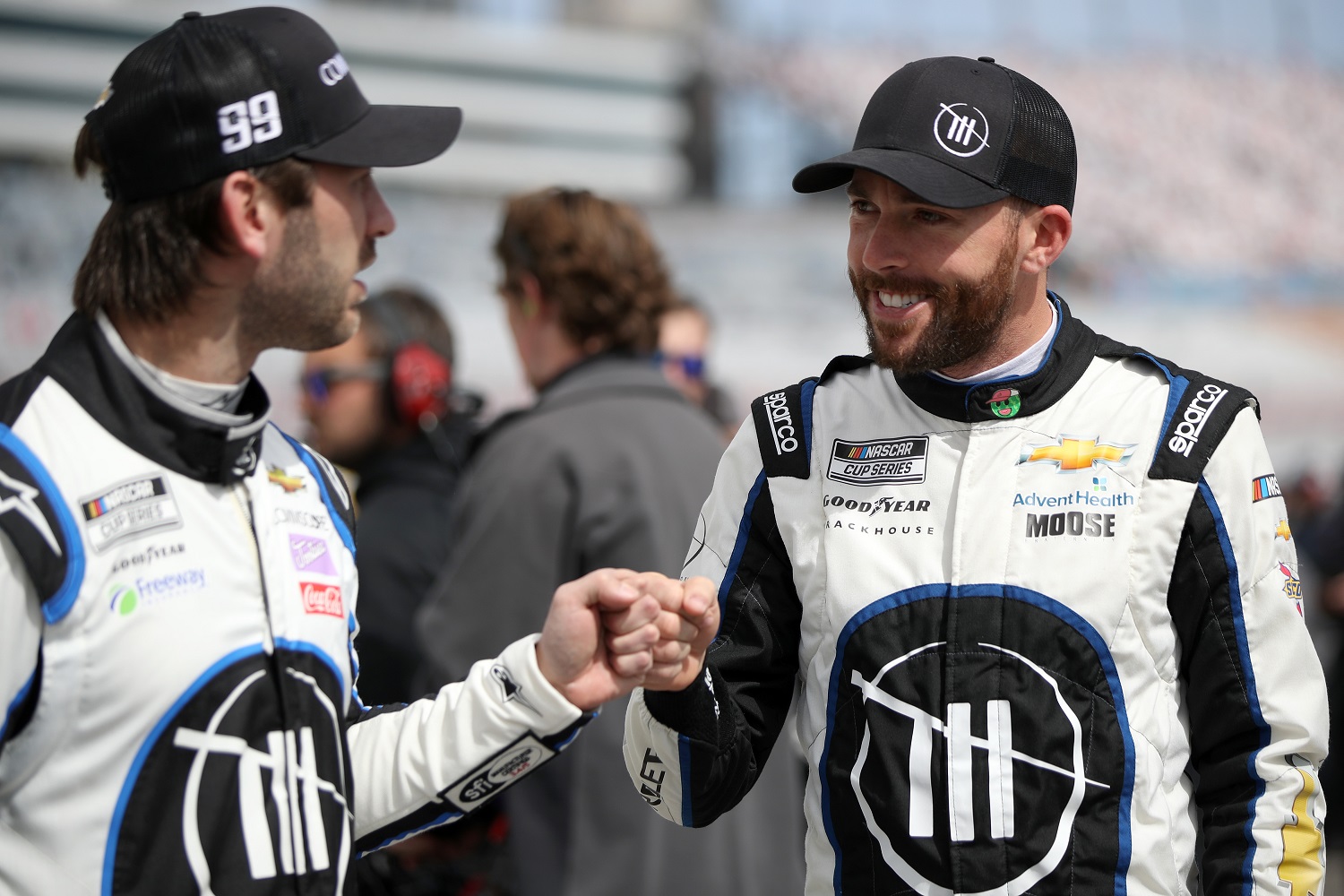 Trackhouse Racing Looks Solid, but Pump the Brakes on Playoff Talk
Trackhouse Racing has expanded to two cars this season, and Ross Chastain and Daniel Suarez have each scored a top-five finish.
Think of the start of the NASCAR season for Trackhouse Racing by putting yourself in the shoes of a Baltimore Orioles baseball fan. The snow stops falling, the lockout ends, and spring training begins. You feel joyous anticipation over the start of another MLB season.
And then you realize you're still an Orioles fan.
Right now, fans of Cup Series drivers Ross Chastain and Daniel Suarez are understandably giddy. Both are posting strong results, and their performances have actually been a bit better than the weekly results. But they're currently not close to playoff material.
It would be a victory for the upstarts should the Nos. 1 and 99 Chevys stick with the big boys all season, but the playoffs are too far away to get excited about just yet.
Trackhouse Racing is an early success story in the NASCAR Cup Series season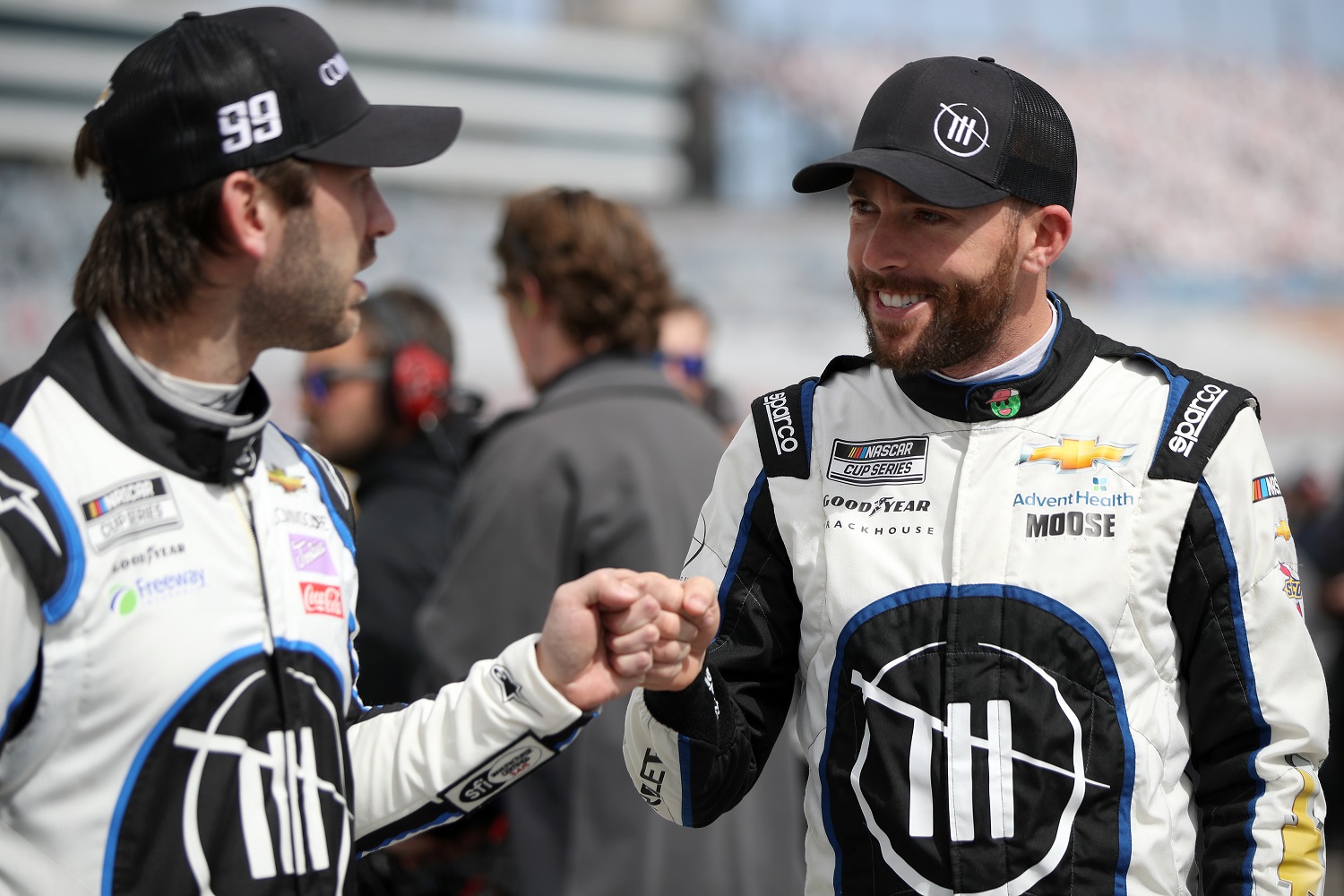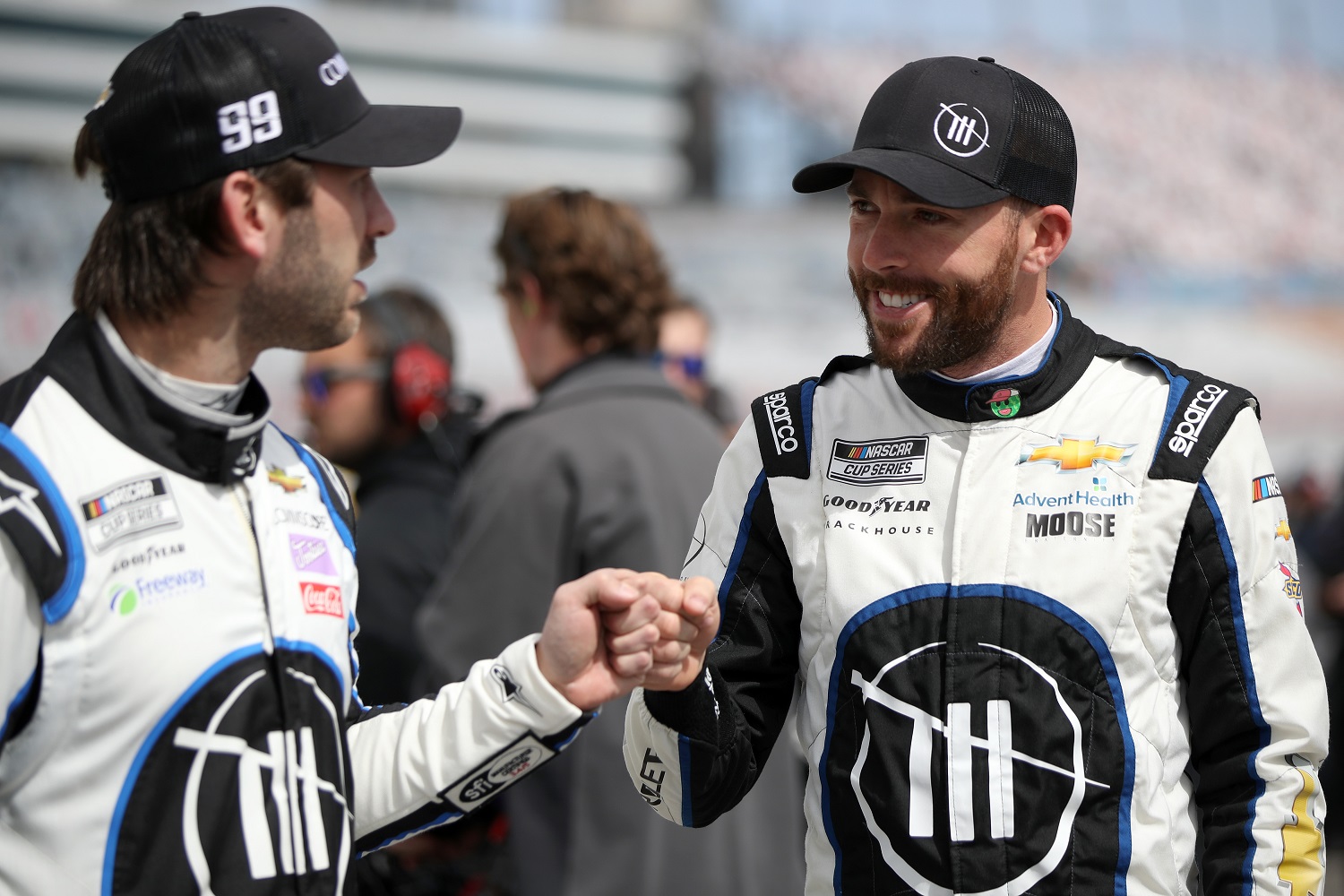 One of the early storylines in the NASCAR Cup Series this season, aside from the race to figure out the Next Gen car, has been that 24 drivers have nailed down top-10 finishes through three points races. With that many drivers dotting the top of the results, multiple teams have been making some noise, and Trackhouse Racing is one of them.
Daniel Suarez drove the No. 99 Chevy to fourth place at Fontana, and Ross Chastain followed up with third place last weekend in the No. 1 Chevy at Las Vegas after hitting a career high for laps led. Each has also had a day end with a wreck in the first third of a race, and Chastain stands 20th in points and Suarez 25th as the series heads to Phoenix.
Thus, it's premature to start dreaming of playoff berths just yet. But that's not to say Chastain isn't confident about Trackhouse's progress.
"We are no underdog," he said Thursday. "I think we don't have the legacy of winning. I mean, it's a big deal right now, we win a stage, we're proud of that. I think where the plan is and the preparation we're putting in is to get to a point where that's just, 'Yep, OK. We won another stage, (but) did we win the race?' … I don't view us as an underdog and I walk around the shop, we don't feel like we're lacking anything."
Both drivers have flashed potential in their relatively young Cup Series careers, so those early-season successes aren't all that surprising. Suarez arrived at the top level in 2017 and scored 32 top-10 finishes in three seasons. Chastain didn't have as much to show for his first 79 starts from 2017-20, but he did post eight top-10s last year.
Trackhouse Racing has built quickly and successfully
Justin Marks made a bid when Leavine Family Racing announced during the 2020 season that it was selling off its NASCAR Cup Series organization, but Spire Motorsports won out. Marks then put in motion a plan to form his own team, bringing aboard award-winning rapper Pitbull as an investor. Marks' background in racing and Pitbull's celebrity status proved to be an attention-getter, and Suarez drove the team's first car last season, finishing 25th in points.
When Chip Ganassi Racing decided last summer to leave the Cup Series, Marks made sure he wouldn't be denied twice. He bought the CGR assets and prepared to add a second car. Within a month, Marks announced that CGR driver Ross Chastain, on his way to 20th place in points, would join the team in 2022.
All the while last year, Trackhouse Racing played second fiddle to 23XI Racing, another new one-car team. The combination of Michael Jordan as the majority owner and Denny Hamlin as an investor created even more of a buzz than the Marks-Pitbull partnership.
A year later, 23XI Racing and Trackhouse Racing are two-car teams.
Which second-year NASCAR Cup Series team has a leg up?
Frontstretch.com asked an interesting question this week: Is Trackhouse showing up 23XI? It's a fun premise since they came into the NASCAR Cup series together in 2021 with celebrity owners and then expanded to two cars this season.
The website characterizes Trackhouse as "by far the better" early on, pointing to the high hopes for Michael Jordan's outfit in light of Bubba Wallace scoring a victory last season. However, Wallace stands 10th and new teammate Kurt Busch 11th through three races. The numbers could be even better, but Wallace drove into the infield wall late in the Las Vegas race to avoid the Erik Jones wreck.
On the other hand, take away the one day-ending crash apiece by Daniel Suarez and Ross Chastain, and the early-season battle in the standings is closer. And with the season so young, figure on wild swings in the standings for at least the next half-dozen races.
It's not exactly Hendrick Motorsports vs. Joe Gibbs Racing, but it will be fun to watch.
All stats courtesy of Racing Reference.