Dale Earnhardt Jr. Embarrasses Brandon Marshall Early in the Are-NASCAR-Drivers-Athletes Debate
That didn't take long. Brandon Marshall was one of four members of the I Am Athlete podcast cast to head to the racetrack to see for themselves if NASCAR drivers were athletes. During a recent episode, co-host Channing Crowder stated he didn't think driving a racecar qualified someone as being an athlete. Dale Earnhardt Jr. took each for a spin around Charlotte Motor Speedway and there suddenly was a newfound respect for NASCAR drivers.
Are race car drivers athletes?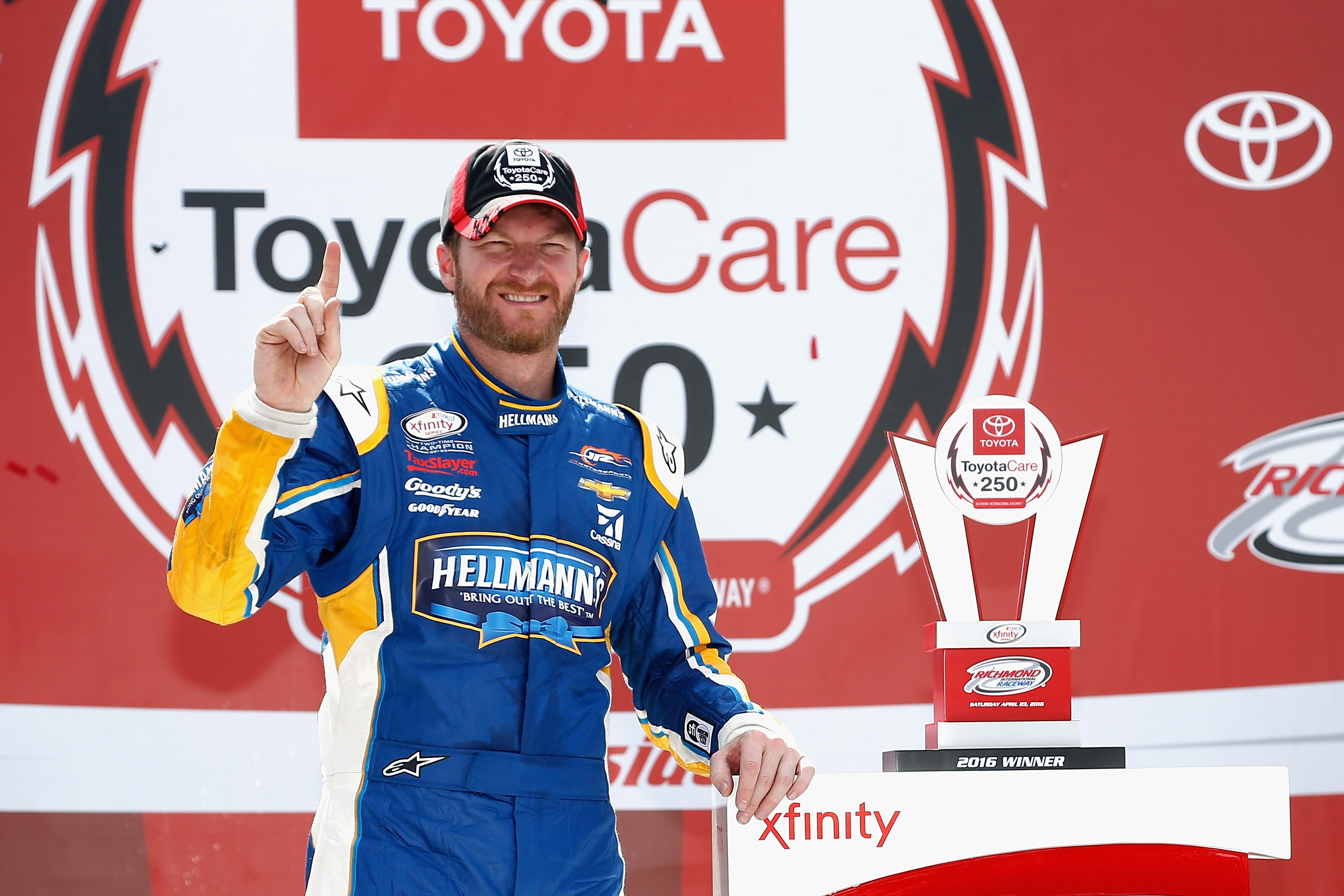 Former Philadelphia Eagles quarterback Donovan McNabb once caused quite a stir when he was asked to rank some athletes. Some of the names thrown his way were Tiger Woods, Kobe Bryant, and Jimmie Johnson. McNabb refused to classify Johnson, one of the best NASCAR drivers of all time, an athlete.
"Do I think he is an athlete? Absolutely not," McNabb said. "He sits in a car and he drives. That doesn't make you athletic … What athletically is he doing?"
Mario Andretti, one of the best ever in the world of motorsports, told Sportscasting.com he believed those in his sport were athletes. "I think we more than qualify as athletes," Andretti said. "There's a lot of training that's involved. When you train, you don't train to carry the car on your shoulders, but you train for long-range stamina. If you're suffering physically, you'll give up performance. You don't want to have to worry about that."
Channing Crowder said NASCAR drivers aren't athletes
During an episode of the I Am Athlete podcast, NASCAR's Bubba Wallace was a guest on the show, and the topic of NASCAR drivers being considered athletes came up, courtesy of Crowder. Crowder said he had trouble calling Wallace an athlete because he steers a wheel and turns left. "I got to be honest, Bubba. Golfers, race car drivers, like athletes?" Crowder asked.
Co-host Chad Johnson had no problem backing up Wallace. "Bubba, get him please," Johnson told Wallace. "You think you can go 190 miles per hour with the other 42 cars?"
Crowder continued. "Athlete. Athlete. What Fred (Taylor) did at running back," he said. "What they did at wide receiver. That's the same thing what you're doing?"
"I could be a running back," Wallace said. "Maybe not at that level, but I can do it. You can't even do it at the beginning level of what I do."
Dale Earnhardt Jr. helped embarrass Brandon Marshall
Earnhardt Jr. reached out to Marshall after the conversation drew his attention. He invited all four to go for a ride with him individually at Charlotte Motor Speedway. Marshall went first and before he even got in the car, he had second thoughts.
"I'm scared, for real," Marshall said as he attempted to climb into the car. After he sat down, he quickly attempted to climb back out of the car. "Hell no, I can't do it. I ain't going. I ain't going," he said as Johnson and the others made fun of him. "Hold on, sorry," Marshall said while hanging out of the car. "I'm embarrassed right now. Hold on, Gimme 10 seconds."
Marshall eventually went along for the ride. "Oh, my goodness," he screamed as Earnhardt Jr. took him for a spin at 160 miles per hour. "Four hours of that?" he asked Junior. When the racing was over, Marshall turned to Crowder and said, "I feel like you owe Dale and every driver in all of NASCAR an apology because what I experienced today is real."