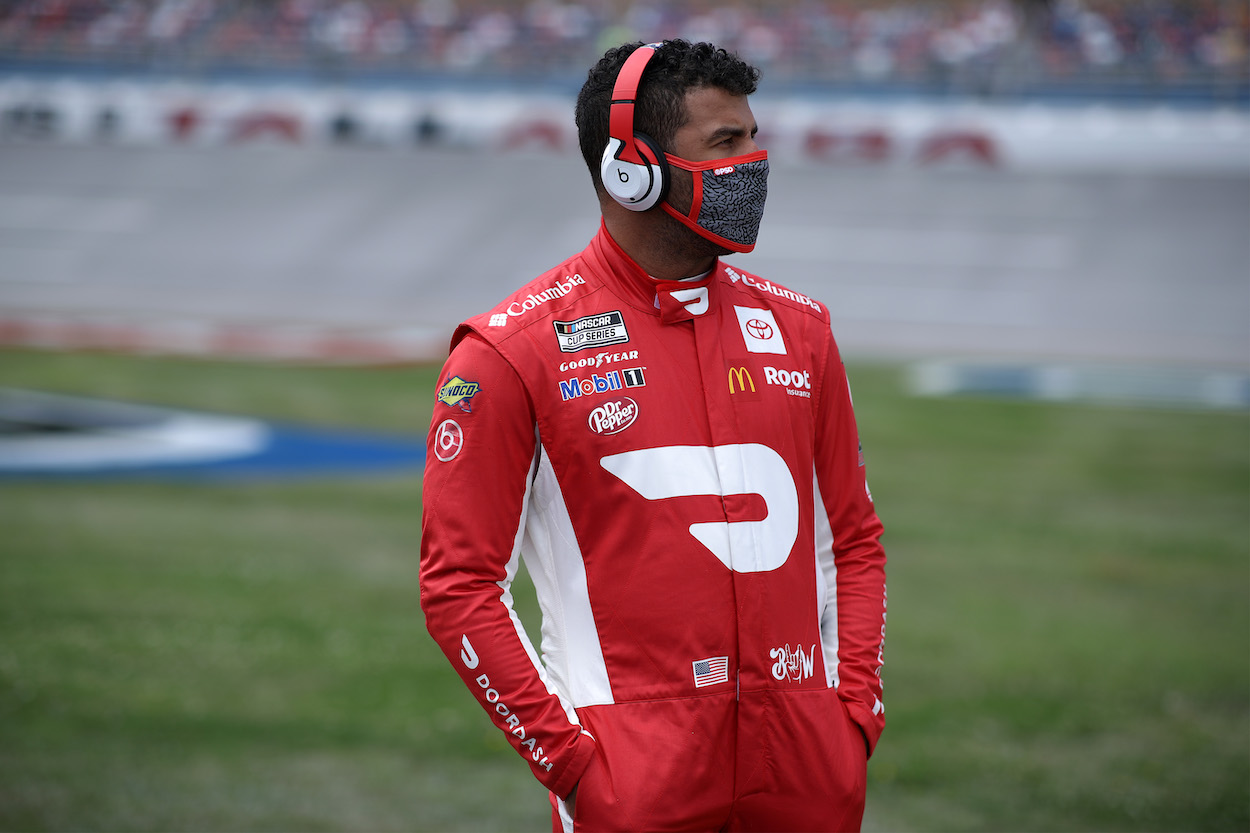 Bubba Wallace Rejects Live Fox Interview in First of Several Awkward Moments During Talladega Prerace Show
Bubba Wallace rejected Fox for a live interview during the prerace show at Talladega.
Bubba Wallace knows 23XI Racing Team co-owner Michael Jordan expects winning. Jordan said before the Daytona 500 he thought Wallace was capable of winning a couple of races in the 2021 NASCAR Cup Series season while driving the No. 23 car.
After nine races and no finish higher than 16th, Wallace is starting to feel the pressure. On Sunday before the race at Talladega, the 27-year-old driver stood on pit road when the Fox camera and microphone approached for an interview. Wallace was having none of it, kept his headphones on, and shooed the Fox crew away. 
Bubba Wallace working out kinks early in 2021 season
Most pundits didn't have high expectations for Wallace and the No. 23 car during the 2021 NASCAR Cup Series season because it was a new team. However, Michael Jordan isn't used to anything but high expectations, including in his role as co-owner of the 23XI Racing Team.
Jordan met with Wallace for the first time prior to the Daytona 500 in a sit-down interview on Fox, which was moderated by Michael Strahan, and the NBA GOAT didn't shy away from sharing his expectations with his driver. 
"I feel like he's going to learn how to win. He's got the talent," Jordan said. "We would have not invested in him and picked him if he didn't have the talent to win. By the end of the year I think he's going to have an opportunity and probably will win at least a couple of races. If it's more, I'll be elated."
Bubba Wallace rejects live interview with Fox before Talladega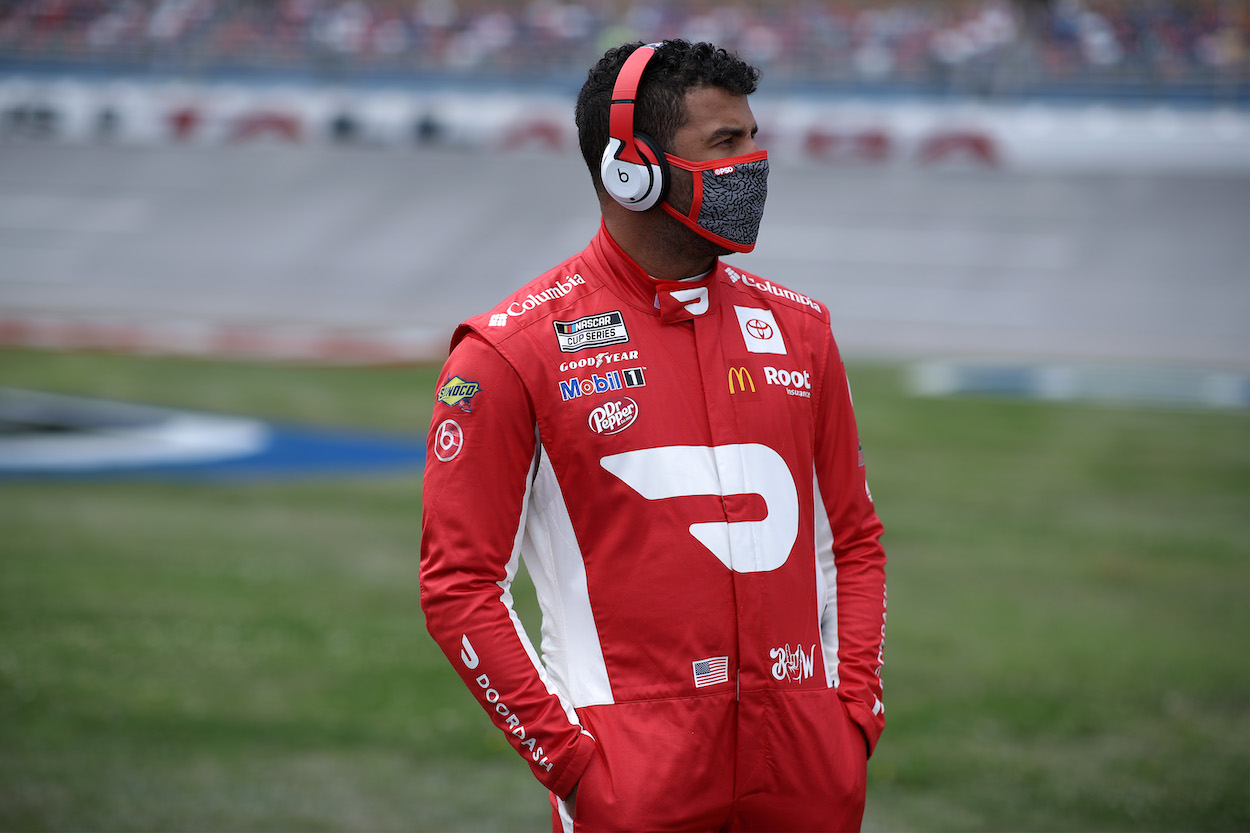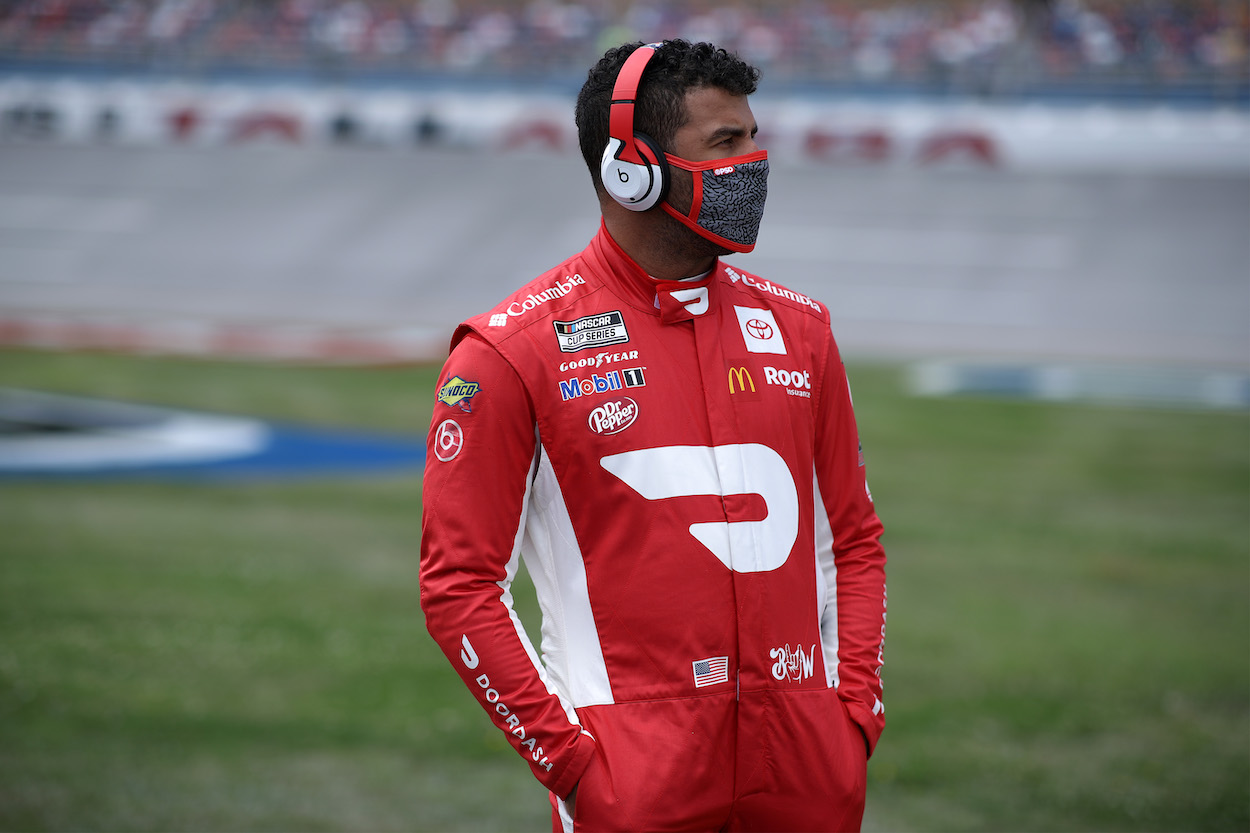 Through nine NASCAR Cup Series races this year, the highlight for Wallace had come at the season opener when he became the first Black driver to lead a lap at the Daytona 500. Since that race, his best finish has been a 16th, which he's achieved at Phoenix, Atlanta, and Martinsville. 
During the NASCAR RaceDay show on Fox before Sunday's race at Talladega, Chris Myers, Jeff Gordon, and Clint Bowyer stood on pit road as the camera and microphone traveled down pit road for prerace interviews.
First up was Wallace. 
Wallace was wearing headphones and stood off by himself, away from his car and facing the grandstands, when the camera and mic approached. 
"Yeah, Bubba, man," Gordon opened as the driver turned and faced the camera like he was prepared to talk. "Can he hear us?" Bowyer immediately asked. 
"You were so strong at Daytona, how about it, now? Talladega. This could be the day," Gordon told him. 
Wallace lifted his hand and inadvertently bumped the microphone in his face, then waved off the microphone and the interview. 
"Ah, he's focused," Gordon said. "He's got the music playing. He's focused." 
"He didn't like your question, Jeff," Bowyer chimed in.  
"Did he not want to talk or he couldn't hear us?" Myers asked as cameras shifted to a different driver. "He might have learned that from Michael Jordan." 
Jeff Gordon has awkward moment 
Wallace's interview denial was just the first of two awkward moments during the prerace show. The other occurred moments later when the cameras shifted to another driver and Jeff Gordon started talking about Ricky Stenhouse Jr. The only problem was it wasn't Stenhouse but Chris Buescher.
"I knew I would do that at least once or twice today or this year," Gordon laughed. "Chris Buescher, you know this guy, I love. He's just calm, cool, collected. If he can maintain that composure, he will be a factor today." 
Gordon maintained his composure following his live television gaffe, and the Fox crew immediately helped him out and found Stenhouse. Unlike Wallace, Stenhouse gave a full interview.
Like Sportscasting on Facebook. Follow us on Twitter @sportscasting19.