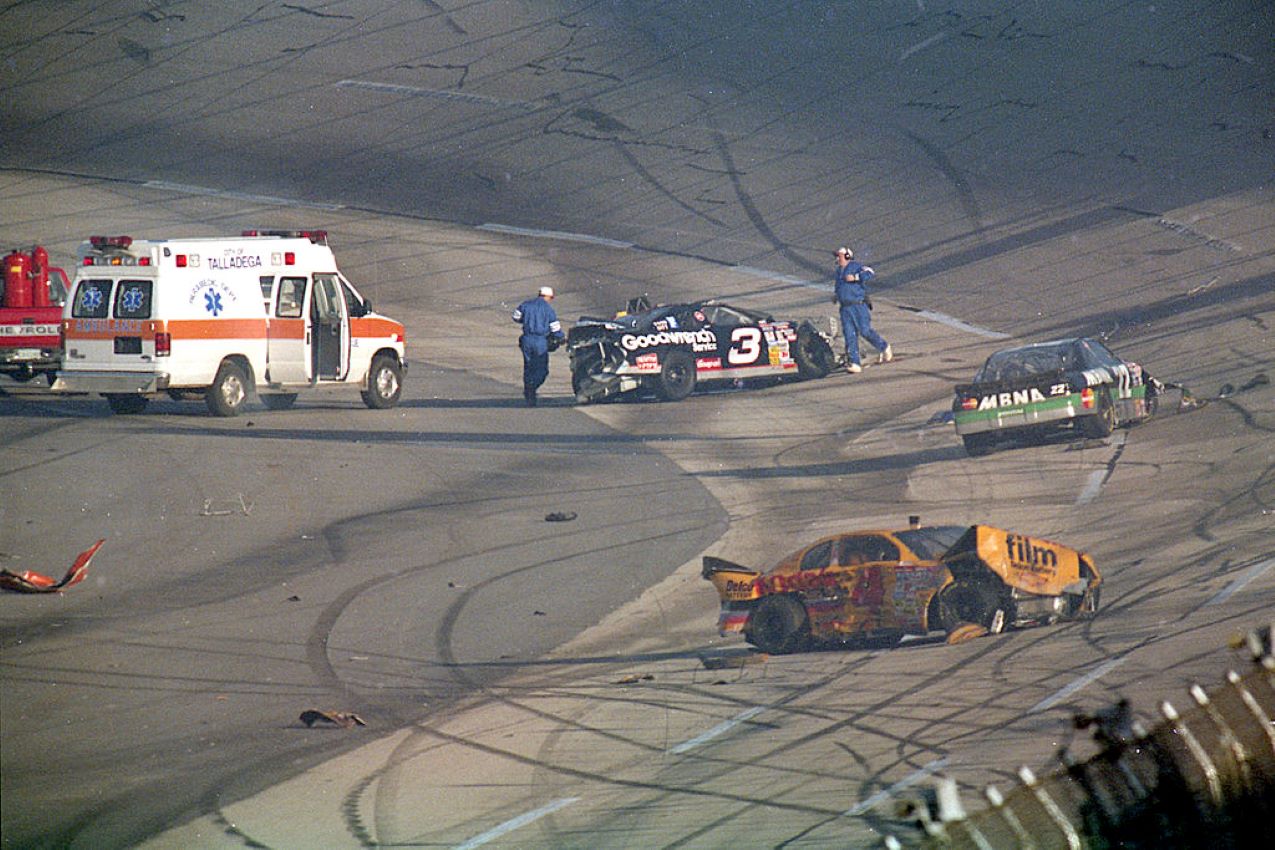 How Dale Earnhardt Sr. Overcame a Broken Collarbone and Sternum For a Top 10 at Watkins Glen in 1996
NASCAR Winston Cup legend Dale Earnhardt Sr. endured a dislocated sternum and broken collarbone to place sixth at The Glen's road course two weeks later.
Believe it or not, the 1996 DieHard 500 was viewed on television by NASCAR Winston Cup fans via tape delay. Yes, it was a different time. The World Wide Web remained a digital playground for "tech geeks." Smartphones were still a decade away. Streaming services revolved around fishing poles and floatable devices.
Dale Earnhardt Sr.'s legendary crash during the rain-delayed event at Talladega Superspeedway was not aired live. News of the 15-car pileup didn't reach the masses until the 11 o'clock news – or by word of mouth.
It remains NASCAR Cup's last tape-delayed telecast.
Dale Earnhardt Sr. walked away from the violent crash at Talladega
Earnhardt's crash led most sports newscasts that night. On Lap 118, Ernie Irvan nudged Sterling Marlin's machine, which caromed into Earnhardt. Both Earnhardt and Marlin slammed hard into the wall and Irvan rode on to a fourth-place finish.
Earnhardt's car bounced off the wall nearly head-on so violently, it flipped on its side and was t-boned in the roof. He walked away, but with a dislocated sternum and broken collarbone, according to nascar.com.
Seven days later, without the ability to breathe smoothly or raise his right arm over his head, Earnhardt started The Brickyard 400 at Indianapolis Motor Speedway, but he needed to be relieved by backup driver Mike Skinner after just six laps.
The next event, at Watkins Glen International, presented a whole new level of challenges. The road course is a grinding, exhausting effort. Pressure on Earnhardt's shoulder, while executing constant turns, would prove to be relentless. A challenge for drivers with all their bones intact. Hendrick Motorsports' brass debated over the say-anything Earnhardt sitting out the race for safety precautions.
Dr. Jerry Punch: 'In spite of us telling him how dangerous it was and how painful it was, he wanted to be in that car'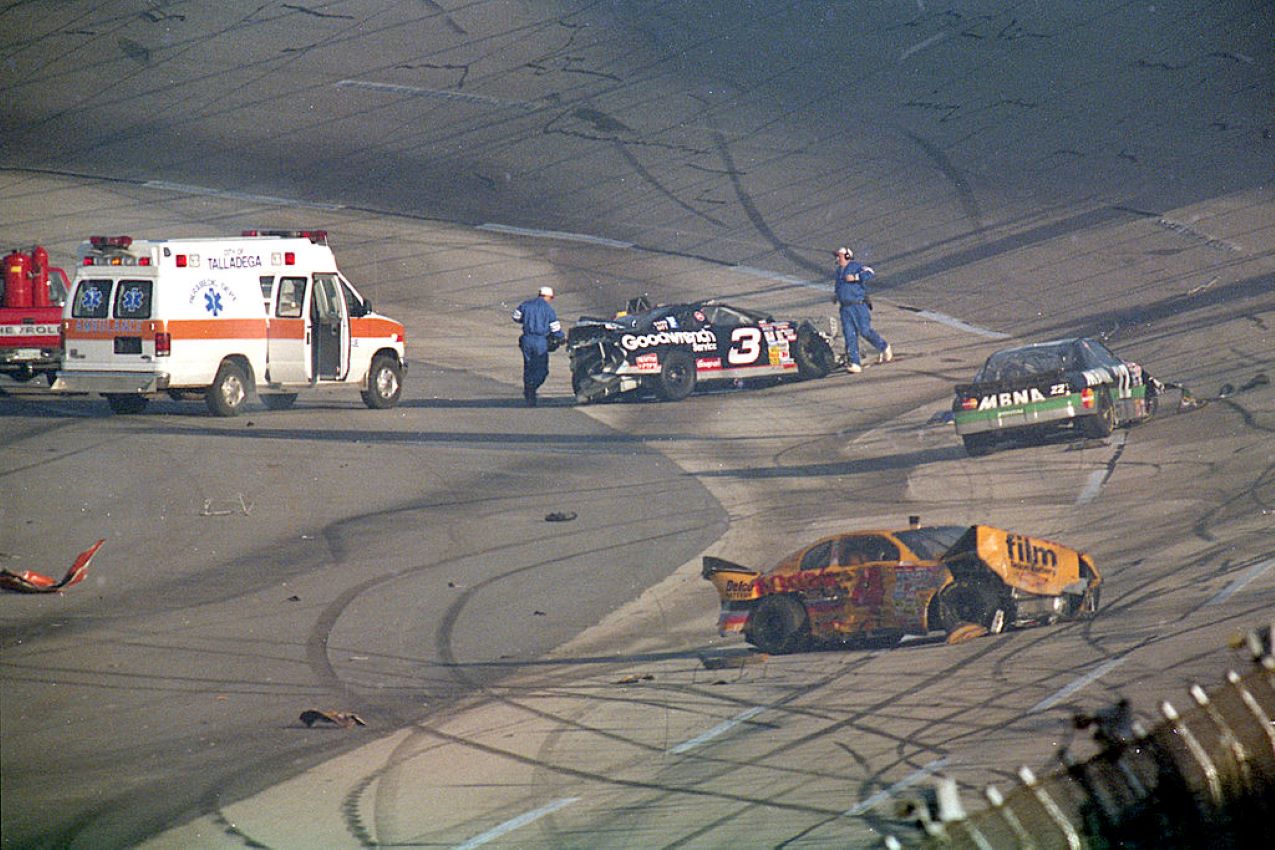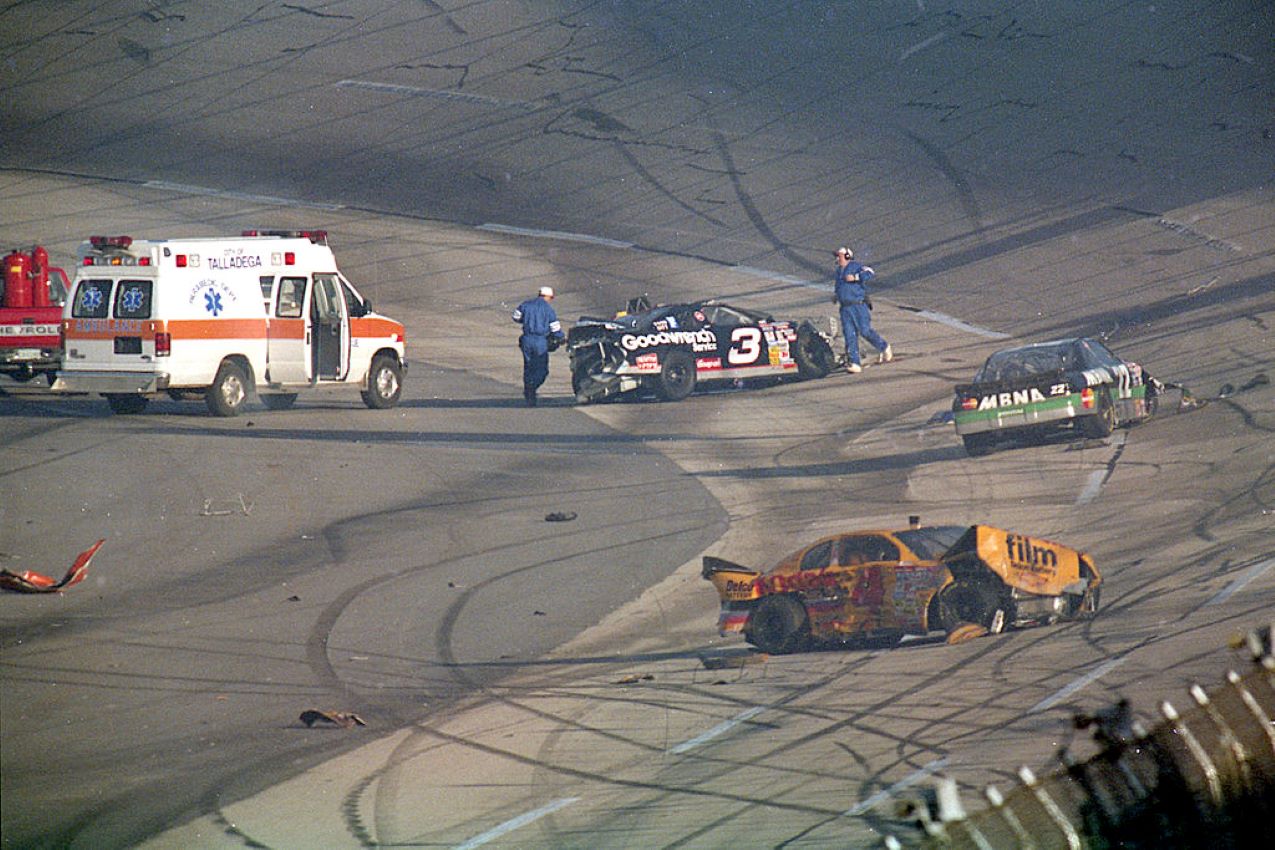 Guess who won that internal debate? Earnhardt may not have sat in an executive's chair, but he indeed sat on the company throne. Earnhardt was determined to both qualify and complete the race at The Glen.
Dr. Jerry Punch rehashed when Earnhardt invited the longtime NASCAR commentator to his infield motorhome for a visit.
Earnhardt sat at a table with his third wife, Teresa, and team owner Richard Childress. Strong opinions floated from one end of the table to the other.
Earnhardt, who was a high-school dropout, had the final say, and he wanted to drive.
"In spite of us telling him how dangerous it was and how painful it was, he wanted to be in that car," Punch told nascar.com nearly two decades later. "Richard and Teresa were getting me to help convince him to not get in the car for his own safety. He looked right at Richard and said, 'If you tell me, Richard, I'm going to hurt this race team by being in your race car, I won't get in it.' Richard said, 'Are you kidding me? You're Dale Earnhardt. I can't tell you you're going to hurt my race team by being in my car.' And Dale said, 'All right, it's done.' "
Earnhardt after placing sixth: 'It hurts. But it's a good hurt' 
Medically, those close to Earnhardt fretted over his dislocated sternum. Any other impact could push the bone fragments into his heart or lungs. "The Intimidator" didn't want to hear about the ramifications. His job was to drive, which he did partly with his knees to help turn the No. 3 Chevrolet during a qualifying run that earned a start from the pole.
Earnhardt gutted his way through the hard-driving, 220.5-mile Bud at the Glen on Aug. 11, 1996. Remarkably, he finished sixth, according to driveraverages.com. Geoff Bodine claimed the checkered flag, followed by Terry Labonte, Mark Martin, Jeff Gordon, and Bobby Labonte. The who's who of mid-90s stock-car racing.
After climbing out of his machine, Earnhardt, who led a race-high 54 laps, famously said: "It hurts. But it's a good hurt."
At least Earnhardt's Top 10 dramatics at The Glen were aired live.
Like Sportscasting on Facebook. Follow us on Twitter @sportscasting19.