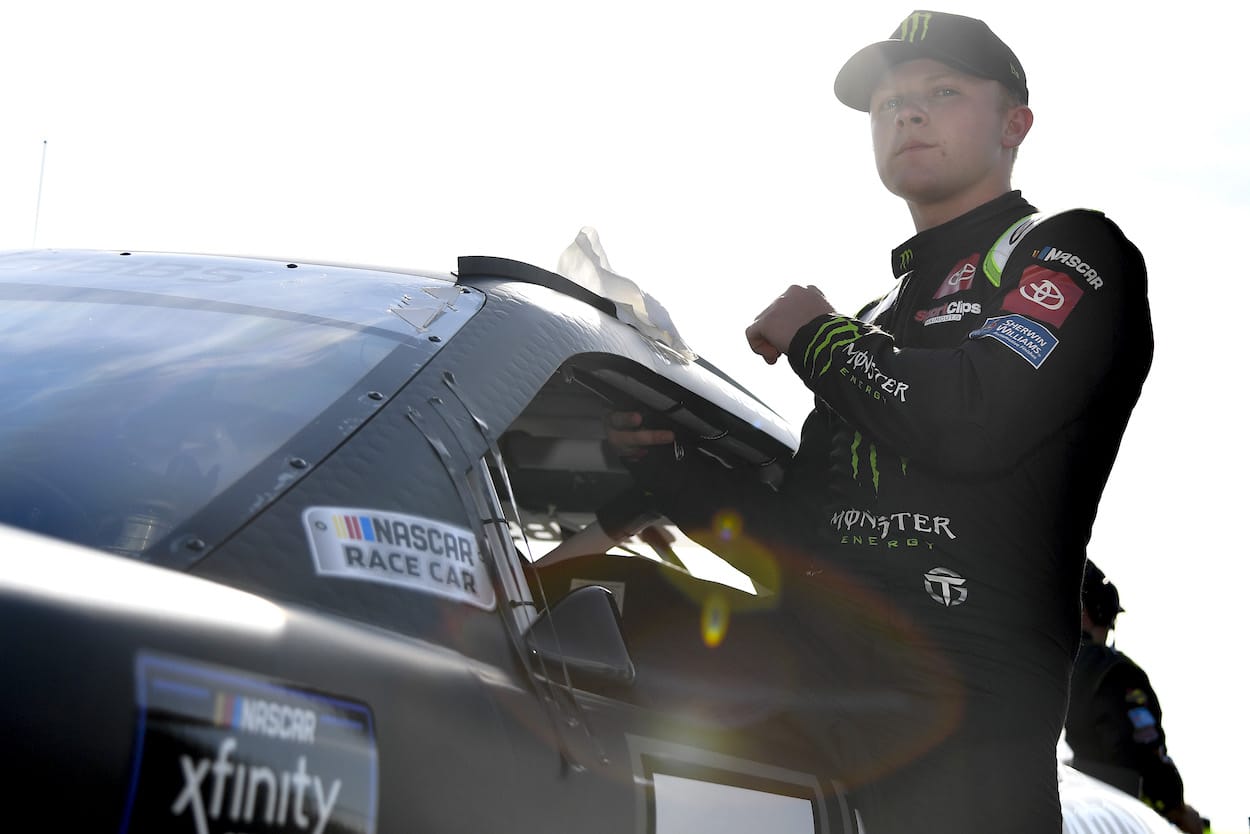 Dale Earnhardt Jr. Lavishes Praise on Ty Gibbs and His Massive Step Toward Reputation Repair
Dale Earnhardt Jr. can't be the only one buying into the reputation repair Ty Gibbs has started to conduct in recent weeks.
Aside from a season-leading four wins, Ty Gibbs stole the spotlight for all the wrong reasons in the first half of the NASCAR Xfinity Series season.
He infuriated a teammate. He wrecked a rival. He punched a fellow teen racer. He demoralized a low-budget driver. He incurred a hefty $15,000 fine.
And through all of it, he made few apologies — all while making numerous enemies.
"We're racing for wins, so I've got to do whatever I can to win," the 19-year-old grandson of legendary team owner Joe Gibbs said in a televised postrace interview with Fox Sports' Jamie Little at Richmond Raceway on April 2.
Gibbs made that blunt statement after knocking teammate John Hunter Nemechek out of the way on the final lap. Nemechek, who had led the most laps before getting booted, promised retaliation.
"Him and I will settle it one day," the second-generation driver said.
Nemechek's sentiment summarized how a sizable portion of Gibbs' competitors felt about him leading up to this past weekend at Pocono Raceway, where Gibbs was gifted with not one but two golden opportunities to begin changing the narrative on the way he's been perceived.
But before delving into what went down at Pocono, let's shed a bit more light on how Gibbs has managed to build a reputation as an all-around bad boy. 
Ty Gibbs has been off the rails for most of 2022
About a month before the Richmond dustup with John Hunter Nemechek, Ty Gibbs sent Ryan Sieg into the wall at Las Vegas Motor Speedway after just four laps. Gibbs apologized for ruining Sieg's day, but it was of little consolation. Neither was a friendly reminder from Fox's Jamie Little that Gibbs is in his first full year of Xfinity Series competition.
"He's definitely probably gotta learn his lesson, if you know what I mean," Sieg said in a televised interview, noting how damaging the accident was to the efforts of his small team.
Gibbs' actions at Vegas and Richmond were trivial, however, compared to his postrace fisticuffs with fellow up-and-comer Sam Mayer at Martinsville Speedway on April 8. 
After the two teenagers tangled late in the race, Gibbs and Mayer engaged in a shouting match that escalated into a physical altercation in which Gibbs threw multiple punches that left Mayer with a cut to the forehead and a swollen left eye.
Speaking in a live interview with FS1 moments after the fracas broke up, Gibbs shrugged and defended his actions toward Mayer.
"I tried to talk to him, and he got all in my face, so at that point we gotta start fighting," said Gibbs, who earned a $15,000 fine from NASCAR for running into Mayer's car on pit road after the race, potentially putting crew members in harm's way.
Mayer, however, took bigger issue with Gibbs' on-track aggression.
"He's been doing that to everyone else every week so far," the JR Motorsports driver told Fox Sports' Bob Pockrass after the race. "At the end of the day, anyone can do whatever they want to him because he's put himself in that reputation."
Ty Gibbs has most often embraced the bad-boy image
While some drivers prefer to steer clear of controversy, Ty Gibbs has seemingly reveled in it for most of this season. Consider, for example, the way he shrugged off a loud chorus of boos directed his way at Martinsville as "just part of it."
"At least they're making noise," a grinning Gibbs told NBC Sports in reference to the fans' reaction. "So that's a good thing."
But is it?
Dale Earnhardt didn't become vehemently disliked by a sizeable portion of the NASCAR fan base until he wrecked Darrell Waltrip at Richmond in spring 1986. At that point, ole Ironhead had already won a Cup championship and spent seven full seasons in NASCAR's premier series.
Similarly, Waltrip, Rusty Wallace, Jeff Gordon, and Kyle Busch — just to name a few others who've made their share of foes along the way — were at least a few years into their respective Cup careers before a good chunk of the NASCAR faithful began unleashing its wrath on them.
Gibbs, by contrast, is still several months shy of his 20th birthday. Up until Sunday at Pocono when he filled in for Kurt Busch, who couldn't race due to a concussion, he hadn't turned a single lap in a Cup Series car. It's just a matter of time, though, before Gibbs goes full-time Cup racing, and it could even happen as soon as 2023 if Joe Gibbs Racing fails to re-sign Kyle Busch. 
Will the reputation that follows Gibbs to the Cup Series be the one he's built over most of 2022? Or is a less brazen, less aggressive, more mature version of him emerging?
Is Gibbs finally starting to settle down?
Multiple times this season, Ty Gibbs has butted heads with Noah Gragson, who, much like Gibbs, hasn't exactly made a lot of friends. They clashed most memorably on the road course at Portland International Raceway in early June, with Gragson spinning midrace following a tap on the bumper from Gibbs' No. 54 Toyota.
So when the two young drivers ended up locked in a hotly contested two-way battle for the win on the final lap of Saturday's Xfinity Series race at Pocono, everyone naturally expected the worst. But instead of causing a wreck and risking even more damage to his reputation, Gibbs avoided contact and ultimately came home second to the JR Motorsports driver.
Afterward, JR Motorsports co-owner and 15-time NASCAR Most Popular Driver Dale Earnhardt Jr. heaped praise on Gibbs for not driving over his head.
"I was so impressed by Ty," Earnhardt said during a recorded postrace press conference featuring the winning driver and team owner. "He was in a situation where it would have been easy for him to use up Noah a little bit and raced him even a little bit harder without any real repercussion, and he raced real clean. I was pretty taken aback by that. Now, it's on Noah when they're in that same situation to give him that same amount of respect.
"I just wanted to publicly say how impressed I am with Ty. He takes some criticism and he makes changes and he improves. He evolves. He's everything you'd want in a driver in terms of seeing a mistake or seeing the repercussions from something and trying to be better going forward."
But Earnhardt wasn't done lauding Gibbs for the way he handled his business on the last lap.
"I think Ty proved he has restraint, and he proved that even against one of his fiercest competitors and rivals that he has control, emotionally," Earnhardt said. "So that was what was most impressive to me, because there is history with those two drivers, and it would have been, in some people's eyes, completely fair for Ty to race him harder and more physically. I was impressed by that, because usually, from such a young driver, you don't see that type of emotional control and ability to sort of restrain yourself."
Even Gragson tipped a cap to Gibbs for not driving too aggressively.
"You've really gotta respect the way he raced us," Gragson said. "After Portland, I had a chit-chat — if you want to call it that — with him, a talk, and told him how I felt in person and what the consequences were and that I was kind of over it. So I think that might've changed how he raced us today, but nonetheless, you've gotta give a lot of respect for him for the way he raced us today. I race guys the way they're racing us, and he raced us hard and clean, and we'll continue to race him hard and clean."
Gibbs, for his part, brushed off the notion that avoiding any last-lap contact with Gragson might change how he's been widely perceived.
"I'll never be able to change anybody's opinion," the smiling teenager told reporters after the race. 
Gibbs had no idea at the time, however, that less than 24 hours later, he'd get another opportunity to boost his standing in the NASCAR garage. That opportunity came Sunday morning when 23XI Racing — a close technical partner of Joe Gibbs Racing — asked Gibbs to drive the team's No. 45 Toyota in place of Kurt Busch, whom medical personnel deemed unfit to compete in the Cup Series race after suffering a concussion from a hard hit in Saturday's qualifying session at Pocono.
Driving a backup car and forced to start at the rear of the field, per NASCAR rules, Gibbs kept his nose clean all race long and took the checkered flag in 18th. However, he was later credited with a 16th-place finish in his Cup debut after NASCAR disqualified the top two finishers — ironically, a pair of Joe Gibbs Racing drivers — when their cars flunked postrace inspection.
Similar to Saturday, Gibbs stayed out of trouble and turned in an all-around impressive performance — especially for someone who had never before turned an official lap in a Cup Series car.
"It was a learning day," Gibbs said. "I felt like I learned a lot. I'm very thankful. It was close to almost a top-15. It was fun racing with Brad [Keselowski]. Never thought I'd race with these guys. It was just cool being next to them on the track. So to 10-year-old Ty, that means a lot. I don't think I would ever expect that."
Certainly, few, if any, folks expected Gibbs to leave Pocono receiving accolades for clean driving, and no one could've predicted he'd make his Cup debut — and a successful one at that.
While Ty Gibbs' efforts to repair his reputation remain a work-in-progress, he's showing some signs of maturity and growth. Let's hope they continue.
For his own sake. And for the sake of those around him on the race track.
Like Sportscasting on Facebook. Follow us on Twitter @sportscasting19 and subscribe to our YouTube channel.