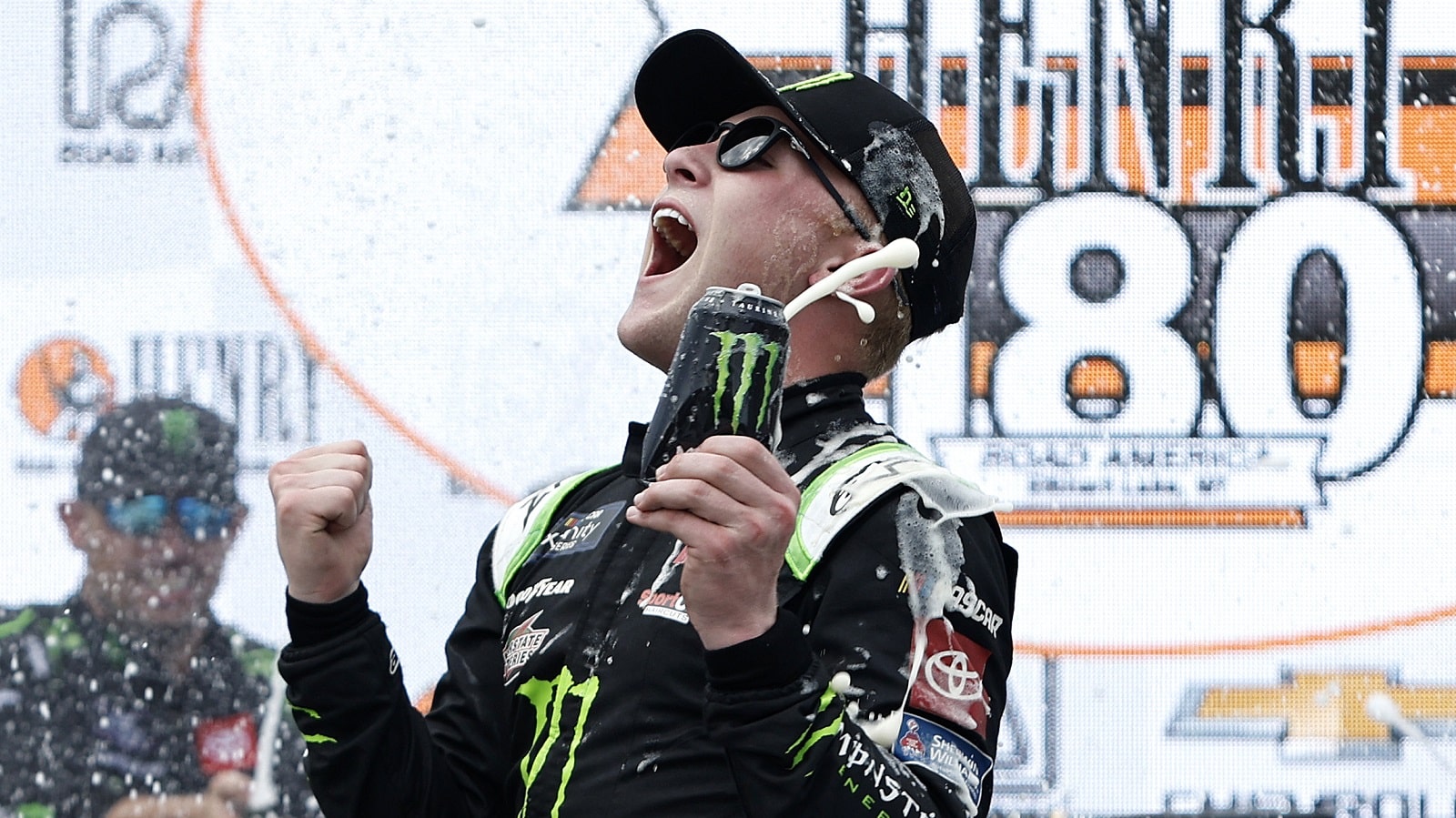 Ty Gibbs Could Have Dumped Kyle Larson but Dumped His Bad-Boy Image Instead
Ty Gibbs has been displaying new-found maturity in recent NASCAR Xfinity Series races.
The imperfect driver pulled off the perfect move in an Xfinity Series race overtime. With it, Ty Gibbs went a long way toward changing the way NASCAR fans, and perhaps fellow drivers, perceive him.
Gibbs closed in on the lead in season points by prevailing for the fourth time this year, this one in a thrilling confrontation with the reigning Cup Series champion.
Ty Gibbs has a bit of an unflattering history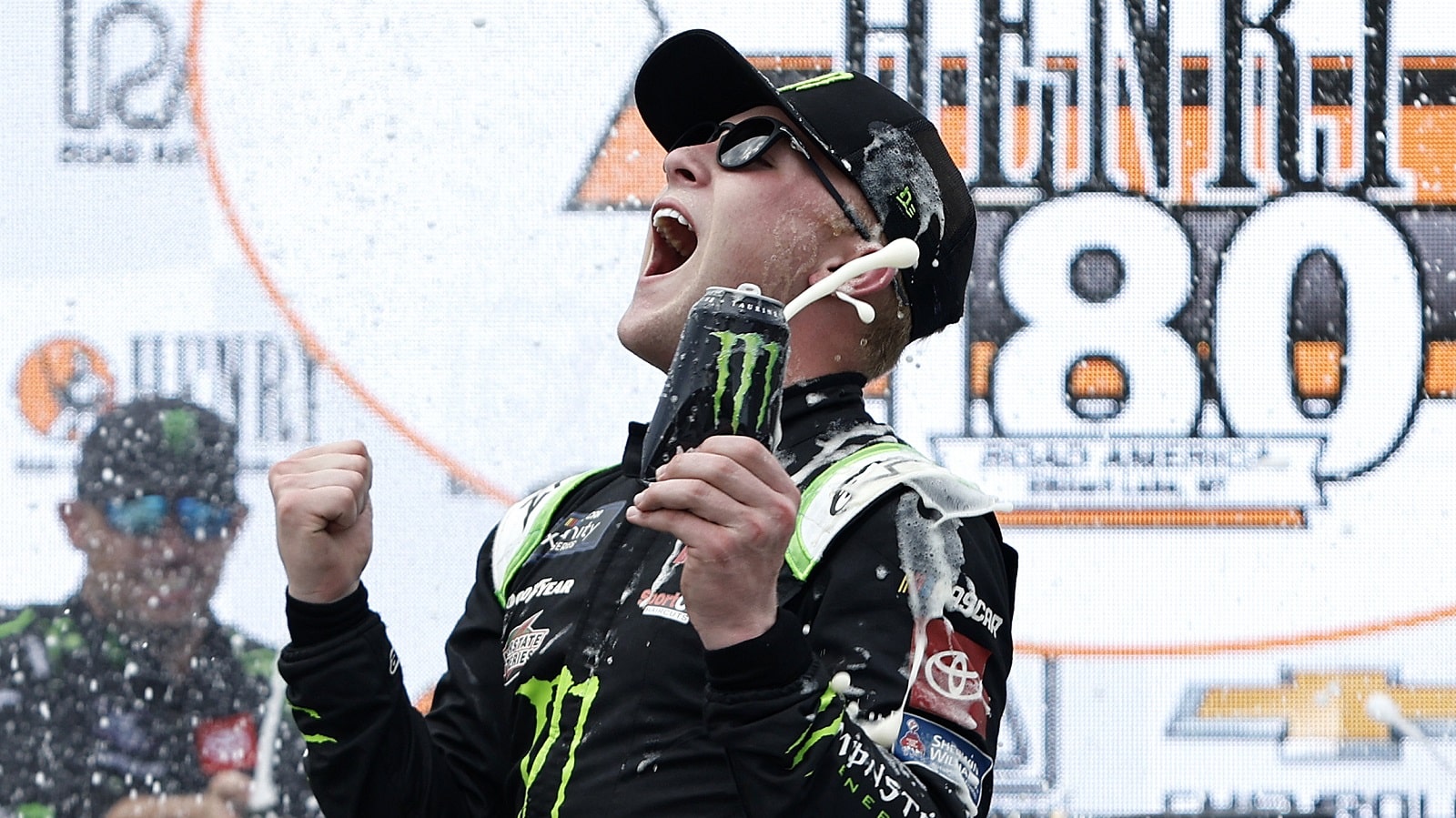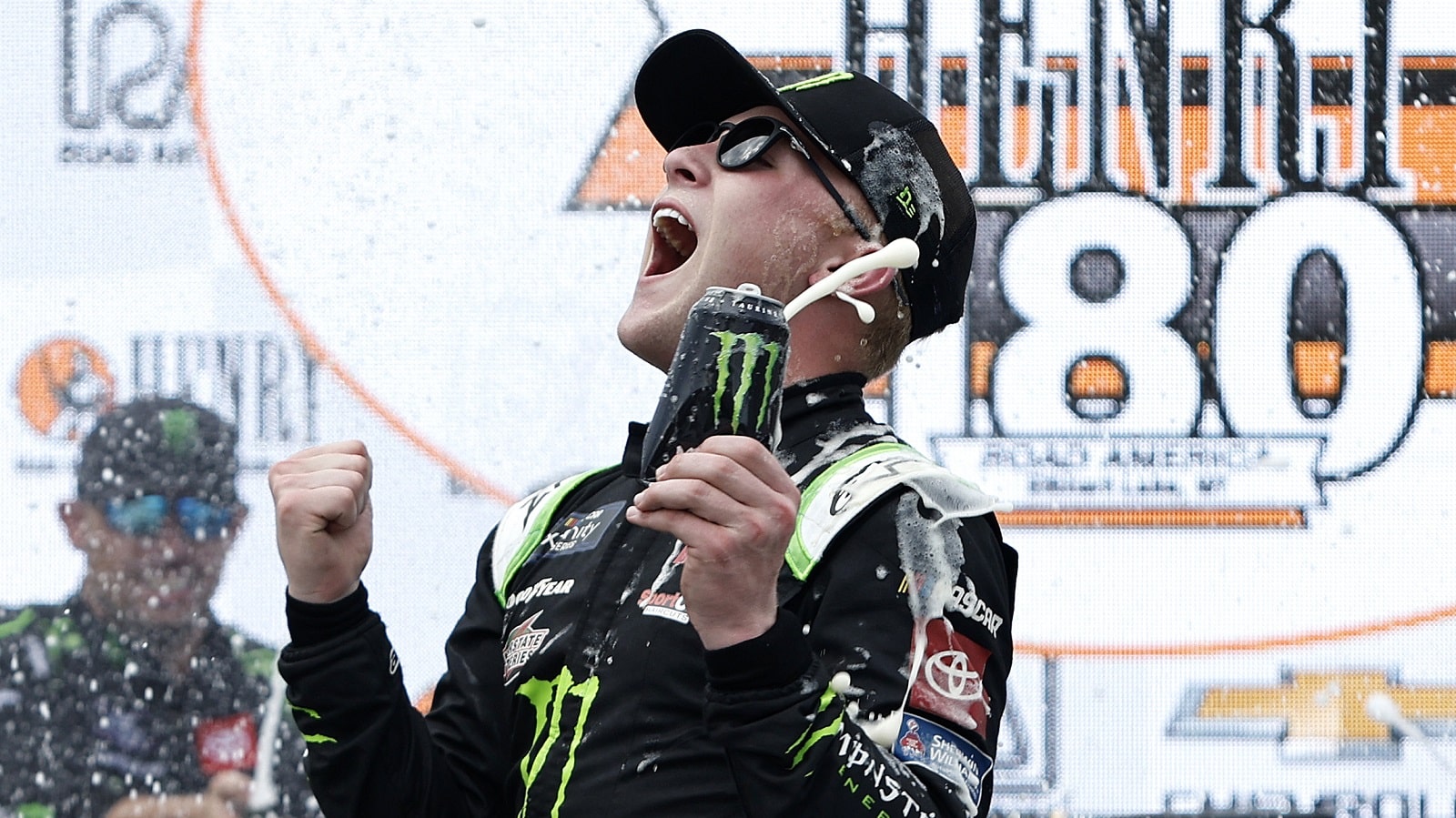 Raise your hand if you realized that Ty Gibbs was going to be right behind Kyle Larson for Saturday's overtime restart at Road America and thought, "This will work out just fine."
OK, put your hand down. Literally no one was thinking that.
Gibbs is on his way to stardom in the NASCAR Cup Series, even if he has to wait until 2024 to move up to Joe Gibbs Racing's top team. He has won eight times and finished in the top five another eight times in just 34 Xfinity Series starts. That would be impressive for anyone, but especially so for a 19-year-old.
Along the way, however, Gibbs has had some run-ins that have called into question his maturity, including one with new Xfinity villain Noah Gragson. He unnecessarily punted Ryan Sieg's Ford early in a race he won at Las Vegas early in the season, and the fight with fellow teen star Sam Mayer after the Martinsville finish wasn't a good look for Joe Gibbs' grandson.
In fact, the latter incident became the moment when even Gibbs fans started calling into question the wisdom of considering him for a Cup Series ride so soon.
Ty Gibbs' handing of Kyle Larson on the final lap was superb
Defending NASCAR Cup Series champion Kyle Larson made his first Xfinity Series appearance since 2018, and he put on an impressive show at Road America, winning the first two stages and holding the lead for much of the third. He was on his way to a victory when Cole Custer lost his brakes and crashed while running third.
The caution threw the race into overtime, where Larson got the jump on Gibbs at the start. But Gibbs' Toyota closed in coming to the white flag, and the teen star made slight contact with Larson's Chevy on Turn 2. Larson held firm, but he was suddenly playing defense. Rather than hitting Turn 3 on the desired line, Larson went slightly wide, opening the door for Gibbs to slide past.
In theory, Gibbs could have booted Larson on either turn and it would have gone into the books as just another incident in a season in which he's hardly been the only aggressive driver. Instead, he went for the clean pass and succeeded.
Larson respected the move.
"When he passed me clean, I feel like I should not use him up like we've seen others do when they make a pass for the lead late," the Hendrick Motorsports star told NBC Sports moments afterward. "He ran me clean and then I was gonna run him clean. It just didn't work out for me."
The young star may be turning the proverbial corner
The exciting finish with Kyle Larson could be a sign of an emerging trend for Ty Gibbs, one in which he gets motorsports fans to return to talking about ability rather than antics.
On June 25 at Nashville, Gibbs and Mayer had another incident, but this one was resolved in adult fashion. With just under 40 laps to go, Mayer's Chevy brushed Gibbs, sending the No. 54 Toyota sideways. Gibbs made an impressive save, but it cost him.
Afterward, the two drivers talked it through. Mayer took the blame, explaining to his rival that aerodynamics came into play a split second before they made contact. In a perfect world, Mayer would have come in at a better angle or with more separation, but the situation got away from him before either driver could adjust.
While the incident may have bothered Gibbs, the explanation didn't. If fact, he took the "been there, done that approach."
"Got hit there and got taken out, but that's part of it," Gibbs said. " … I did the same thing to the '39' (of Ryan Sieg) and I apologized to him, so it's just part of it. It's just racing in general. Just packed air and got me too loose. He was faster at that moment."
Following the Road America win, Gibbs sounded wise beyond his years as he reflected upon his clutch overtime move.
"If I'm going to race the Cup Series in the future, I'm going to have to race like that," he said. "Just can't take advantage and be greedy at moments when I just need to calm down and let it go."
Like Sportscasting on Facebook. Follow us on Twitter @sportscasting19 and subscribe to our YouTube channel.