Noah Gragson Has Unfinished Xfinity Series Business With Ty Gibbs: 'You'll Know When I Get Him Back'
Noah Gragson sounds like he has revenge on his mind after being knocked into the grass by Ty Gibbs.
You know it was a topsy-turvy NASCAR weekend when the behavior in the normally rough-and-tumble truck race looked civilized compared to what transpired in the Cup Series race at World Wide Technology Raceway and the Xfinity Series race at Portland International Raceway.
While Ross Chastain's assorted misdeeds in the Cup Series race deservedly earned top billing, Ty Gibbs seemed to have wronged Noah Gragson the previous day in Portland, and Gragson doesn't seem inclined to let bygones be bygones.
Portland was exciting, but it was a terrible day for real racing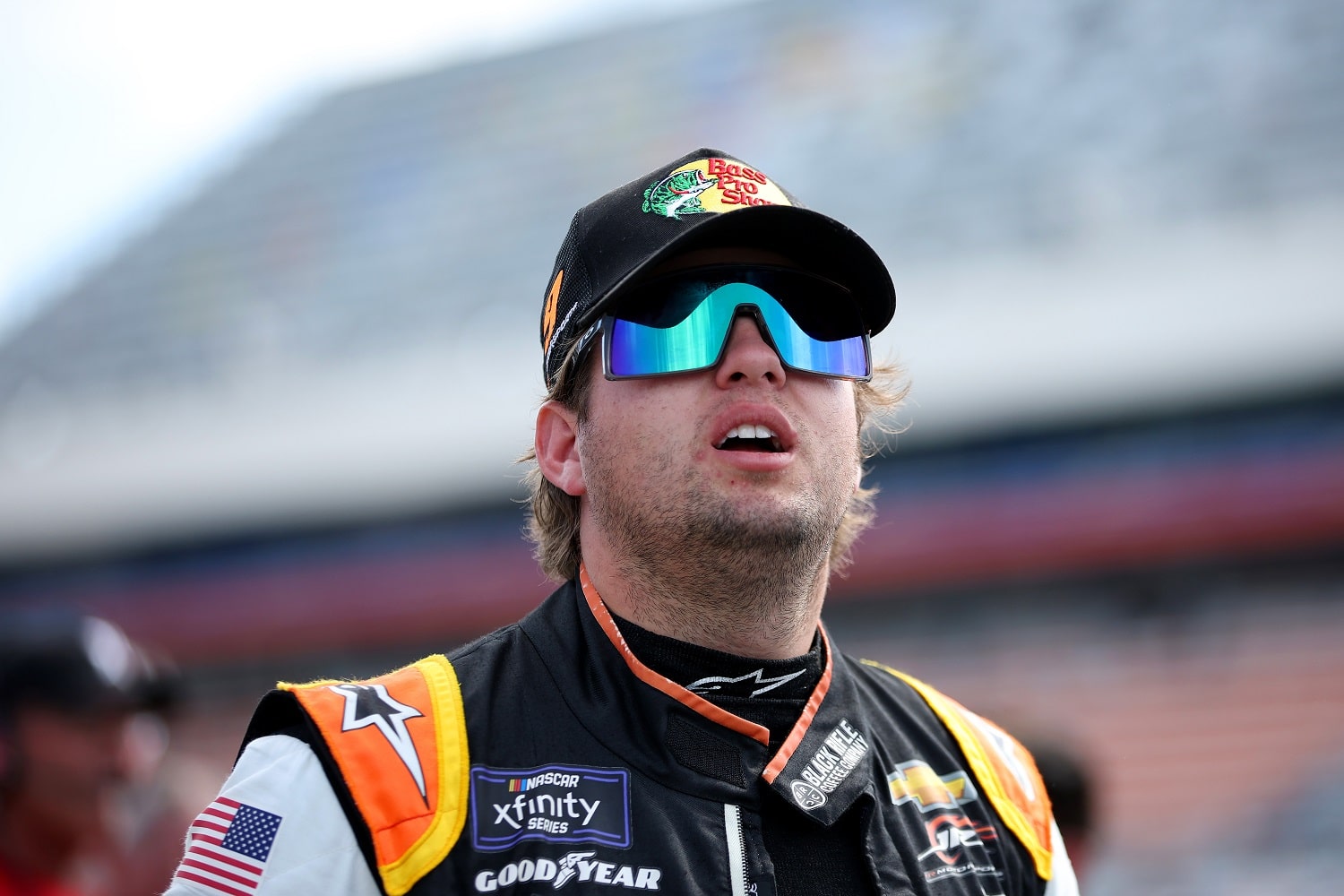 In its eagerness to expand into untapped markets, NASCAR scheduled this weekend's Xfinity Series race for Portland, Oregon. What they neglected to notice was the weather. It doesn't rain there every day, just on days ending with the letter "Y."
Still, that didn't stop racing fans from showing up in big numbers on Saturday to witness the win by AJ Allmendinger. NASCAR cars theoretically can compete on road courses while using rain tires, but the combination of treacherous conditions and few drivers having spent any meaningful time at Portland International Raceway made for some nondescript racing. It wasn't until enough of the track dried out early in the third stage that fans witnessed more aggressive passing.
Even that wasn't enough to suit some drivers.
"Honestly, not very impressed at this place, to say the least," Noah Gragson told Frontstretch.com afterward. "It's pretty challenging to come out here for the teams, coming all the way across the country. And then on top of it, the way it's designed.
"Everybody just tears their stuff up and it costs everybody money. I think three-quarters of fields are torn up and destroyed. And that's just the product of a not very well- configured racetrack, in my opinion."
Noah Gragson on Ty Gibbs: 'You'll know when I get him back'
Ty Gibbs led 42 laps, but his day deteriorated from there because of multiple incidents, and the run-in with Noah Gragson may not have even been the most noteworthy.
Gragson started from the back of the field but made up 22 positions in Stage 1 on his way to what was shaping up as a productive day.
Midway through Stage 2, NASCAR threw a caution flag for grass and mud between Turns 11 and 12. Gibbs started on the inside on the restart on Lap 44, but Gragson made a pass from Gibbs' left coming out of Turn 3, nudging the Toyota as a result of grazing the curb.
There didn't appear to be damage of any significance on Gibbs' car and Gragson was going to gain the lead regardless, but the Joe Gibbs Racing star responded by tapping Gragson's Chevy from behind, knocking the leader into the grass.
By lap's end, Sheldon Creed was out front until Gibbs also got into him in Turn 12. Gibbs and Creed went into the grass, and Myatt Snider went on to win the stage.
At the end of the day, Gibbs placed seventh and Gragson ninth. Creed got caught up in another incident with 20 laps to go and left in 32nd place. Without the altercation with Gibbs, Gragson could have ended up battling for the win with AJ Allmendinger, with whom he shares the No. 16 Chevy (along with Daniel Hemric) in the Cup Series. It would have been a nice way to go into the Xfinity Series' two-week break.
"I'll take care of that," Gragson said afterward. "I mean we're racing and I got the lead, (he) cheap shot us, but we'll keep that at the back of our mind and try to go to Nashville and win that race. You'll know when I get him back."
Ty Gibbs had a more surprising incident
The incident between Ty Gibbs and Noah Gragson didn't need to happen and probably wouldn't have transpired if not for careless driving by Jesse Iwuji.
During the caution immediately preceding their altercation, Iwuji drove into the back of Gibbs' car, spinning him out. It would have been a bad bit of driving under normal conditions. Doing it with the caution flag out was borderline unconscionable.
NASCAR restored Gibbs to the lead and held Iwuji back for two laps, but Gibbs had to be seething at the restart. The subsequent bump from Gragson was enough to set him off. Now, he can look forward to some payback when it's less expected.
Like Sportscasting on Facebook. Follow us on Twitter @sportscasting19 and subscribe to our YouTube channel.