Noah Gragson Issues an Ominous Warning to His Kaulig Racing Teammates
Noah Gragson is driving for three different teams during the 2022 NASCAR Cup Series and Xfinity Series season.
There will be nowhere to go but up for Noah Gragson in the 64th running of the Daytona 500, which is how it works when you're starting the biggest NASCAR Cup Series race of the year in the back row.
But make no mistake about it: The 23-year-old driver from Las Vegas has a career trajectory that is pointing upward. You can tell as much by how many teams want him driving for them.
Gragson accepted two new offers, which should make for some conflicting allegiances on close to half the race weekends this season.
Noah Gragson has been in the thick of championship battles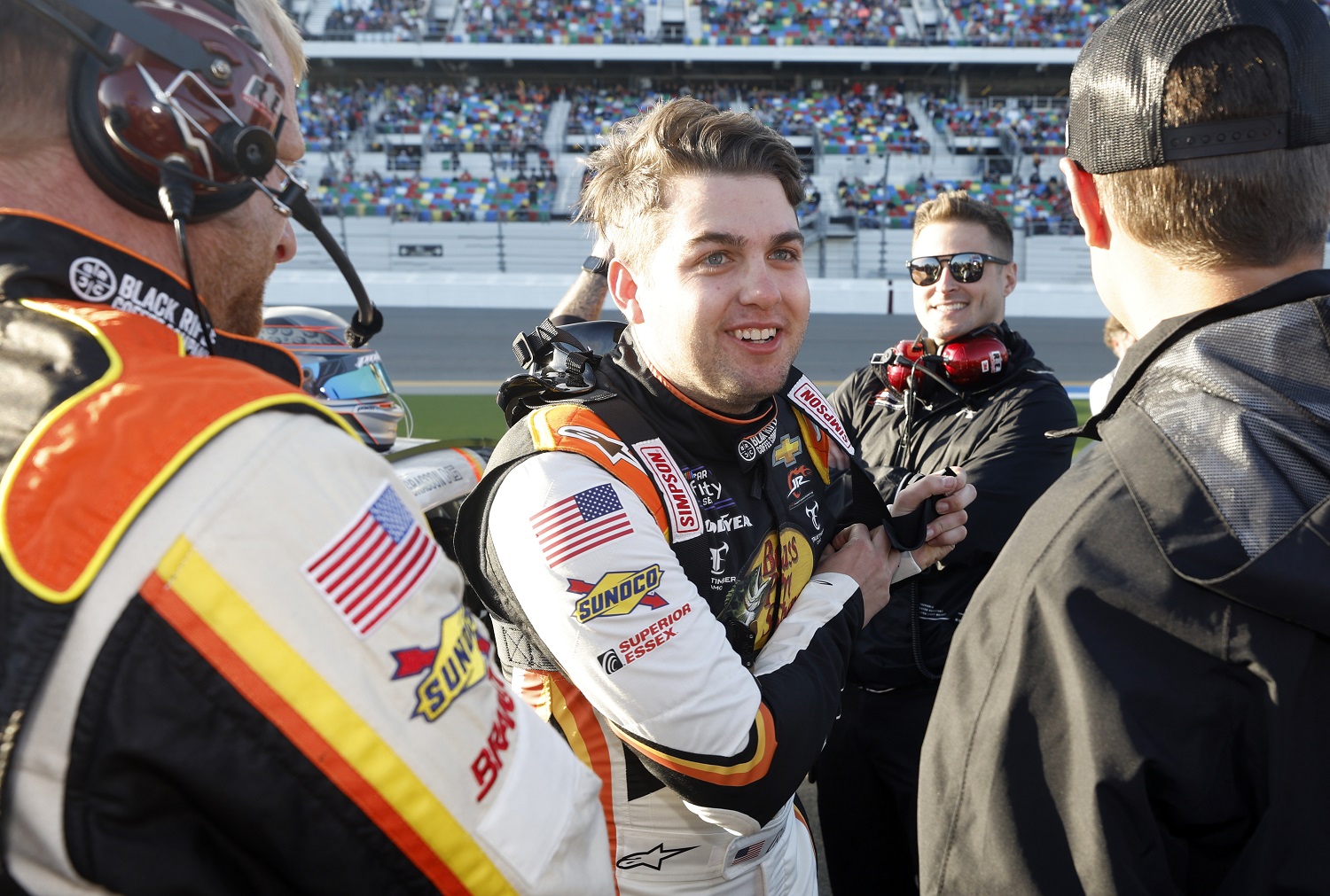 It's not a matter of if Noah Gragson will win a NASCAR series championship. Rather, it's a matter of when. Gragson has established himself as a contender at each level thus far, and he rates as one of the favorites to snare the 2022 Xfinity Series championship.
Gragson placed in the top three in the K&N Pro Series West in 2015 and '16. Two seasons later, he made it to the Championship 4 of the Camping World Truck Series, settling for third place in the race and second in the points standings. JR Motorsports put him in an Xfinity car beginning in 2019, and Gragson has finished eighth, fifth, and third.
Two of the three others in last season's Championship 4 were AJ Allmendinger and champion Daniel Hemric. At various times this year, Gragson will be competing against the pair on Saturdays and rooting for them on Sundays. It'll make for an interesting dynamic.
Noah Gragson issues an ominous warning to his Kaulig Racing teammates
JR Motorsports is more than happy to field Noah Gragson in the No. 9 Chevy for a fourth straight Xfinity Series season. Unlike past seasons, however, he's not exclusively an employee of Dale Earnhardt Jr. Impressed by his resume and in need of a third driver for one of its cars, Kaulig Racing has lined Gragson up to drive in 14 Cup Series races. When he's not in the No. 16 Chevy, either AJ Allmendinger or Daniel Hemric will be.
"Well, I already told the Kaulig guys that I'd like to apologize for Saturdays in advance," Gragson said during a Speedweeks media session. "But Sunday, I'm going to be full on board with them.
"So, I'm gonna race the (expletive) out of them on Saturday and race them hard on Saturdays, and then be all-in and a teammate on Sundays."
That's not even the full extent of his schedule. For the second year in a row, Beard Motorsports asked Gragson to try qualifying the No. 62 Chevy for the Daytona 500. And though he finished last in the Bluegreen Vacations Duels, Gragson made Sunday's field by posting the fastest qualifying speed of the open cars that didn't advance by virtue of placing in the Duels.
"It's going to be a challenge out there," Gragson said, according to NASCAR.com. "But I really don't have any expectations going into the season other than learning. And then once we get a few races down the road, we can kind of regroup and reevaluate where we're at on speed and we'll have a clearer vision on what's a realistic expectation."
Gragson kicked off his points-race season Saturday with a third-place showing in Saturday's Xfinity race at Daytona.
Recent Xfinity champions dot the Daytona 500 lineup
Kaulig Racing made the decision to put Daniel Hemric in its No. 16 Chevy for the Daytona 500, which means that every Xfinity Series champion since 2009 will be in the field at Daytona International Speedway. That speaks volumes about the significance of the circuit as a training ground for Cup Series teams.
Here's the list of those champions:
2009, Kyle Busch
2010, Brad Keselowski
2011-12, Ricky Stenhouse Jr.
2013, Austin Dillon
2014, Chase Elliott
2015, Chris Buescher
2016, Daniel Suarez
2017, William Byron
2018-19, Tyler Reddick
2020, Austin Cindric
2021, Daniel Hemric
Had Carl Edwards and Clint Bowyer not retired prematurely, the list would extend back to 2004 (Martin Truex in '04 and '05, Kevin Harvick in '06).
All stats courtesy of Racing Reference.