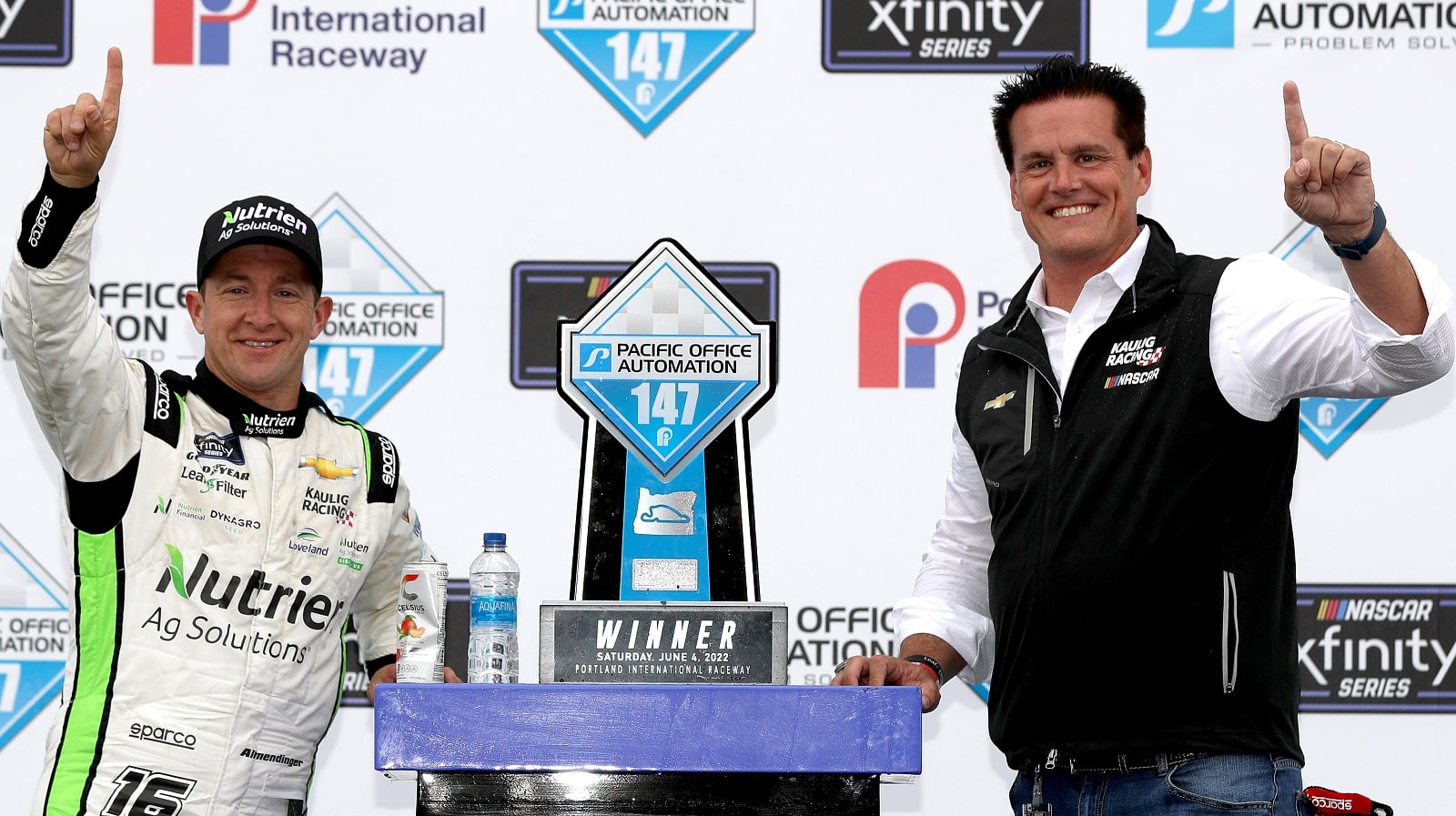 AJ Allmendinger Is Their Best at It, but Kaulig Racing's Owner Wants All His Employees 'Trophy Hunting'
AJ Allmendinger's victory on Saturday in Portland was the latest bit of successfully trophy hunting for Kaulig Racing.
Portland will always be special to AJ Allmendinger, but the Kaulig Racing star made it a little more special Saturday with a wacky victory in the NASCAR Xfinity Series that added another souvenir for the team that loves to talk about "trophy hunting."
Some organizations have mission statements, but Kaulig Racing has a mindset. Its owner explains that it extends beyond NASCAR and into all facets of his far-reaching business operations.
AJ Allmendinger's victory was the wildest race of the NASCAR season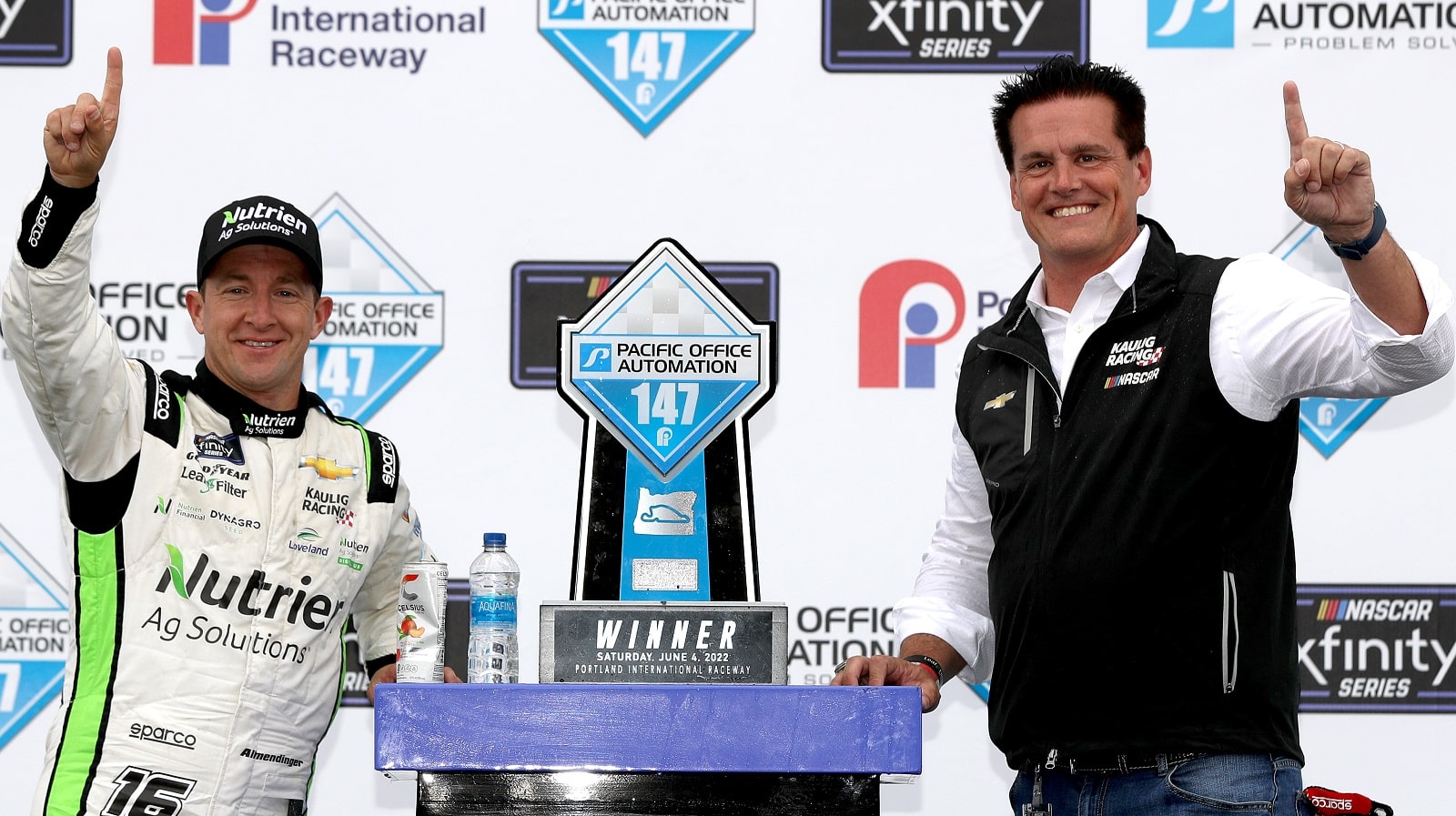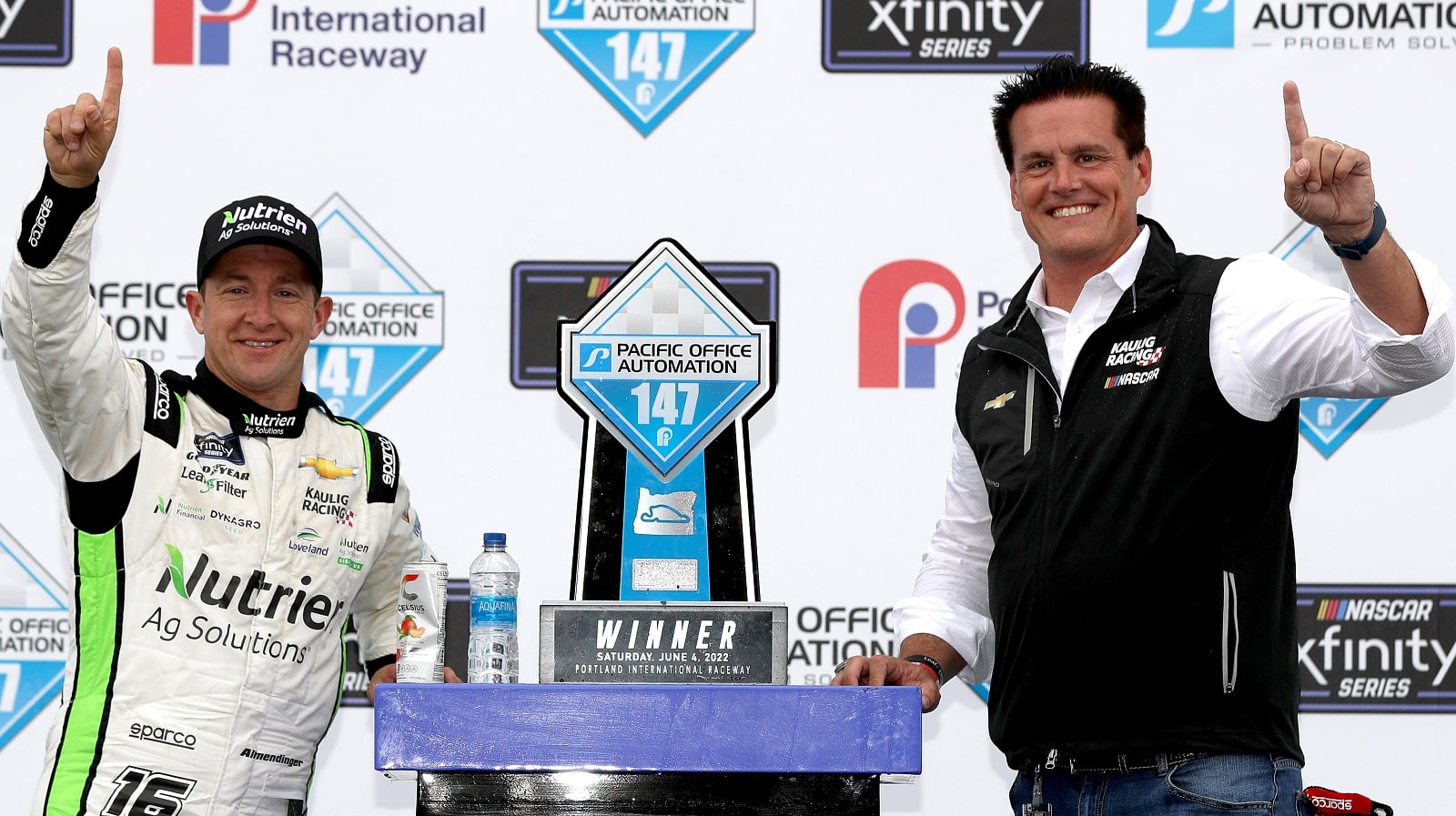 Veteran driver AJ Allmendinger routinely suffers from expectations, including his own. He's so good on road courses that people expect him to win every time.
One of the reasons Kaulig Racing brought him aboard full-time in 2019 was so the team could eventually plug him into NASCAR Cup Series road races and contend. Last year, he not only contended but won at Indianapolis Motor Speedway.
Consequently, every race that he doesn't win feels like a loss no matter how well he performs. "I put so much pressure on myself in these races because I know what everyone expects and I know what I expect out of myself," Allmendinger explained Saturday.
Allmendinger won a chaotic Pacific Office Automation 147 in the inaugural Xfinity Series appearance on the Portland International Raceway road course. Despite sliding off the rain-soaked track multiple times and going a lap down in the first stage, he took home a trophy to add to a collection that includes a Champ Car victory, the first of his career, in Portland in 2006.
Afterward, Allmendinger, Kaulig Racing president Chris Rice, and team owner Matt Kaulig hopped a plane to St. Louis so the driver could compete in the Cup Series race at World Wide Technology Raceway.
The trio will be hunting for yet another trophy.
The organization has gone 'trophy hunting' in 2022
Kaulig Racing is one of the new full-time teams in the NASCAR Cup Series in 2022. Justin Haley drives the No. 31 Chevy and is 25th in points with one top-10 finish. AJ Allmendinger, Daniel Hemric, and Noah Gragson rotate in the No. 16 Chevy.
Allmendinger's win in Portland was his 10th (plus one in the Cup Series) for Kaulig and the team's 16th in the Xfinity Series since 2019. It's been about "trophy hunting" since owner Matt Kaulig started the team in 2016.
"It's fun to be there and just run around the track and do the best you can. But it's another thing to actually go out and try to win trophies," Kaulig explained to Sportscasting.com in the video above. "So, we decided as an organization a few years ago that that's what we wanted to do. We wanted to go win trophies. We're hunting trophies every race. When we go out there, it's on purpose to go win a trophy."
If that seems obvious, it's not. While everyone would like to win, the Kaulig team doubled down on creating its own success last offseason.
With Haley concentrating exclusively on the Cup Series now, Allmendinger, Hemric, and Landon Cassill form the Xfinity Series contingent. Hemric won the championship last season while driving for Joe Gibbs Racing, and Allmendinger placed fourth. Cassill is a veteran who replaces Jeb Burton, helping make the team one of the most experienced in the sport.
Winning a season title for the first time is the expectation.
'Trophy hunting' extends to all of Matt Kaulig's pursuits
Though he's best known for the LeafFilter gutter protection systems, team owner Matt Kaulig has extensive business interests that include other home improvement products, marketing and event management, financial services, and a philanthropy arm of the company.
He says the "trophy hunting" mantra extends to all those operations. There may not be actual trophies to capture, but there is winning to be done.
"It's not just a job. You just don't go to work, put in your day, put in your hours, and then go home," Kaulig said. "We're there to win. We want every organization to be as great as they can be. … You're competing every single day to be the best and to beat your competition, no matter who they are."
Like Sportscasting on Facebook. Follow us on Twitter @sportscasting19 and subscribe to our YouTube channel.